Disclosure: Some posts contain affiliate links, which earn us a commission if you make a purchase through them. Positive Fishing © participates in various affiliate networks including the Amazon Services LLC Associates Program.


When it comes to winter fishing, most anglers spend time worrying about equipment and location and forget about the right fishing clothes.
Any angler who spends time in cold weather areas has warm clothes that could work, but they don't always work well. Fishing using specific cold-weather gear keeps you on the water longer and leads to more productivity and comfort.  
In this article, I will cover the following:
What different layers of clothes will you need when fishing?
What is the best cold-weather winter wear available?
How to ensure you have the perfect fishing outfit for cold weather days
What Are The Different Layers Of Fishing Winter Clothing? 
Every angler needs a variety of clothes for their winter fishing excursions. Whether you're spending time ice fishing in the dead of winter in a blizzard or traversing the banks in pursuit of trout, different situations call for different clothing. It's not a one size fits all method, but this guideline will give you the perfect starting point for your winter fishing setup.
Upper Layers
Depending on the temperature, you will want several different upper layers to keep you comfortable. 
Outer Layer
Outer layers are extremely important! Make sure you have a hard shell outer jacket, a warm inner layer, and a full layer of insulation. 
For your outermost layer, you're likely going to want something that is not only warm but waterproof. A hard shell jacket that can repel water but is also lined with a warmer layer is best. Make sure this layer is a little more baggy, so you can easily make casts and fit any other necessary layers underneath it. 
This jacket should not be the only thing you rely on as you're fishing in the winter. You want to be able to remove it if you end up moving around or find your way into a warmer environment. If it's the only layer you bring, you will limit yourself in what you can do while fishing.
My best pick for the outer layer is the Striker Ice Predator Jacket; it's one of the best ice fishing jackets you can buy and use without any additional base layers for more general use.
Inner Layer
Your inner layer should solely be there to add warmth. It doesn't necessarily need to be waterproof, but it should trap your body heat and keep you comfortable. Whether a classic hooded sweatshirt or a warm fleece pullover, make sure it keeps you comfortable and doesn't let too much heat escape from that insulating layer.
Again, you want to ensure it's comfortable underneath your outer layer and doesn't inhibit movement. It definitely helps if you are as free-flowing as possible. The more you can move your extremities, the better fishing you'll do, and the more you'll allow blood to circulate. 
I prefer a hoodie as a top inner layer; check out my full review on the Bassdash fishing fleece hoodie. I love hoodies as they are more versatile and can also be used in other seasons.
Insulating Layer 
Perhaps the insulating layer you choose is the most important layer of your winter fishing outfit. This layer must be moisture-wicking. If it leaves all of your moisture on you, you will freeze regardless of the other layers you wear. You're going to sweat, so make sure the layer you have on pulls that sweat away from your body, so it can naturally cool and go through the warming cycle. 
This layer doesn't need to be overly large! A thin, moisture-wicking long sleeve is plenty! This layer isn't in place to do all the work to keep you warm. It's there to trap some of your body heat and ensure your sweat doesn't dry and make you colder than necessary. It's smart to make a good investment in an insulating layer. These can be lifesavers! 
Check out my best overall pick for a base layer fishing top; the Thermajohn thermal base layer shirt is an affordable and excellent choice.
Bottom Layers
The bottom layers you should wear are dictated by the outside temperature whilst fishing. One pair of pants may do the trick, or you may need two. 
While your legs are going to be moving and have a better chance of staying warm, you still need to make sure you're wearing layers and keeping that cold away from your lower extremities.
Long Underwear/Leggings
A set of moisture-wicking long underwear can be extremely helpful on cold winter days. A pair of outdoor pants or jeans can only do so much to keep you warm. Find a set of moisture-wicking, polyester leggings or wool long underwear to keep you comfortable. That initial layer of pants is going to keep you extremely comfortable! As the day progresses, you'll grow more and more thankful that you have that extra layer.
My choice in the thermal base lower layer is the Carhartt force midweight classic; this affordable option is perfect for flexibility for anglers!
Outer Pants
The pants you wear for winter fishing should be moisture-wicking or close to waterproof. Pants like jeans can easily get wet, are hard to walk in, and will not keep you warm throughout the day, so stay away from them if possible.
You want outdoor-specific pants that are made with a polyester and nylon blend. These are going to be stretchy and, more than likely, moisture-wicking. Some of these pants are even fleece-lined! That's a great feature for an especially cold day. Similar to your upper layers, you want your pants to be easy to move around when you're fishing. You need to bend, make long steps and be as agile as possible. 
Check out my recommendation for the best outer layer pants, the Toomett men's insulated fishing pants are at a great price point, and they look good also! 
Waders/Bibs
Some anglers choose to cut out the middleman and wear waders or bibs in the winter. They're great at trapping body heat and are generally waterproof. If you plan on doing a lot of moving and hiking, they can get uncomfortable and easily overheat you. However, they're a wonderful option if you stay in one place and still need to fight the cold. They have pockets and all the necessary features to stay comfortable on the water in the winter. 
My top fishing bib pick is the Striker ice predator fishing bib; matching this bib with the Striker Ice Predator jacket ensures you get the perfect combo for your outer layers.
What Cold Weather Fishing Clothing Do I Need?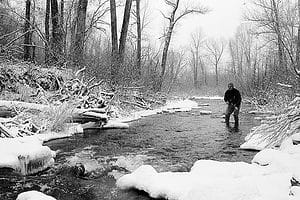 Your winter clothing is not complete without some added accessories like hats, gloves, boots, and neckwarmers! Without these, you will be freezing cold and have to reduce your time on the water. 
Accessories are the most underrated part of your winter fishing outfit. Your body heat will find somewhere to escape, so if you don't protect all areas of your body, you'll be in trouble. 
Hats
A warm fleece hat is what every angler needs for winter fishing. Quite a bit of our body heat escapes through the top of our heads, so if you can keep it trapped, you'll stay much warmer throughout the day and night. Like all other warm clothes, they can cause you to overheat or sweat more than you would like. However, the opportunity for you to keep your head and ears warm throughout the day is worth the minor inconveniences. 
Numerous fishing-specific companies create hats just for anglers! They have a harder outer shell that can withstand some precipitation. They'll prevent you from getting your head wet and allow you to stay on the water for as long as you would like. 
Don't just go with a baseball cap. Your ears will get cold, and the body heat will still escape from the top of your head. 
I love fishing with a beanie on my head; check out my best pick for a cold-weather fishing beanie hat; this comfortable option easily fits under the hood of your outer fishing jacket.
Gloves
Buying the right fishing gloves is challenging for anglers, and using your hands is critical in many situations. If you choose full-finger gloves, you run the risk of those getting wet and staying uncomfortable for the rest of the day. If you choose half-finger gloves, your fingertips risk freezing with no opportunity to keep them consistently warm. 
Many anglers swear by the fold-over finger gloves. When you're making your casts and moving around, you can fold the fingers over to keep you warm, and when it's time to change baits or handle the fish, you can remove the tops of the fingers and do what you need to do without wetting the entire glove. At the end of the day, you need something! 
Nothing gets people off the water faster than cold hands. There's only so much a person can tolerate, so make sure you find a design of glove that's best for you – my best fishing cold weather gloves pick is the KastKing mountain mist. Understand the conditions and your tolerance for the cold! 
Socks
Socks are a vastly underrated part of a winter fishing outfit. Merino wool socks are the way to go! They can pull the sweat away from your feet but keep you extremely warm. Ensure you don't overload your socks and allow your feet to move within your boots. Stuck toes are cold toes. Merino wool socks will forever be the ideal option for winter fishing. 
The best socks for cold-weather fishing are the Ebmore merino wool socks. The Merino wool is my number one sock to keep my feet warm whilst fishing.
Boots
Boots are another piece of winter fishing gear you cannot compromise. The boots you choose have to be comfortable, warm, and waterproof. Whether wandering around in the snow or jumping through small puddles, you want peace of mind that your feet will be warm regardless of the weather conditions. 
Also, you want your boots to be tall enough to protect you if you walk through deep snow or water. I use wellington boots a lot while fishing in colder weather; I strongly recommend the Kamik Icebreaker insulated winter boots, my best pick for keeping warm!
If you have to spend a decent amount of money to get the boots you need, then go for it. You do not want to worry about whether your feet will be too cold to continue fishing! There's enough to worry about when you're on the water. 
Neckwarmer
The neck is most likely the only fully exposed part of our body when winter fishing. As a result, that's where body heat will escape, and cold will enter. Do yourself a favor and purchase a nice fleece neck warmer. This will keep your neck warm and move above your nose to keep both your mouth and nose warm. If your eyes are the only things exposed, that's okay. 
If you are looking for the best winter fleece-lined neck gaiter, I strongly recommend the Original Turtle fur fleece neck warmer. These are a well-known quality heavyweight option, which is perfect for fishing – really well worth the purchase! 
Warming Up
Finding the perfect winter fishing outfit isn't a one size fits all process. Each angler has their preferences on what works and what won't. You'll stay comfortable if you prioritize using an effective base layer and waterproof outer layers.
Winter fishing is a blast because of the minimal amount of pressure that the fish face. You can catch a trophy fish if you stay comfortable long enough in the cold weather! 
I hope this article was informative to make your choices on winter wear easier; if you are like me and love winter fishing for trout, check out my in-depth article on all the best tips, bait, and gear.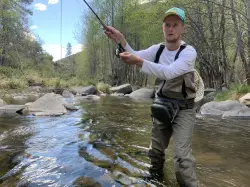 Latest posts by Daniel Mooers
(see all)