Disclosure: Some posts contain affiliate links, which earn us a commission if you make a purchase through them. Positive Fishing © participates in various affiliate networks including the Amazon Services LLC Associates Program.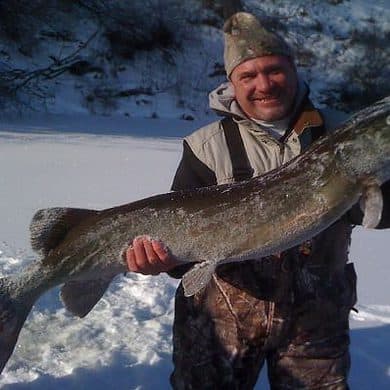 Striker Ice Predator Fishing Bib: Is It Worth It?
Our Verdict
When out ice fishing your bib is as critical as your ice jacket. You have to keep warm and retain heat and at the same time have a breathable capability in your bib. The Striker Ice fishing bib is a quality product with some superb features that anglers will love!
The Good
Great quality materials used throughout
Designed perfectly with Ice fisherman in mind
Floatation capability
High quality padding at seat and knee areas
Keeps you warm and dry due to the insulation and nylon outer materials
The Not So Good
Lack of color options
No crotch zipper
Most anglers who go out ice fishing will focus on buying their ice fishing jacket. However, where do you feel the cold most after kneeling down on the ice for a few hours? Yes, your legs and, more importantly, your knees!
Your lower body will also feel the cold, and bibs need the right quality insulation, padding, and robustness. 
This article will focus on fishing bibs and what I consider the best overall bib for ice fishing, the Striker Ice predator bib.
Striker Ice Predator Bib – Best Overall Bib Pick!
You won't find better bibs than the Striker Ice Predator. For years, these have been known as the most versatile and comfortable set of bibs on the market. The predator bibs have added protection using 1680D Snakeskin knee and seat reinforcement that allows you to kneel on rough surfaces and sit on the ice without worrying about tearing a hole in them and keeping those parts of the body warm and dry!
They're water-resistant and perfect for all things winter fishing. The amount of features you get on these is impressive. Yes, they're not cheap, but they're well worth the money! 
The Striker bibs use the same 320D nylon outer material as the Predator ice fishing jacket, ensuring you stay dry in snowstorms or rain.
Above the thigh pockets are a small vertical zippered chest pocket and two D-rings for clipping on any forceps and other handy accessories. 
Like the brand's other bib options, the Predators are equipped with Sureflote Technology, able to keep the average-weight person afloat for up to two hours in an emergency case. Wearing a predator ice jacket and the bib system together will give better floatation. 
Every aspect of this bib is ideal for the ice fisherman; its warmth, comfort, and ability to flex and allow you to bend or kneel without any restrictions are what I need when I'm out ice fishing.
Having multiple pockets of different sizes is another game-changer. I put my fishing pliers inside and keep my hands warm inside the insulated fleece lining of the side pockets. The bib features make wearing it so convenient! I can keep them safely in the large pockets without using my ice fishing gloves. 
One critical feature I truly love is the adjustable inseams. Altering the seam is relatively straightforward and gives the ability to adjust the length by up to 6". Of course, not everyone is the same height, but the adjustable inseam ensures everyone gets the right fit.
Lastly, I can't stress enough the excellent feature Striker has added – the removable hand towels. We all get pretty messy when ice fishing and these handy wipes are a welcome addition to the bib.
Pros
5000 m waterproof rating 
5000 breathable rating 
100g Thermadex insulation
Sureflote technology will keep you afloat in case you fall into the water 
Great features added specifically for the ice angler
Cons 
No crotch zipper 
Lack of color options
They are far too warm for above-20 F temperatures!
Look out early in 2023 for the new predator lite option. The features are very similar, with less insulation making it a lighter option. It is expected to be more costly than the standard predator bib.
Frequently Asked Questions 
Are Ice Fishing Bibs Worth It? 
Many anglers spend money on a good jacket and less on a fishing bib. Ice fishing bibs are totally worth the investment; we spend a lot of time sitting down on the ice, and they keep your legs and lower body level dry and warm.
Having a well-insulated quality ice fishing bib is essential when ice fishing.
Are Fishing Bibs Waterproof? 
Having a waterproof fishing bib is a must! Not all bibs are fully waterproof; ensure that you choose one with a waterproof/breathability minimum rating of 5k/5k.
Moisture will enter through a good-rated non-waterproofed bib, which will make your inner layers wet and ruin your fishing trip. 
What Material Is A Fishing Bib Made From?
Fishing bibs are made from several materials depending on the purpose of the bib:
PVC Bibs
Polyvinyl chloride (PVC) is a plastic polymer typically used for raingear purposes and is also great for resisting stains such as oil or grease. Sea anglers and boatmen are best to choose PVC material for their bibs. These bibs are focused on keeping you dry but need more breathability for ice fishing in cold climates.
Nylon Bibs 
The majority of the best fishing bibs are made from 320D nylon. The "D" means the dernier of the nylon (the strength) or the density of the nylon. The higher the denier count will be thicker and more durable, which helps significantly when kneeling on the ice.
Nylon is more durable than polyester and has better weather-resistant properties. Nylon is also widely used for fishing umbrellas but is less resistant to ultraviolet light than polyester.
600D Endura Bibs
Endura is a heavy-duty, tightly woven material made of highly durable polyester. Endura bibs are always a higher denier than nylon bibs, making them comparable in durability.
Strength. However, this tends to make endura bibs slightly heavier than the lower dernier nylon type.
Polyester Bibs
Polyester bibs are cheaper, less warm, and lower quality than nylon bib materials. It's also important to remember that a 400D polyester material is less strong than a 400D Nylon one.
Final Thoughts
I highly rate Striker Ice for producing some of the best winter fishing clothing. The Striker Ice predator bib continues this theme and always has fishermen at the top of their thought process when they design these purpose-built, solid-quality products. 
Whether you go ice fishing, boating, hunting, or any winter activities, they are essential to keeping warm.
If you enjoyed reading this review, check out my in-depth articles on the best cold-weather fishing gear and accessories, which cover gloves, insulated thermal layer shirts and pants, socks, and many more.
Latest posts by Steve Fitzjohn
(see all)