Disclosure: Some posts contain affiliate links, which earn us a commission if you make a purchase through them. Positive Fishing © participates in various affiliate networks including the Amazon Services LLC Associates Program.



Striker Ice Predator Jacket: Best Ice Fishing Jacket Ever?
Our Verdict
If you go Ice fishing this is the best overall fishing jacket that you can buy. It's perfect for all aspects of fishing during really cold climates. The quality, features, and complete package are made for fishermen by fishermen. This jacket is going to last a lifetime of use, making it true value for money!
The Good
Superb Quality Materials Throughout
Comfortable and warm in any situation
Has flotation capability
Totally waterproof
Great for Ice anglers who need a level of mobility
The Not So Good
A little on the expensive side
Only three color options
Ice fishing has always been popular and is growing every year. Having the best cold climate clothes is critical, and if you're regularly spending time on the ice, an ice jacket or suit is probably the most important part of your attire.
If you already go ice fishing or spend a lot of time in freezing weather and snow, you will have already heard of the quality of Striker products.
In this article, I will go through an in-depth review of the Striker Ice Predator Jacket. I will look at this ice fishing suit's key features and some of the alternative cold weather jacket options that Striker offers.
Striker ICE Predator Jacket: Best Ice Fishing Jacket Ever?
If you are new to Ice fishing, you already have some winter fishing clothing. However, owning an ice fishing suit is more unique and specialized outerwear. The jacket is perfect for the angler who will spend time in freezing cold weather and needs to stay well protected in the harsh climate. 
This jacket has all the features that you will need out on the ice. It's waterproof, has a detachable hood, a wearable liner, and, very importantly, has the breathable capability to prevent sweat from building up inside the suit, causing body dampness and cold.
The outer shell has optional color choices and is made from 320D nylon to keep you dry. The Hydrapore® waterproof 5,000mm rating is sufficient for most wet days, although not the highest rating that you can buy in an outdoor jacket.
Keeping warm is a priority when ice fishing, and the 100g weight of Thermadex® insulation inside the jacket really does the job without being too bulky and difficult to move around easily.
The outside of the jacket has flaps that close securely with the aid of magnets and also some really large outer pockets for keeping a few important fishing accessories at hand. There are pockets inside the jacket if you are worried about keeping your keys, phone, and other personal items inside safely.
When you get rain, snow, or sleet whilst fishing, it's a simple and quick task to raise the adjustable hood to cover your head. Striker has even added a memory wire visor made of carbon steel that acts as a spring designed to stay in shape with your head. This ensures a perfect fit every time you flip up the hood. In addition, the sleeve cuffs are made from lycra, and the hem around your waist will not allow water inside.
You get two carabiner points on each side of the chest, and the zips are robust and even have a feature on the zipper pull, which you can use to cut your line without retrieving scissors, etc, from your pockets.
Lastly, from a safety aspect (although not designed to be a lifesaver), the jacket has Strikers "Sureflote" capability, which can keep you afloat for up to 120 minutes if you ever fall in the water. On the outside of the jacket, reflective strips will help make you more visible.
I love this high-quality jacket! It is very warm, well-made, and practical. It has many good features and, in my opinion, has been designed with ice fishermen in mind. My personal recommendation is to couple the predator jacket with the Striker Ice Predator Bib, and you will have the perfect setup for the entire body!
Remember, this jacket will fit over thermals and other winter clothes, so order one size larger than usual. All Striker wear, including the Predator range, comes with a one-year warranty.
This Predator ice fishing jacket is, without a doubt, in my opinion, the Best Ice Fishing Jacket Ever! It is not the top of the range and does not have all the features others have. However, it wins hands down for overall price, comfort, practicality, and warmth!
Pros
Removable hood with memory wire visor
Excellent Insulation 
Flotation assistance if ever you are in trouble
Waterproof throughout the complete jacket
Breathable due to the cross-flow ventilation capability
Lots of features specifically for anglers
Best quality materials used throughout
Cons
Quite expensive 
Limited color options 
Far Too warm for the milder days
The Jacket is made from the same outer nylon that is on the high-end Striker Ice Climate Jacket.
The Climate jacket has a few additional features. Climate has a removable liner, which can be worn individually without the jacket. The other difference is the additional 75% more thermal insulation material; it's a jacket for those extreme temperatures you may encounter.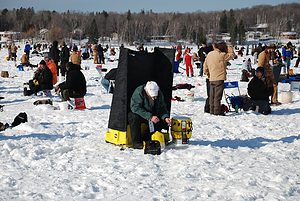 Frequently Asked Questions – Striker Ice Suits
How Do I Wash And Clean My Striker Ice Jacket
All Striker wear can be machine-washed in cold water using a mild detergent. After washing, don't use any heat to dry the material; just simply hang it for drying.
Is Their Youth Sizes Available For The Predator?
Yes, Striker makes a Predator youth size, but it has 40% less insulation and does not have the zipper venting function and the magnetic storm flap options.
What Is The Difference Between The Predator And The Hardwater Jackets?
The Hardwater jacket has 150g (50% more) insulation than the predator jacket and incorporates a different material for the shell. The predator is made from 320D Nylon, and the Hardwater is made from 600D Endura.
Final Thoughts
Striker Ice undoubtedly makes some of the best quality winter fishing clothing. They have created purpose-built, premium outdoor sporting accessories for everyone, whether you are going ice fishing, boating, hunting, or any winter activities.
No doubt, the features of their range of ice fishing jackets are practical and made of great quality materials.
I hope you enjoyed reading this ice fishing jacket review and found it useful. Why not check out my other in-depth articles on all the best cold weather fishing gear and accessories? These cover gloves, insulated thermal layer shirts and pants, socks, and more.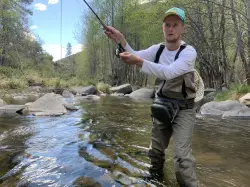 Latest posts by Daniel Mooers
(see all)