Disclosure: Some posts contain affiliate links, which earn us a commission if you make a purchase through them. Positive Fishing © participates in various affiliate networks including the Amazon Services LLC Associates Program.


Glamping, in my eyes, is an awesome way to enjoy being out in the wilderness as you are just as comfortable as you might be at home while being surrounded by nature. It truly takes all the hassle out of camping and the uncomfortable side of it, everything is just, well, easy. 
Now, how about combining glamping with a fishing trip? Glam fishing is the perfect combination for me as you can focus on fishing, tactics, and long hours while always getting a good night's sleep and being super comfortable at the same time.
Join me as I run through the best glamping and fishing locations in the USA, UK, and Europe so you can book an awesome glamping fishing trip. 
Best Glamping And Fishing In The USA
Under Canvas Yellowstone 
Montana and Yellowstone national park are, without doubt, home to some of the best fly fishing in the US and perhaps the world. There are hundreds of rivers packed full of thousands of trout per mile to explore and with Under Canvas, you can enjoy some great glamping fly fishing too. 
While staying at Under Canvas you will be just ten minutes from the western gate of Yellowstone National Park and staying in a safari style canvas tent. Each glamping tent has a verandah, double bed, private bathrooms, and views of Montana's wilderness – you couldn't be more immersed in nature. 
Under Canvas offers its own fishing program which you can book during your stay. They will provide you with all the fly fishing gear you need along with flies and a professional guide too. You can either do a half day or full day of fishing where you will float down the famous Flathead River and see some of Montana's amazing beauty while catching brown, rainbow, and cutthroat trout. 
You also have the option of bringing your own car and gear, buying state and Yellowstone fishing licenses, and you can go and fish all the rivers in Yellowstone and Montana. 
You can book your glamping fishing trip to Montana and Yellowstone here.
Big Cedar Lodge – Missouri Ozark Mountains 
Big Cedar Lodge is set on 4,600 acres of stunning wilderness across the Missouri Ozark Mountains and is an awesome place to go on a glamping fishing trip if you are after some amazing bass fishing, catfishing, and trout fishing too. 
The glamping facilities at Big Cedar Lodge are world-class and you will be staying in a canvas tent overlooking a lake totally surrounded by nature and privacy. Outside of the tent is your own verandah with a fire and an outdoor bath, while inside you will find a king-size bed, a private bathroom, and lots more fantastic comforts. 
You can book fishing directly with the lodge and you have the option to fish on the 43,000-acre Table Rock Lake which is known to have some of the best bass fishing in the country. You can catch everything from largemouth to smallmouth, Kentucky spotted bass, white bass, crappie, and catfish. This is one of the best bass glamping fishing in the United States.
You can also fish any of the miles of trout-filled streams inside the spectacular 10,000-acre Dogwood Canyon Nature Park.
One can either DIY fish these areas or you can book a fishing guide who will provide you with all the gear and tactics you need. One of the attractions of the big cedar lodge is that you can do bass and trout fishing glamping at the same location!
You can book this awesome fishing glamping trip here. 
Best Glamping And Fishing In The UK 
Meon Springs – Hampshire, Southern England 
Hampshire is known as the chalk stream fly fishing destination in the UK and is home to some of the most famous chalk streams in the world such as the River Test and the River Itchen. 
Meon Springs is a beautiful place to enjoy a fly fishing glamping holiday in the UK as you can access the famous rivers via a short drive or you can even fish on the private trout fishery onsite. 
The glamping options at Meon Springs are delightful and you can choose to stay in either a yurt or a shepherd's hut amongst their stunning working farm. All of these options are equipped with large comfy double beds, heating, and an outdoor seating area. 
The onsite fishing can be booked as a day ticket or as an evening ticket. The spring-fed lakes are beautiful and offer the chance of catching some big trout. Or you can book your own tickets on the famous rivers nearby and do some DIY fly fishing so long as you bring your own gear. 
You can book a fly fishing glamping trip to Meon Springs here.
Eye Kettleby Lakes – Leicestershire, Northern England
Sitting in northern England, just outside of Loughborough is the stunning glamping fishing site of Eye Kettleby Lakes and it is the perfect place to enjoy a coarse fishing glamping trip in the UK. 
Set on a stunning acreage of farmland with 9 coarse fishing lakes, 2 of which are carp specimen lakes, you couldn't be better placed to enjoy some peace, quiet, nature, and some great fishing too. 
The glamping pods are dotted around the lakes, surrounded by trees, each has its own little garden, as well as a fully fitted kitchenette, en-suite shower room, fixed double bed, and a lounge area with a TV and DVD player. Everything you need to be comfortable. 
You should bring all your coarse fishing gear when going to Eye Kettleby Lakes as they do not provide fishing equipment on-site. Otherwise, you will be having a great time catching fish and glamping in luxury. 
You can book your fishing glamping trip to Eye Kettleby Lakes here. 
Rum Bridge – Suffolk, East England
Rum Bridge is located in Clare, Suffolk. Situated less than a 2-hour drive from London in the East of England, it is a coarse fishing glamping site with three lakes. Glamping for Carp is the main focus at this fishing-based glamping site, however, there are other species such as tench, bream, and pike. Here, you'll find a choice of intimate wooden glamping 'pods' and distinctive bell tents tucked away amid the trees in an established County Wildlife Area.
At Rum Bridge, glampers and campers, anglers, and self-catering staycationers alike are spoilt for choice of accommodation with nine different variations of lodging. Lakeside cabins, bell tents, pods, a gypsy carriage, and even pet-friendly units to suit your needs.
Rum bridge welcomes dogs and children to their glamping site.
You can book your fishing glamping trip to Rum bridge here. 
Best Glamping And Fishing In Europe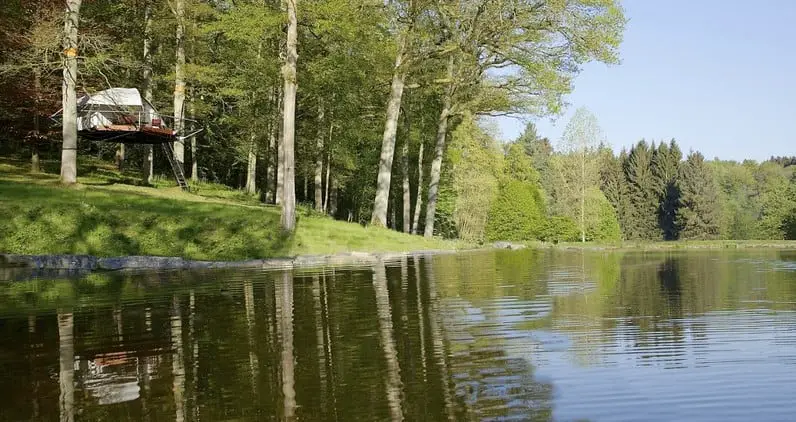 El Delfin Verde – Spain 
El Delfin Verde sits on the Mediterranean side of Spain just north of Barcelona and south of the French border. Set right on the beach and next to the river Ter, this glamping holiday resort has it all when it comes to fishing. 
You can target carp and catfish on the river Ter or Doura or you can go surfcasting from the beach to catch an array of different saltwater species too.
The glamping at the resort is excellent and you will stay in a large canvas tent with either two or three bedrooms, a fully equipped kitchen, a private bathroom, a living area, a terrace, and even air conditioning. You will be a short walk from the beach and you can enjoy the many swimming pools onsite too. 
Very few glamping fishing sites have both saltwater glamping and river glamping, El Delfin Verde really is a glamp fishing heaven!
The fishing nearby can be booked at the resort but there is no information as to whether guides and fishing equipment will be provided so you should check with them beforehand when you book. 
You can book your glamping fishing trip to El Delfin Verde in Spain here. 
Glamping Hoga Kusten – Sweden 
Glamping Hoga Kusten is set in northern Sweden and is the perfect place for a fishing glamping trip to Scandinavia. Glamping Hoga Kusten's location is set in the Swedish wilderness and is surrounded by lakes and rivers that are simply teeming with fish. 
You can fly fishing for trout or salmon in the nearby rivers and lakes or try to catch some of the famous Swedish pike that grows to a huge size. 
The glamping facilities at Glamping Hoga Kusten are fantastic as each tent is pitched in a unique area of beauty that is both private and simply stunning. They offer all the home comforts you would expect from glamping as well as serving a delicious breakfast and dinner every day. You will also be able to access the onsite sauna whenever you like. 
It isn't particularly obvious how to book the fishing at Glamping Hoga Kusten but with a few emails after booking your glamping, I'm sure you will have it arranged. 
I would highly recommend going to this spot for a while and taking both fly fishing and spinning gear with you as the fishing in Sweden is pretty epic.
You can book your amazing glamping and fishing trip to Sweden here. 
How To Find Fishing Glamping Sites?
There is not a specific glamping fishing search engine so you're going to have to do a lot of research to find the right glamping site for a good fishing trip, the places I have listed are some of the best around Europe, the United States, and the United Kingdom and will definitely meet your needs. 
Winding Up 
Thanks very much for reading my article. I hope you enjoyed it and have found an awesome fishing glamping trip to your liking and are ready to book it. Combining the peace of fishing and the comfort of glamping has the recipe to create one of the best fishing trips of your life. 
Please share the article with your fishing buddies, especially the ones who are likely to join you, and why not have a look at some of our other articles? We cover over 30 awesome fishing destinations across the world. 
Latest posts by Steve Fitzjohn
(see all)