Disclosure: Some posts contain affiliate links, which earn us a commission if you make a purchase through them. Positive Fishing © participates in various affiliate networks including the Amazon Services LLC Associates Program.


Sitting in the heart of Central America with Mexico to the north and Costa Rica to the south, Guatemala is in a prime location. Based on the migratory routes of pelagics, Guatemala has some of the best offshore fishing in the world. And it definitely does!
Guatemala wasn't really on the offshore fishing world's radar for a long time. Destinations like Mexico and Costa Rica were the front runners for catching billfish but once the abundance of fish in Guatemalan waters was discovered, this all changed and it was named one of the top offshore fishing destinations on the planet. 
There aren't many offshore species you can't catch in Guatemala but in order to have a successful trip there, you're going to need a little bit more info.
So join me as we take a dive into the great fishing Guatemala has to offer from the amazing fish to catch to when, where, and who to catch them with. 
Top Fish To Catch In Guatemala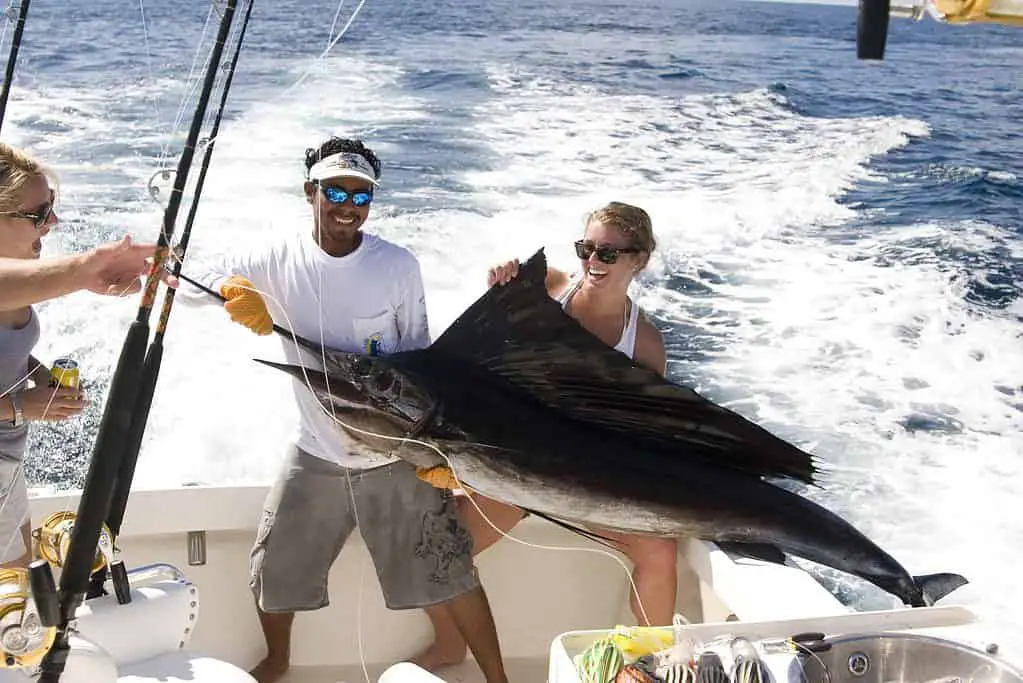 Pretty much every single trophy offshore fish species one could hope to catch in the world is found in abundance on the Pacific coast of Guatemala, just take a look at the list below. 
Blue Marlin 
Black Marlin 
Striped Marlin 
Sailfish 
Yellowfin Tuna
Dorado 
Roosterfish 
Cubera Snapper 
While all these fish species are found in Guatemalan waters, Guatemala is famous for being the sailfish capital of the world. Guatemala sees more numbers of pacific sailfish, and big ones at that, than pretty much any other fishing destination in the world. 
The average size of the sailfish in Guatemala ranges from 80 to 120lbs, so these are big sailfish and you are pretty much guaranteed to see a lot of them. Charter boats in Guatemala often come back to port with well over a dozen sailfish caught and released in a single day. 
If your dream has been to catch a sailfish on a fly rod, then Guatemala is the place to do it. The number of fish you'll be able to cast a fly at means you have the chance to fail a few times before landing your first sailfish on fly. 
In addition to the amazing sailfish fishing, marlin are also a common sighting and are seen every 3 days, throughout the year-round, and that's out of season. Just imagine what it might be like during marlin season – I get excited at just the thought of it. 
Where To Go Fishing In Guatemala 
Guatemala's Pacific coastline runs for close to 250 miles and while there is a lot of coastline to explore, all the fishing operations are in one part of it, Port San Jose. 
Port San Jose is on the southeastern end of Guatemala's coastline and the waters offshore are blessed with seafloor features that billfish, particularly sailfish, love. 
At Port San Jose you'll find a fleet of top-class offshore fishing boats with some of the best captains and crews in the world that are waiting to make your dreams come true. The captains are all locals who have grown up fishing the waters off Port San Jose and they know it like the back of their hand.
Not only will you find great boats and skippers, but the fishing lodges around Port San Jose are also world-class. Their service is beautifully run and everything from the fishing to the food, accommodations, and transfers couldn't be better. 
When To Go Fishing In Guatemala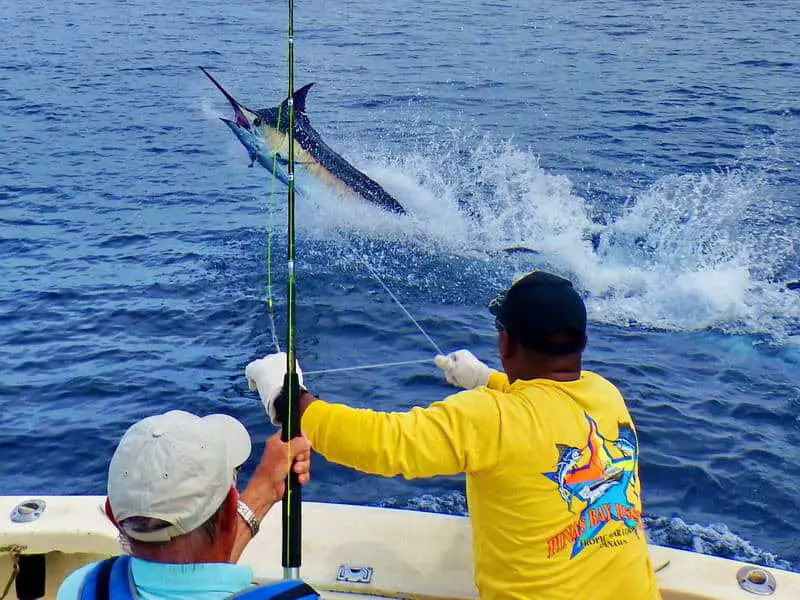 Now, most fishing destinations in the world have a particular time of year that is best for fishing for a certain species. While this is true for most of the species in Guatemala, it doesn't seem to be the case for the sailfish. 
The sailfish fishing is pretty much an all-year-round event in Guatemala so if it's sailfish you're after, then you can literally fish there at any time of year. But, there are more sailfish in Guatemalan waters between October to August. This is when you're likely to see more than 20 fish in a day and experience the thrill of hooking 3 sailfish at once. 
If it's Blue Marlin you're after, then the best time of year to be fishing in Guatemala is between April and August. That being said, the boats in Guatemala tend to see a marlin every 3 days during the year so they are always around, but April to August is prime time. 
Black Marlin come through Guatemalan waters between December and March and they are between 250-450 lbs on average, as are the Blue Marlin. It's the perfect size for anyone who's never caught a marlin but if you're looking for a 1000 lb-er, Guatemala isn't the place. 
Striped Marlin are found in great numbers in Guatemala between November and February and they average out at around 120 lbs. 
Is there a time of year where you can catch all billfish species in Guatemala? 
Guatemala is an offshore destination where you have a chance of catching a grand slam – a blue marling, a black marlin, a striped marlin, and a sailfish all in one day but you have to be a little lucky and timing is important too. 
If there is one month during Guatemala's fishing season where all the species are going to be available it's most likely March. March is the tail end of the black marlin and striped marlin season, the beginning of the blue marlin season, and the sailfish will be there in force. 
Catching a grand slam isn't easy and it takes some offshore anglers years of trying but it's worth giving it a go in Guatemala. 
Best Methods For Catching Fish in Guatemala
When it comes to targeting the billfish of Guatemala you'll be on a sportfishing boat and fishing using one of three methods, and which one is dependent on what you prefer and what the captain recommends. 
Trolling 
Trolling with lures and bait is a common option. This involves fishing 5 rods with offshore lures that have either strip-bait or ballyhoo rigger inside them. The lures are then trolled in a spread behind the boat at 5-6 knots and you wait for the billfish to come upon them. 
Tease & Switch 
Teasing and switching is another method and it involves trolling lures with bait but no hooks. Once the fish are on the lure (considered a teaser without hooks) the teaser is wound in to annoy the fish and make it very aggressive.
Once the fish has been teased, you'll drop back a bait, usually in the form of a dead fish, for it to eat. This is an incredibly visual and connected way to catch billfish and I highly recommend it. 
Fly Fishing 
Fly fishing for billfish is the last and best option in my opinion. It's exactly like teasing and switching except instead of dropping a bait back to a teased and angry billfish you will be casting a fly to it. Stripping a fly and seeing and feeling an angry billfish eat it is a feeling I can not describe, it's just the best! 
How To Book Your Fishing Trip To Guatemala
One of the greatest things about booking a fishing trip to Guatemala is how affordable it is and how convenient it is. 
You're paying a lot less for a day fishing in Guatemala than in most other offshore fishing destinations and to get to the fishing spot from the main international airport is just a 2-hour drive. 
If you want to go on a fishing trip to Guatemala these are the lodges to fish and stay with. 
Casa Vieja Lodge 
Casa Vieja Lodge sits around 5 minutes from the harbor in Port San Jose where their fleet of 9 sport fishers, captains, and crew awaits you to make your fishing dreams come true.
Casa Vieja has wonderful rooms, great food, and they will organize everything for you from the moment you land in Guatemala until you drop your bags off at check-in for your flight home again. 
Pacific Fins Lodge 
Just down the road from Casa Vieja Lodge is Pacific Fins Lodge who offers a very similar package to Casa Vieja. You'll find fantastic lodgings, great food, and excellent service plus a world-class fleet of sport fishers with excellent captains and crew. 
Their prices are pretty much exactly the same as Casa Vieja so you just have to choose which one you prefer. 
The Fishing Regulations In Guatemala
Guatemala's fishing regulations state that you need a license to fish in Guatemala whether you're on a licensed boat or fishing from the shore. Luckily, both the lodges above will get your fishing license for you so that you aren't breaking any rules while you're there. 
If you want to get your own fishing license you'll need to go to the fisheries office with your passport and some cash. Queues can be long though and things aren't very efficient in Guatemala so I recommend getting the lodge to do it. 
Teasing Out 
Thanks very much for reading my article, I hope you enjoyed it. The offshore fishing in Guatemala is some of the best in the world and it's some of the most affordable too. It's somewhere every fisherman has to go once in their life and once you have been, chances are you'll be back every year. 
You can read more of my articles on fishing vacation destinations around the world here!

Latest posts by Jamie Melvin
(see all)