Disclosure: Some posts contain affiliate links, which earn us a commission if you make a purchase through them. Positive Fishing © participates in various affiliate networks including the Amazon Services LLC Associates Program.


Unlike most of the renowned fishing destinations in Central America, Belize has just one coastline instead of two like Mexico or Costa Rica. But, this doesn't mean the fishing isn't fantastic as Belize is home to one of the largest barrier reefs in the world plus Turneffe Atoll. 
Between the numerous coastal lagoons, small islands, mangroves, sand flats, Turneffe Atoll, and the deep waters beyond it, Belize has it all when it comes to saltwater fishing, both inshore and offshore. 
Believe me, there aren't many trophy saltwater fish species you can't catch in Belize but in order to catch them, you're going to need a little bit more info. 
Join me as we take a look at all the amazing fishing Belize has to offer.
Learn what are the amazing fish you can catch in Belize
Where and when to catch them?
What are the best fishing methods?
Where to stay for a fishing vacation in Belize?  
Top Fish To Catch In Belize 
Pretty much every prized inshore and offshore fishing species lives in the waters of Belize and the best part about it is that you can target them all in just one week of fishing. 
Since inshore and offshore saltwater fishing is quite different, I have split the best fish to catch in Belize's into two categories, Inshore, and Offshore species.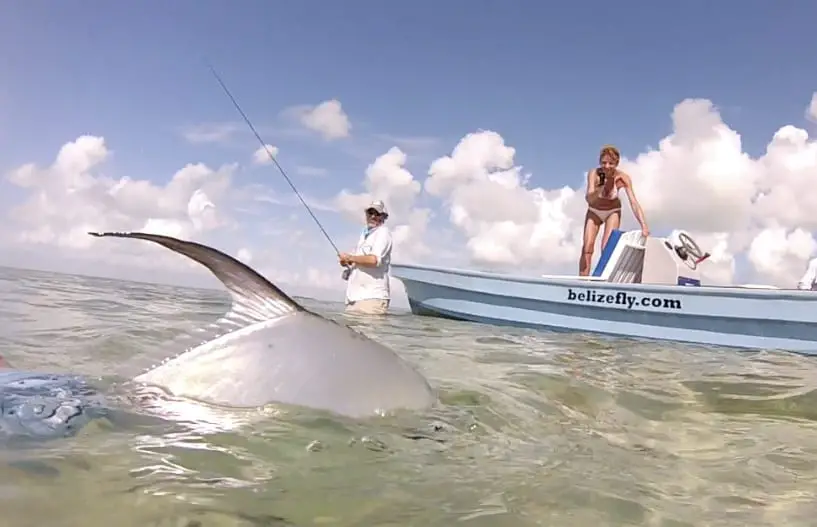 Best Inshore Fish To Catch In Belize 
Tarpon 
Permit 
Bonefish 
Snook
Barracuda 
If you love sight casting with a spinning or fly rod, then the flats and mangroves of Belize will blow your mind. You'll see hundreds of bonefish every day, good numbers of permit, and tarpon in the 50lbs range too – and that's in one day if you're with the right guide. 
Not only is the fishing amazing but the natural surroundings are about as beautiful as they get. Crystal blue water rushing over sand flats or mangrove line channels coming out of lush rainforests. You couldn't ask for more. 
Best Offshore Fish To Catch In Belize 
Blue Marlin 
Sailfish
Wahoo
Yellowfin Tuna 
Dorado 
If you love offshore fishing then this lineup of species will blow your mind and the best thing about it is that you don't have to run very far to find them. As soon as you go over the reef, the depth changes to 2000ft within one nautical mile, meaning the fish sit close in. 
You can even spend half a day fishing inshore and half a day offshore, that's how close to each other the fishing grounds are. 
Where To Go Fishing In Belize 
Belize's coastline runs for 174 miles and it features hundreds of islands (cays), lagoons, river channels, reefs, and lots more.
So, how do you find the best fishing when there are so many options out there? You need a little insider help. Here are the best places to go fishing in Belize. 
Ambergris Caye & San Pedro
Ambergris Caye and San Pedro sits right on the edge of the Belize barrier reef and is one of the best places to fish in Belize if you want to target both the inshore and offshore fish species this country offers. 
The inshore waters around Ambergris Caye and San Pedro are home to huge numbers of tarpon that range from 20 to 80 lbs. If you're there in the late spring and early summer, you'll also find migratory tarpon between the 100 – 200 lb range which will give you quite a tussle. 
This area is also famous for its large numbers of permit and bonefish as well as big jacks, snook, barracuda, and lots more. Plus, the edge of the barrier reef is just there so you can be in deep waters hunting for pelagics in no time. 
Turneffe Atoll
Sitting outside of the Belize Barrier reef is Turneffe Atoll, about 50 miles out to sea from the capital, Belize City. Turneffe Atoll is home to the best saltwater fishing in the country as it is about as remote as the fishing gets in Belize and is a protected marine area. 
The inshore fishing on the Turneffe flats will have you casting at permit, tarpon, and bonefish all day long and the offshore fishing is a stone's throw away over the breaking waves. You'll find marlin, sailfish, tuna, wahoo, and dorado within minutes of leaving the atoll and entering the deep. 
Long Caye 
Long Caye sits just outside of Turneffe Atoll and it offers the most remote fishing available in Belize and some of the best too. Long Caye is pretty much a small island with barely any inhabitants and a ton of beautiful flats for inshore fishing. 
If you want to find the biggest permit, bonefish, and tarpon in Belize then Long Caye is the place to be. Tarpon up to and over 150 lbs live on the flats of Long Caye as well as 5lb plus bonefish and a lot of huge permit. In fact, Long Caye is recognized as one of the most productive tarpon flats in the Caribbean. 
When To Go Fishing In Belize 
Now that we have covered the where let's talk about the when. The great thing about the inshore fishing in Belize is that you can do it all year round.
That being said, every fish has its time and the best time for bonefish is between September to January, for permit it's August to October and March to June, and if you want to catch a tarpon over the 100lb mark, June to August is the best time to be there and then for tarpon under 100lbs October to December. 
If you're looking to take in some of the offshore action in Belize then the best time to be there depends on the species you're after. For blue marlin, you'll want to be in Belize between November and June and the same goes for wahoo, dorado, and sailfish. 
The most productive time for catching Yellowfin Tuna in Belize is between July and August. 
Best Methods For Catching Fish In Belize 
When you're inshore fishing in Belize for tarpon, permit, and bonefish you'll either be wading or being poled on a boat by a local guide. Most of the flats fishing lodges in Belize are fly fishing lodges but they will also accommodate spin fishing too.

The amazing thing about the inshore fishing in Belize is that it's all sight fishing meaning you won't cast until you see a fish.
I don't know about you, but when I see a tailing permit or a school of 60lb tarpon coming towards me, my heart is in my mouth, and seeing one eat your fly is about as exciting as fishing gets. 
For the offshore fishing, you'll be on a sportfishing boat trolling lures either with or without bait in them to raise sailfish and marlin or tempt some dorado, yellowfin tuna, or wahoo to come and take them. 
How To Book Your Fishing Trip To Belize 
Booking a fishing trip to Belize couldn't be easier, just get in contact with one of the lodges below.
El Pescador Lodge, Ambergris Caye 
El Pescador Lodge is a stunning fishing lodge that sits right on the beach on Ambergris Caye and they have been in the business of delivering fishing trips of a lifetime for years. The accommodations, food, and guides are all world-class. 
Another alternative, with the opportunity to book a guide is the Tres Pescados Fly Shop on Ambergris Caye. This fly shop can host charters and has recently opened a second location in Southern Belize in the beautiful village of Hopkins.
Turneffe Flats Lodge, Turneffe Atoll 
Turneffe Flats Lodge sits on Turneffe Atoll and couldn't be a better home away from home to fish from. The lodge will organzine everything from guided inshore fly fishing to diving, snorkeling, and offshore fishing. The accommodation is excellent as is the food and service. 
Long Caye Outpost Lodge, Long Caye 
Sitting on the small island of Long Caye, the Long Caye Outpost Lodge is made up of just 3 double bedrooms in a local cottage and is the perfect palace for anyone who wants to do some serious inshore fishing. 
The lodge is right on the beach and is pretty much a fishing-only destination unless swimming in the sea, hanging out on the beach and snorkeling is something you're happy to do every day. 
The lodge provides excellent boats, gear, and guides to have you hooking the huge inshore tarpon, permit, and bonefish that call Long Caye home. 
The Fishing Regulations In Belize 
Everyone is required to have a fishing license in Belize whether you're fishing off the beach for bonefish or trolling on the edge of the reef for tuna.
The license isn't expensive and they are very easy to get. You can either buy one online at the Belize coastal zone official site or you can buy one at the fishing lodge you're staying at. 
Lining Up 
Thanks very much for reading my article, I hope you enjoyed it and now know everything you need to in order to book a fishing trip to Belize. 
It truly is an incredible country and you should explore more than just the fishing as the snorkeling and diving on the reef are out of this world plus the inland jungles are fantastic to explore too. 
You can read more of my articles on Fishing vacations around the world here!

Latest posts by Jamie Melvin
(see all)