Disclosure: Some posts contain affiliate links, which earn us a commission if you make a purchase through them. Positive Fishing © participates in various affiliate networks including the Amazon Services LLC Associates Program.


If you're standing on the end of a skiff hunting for fish chances are you're on the flats in search of some of the most incredible species a fisherman can catch. You're probably not doing it in your backyard either, and have most likely flown across the US or the world in search of that permit, tarpon, or GT you have been dreaming of catching for years. 
Knowing how to fish from a skiff is key to your success. Having been a flats guide or on the flats for a lot of years, I can't tell you the number of fish that haven't been caught due to silly mistakes on day one, which can be something that is easily avoided. 
Join me as we run through everything you need to know about how to fish from a skiff so you don't miss any opportunities when the fish of your dreams is going to eat your fly. 
What Are Inshore Saltwater Flats?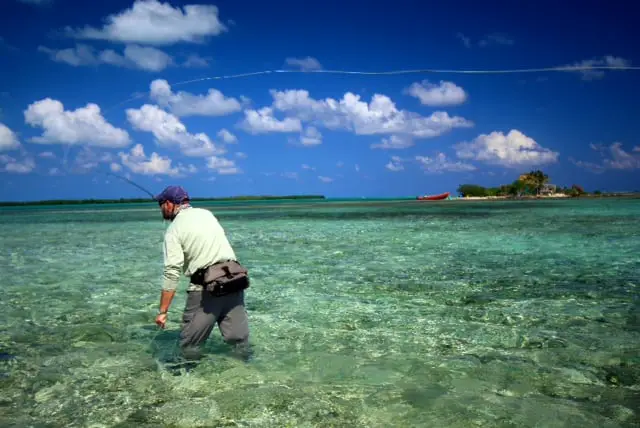 Saltwater Flats are any area of shallow water of just two or three feet deep with an even bottom.  Typically, "flats fishing" normally refers to saltwater but some areas of freshwater flats are also very productive, especially for bass and even carp and pike.
What is a Skiff?
Fishing skiffs are boats that are flat-bottomed, with a flat stern and a pointed or curved bow. They are also known as skinny boats, flats boats, or poling skiffs. The key factor of the skiff is its ability to be used in extremely shallow waters of 6 inches to 2 feet.
The skiff has a flat base and a flat standing area for the poler and the fisherman to sight fish easily.
A skiff is typically between 14′ and 21′ and can hold up to 4 people maximum. For fly fishing purposes the skiff is likely to be just the poler and the fisherman.
Tip: These boats are lightweight and built for poling around in super shallow waters over either a sandy sea bed or grassy saltwater backwater fishing spots.
What Is Sight Fishing?
In my vast experience as a guide for many years, sight fishing is definitely one of the most thrilling techniques to catch fish. Sight fishing is where you as the angler (or your guide) will see the fish first in the water and try to put out a fly, bait or lure next to the target fish to entice it to take your bait.
What Does Fishing From A Skiff Involve?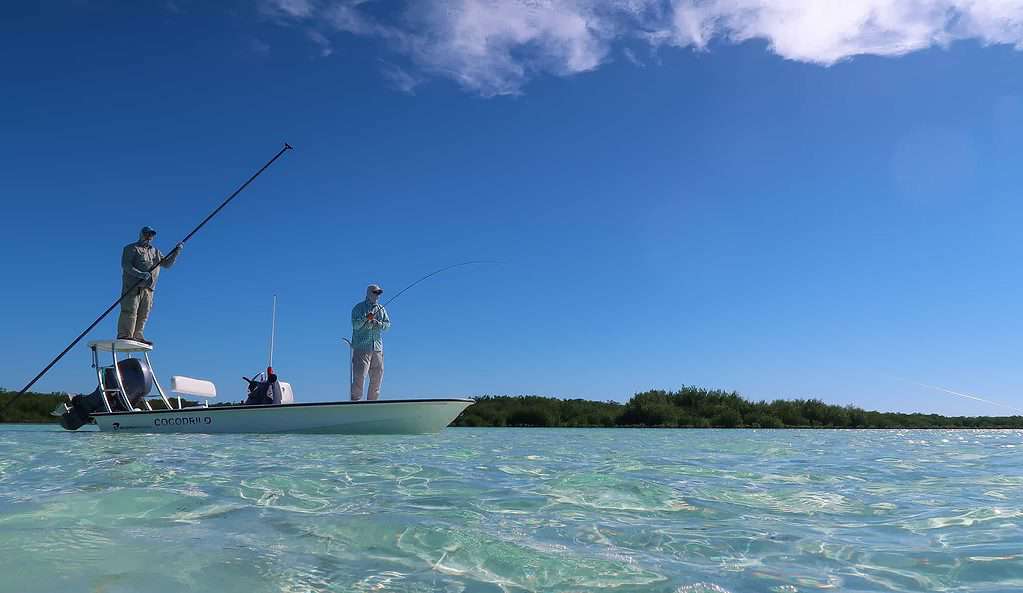 For those of you who have never fished from a skiff before, let's first set the scene so you have an idea about what is to come. 
When you're fishing from a skiff you'll be standing on the bow of the boat (that's the front bit). You'll most likely have a lean bar behind you which you can use for stability or lean on during the gaps between fish. 
When fishing from a skiff, you do not do any blind casting 98% of the time, you are waiting to see a fish before you make a cast. This adds a lot of pressure to you, the angler, as everything is focused into one moment, so being ready is key. 
There will also be a guide poling the boat from the poling platform on the stern (the back of the boat). The guide will be looking for fish and pushing the boat around the flats by silently using the pole. This is so as not to scare any fish off with the engine. 
Once the guide spots a fish, he/she will try to show you the fish or at least tell you where to cast your fly and then how to strip it so the fish eats. It's an intense moment and a lot can go wrong if it's not done right. 
Flats Fishing Techniques – How to Avoid Errors When Fishing From a Skiff
So, how do we make sure nothing goes wrong? We can't make sure the fish eats the fly but we can make sure that is the only reason why you didn't hook it. 
Simply follow the steps and advice below, and you'll be as ready and prepared as you can be to catch that trophy fish you think about at the office twice a day. 
Step 1 – Being Ready To Make The Cast Is Key 
It's incredibly important that you are ready to make a good cast when the guide sees a fish. Some of the fish you will be targeting from a skiff can be moving fast, and very spooky, and you also have to consider the boat's positioning. 
If you miss your shot, the fish may be gone or the guide will have to reposition the skiff so you can make another cast. It's always best to take the first opportunity you get! Here is what you need to do in order to be ready. 
Take your shoes off so you can feel if you are stepping on the line – you can not cast properly if the line is under your flats boots 
Stand on the bow and strip out enough fly line and make a long cast of around 60 feet 
Strip this fly line back onto the deck – this ensures it piles up in the right direction, bottom to top, for when you cast
Do not leave too much line on the deck as it can cause issues with tangles 
Leave around a rod length of line out of the tip of your rod so you can start casting quickly 
Hold the fly in your hand so it's ready to go
Focus and stay alert 
If you follow the steps above, then you will be ready to make a cast when the guide asks you to. Common problems in this situation are as follows: 
Your fly line being tangled 
Anglers casting because they are bored and then a fish shows up 
Dragging the fly in the water while waiting 
Step 2 – Line Management 
When you're fishing from a skiff you might go 30 minutes or even an hour between making casts if it's a slow day. This is a lot of time twiddling your thumbs and a lot of time for your line to become a mess. 
Line management is key to making a good cast and here is how to make sure it's always ready, even when factors like the wind make it hard. 
Remove anything that might get caught up in your fly line and move it to the stern of your boat, behind the seats 
Check your line isn't tangled often
Never ever use your feet to drag the line across the deck as this damages the line and will cause a tangle
Use a stripping matt if it's windy to hold the line on the deck 
If there is no stripping matt, strip the line through the gap in the lean bar and into the well so it doesn't get blown around
If in doubt reset by making a cast and stripping the line back in as described in Step 1 
If you're fishing with a buddy, be sure to help each other out with line management 
Now that you're ready to make that shot, let's move on to actually making the cast! 
Step 3 – Listening To Your Guide
I was once given some amazing advice by a veteran guide and this was "fish with your ears". I didn't really understand what he meant at first but then it all made sense. Do exactly what your guide says and you'll catch fish. 
You have to remember that your guide pretty much lives on the skiff 200 or so days a year and they want you to be successful. They know the fish, where you need to cast, and when, so make sure you're listening hard – it's easier said than done in the heat of the moment but try your best. 
Before you start fishing, chances are the guide will give you a briefing on how far in front of the fish to land your fly, and how to strip. Remember this while you're on the bow waiting for a fish to show up. 
Step 4 – Making A Good Cast & Stripping 
The guide will also explain how to communicate about a cast. Chances are he is going to use the "clock method" meaning the bow is like a clock. 12 o'clock is at the nose, 3 o'clock is on the starboard side (right), and 9 o'clock is on the port side (left), and when he/she sees a fish, he/she will say, there is a fish coming at 12 o'clock 90 feet. 
Here is how it's going to go down and what you need to do as an angler – 
When the guide says " permit, 12 o'clock 90 feet" keep calm and look for the fish
Do not start casting, the guide has not asked you to cast yet and if you do, you won't be ready when it is the right time to make a cast
Keep communicating saying if you can see the fish or not 
If you can't don't worry as the guide will tell you to make a cast 
"Make a cast 50 feet at 10 o'clock" means do exactly that so start casting 
The guide may adjust where you need to cast while the line is in the air by saying "more left, more right, shorter, or longer"
Adjust your cast until your guide says " Drop it" or "Put it Down"
Now wait for further instructions 
"Short strip, long strip, slower, faster, wait" are all the terms you're likely to hear 
Do exactly what the guide says as they can see it all happening from the platform a lot clearer than you can 
When the fish eats the guide will say "Set" or "Set the hook" 
Step 5 – Setting The Hook & The Fight 
When you're fishing on a skiff, you will never lift your rod to set a hook. This is not trout fishing and the trout strike needs to stay at home. To set the hook, you simply strip once or twice more to drive the hook into the mouth of the fish. 
When the guide says "set" strip until you feel tension while keeping your rod down 
Once you feel tension, you are hooked up and the fight begins 
Try to clear your line while avoiding any tangles 
Fly lines wrapped around reels cause a lot of lost fish 
Get the fish onto the reel by either winding up the slack or controlling the line as the fish runs with it
Once you're on the reel do as the guide says in regards to drag and your rod angle 
Fight the fish following your guide's instructions until he/she can get it to hand 
Tip: This sight fishing method is by far the most challenging way to work the flats, you will need to be relatively fit to be able to flats fish for several hours at a time.
What Fish Can You Catch when Inshore Flats Fishing?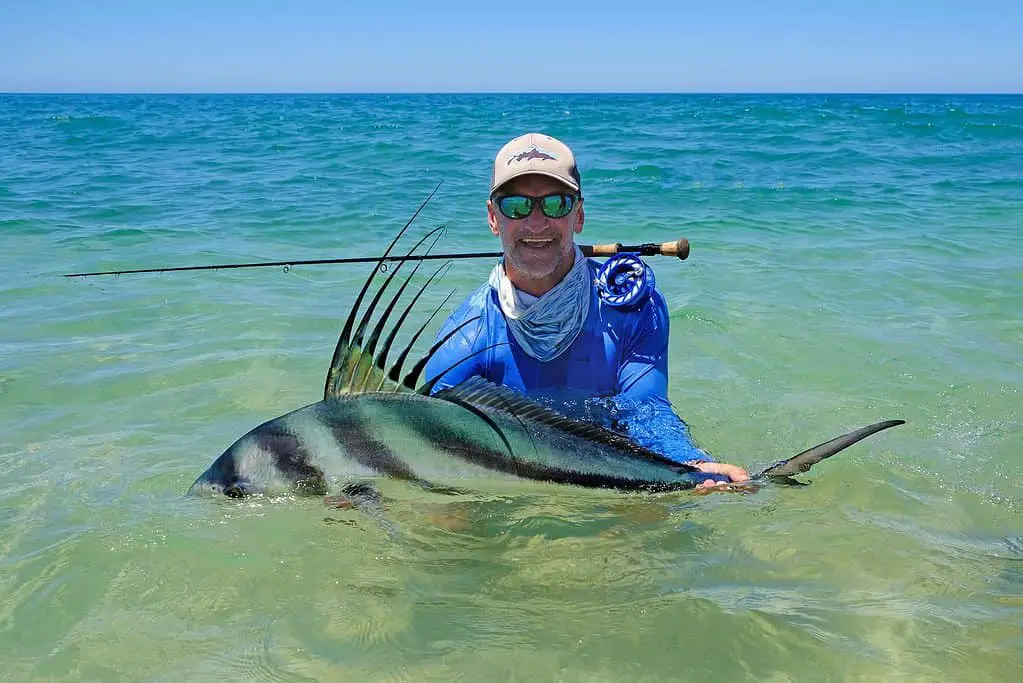 The type of fish species caught on the flats varies around the world.
In the United States (Especially Florida and the Keys) you are likely to find redfish, snook, juvenile tarpon, bonefish, permit, pompano, sea trout, and marlin may be found.
In Central American countries such as Costa Rica, Belize, Mexico, etc it is more likely to catch bonefish, Permit, Tarpon, Snook, and Barracuda.
If you plan to go flats fishing in the Indian ocean (such as Seychelles) then the Giant Trevally, Permit, Bonefish, Tarpon, Snapper, and Triggerfish are going to be the target species.
Where are the Best Places to Go Inshore Flats Fishing?
Without a doubt, the best place for inshore flats fishing is the Seychelles Islands. Fly Fishing the flats for Giant Trevally, Bluefin Trevally, Milkfish, Indo-pacific Permit, Titan Triggerfish, Yellowmargin Triggerfish, and Bonefish is a truly amazing experience and has all the fish you would want to catch in a lifetime.
I would also put Cuba right up there with the Seychelles for flats fishing. Species such as bonefish, Permit, Tarpon, Snook, and Barracuda are in abundance and of course, catching the flats grand slam is a good possibility!
Other than Cuba, flats fishing in Belize also offers the same chances to catch those three flats' grand slam fish – Bonefish, Tarpon, and the Permit. The Turneffe Atoll is possibly one of the stand-out locations in the world for inshore flats fishing.
One fish that is another favorite for fly fishermen on the flats is the Roosterfish. One of the best places to catch them is in Costa Rica. Being an incredible predator they can give great sport and they look awesome in photos!
If your looking for somewhere in the US to flats fish, then Florida has most of the fish you would want to target. In addition, flats fishing for smaller species such as Redfish, Snook, Jack Crevalle, and Barracuda are on offer for the first time flats fishing anglers or even for kids!
What other fishing boats can be used for Inshore fly fishing?
Many anglers may not get the chance to fish from a skiff (or sometimes called a skinny boat) other alternatives such as fishing from kayaks, a canoe, or a paddleboard. However, these methods are extremely difficult to keep your balance and also have limited space for casing and line management.
I would not personally recommend these as viable options. So stick with fishing from a skiff wherever possible.
Skinny water fishing is always best done using a skiff!
What to wear when Inshore flats fishing?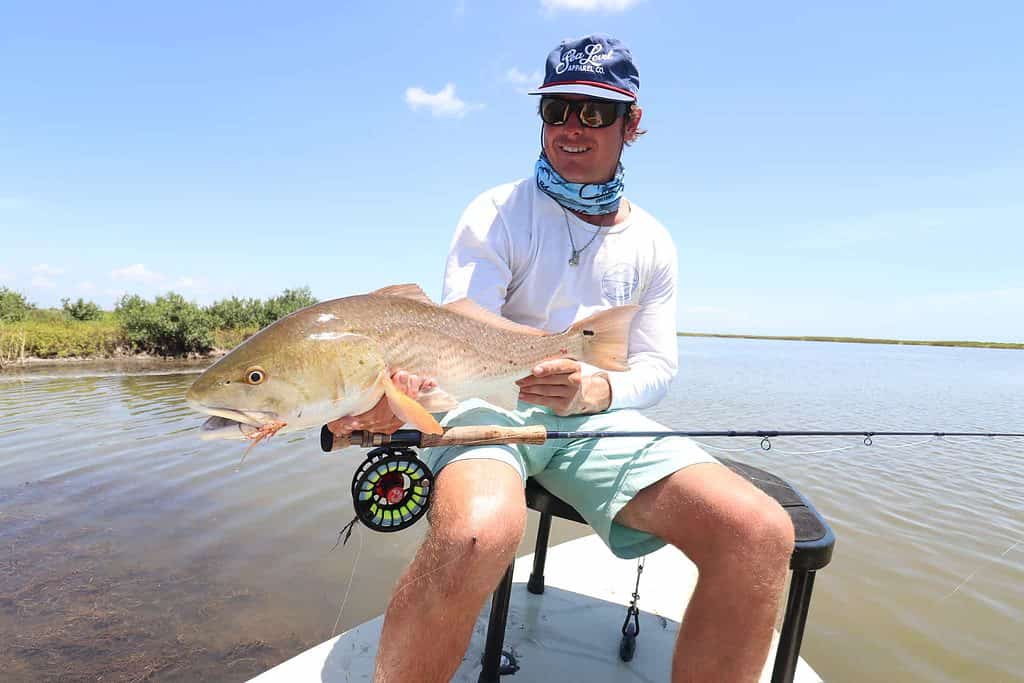 When fishing the flats Polarized UV sunglasses are an absolute must. The glare in these tropical waters is strong and buying quality polarized lenses is going to allow you to sight more fish, resulting in learning the art of skiff fishing and obviously catching a lot more! 
My personal favorite sunglasses are the Smith BASECAMP Polarized Fishing Sunglasses, alternatively the Costa Del Mar Sampan Polarized Fishing Sunglasses. Both are superb quality sunglasses and perfect for flats fishing.  
A fishing hat or a cap is another critical piece of gear. Keeping the hot sun rays from your head and also your neck is not only going to make you feel comfortable but also avoids a trip to the doctor after getting sunburn!
Lastly, when fishing always use a good eco-friendly sunscreen lotion. Applying sun lotion to every exposed area around the face, neck, ears, legs, and hands is the minimum to prevent sunburn. You can read more on my personal choice, the Green People Organic Sun Lotion SPF30 here!
You're Ready To Go! 
If you follow all the steps and advice above, you'll be as ready as you can be to fish from a skiff and the more you do it, the better you'll be.
It can be very chaotic and your heart will be booming with adrenaline, but fly fishing doesn't really get more exciting or fun so enjoy it to the max. 
I hope that this article helped to give you as much information as possible to learn and be able to successfully go inshore flats skiff fishing.
You can read more on where to go for great saltwater and freshwater fishing locations around the world here! 

Latest posts by Jamie Melvin
(see all)