Disclosure: Some posts contain affiliate links, which earn us a commission if you make a purchase through them. Positive Fishing © participates in various affiliate networks including the Amazon Services LLC Associates Program.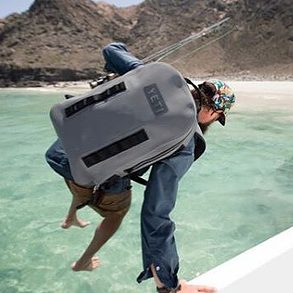 Yeti Panga 28 Waterproof Backpack Review – Is It Worth It?
Our Verdict
The YETI Panga Backpack is a really stylish and versatile bag. With multiple uses from fishing to biking, hiking, and every outdoor activity it has true versatility. Its strong construction and 100% waterproof capability puts it at the top of the range for anyone looking for a quality product and great design.
The Good
Truly awesome quality construction
Can be used for multiple uses and not just a fishing pack
Trusted name and service
100% waterproof confirmed
Extremely practical and comforatble to wear for the whole day
The Not So Good
Slightly expensive
Zipper care is a little tedious
Whether you're a fly fisherman, a coarse fisherman, a flats fisherman, or a boat fisherman, if there is one key piece of fishing gear every fisherman needs, it's a waterproof backpack. 
When I go fishing, I'm usually wading and inside my bag is a lot of very expensive gear. From the DSLR camera to my phone, all my flies, spare lines, tippet, and more. The last thing I need is to throw a cool grand down the drain because my backpack isn't waterproof, or to even have to think in the back of my mind that it even could happen. 
The solution to all this is a waterproof backpack, but it can't just be any waterproof backpack, it needs to be one you trust, is reliable, and lasts too. Enter the Yeti Panga Submersible Waterproof Backpack. 
An Overview Of The Yeti Panga 28 Waterproof Backpack
The Yeti Panga Waterproof Backpack is a backpack I have had the pleasure of fishing with for the last 4 years, and wow does it do the job. 
How Does It Look? 
First of all, it's a really good-looking backpack. The first time I saw one of these, I wanted to buy one. This backpack just looks like it's ready to go anywhere and kick ass while doing so but in a smoother sophisticated way. 
The pack comes in two color options, tan and storm grey, which is ideal for blending in the background to prevent spooking any fish that are in the nearby shallow water.
What Is It Made Of & Will It Last? 
The Yeti Panga Waterproof Backpack is built from an incredible material, high-density nylon with a thick TPU lamination. When you touch the bag, you'll notice how smooth and thick the panels are and this is to ensure the backpack is 100% waterproof as well as abrasion-resistant and puncture-resistant. 
It is truly built to go anywhere and keep everything inside it as dry as a bone. The base is also reinforced with an extra panel to ensure the bottom of the backpack doesn't wear out when putting it down on rocks and sharp objects every day.
Is The Yeti Panga Backpack Fully Waterproof? 
The zipper uses Hydolok technology and a U-Dock system to create a watertight seal, and it is water-tight. I have had days guiding when the tide has come in quicker than I expect and thus have had to swim to my boat. This backpack didn't leak one bit, in fact, it kept me afloat, helping me swim to my boat. 
Is The Panga 28 Zipper Reliable? 
The zipper on this backpack is incredibly reliable but you will need to look after it. Included with the backpack is Yeti's zip lube which looks like a stick of lip balm. You will need to rub this on the entire zipper every few months to keep it lubricated and sliding smoothly. If you don't do this, the zip can become quite stiff and harder to use. 
Another point about the zipper is that once locked into the U-Dock when fully closed, it can be hard to remove as it does "lock" in a bit. Just be gentle but forceful and you'll be fine. 
How Much Space Is Inside The Panga Backpack? 
In terms of space, the 28-liter internal volume is the perfect size for the backpack to be big enough but not too bulky. You can easily fit your lunch, a water bottle, a camera, a rain jacket, and some tackle inside it with some room to spare. 
I found the Yeti Panga 28 is the perfect size for carrying everything I need for roaming on the salt flats and would be perfect for stalking after carp on the surface.  
Are There Any Pockets Inside? 
There is just one internal pocket, a handy zippered mesh pocket that is great for valuables like your phone, wallet, and keys. There is also a laptop sleeve at the back, which is great for when you're heading into the office with it, so you can use the Yeti 28 as a laptop bag also, which you'll want to do since it's so stylish. 
I personally would like to see a few more pockets inside the bag to make organizing your gear a little bit easier, but I also understand that extra pockets can compromise its waterproofing, so maybe it's best that Yeti didn't add any extras. 
How Is The Carrying Comfort? 
The Yeti Panga Waterproof Backpack is very comfortable to carry and this is thanks to the DryHaul shoulder straps. The shoulder straps are made ergonomically and fit very well plus they are well padded to ensure heavy loads do not dig into your shoulders and cause discomfort. 
The backpack also comes with removable chest and waist straps which allow you to spread the load more evenly when your backpack is super heavy.
Are There Any External Attachment Points? 
Both the shoulder straps and the front of the backpack come with webbing. This means you can easily clip on a pair of nippers or floatant to the front of the backpack and use the webbing on the back for other accessories. 
How Good Is The Lifetime Guarantee From YETI? 
Yeti really do stand by their products and I actually received a new Yeti Panga Waterproof Backpack in the post the other day, and here is why. I never actually bought my Yeti Panga Waterproof Backpack, I was given it as a gift from a fishing client I had guided. Then one day, I overfilled it and the zipper parted (I also hadn't been taking care of the zipper). 
I sent Yeti an email explaining what had happened and they said "Yeah sure, we'll send you a new one, what was your original order number for the backpack?" I explained I didn't have an order number as it was a gift from a client, and they sent me a new one anyway.
So, when you buy one of the Yeti Panga Waterproof Backpacks, you are getting a backpack for life and Yeti will make sure of it. 
Yeti Registration
Make sure you register your purchase, once you do Yeti will send you some decals/stickers. Yeti will send you a thank you free gift that includes five stickers! 
The stickers take about 6-8 weeks to arrive and can be applied to decorate your Yeti 28 pack, Yeti drinkware, Yeti coolers, or any of the Yeti products!
Pros
The main compartment is perfectly sized to carry your fishing gear plus extras like rain jackets and a water bottle 
Built from incredibly tough materials that last and are 100% waterproof 
Both puncture and abrasion-resistant and will survive the harshest of environments 
The Hydolok™ Zipper creates a 100% waterproof seal 
The ​​U-Dock™ ensures no water comes through the end of your zipper 
The backpack is submersible therefore it floats and you can even swim with it on 
You'll find a laptop sleeve inside for days in the office when you're not fishing 
There is a small zipper pocket inside for valuables like keys and your phone 
Webbing attachment points on the outside for adding accessories
The DryHaul™ shoulder straps are ergonomically designed and padded for carrying comfort 
Comes with a removable chest and waist strap to make carrying heavy loads even easier 
It's a very good-looking backpack 
Comes with a lifetime guarantee so you get a backpack for life 
Cons
The zipper's dock is tight and can be hard to open
You'll need to lube the zip every month or so to keep it sliding smoothly 
Just one pocket and one laptop sleeve inside 
A little difficult to keep things organized inside 
Specs
Capacity: 28 L 
Pockets: 3
Waterproof: Yes
Material: High-density nylon and thick TPU lamination
Is The Yeti Panga 28 Waterproof Backpack The One For Me? 
If you're looking for a waterproof backpack to take on every fishing and other outdoor adventure you go on, then you can't go wrong with the Yeti Panga. It's a great-looking bag that is tough as nails and it's so waterproof that it will keep you afloat while you swim across a lake with it on. 
With enough space for everything you need for a day of fishing, the guarantee that nothing will get wet, and the fact that it's a backpack for life make the Yeti Panga one of the best waterproof fishing backpacks on the planet. 
Final Thoughts
The Yeti Panga Backpack is a truly versatile waterproof bag that offers great durability, the 28-liter space is perfect for all kinds of fishing. 
The Panga backpack can be used for multiple other activities such as paddleboarding, hiking, mountain biking, kayaking, skiing, snowboarding, boating, and even taking to the office as a Yeti computer bag!
I hope that this article gives you all the details needed to go out and buy this awesome backpack. You can read all my other reviews on fishing accessories here!

Latest posts by Jamie Melvin
(see all)