Disclosure: Some posts contain affiliate links, which earn us a commission if you make a purchase through them. Positive Fishing © participates in various affiliate networks including the Amazon Services LLC Associates Program.


If you're addicted to fishing, you're not what some anglers call a "fair-weather fisherman"; you're the guy who's out there no matter what the weather brings!
Wind and rain are the two elements that we fishermen experience the most, and there is nothing worse than walking up a river or sitting by a lake soaking wet and cold due to the wind chill. 
No one lasts too long in these conditions, and packing up and going home becomes more pleasant with every raindrop. But it doesn't have to be this way if you're wearing quality rain gear. 
Our Best Rain Gear For Fishing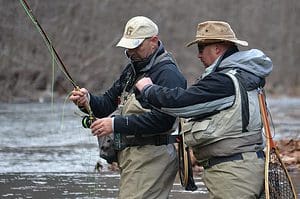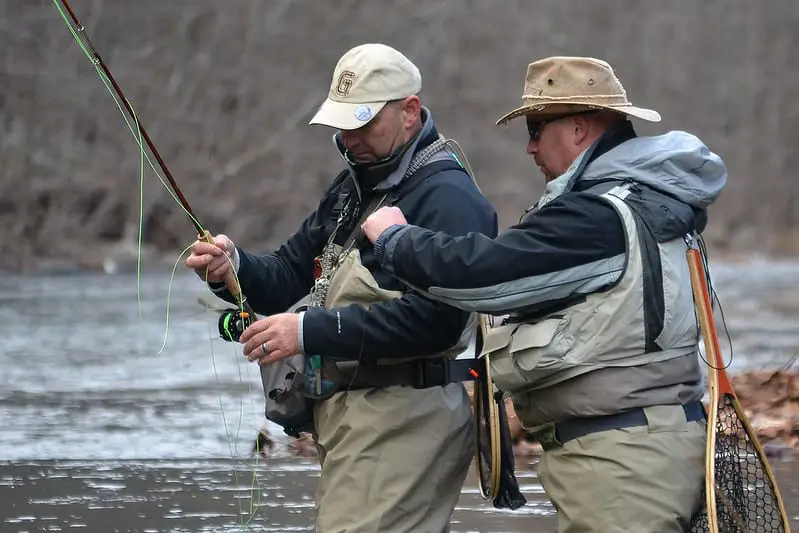 When you're wearing great fishing rain gear, you're dry, warm, and impervious to the elements as you continue hunting your catch. Choosing the right waterproof fishing suits and jackets to buy is not an easy task; there are so many options and prices depending on the quality you can afford.
Join me as we look at the best rain gear in 2023, specifically for anglers. My reviews not only cover rainy or cold conditions but also the best lightweight jackets and options for various types of fishing. 
HUK Gunwale Rain Water & Windproof Jacket – My Best Lightweight Jacket Pick!
The HUK Gunwale Rain Water & Windproof Jacket is one of the best lightweight rain jackets for fishing you might find on the market. 
While I am flats fishing or fly fishing, this is the jacket I use especially during the warmer climates. While being a professional fishing guide, it's this jacket that keeps me not only dry but also able to move freely and instruct beginners much more easily. 
This jacket is built from a 100% nylon shell with a DWR (durable water repellent) finish for excellent wind and waterproofing. This jacket is built to keep you dry and comfortable, and it delivers every time, shedding water no matter how heavy the rain gets. 
Beneath the wind/waterproof outer layer are two further layers that are designed for moisture-wicking and breathability. The jacket lets hot air escape by being breathable, so you don't overheat while being active in the rain. 
The moisture-wicking layer actively picks up sweat and transfers it to the surface where it leaves the jacket. This not only ensures you aren't getting wet from the inside and thus stay warm, but it also means you won't overheat either. 
This rain jacket for fishing comes with a fully adjustable storm hood and zipper hand pockets for gear and warming, and there are even pit zips in case you need to dump heat quickly. 
Another great thing about this rain gear for fishing is how light and packable it is. You can fold it into its own pocket, and it just weighs 1 lb, so taking it around the world is easy. 
Overall, this is a durable, lightweight jacket that will keep you warm and dry while you're fishing. The only negative is that it can be quite noisy when you move around. 
Pros 
Very affordable for the quality 
Breathable to ensure you don't overheat 
Excellent waterproofing and well-sealed seams 
Moisture-wicking inner layer to remove sweat 
Durable build that lasts 
Light and packs into itself for portability 
Pit zips so you can dump heat quickly 
Hood and zipper pockets for extra protection 
Cons 
It can be noisy to move around in 
Specs 
Type: Jacket 
Material: 100% 3 layer nylon shell with DWR finish
Waterproofing: 10K/15K waterproof/breathability rating
Packed Weight: 1 lb 
Hood: Yes, adjustable with storm flap 
Simms Freestone Jacket – My Best Overall Jacket Pick!
The Simms Freestone Jacket is one of the best heavy rain gear fishing jackets you can find on the planet! Simms' quality cannot be denied as when they make something, it does what it's meant to and it lasts, plus it comes with a lifetime warranty! 
This jacket is built from a 3-layer Toray laminate with a full DWR Coating, this jacket is built to handle the most torrential rain and wind and keep you warm and dry. It's excellently sealed to stop any leaks, the zippers are top quality, and the DWR coating lasts and works. 
The two inner layers actively help the fabric breathe and wick moisture, letting hot air out without breaking the waterproof membrane and moving sweat from your body to the atmosphere to keep you dry and warm. 
While this is an expensive rain jacket, it does come with some extras like fleece-lined handwarmer pockets, large chest pockets with built-in tool retractors, and a storm hood with a brim. The hood provides amazing coverage, and the brim holds up so that your sunglasses stay dry and you can fish through the rain. 
Overall, this is one of the most durably built and waterproof rain jackets for fishing around, and while it is expensive, you will probably have it for life and never be wet next to the water again. 
Pros 
Excellent pockets for fishing gear 
Super durable build 
Built-in tool retractors 
Exceptionally waterproof and windproof 
Fleece-lined handwarmer pockets
Breathable to keep you cool & dry 
Storm hood with a brim for fishing in the rain
It comes with a lifetime warranty 
Cons 
A little bulky to carry around 
Quite expensive 
Specs 
Type: Jacket 
Material: 3-layer Toray laminate
Waterproofing: Full DWR Coating 
Packed Weight: 1.5 lbs 
Hood: Yes, Adjustable 
Riverruns Fishing Wading Jacket – My Best Budget Jacket Pick!
The Riverruns Fishing Wading Jacket is a solid budget option for anyone looking for some semi-decent rain gear for fishing that is still affordable. 
This rain jacket is built with triple-layer nylon and comes with a waterproof rating of 8000 mm, which is the same as a tent!
It handles a solid dose of rain, but there are complaints about it not being waterproof on day 2 of solid rain, and it takes ages to dry – but this is what you get when shopping on a budget. The sleeves tend to absorb water, so be sure not to put them too deep into the river. 
It's also a breathable jacket that allows heat to leave so you stay comfortable, and it's also windproof to keep you warm when a stiff, cold breeze comes across you. 
This jacket is loaded with 9 pockets, including one waterproof internal pocket for your valuables. You'll also find tool attachment points and fly patches on the two main gear pockets, along with a large back pocket for maps or lunch. 
Overall, this jacket does the job for a day of wet fishing and has great pockets, but it doesn't handle extended fishing trips in the rain. It is also quite heavy and bulky to carry around while waiting for the bad weather to arrive so you can put it on. 
Pros 
Very affordable for all budgets
Nine pockets for all your fishing accessories 
Internal waterproof pocket for valuables 
Fly patches & tool attachments 
Good waterproofing for a day of hard rain 
Breathable to keep you from overheating
Cons 
Heavy and bulky 
It doesn't stay waterproof for extended days in the rain 
Sleeves seem to absorb water 
Specs 
Type: Jacket 
Material: Triple layer nylon
Waterproofing: > 8000mm
Packed Weight: 2.5 lbs 
Hood: Yes, Adjustable 
WindRider Ice Fishing Suit – My Best Ice Fishing Suit Pick!
If you plan to go ice fishing at Devil's Lake, North Dakota, or in areas with extreme cold, such as winter in Washington and Oregon, you will need a serious suit to keep you warm. 
The WindRider Ice Fishing Suit is built to keep fishermen warm while you are out on the ice, dropping baits in the snow and dealing with frosty wind chill. It's built with 3M insulation to keep you warm no matter the weather, and it will even keep you afloat if you fall into the icy cold water. 
The outside of the suit is incredibly waterproof and windproof, with dual zippers that allow you to dump heat when needed and special zippers so you can pee without stripping down and getting cold in the process. 
You'll find fleece-lined hand warmer pockets on this jacket, large chest pockets and thigh pockets for fishing gear, and internal insulated chest pockets that you can access from the outside. 
The built quality of this suit is also excellent, and it comes with reinforced knee pads, so they last no matter how much ice you need to kneel on. 
Overall, this is an amazing suit for cold-weather fishing, particularly ice fishing. It is probably too warm to use outside of these freezing temperatures, plus it is bulky and heavy, making it hard to store and travel with. 
Pros 
Durably built to last 
3M layer of insulation for warmth
Excellent waterproofing 
Double zippers for breathability 
Built-in floatation for any accidents 
Lots of pockets for fishing gear 
Handwarmer pockets 
Cons 
Too warm for non-ice fishing trips 
Quite expensive 
Super heavy and bulky to store/pack 
Specs 
Type: Suit 
Material: Nylon
Waterproofing: Full 
Packed Weight: 9.7 lbs 
Hood: Removable & insulated 
Town & Field Rain Suits for Fishing – My Best Lightweight Rain Suit Pick!
If you're looking for a light rain gear suit for fishing that is also affordable then the Town & Field Rain Suits for Fishing might be right up your alley. 
These rain suits are made from polyurethane finished with a DWR coating which makes them both extremely light and effective in miserable weather. 
Being light means you can have the suit in your backpack ready in case of serious wind and rain, and when you put it on, it's super comfortable and easy to move around in, too. 
Its main flaw is how waterproof it is. Being so light, this rain suit holds up well in bursts of rain, but if you're fishing in torrential rain all day, chances are you will get wet. On the plus side, though, it does block the wind and dry quickly. The hood and collar are also great for giving you more protection. 
While this is both light and affordable, you might not think it would be durable, but it is, so this an excellent choice for those anglers who are out fishing often. It does have some sizing issues, so be sure to read the size guides and act accordingly. 
Pros 
Lightweight and super packable 
Very affordable for the quality 
Durable and will last 
Super comfortable to wear
Excellent for high winds 
Good waterproofing for short bursts of rain 
Cons 
Sizes are hit and miss 
Light and not great in hours of heavy rain 
Specs 
Type: Suit 
Material: Polyurethane
Waterproofing: DWR 
Packed Weight: 2 lbs 
Hood: Yes, Adjustable 
Navis Marine Bass Fishing Rain Gear Suits – My Best Overall Fishing Suit Pick!
The Navis Marine Bass Fishing Rain Gear Suits are a great middle-ground when it comes to price while delivering excellent weather protection for anglers fishing in most environments. 
These rain suits are made from nylon and polyester with a DWR coating that provides a waterproof rating of 20,000 mm – more than most tents. This kind of rating not only keeps you dry in heavy rain that just won't quit, but it also blocks extreme winds simultaneously.
This rain suit is light and super comfortable to wear, making it easy to move around while you're fishing, and it won't overload your backpack either, which is ideal as you can take it anywhere. 
The rain suit has a large hood fitted for excellent protection from the elements and adjustable cuffs to ensure you can lock in your dryness. There are also some very well-placed pockets and gear attachment points on the suit, so you can always access the things you need quickly. 
Overall, this is a solid rain suit, and while most of them are durable and last, some users have experienced them tearing quickly, but this is very rare. 
Pros 
Excellent waterproofing so you stay dry 
Durable build that lasts 
Adjustable cuffs and hood for good coverage
Comfortable to wear 
Quite durable to handle lots of fishing 
Great pockets and placement for gear 
Blocks strong winds well 
Cons 
Quality can be hit and miss 
Specs 
Type: Suit 
Material: Nylon/Polyester
Waterproofing: 20,000 mm 
Packed Weight: 1.85 lbs  
Hood: Yes, Adjustable 
Drying Out 
Thanks very much for reading my article. I hope you enjoyed it and now know which bit of rain gear will be best for you. Nothing is worse than being wet and cold on the bank or in a boat; this rain gear will ensure it never happens. 
If you're still wondering which bit of rain gear to go for, I would suggest the HUK Gunwale Rain Water & Windproof Jacket for fly fishermen or flats fishermen in warmer climates or the Simms Freestone Jacket for anyone planning wading or fishing in colder climates. 
As far as the suits go, the Navis Marine Bass Fishing Rain Gear Suits is a great all-rounder, but you'll need the WindRider Ice Fishing Suit for extreme cold weather. 
For more information and guides on fishing clothing such as socks, hats, shirts, and base layers, check out these in-depth articles that cover all types of weather and every style of fishing.

Latest posts by Jamie Melvin
(see all)