Disclosure: Some posts contain affiliate links, which earn us a commission if you make a purchase through them. Positive Fishing © participates in various affiliate networks including the Amazon Services LLC Associates Program.


I have been addicted to fishing since I can remember. My whole childhood was pretty much spent saying, "Mum, I want to go fishing" it's all I ever wanted to do every day growing up, but I never really knew how to make it a career. I didn't realize it was a career option, to be honest. 
This was a time before the internet really got going, and things like Instagram and Facebook were not around yet. There were no easily accessible images of guides in Seychelles poling boats or drifting down rivers in Montana, not that I saw anyway. 
Today, we all know that one "can be a fishing guide," but how do you become a professional fishing guide? Having been a fishing guide for many years, I'll run through the steps you can take to become an expert fishing guide drawing on my own experiences and the many other guides I've worked with. 
Go Fishing As Much As You Can 
It's probably quite apparent to most of you, but if you want to become a fishing guide, you need to know how to fish, which means spending time on the water. 
You might live in Montana, just a 30-minute drive from the Yellowstone River and countless others, or in an apartment in Manchester, UK, with access to a few trout lakes if anyone has the time to drop you at them. It doesn't matter. Get out on the water and fish as much as you can. 
You never know where your first guiding job is going to be. You might get lucky and start your career guiding for bonefish and GTs in Seychelles, in which case, whether you have fished in Montana or Manchester isn't going to make the slightest bit of difference to what you can do there. 
But, time on the water while fishing teaches you things regardless of your environment. Weather changes and the fish's reactions to them are common across all environments, different hatches or baitfish arriving at other times, fish moving to different depths, and lots more. 
While guiding, it's your job to find the fish and work out what they want to eat. The more you have experienced fishing, understanding fish changing their moods, and catching many of them yourself, the better you'll be at guiding in new locations. 
Improve Your Fishing & Teaching Skills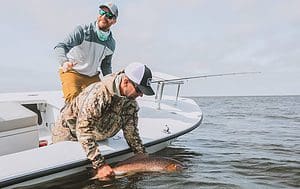 Spending time fishing also allows you to hone your fishing skills, learn more about fish, and improve your knowledge. Being an expert fishing guide isn't about fishing yourself; it's about explaining how to fish to someone who isn't quite as learned as you are. The better you can understand how to fish, the better you can help someone else do it. 
I worked with a guide who was the captain of the fly fishing team for his country, a fantastic accomplishment. He was an incredible fly fisherman, but he couldn't communicate well enough to teach someone else. 
Try to teach your mum how to fish. This might sound funny, but thinking through how to teach someone and then trying to teach them helps you learn a lot and will prepare you for guiding. 
Fish In Different Environments & For Different Species
Wanting to be a freshwater fishing guide, saltwater fishing guide, or fly fishing guide all require similar skill sets. Having a job as a fishing guide requires considerable fishing skills and local knowledge.
Whatever country you live in, there will be many different environments to catch fish in, such as lakes, rivers, and the sea, and lots of different species to catch as well. Go and fish in all of them for a range of species. 
By fishing in new and different environments and for new species, you, as a fisherman, learn to adapt your techniques to varying situations.
If you can become a master at catching salmon, trout, bass, and sea bass in rivers, lakes, and the sea, you are going to understand a lot more about fish and fishing than if you fished on one river for your whole life. 
You'll be exposed to how the food chain works in rivers vs. lakes and how depth plays a role, and by fishing in the sea, you'll learn how the tides affect everything too. 
Go Fishing With Guides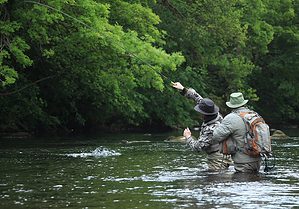 Only some people in the world who want to become a fishing guide will be able to go fishing with a guide when they are young as it is expensive. 
It cost £10 a day for me to go fishing when I was growing up, which my family could just afford, add a guide, and it's more like £300 a day, so it wasn't an option for me. 
But, if your family can afford it and anyone else loves fishing, go fishing with guides as often as you can, and even fly abroad to fish, so you get exposed to new environments. 
The first time I went fishing with a guide was in the Bahamas in my mid-20s, and I paid for it off my own back. It was my first time fly fishing in saltwater, my first time at a lodge, and my first time fishing with a guide. I learned so much. 
Talking to the guides, the lodge managers, and the owners of the lodge gave me hope and new connections, the first real connections in the industry I wanted to work in. If you can have this experience before you're 20 years old, it will make becoming a guide a lot easier. 
Go To Fishing Guide School 
Did you know that schools for fishing guides exist? I didn't until I wrote to a fishing lodge in Slovenia asking if I could come and work for free (food & board) and learn to be a guide. They suggested I go to a guide school and then return to them afterward. 
I did a quick search online, and there they were, and they were in Montana, a place I'd wanted to fish since I watched "A River Runs Through It" when I was eight years old. A quick call to my sister to ask if I could borrow the money, and it wasn't long until I was on a plane to Montana joining for guide school! 
If you're already a proficient fisherman, going to guide school might not teach you that much about fishing, but you will get hands-on experience of what it's like to be a fishing guide for a week. 
You'll pack the lunches, help out the lodge staff, learn to row drift boats, drive jetboats, and how to guide an angler standing on the bow of your boat. Not only will it show you if guiding is for you, but you'll also make connections within the industry and sometimes be offered a job at the end of the week if you're good enough.
Get Your Safety Qualifications 
To be able to be employed as a fishing guide, you're going to need some qualifications. You will need to apply for your guide license in the United States, which also involves ticking some boxes.
At the bare minimum, you will need to have your: 
Once you have these, you are more employable, and it also saves you from getting them once you have been offered a job and probably keeps your future employer waiting because of it. 
Take Good Photos & Use Instagram 
A big part of being a fishing guide, and a successful one at that, is taking pictures and sharing them with clients and social media.
I guarantee that most potential employers will look at your Instagram account, and if they see awesome fish pictures from around the world, chances are you're going to be higher up the employment list. 
It would help if you also used Instagram to connect with lodges and guide outfits across the world. Follow all of them, like and comment on their photos, and once you have, they are all only a message away. 
Use All The Connections You Have 
If you have done everything laid out above, you are ready to send out your CV and start finding your first job as a fishing guide. 
Make a Fishing CV and a regular CV, as they will be different, and so that anyone reading them gets to see both sides of you. Now start sending them out to all the fishing lodges you want to work at. If you're in the states, go to tackle shops, leave your CVs there, and ask around. Some tackle shops even employ guides so that you might get lucky. 
Contact all the old lodges and guides you have fished with and stayed in touch with over the years. They will have more connections in the industry than you will and more influence too. 
It's not going to be easy to become a fishing guide, but it will happen if you persist. Most of the stories I know about the fishing guides who work in the best parts of the world are stories of hard work and not giving up.
How To Apply For A Fishing Guide Job?
For the United States, most fishing guide jobs are advertised in specialty fishing magazines such as American Angler, In-Fisherman, Fly Fisherman, Outdoor Life, Florida Sportsman, Saltwater Sportsman,  Bassmaster, and many others. It is much easier to do a google search on "fishing guide jobs" and multiple agencies such as indeed.com, flyfishingjobs.com, jooble.org, simplyhired.com, etc.
Another excellent option is visiting the pros at big retailers such as Orvis, L.L. Bean, and BassPro. Another great resource is a site like Vail Valley Anglers, which lists out all its guides and has a page dedicated to careers as a guide.
For overseas jobs, look into the large fishing retailers and magazines in the country you are targeting. Writing to various fishing lodges across the globe is likely to get some fishing guide opportunities. Think of anywhere that attracts sport fishermen!
Lastly, it's almost inevitable that you will need to work for someone else before establishing yourself as a reputable guide and possibly setting up your own business.
How Much Do Fishing Guides Make?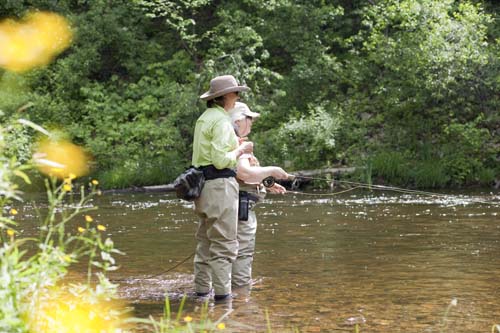 Most guide jobs pay are going to be obviously different across the world. But typically, in the United States, you should expect between US$ 30k to 50k per year, depending on your age and experience. 
A fishing guide's salary is not huge. However, it should be noted that good guides make more money from customer tips, which will vary depending on whether you provide a great service and whether they catch the trophy fish they were expecting! 
Stick With It 
Thanks very much for reading my article; I hope you enjoyed it and now have set a course to becoming a fishing guide (or not). When you get that first break, stick with it for at least a year or two before guiding somewhere new and exciting. 
Guide life is challenging both physically and mentally, but it's immensely rewarding at the same time too, and much better than sitting in an office behind a computer in my eyes.
You can learn and read more in my "getting started fishing" articles here!

Latest posts by Jamie Melvin
(see all)