Disclosure: Some posts contain affiliate links, which earn us a commission if you make a purchase through them. Positive Fishing © participates in various affiliate networks including the Amazon Services LLC Associates Program.


Seychelles is one of the best places on the planet to go saltwater fishing. The range of species on offer and the sheer quantity of fish in Seychelles' waters is simply mind-blowing. But, as with all fishing trips, you need a bit of insider knowledge to make them successful on your first go. 
Luckily for you, I have spent the last three years as a saltwater fly fishing guide and offshore skipper in the outer islands of Seychelles, so you're talking to the right guy here. Plus, having fished all around the world, I can say with a lot of confidence that there is nowhere quite like Seychelles when it comes to flats and offshore fishing. 
Join me as we look at the fish species on offer in Seychelles, where to find them, what times of year are best to catch them in, how to catch them, and how to book a fishing trip of a lifetime to this incredible angling destination. 
Top Fish To Catch In Seychelles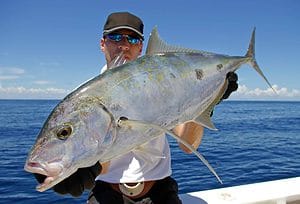 There are so many great species of fish to catch in Seychelles that it's hard to know where to start. You literally have the chance to catch every species of sport fish that lives in the Indian Ocean, which is what makes Seychelles so incredible – it's all about diversity. 
I had a day guiding where my guest caught a sailfish, wahoo, bonefish, and a permit all in one day and all on a fly rod – if that's not amazing fishing, I don't know what is. 
To make it a little easier, I'm going to split the top fish to catch in Seychelles into inshore (fish that live on and inside the reef) and offshore (fish that live outside the reef). 
Offshore Fish In Seychelles 
The range of offshore species available in Seychelles is quite amazing, and when you read the list, you'll notice that there aren't many names that aren't on there. When in Seychelles, the top offshore fish to catch are: 
Broadbill Swordfish 
Blue Marlin 
Black Marlin 
Striped Marlin 
Sailfish 
Yellowfin Tuna
Wahoo
Dogtooth Tuna 
Dorado 
Giant Trevally 
Your chances of catching many of these in a single day are pretty high too. We had a client join us when we went out to catch some fish for the hotel, and he ended up catching a black marlin, a sailfish, 13 yellow-fin tuna, and 7 wahoos, all in just 4 hours! 
Inshore Fish In Seychelles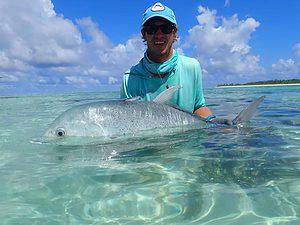 The inshore, or flats of Seychelles, are renowned as the best saltwater flats in the world as they are home to all species a flats angler wants to catch in their lifetime, and here they are: 
Giant Trevally 
Bluefin Trevally
Milkfish 
Indo-pacific Permit 
Titan Triggerfish 
Yellowmargin Triggerfish 
Bonefish 
Bumphead parrotfish 
If you're roaming the flats of Seychelles, you're likely to see all these species in a day if you have a good guide. But, catching them is another matter, as the flats of Seychelles are reserved for fly fishing only. 
Where To Go Fishing In Seychelles?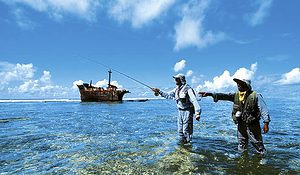 Seychelles is made up of 115 different islands, and if you want to enjoy the best fishing possible in Seychelles, you need to know which islands to go to.
The main and most populated island in Seychelles is Mahe. The capital is Victoria, where your international flight lands. 
Staying on Mahe isn't your best move when finding fish, as it has been fished quite heavily. It also sits on a bank with shallow water in every direction for more than 30 miles, making the fishing grounds quite a long journey away. 
If you move to some of the outer islands, the drop-off is just a mile off the beach, and this is where the offshore fishing of Seychelles gets really good as you have a 1000-meter depth change over about 2 miles. 
If I had to choose one place to go fishing in Seychelles, it would be fly fishing on Cosmoledo Atoll. The number of GTs and other species is spectacular, and the island's wilderness is something to behold, a bit like a land left behind in time. 
Note: The name Giant Trevally is often abbreviated to simply GT by many anglers.
Fishing At Denis Island 
Denis Island is a private island that sits north of Mahe and is a short flight away from the main island. It has some of the best offshore fishing in Seychelles, thanks to its location on the edge of the Mahe bank. All the key offshore species follow the bank as they migrate and swim right past Denis. 
Within 30 minutes of being on the boat, you can be at numerous sea mountains and hundred-meter drop-offs with the chance of catching all the species mentioned above. 
You can also fly fish on Dennis Island for both bonefish and Indo-pacific permit but they don't offer any guiding; you'll need your own gear and be able to do it solo. 
Fishing At Desroches Island
Desroches island sits way off the Mahe bank, about 125 miles to the southeast, and it has some fantastic fishing to offer and a Four Seasons hotel to stay in. 
The drop-offs are patrolled by big Dogtooth Tuna and Giant Trevally, while a little way off them, you'll find lots of wahoos, sailfish, and yellowfin tuna.  
Poivre Island and Africa Banks are about 20-30 miles east of Desroches. The flats of Poivre are a hot spot for Indo-Pacific permit fish where numerous world records have been landed. While offshore at Africa Banks, you're likely to find every one of the offshore species I mentioned above. 
Fishing At Alphonse Island 
Alphonse Island is a bit further south of Desroches but just an hour's flight from Mahe. The island is run by Blue Safari and offers guided fly fishing and offshore fishing with some of the best guides in Seychelles. 
You can target every species on both lists (except bump head parrotfish) from Alphonse Island, and your chances of catching them are high. But you are only allowed to catch GTs on a fly rod there; no popping is allowed. 
Fishing At Cosmoledo Atoll 
Cosmoledo is known as the GT mecca of the world and is also run by Blue Safari. It's an incredible group of islands close to Madagascar and is a fly fishing only destination. 
You can expect to catch up to 100 GTs a week on the fly on Cosmoledo in a good week and maybe 20 in a tough week. You can also target permit, bonefish, both triggerfish species, milkfish, and bluefin trevally there too. 
Cosmo, as it's referred to, is often booked two years in advance, so be sure to get your foot in the door for 2025/26! 
What Is The Best Time To Go Fishing In Seychelles? 
Seychelles has two monsoon seasons, a northwest and a southeast monsoon. During the northwest monsoon from October to April, the winds are low, the sea is calm, and the weather is generally warm, but there is a rainy season from November to January.  
In the southeast monsoon from May to September, the wind doesn't stop blowing; it blows hard, up to 30 knots every day, and this wind also brings quite a lot of rain. 
The best time of year to go fishing in Seychelles, in my experience, is between February and April. You'll have calmer seas, the rainy season will have passed, and it's when the sea is warm and the fish are happy. This goes for both offshore and flats fishing too. 
What Are The Best Methods To Catch Fish In Seychelles?
When it comes to how to catch fish in Seychelles, you have four main options, and these include:
Trolling for offshore species
Jigging for dogtooth tuna
Popping for GTs 
Fly fishing for billfish, wahoo, and on the flats for inshore species
I personally prefer fly fishing for everything as it's far more skillful and engaging unless I'm going after broadbill swordfish, blue marlin, black marlin, and big tuna. 
How To Book Your Fishing Trip To Seychelles
Suppose you are primarily interested in going to the outer islands to focus on fly fishing and offshore fishing. In that case, you should contact Blue Safari directly, as they manage the fishing on Desroches and the fishing and lodging on Alphonse, Comsoledo, Poivre, and the other atolls. 
For fishing and booking a beach cottage or villa on Dennis Island, just book via my link directly or email [email protected], and they can arrange everything you need for your fishing trip to Seychelles. 
Be warned, the cost of a fishing trip to Seychelles is by no means cheap, and if you find Dennis or Blue Safari to be outside of your budget, you can find some good charter skippers on the islands of Mahe, Praslin, and La Digue. 
You can also hire a liveaboard with professional guides to take you both offshore and flats fishing on various islands. You would live on board the boat, see a lot of Seychelles, and catch a lot of fish. 
Seychelles Fishing Regulations
Seychelles has no fishing regulations for sport fishing, only for commercial fishing. This means you can fish anywhere in Seychelles recreationally from the land or from a boat on the sea without any concerns, just not in marine parks or protected areas. 
Sailing Away  
Thanks for reading my article; I hope you found it useful. Seychelles is an incredible place to go fishing! In a single-day trip, you can catch the IGFA Offshore Super Grand Slam: yellowfin tuna, a dorado, a billfish, and a Wahoo – all in one day! It's hard to beat a place that has this kind of potential. 
Please share the article with your fishing friends, as I'm sure they'll join you on this trip of a lifetime. Until next time, tight lines! You can read more on all my best fishing vacation locations worldwide here!

Latest posts by Jamie Melvin
(see all)