Disclosure: Some posts contain affiliate links, which earn us a commission if you make a purchase through them. Positive Fishing © participates in various affiliate networks including the Amazon Services LLC Associates Program.


The top 5 places to go fishing in Australia that you can not afford not to visit!
Australia is well-known as a fishing destination; surprisingly, it's not just for one type of fishing. With its sweeping coastlines, large pristine freshwater lakes, and beautiful estuaries, there are hundreds of prime fishing locations across the country. 
Along with hundreds of different fishing locations, you also have hundreds of amazing sports fish just minutes away from beautiful destinations. So it doesn't matter if you enjoy casting a fly in salt or freshwater, spinning, or getting out in the big stuff chasing record-size sports fish. Australia truly has it all. 
In the following article, we'll take a closer look at five of the best places to go fishing in Australia and why they're so popular with locals and tourists alike. 
Top Fish To Catch In Australia 
Everybody in the world has heard of The Great Barrier Reef, but did you know it's the world's premier big game fishing destination? Cairns is the starting location for Black Marlin fishing. 
Regarding saltwater fishing, Australia's North East has great diversity, from the black marlin to nearshore warm water fish such as barracuda, trevally, wahoo, sailfish, Spanish Mackerel, and mahi-mahi. In Australia's south, the bluefin is the go-to species.
When it comes to freshwater fishing in Australia, all types of wildest trout you are likely to catch are found in the wilderness island of Tasmania. Other than trout, other freshwater fish species are not so sought after. Both the Murray cod and the barramundi are salt and freshwater species.
The Top 5 Places To Go Fishing In Australia
Black Marlin Fishing In Cairns, Queensland 
The city of Cairns is located in tropical far north Queensland and sits close to the Great Barrier Reef. Offshore fishing is absolutely some of the best in the world, with some amazing black marlin. Between September and December each year, thousands of record-sized black marlins migrate through the area, turning those offshore fishing waters into a black marlin feeding frenzy. 
As the black marlin migrates through the waters off Cairns, a lot of exceptionally large female fish are present, so the chances of getting a record size fish are high. According to the International Game Fishing Association, as many as 70% of large black marlin are caught off the coast of Cairns each year. 
You can also catch incredible sailfish, trevally, and yellowfin tuna. There are a variety of reefs and deep drop-offs surrounding the continental shelf, which the fish love to inhabit.
If you want to experience the thrill of chasing black marlin offshore, there are various charter boats available that all specialize in chasing big game fish. 
Barramundi Fishing In The Northern Territory 
Home to some of the best fishing in the world, the Northern Territory, has one species that anglers from far and wide come to catch, the famous barramundi. 
When the dry season is in full swing, large barramundi will congregate in big schools in billabongs, rivers, and estuaries while they wait for the rains to come. One of the biggest benefits of fishing for barramundi is the number of choices you have when it comes to targeting them. 
You can fish for barramundi using a fly rod, spinning, or casting baits. Barramundi fishing is always the best when the water starts to warm up. Of course, once the wet season rolls in, the fish will move up towards the river entrances, but that doesn't mean you can't still fish for them. 
It's not just 'barra,' as all Australians fondly call them. While in the Northern Territory, you also have access to some of the best saltwater reef fishing in the world. 
Fly Fishing In The Wessel Islands, Northern Territory
Sticking with the Northern Territory, we have the beautiful Wessel Islands. One of the greatest things about the Wessel Islands is that you will not compete with a huge crowd of anglers. Wessel Islands are one of the most remote fishing locations in Australia. So if you love sight fishing on beautiful saltwater flats and sandbanks, this is your destination.
The fish at these islands are almost sure to have never been caught before; the indo-pacific permit will be a dream using fly fishing gear!
Here, you're going to be spoiled for choice regarding different species. Large queenfish, black-spotted tusk fish, giant trevally, coral trout, and many more are in abundance. It's a fly fishers' dream fishing location with crystal clear visibility and sandy bottoms with rock outcrops and reefs. 
The Wessel Islands present a unique challenge as there aren't many charter boat operations in the area. Once you have secured your charter spot, you'll look back and remember it for the rest of your life. 
Trout Fishing On The Island Of Tasmania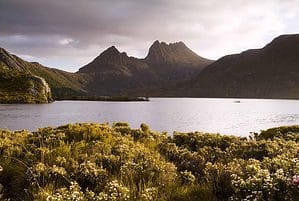 Nestled at the bottom of Australia is the island state of Tasmania. Trout are not native to Tasmania and were originally introduced in 1864. Since then, trout have been carefully managed by the state's Inland Fisheries Service. You have various options, including brown and rainbow trout, fishing streams, rivers, lakes, and large sea-run trout in the Derwent River. 
Trout fishing in the highlands of Tasmania is for the faint of heart. Some lakes are easily accessible by boat, but many of the best trout fishing locations are only accessible on foot and may involve camping for several days. 
The best fishing times are between spring and fall, and various fishing options include fly fishing, spinning, and baits. Always check the regulations as they differ for each body of water. 
Along with freshwater fishing for trout, there are also several large Atlantic Salmon that are released into catchments and estuaries. Also available is offshore fishing for yellowfin tuna, bluefin tuna, and smaller sharks, which provides an exciting alternative to freshwater fishing. 
Check out this in-depth fishing guide to Tasmania for more information on everything you need to know before and when you get to Tasmania.
Bluefin Tuna Fishing In Port Lincoln, South Australia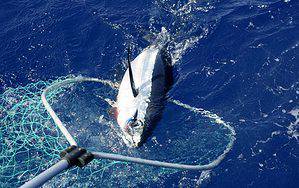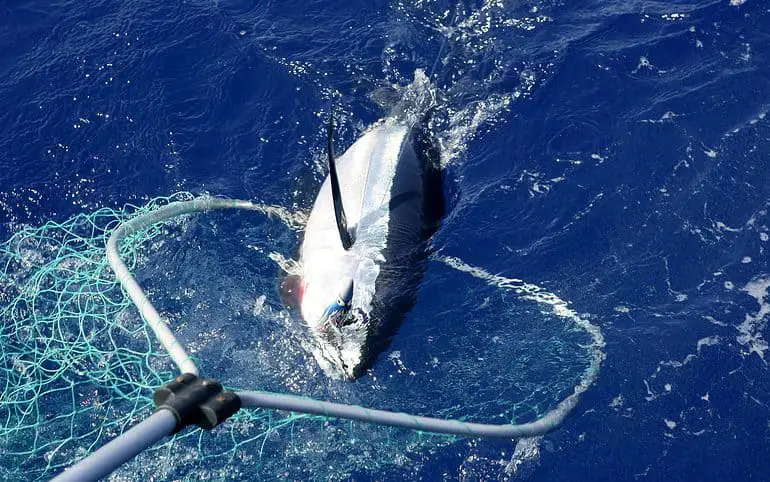 The final destination on our tour of Australia's best fishing locations is the town of Port Lincoln in South Australia, known as Australia's 'seafood capital'.
It's no secret that bluefin is the biggest tuna species in the world, with some fish reaching well over 1000 lbs in weight! So imagine battling that fish at the end of your rod! 
Port Lincoln is only a short boat ride to where the Great Australian Bite and the Spencer Gulf merge. These nutrient-rich waters are a favourite of giant tuna and various other fish species. 
Late summer, or early autumn, is the best time of the year to target these monster tuna but bring your sea legs because the water can get rough. 
If it's too rough to go out to sea, you can also enjoy surf fishing for yellow-tail kingfish, Australian salmon, snapper, and whiting, all of which are great sports fish and delicious. 
Note: Whilst Australia has less than 300 freshwater species despite its size. This is mainly due to the extremely hot and dry conditions found inland. In comparison, the USA in comparison has three times the number of freshwater species.
When To Go Fishing In Australia
Australia has both tropical (in the north) and four seasons in the south. Therefore, the range is very widespread throughout the year.
Regarding offshore fishing in Australia, it's best to fish from late summer through autumn. Australia's summertime runs from December through to May. 
Northern Australia has three distinct seasons, and fish can be caught throughout the year. Between October and December, barramundi school up, and it's the saltwater estuaries where they wait for the monsoon rains to arrive.
When it comes to freshwater fishing in South Australia, the best times are between spring and fall (August to May). Certain fisheries can only be reached by foot; therefore, better weather periods are more suitable. 
Best Tactics To Catch Fish In Australia
Offshore fishing tactics for sport fish are the same as most other destinations. The most common tactics are trolling dead bait or throwing a large lure out on a charter boat for black marlin and bluefin tuna.
Australia's coastline has plentiful opportunities for the saltwater flats anglers, its the flats where you can fly fish from a boat or skiff for various species.
Further inshore barramundi can be caught with any method, with spinning being the most popular method. 
All trout tactics will work well; spin fish, baitfish, and fly fishing will catch trout through the best fishing months.
How To Book Your Fishing Trip To Australia
For black marlin, check out Kekoa Sports Fishing. They have various options available in the Cairns and Fraser Island locations.
Alternatively, you can check out Topwater Sportfishing, a well-respected charter for fishing around the Cairns Great Barrier Reef area.
Another great choice for the Northern territories is Anglers Choice. They conduct build-your-own charter packages tailored to the style and fish you want to target. This comes along with beachfront accommodation, which non-anglers can enjoy!
For Tasmania, the best resource is the Discover Tasmania website, which has many great resources on trout fishing holidays and private fisheries.    
For a trout river fishing experience, the Tyenna River is the best option. Flowing from the Derwent, it has brown and rainbow trout and good access to a large concentration of fish.
Australia's Fishing Regulations
In Australia, every state and territory has its own fishing regulations; there is no national Australian fishing licence. Some states do not require you to purchase a license.
Therefore before going fishing, you will need to check with the respective state websites. You can find the links by state: 
Certain states and territories allow tackle shops to sell fishing licenses. If you plan to fish on a charter boat, you can enquire with the charter company when booking your trip.
General recreational fishing regulations and information are available from the Department of Agriculture, Water and the environment.
Final Thoughts 
There you go! Five of the best fishing locations in Australia in all their glory. If you're planning a fishing trip around Australia, there are dozens of great places where you can stop and wet a line.
If you have any questions about fishing in Australia or want to learn more about these five locations, don't hesitate to comment below or contact us directly. 
Be sure to take a read of all my other worldwide fishing vacation articles here! 
Latest posts by Steve Fitzjohn
(see all)