Disclosure: Some posts contain affiliate links, which earn us a commission if you make a purchase through them. Positive Fishing © participates in various affiliate networks including the Amazon Services LLC Associates Program.


Iceland is a freshwater fisherman's dream, particularly if you love using a fly rod. This beautiful country has countless rivers and lakes that hold some of the best freshwater fishing in Europe, and almost every species is available in abundance, from Atlantic salmon to Arctic char. 
Fishing in Iceland is not only special because of the size and abundance of the fish, but it is also about the scenery. The landscapes in Iceland are to die for, and you'll be fishing in gorges, around meadows, next to mountains, below beautiful waterfalls, and even around the stunning coast. 
When I first fished in Iceland, I was, quite frankly, blown away by the country. Some parts of it look like the moon, others feature mountain landscapes, and then when you look upon a crystal clear blue river holding salmon, the story is kind of complete.
But, just because Iceland is beautiful and the fish are aplenty, it doesn't mean you can just arrive and expect to catch the fish of your dreams.
In this article, let's learn:
What are the top fish to catch in Iceland
Where and when to catch them
What are the best methods to catch fish in Iceland
Where to book your fishing vacation and what are the regulations in Iceland
Top Fish To Catch In Iceland 
While Iceland is a freshwater fisherman's paradise, the seas around it are also teeming with fish species desired by saltwater anglers. To simplify, I'll split the top fish to catch in Iceland into two categories, freshwater and saltwater. 
Top Freshwater Species To Catch In Iceland 
Atlantic Salmon
Sea Trout 
Brown Trout 
Arctic Char 
If you're a fly fisherman, then this list of species is everything you could ask for when it comes to swinging flies through rivers and stripping them across lakes. 
The numbers of Atlantic salmon Iceland has in its rivers are remarkable, and sight fishing for them really does take things to the next level. The sea trout are just as abundant, and they're big, as are the brown trout. In fact, it is widely reported by biologists that Thingvellir Lake, Iceland, is thought to hold the largest Brown Trout on the planet. 
Let's not forget the Arctic char, which are some of the prettiest fish on the planet and can only be caught in very cold waters, which Iceland has in abundance. 
Top Saltwater Species To Catch In Iceland 
Halibut 
Sea Bass 
Pollock
Cod 
Haddock 
While this list doesn't feature the most exciting saltwater fish in the world, heading out on a boat to catch these is a wonderful experience. You'll get to see the stunning Icelandic coast, and you have the chance to catch a huge cod and halibut. 
Where To Go Fishing In Iceland 
There are so many different rivers and lakes in Iceland that choosing where to go fishing in this country isn't easy; there are literally a thousand options across all the species.
I'll break it down by species to make it a little easier. 
Salmon Rivers In Iceland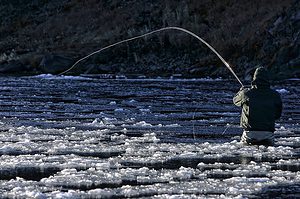 The salmon rivers in Iceland are found all over the country and are very special. You'll find a range of rivers that tick every box when it comes to salmon fishing, from large rivers where a two-handed rod is needed to small rivers with crystal clear water where sight fishing for salmon is possible. 
I must warn you that salmon fishing in Iceland is rather expensive, and some of the rivers listed below are not easy to get on to, but with some effort, you should manage. 
Laxa I Kos
Langa
Ranga
Breiddalsa
Jokla 
Leirvogsa
Sog 
Stora Laxa
Korpa 
Ellidaar 
Sea Trout Rivers In Iceland 
Like the salmon rivers, the sea trout rivers in Iceland are all over the country, but there aren't quite as numerous as the salmon rivers. Here are the top sea trout rivers in Iceland to fish while you're there. 
Varma
Steinsmyrarvotn
Litlaa 
Tip: Did you know brown and sea trout are the same species? Some sea trout will migrate to the sea and then return to spawn in the rivers. Over time whilst in freshwater,  these sea trout will change colours closer to the look of a brown trout. 
Brown Trout Rivers & Lakes In Iceland 
Iceland is a land of geothermal activity, meaning that the rivers in Iceland are warmer than they should be. Since the waters stay warm all year round, the aquatic life is off the charts, and this means the brown trout can feed all year and use their energy growing instead of surviving winter. 
You'll find very large brown trout in Iceland, some of the biggest in the world, and here are the lakes and rivers they frequent. 
Laxa Myvatn
Litlaa 
Svarta in Bardardalur 
Minnivallalaekur
Galtalaekur 
Lake Thingvallavatn 
Lake Villingavatn
Lake Hlidarvatn
Lake Thingvallavatn is world-renowned for having brown trout from the ice age, and this is where the largest brown trout on the planet are suspected of living. You can find brown trout up to 20 lbs and over in these waters and the beautiful Arctic char. 
Arctic Char Rivers In Iceland 
The Arctic char rivers in Iceland are just as productive and beautiful as the trout rivers, and in some parts of the country, you can even find sea char, similar to sea trout. Here are the best Artic char rivers to fish in Iceland. 
Holaa
Sog
Bruara
Breiðdalsá
Kaldakvísl
Saltwater Fishing In Iceland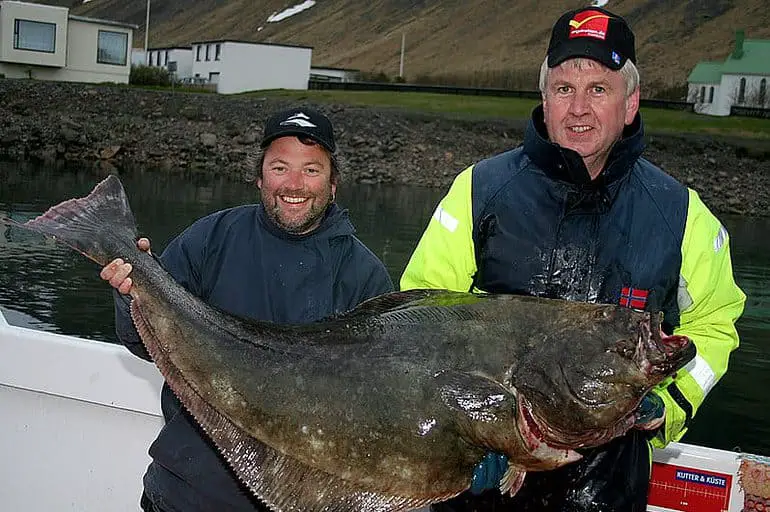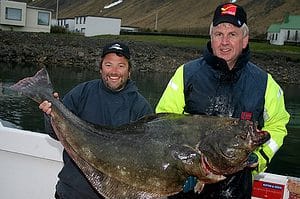 If you're looking to go saltwater fishing in Iceland, your best bet is to head to the northern village of Sudavik in Iceland. There you'll find self-drive boats and skippers that you can take out into the fjord system and use to catch some of the biggest pollock, halibut, and cod you might ever experience in your life. 
When To Go Fishing In Iceland 
Iceland's fishing seasons are very controlled in order to protect their fish stocks and ensure that there is plenty of fish to catch every year. Each river and lake has its own season based on the runs of fish and spawning season. 
When it comes to salmon fishing, the season is generally open from June to mid-September, but you will find a few rivers pushing it to the end of September and some in October. The best time to fish for salmon in Iceland is between July and August, but this is also the most expensive time. 
The sea trout fishing season in Iceland starts in April and runs to the end of October and the best time to be fishing for sea trout is either in April or from August to October, as this is when high numbers of fish are in the system. 
The brown trout and arctic char seasons are the same in Iceland and are split between highland lakes and lowland rivers and lakes. The fishing season runs from May to late September in the lowland rivers and lakes and from mid-June to mid-August for the highland lakes. 
The best time to be saltwater fishing in Iceland is also between May and September, and this is mainly due to the weather since the sea is much calmer and the weather a lot warmer in the summer months. 
Best Ways Of Catching Fish In Iceland 
While freshwater fishing in Iceland, you'll have two options for fishing methods – fly fishing or spin fishing. Many of the rivers in Iceland are fly fishing and catch and release fishing only, so if you're a fly fisherman, you're in luck as you have them all to choose from. If you're a spin fisherman, you should check the local rules before booking a lake or river. 
When fly fishing for salmon and sea trout in Iceland, you'll be swinging salmon flies and streamers across pools where the fish hold. Almost all sea trout rivers are manageable with a single-handed fly rod, and some salmon rivers too, but some of the bigger rivers will need a spey rod. 
Brown trout will also take streamers, but you can fish for them with nymphs and dry flies like you can for Arctic char. I would strongly suggest having some midge patterns in both nymphs and dry fly forms, as this is a large part of their diet. 
How To Book Your Fishing Trip To Iceland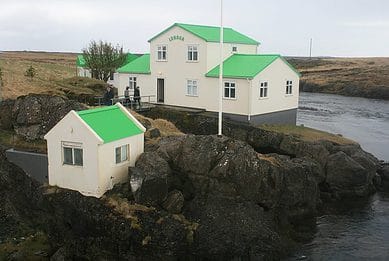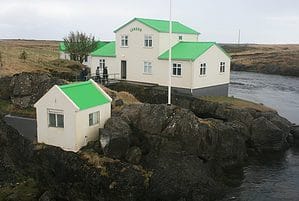 You have two options when it comes to booking a fishing trip to Iceland, the DIY route or with a fishing lodge. The DIY route is far more affordable, but you won't be fishing the best salmon rivers, whereas the fishing lodge route is incredible but super expensive. 
If you want to go down the DIY route, you should rent a car and book the rivers and lakes you want to fish via Go Fishing Iceland. They will also provide you with guides and help you find accommodation if you want them to. 
For booking a fishing lodge on some of the best salmon rivers around, I'd recommend contacting Aardvark McLeod, as they have direct relationships will pretty much every lodge in Iceland and will do their best to get you a spot. 
Fishing Regulations In Iceland 
In order to fish any rivers or lakes in Iceland, you will need a fishing permit for the particular lake or river since all of them are privately owned. This means you do not need a fishing license; just be sure to buy a day ticket for every river or lake you fish in. 
Icing Out 
Thanks very much for reading my article about fishing in Iceland. I hope you enjoyed it! If you love freshwater and sea fishing, then a trip to Iceland is a must; it's just a phenomenal place to go fishing and is particularly mind-blowing – I would go back every year if I had the time. 
Check out all my other articles in my category on fishing vacations across the world.

Latest posts by Jamie Melvin
(see all)