Disclosure: Some posts contain affiliate links, which earn us a commission if you make a purchase through them. Positive Fishing © participates in various affiliate networks including the Amazon Services LLC Associates Program.


With over 7,100 islands, the Philippines is considered the world's marine biodiversity epicenter.
Learn what fish to expect to catch when you go saltwater fishing in the Philippines.
Learn when and where to go, and have a family fishing vacation.
The Philippines has a lot to offer, especially regarding the variety and quantity of fish. In addition to the fantastic game fishing, the friendly, courteous people of the Philippines are happy to be your guide.
Communication is not a problem as most citizens can speak English.
Now, lend me 10 minutes of your time, and I will take you on a wonderful Philippine fishing trip through the knowledge and information of this article.
Top Fish to Catch in the Philippines
How diverse are the Philippines? Of the 34,300 fish species cataloged in FishBase, 3,125 can be found in the Philippines. That's the reason why the Philippines is listed in the top 10 countries with the largest variety of marine fish species.
Offshore Fish in the Philippines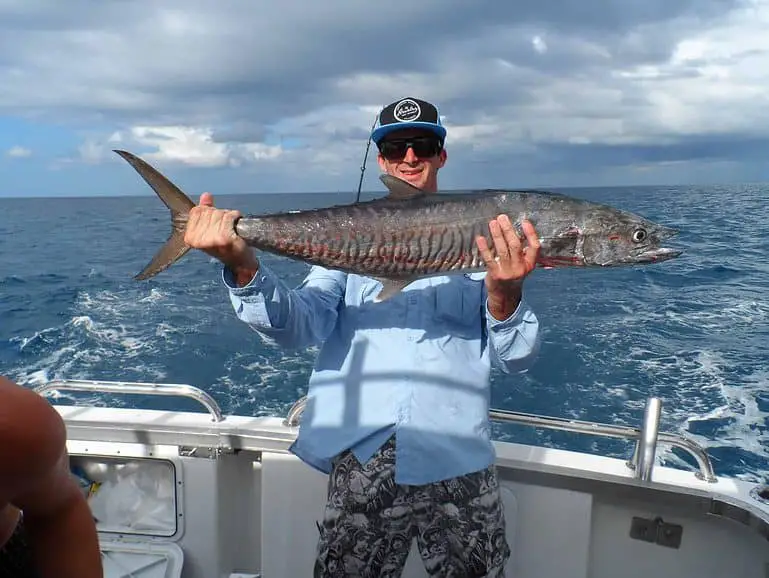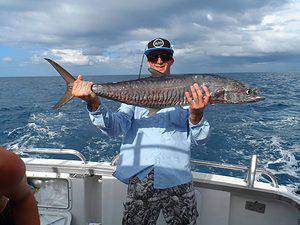 The Philippines is strategically located in the Pacific migration path of major pelagic fish. According to the UN-FAO, in 2019, the country's commercial fishing industry produced over one million metric tons of fish. 
Don't get too concerned regarding the commercial fishing industry; there's a lot of fish in the country!
Offshore fishing and game fishing are not as popular as in other countries. When you arrive and go fishing, it's likely to be very easy to book a charter boat at a very reasonable price.
These are the offshore fish you can expect to catch in the Philippines (with the local name):
Billfish (Malasugi) 
Black marlin
Blue marlin
Broadbill swordfish
Sailfish
Striped marlin
Mackerels
Indian mackerel (Alumahan)
Spanish mackerel (Tanguigue) 
Tuna (Barilis / Bodboron)
Dogtooth tuna
Frigate tuna
Mackerel tuna
Skipjack tuna 
Yellowfin tuna
Others
Inshore Fish In The Philippines
With over 36,289 kilometers of shoreline littered with tidal flats and shallow reefs, the Philippines has a place for every sport fisherman. Some of the common inshore fish caught are:
Bigeye scad (Matang baka)
Giant Trevally (Talakitok)
Rabbitfish (Kitong)
Parrotfish (Molmol)
Grouper (Lapu lapu)
Snappers (Maya maya)
Surgeonfish (Labahita)
Barracuda (Rompi)
Several species of wrasse
Where To Go Fishing In The Philippines?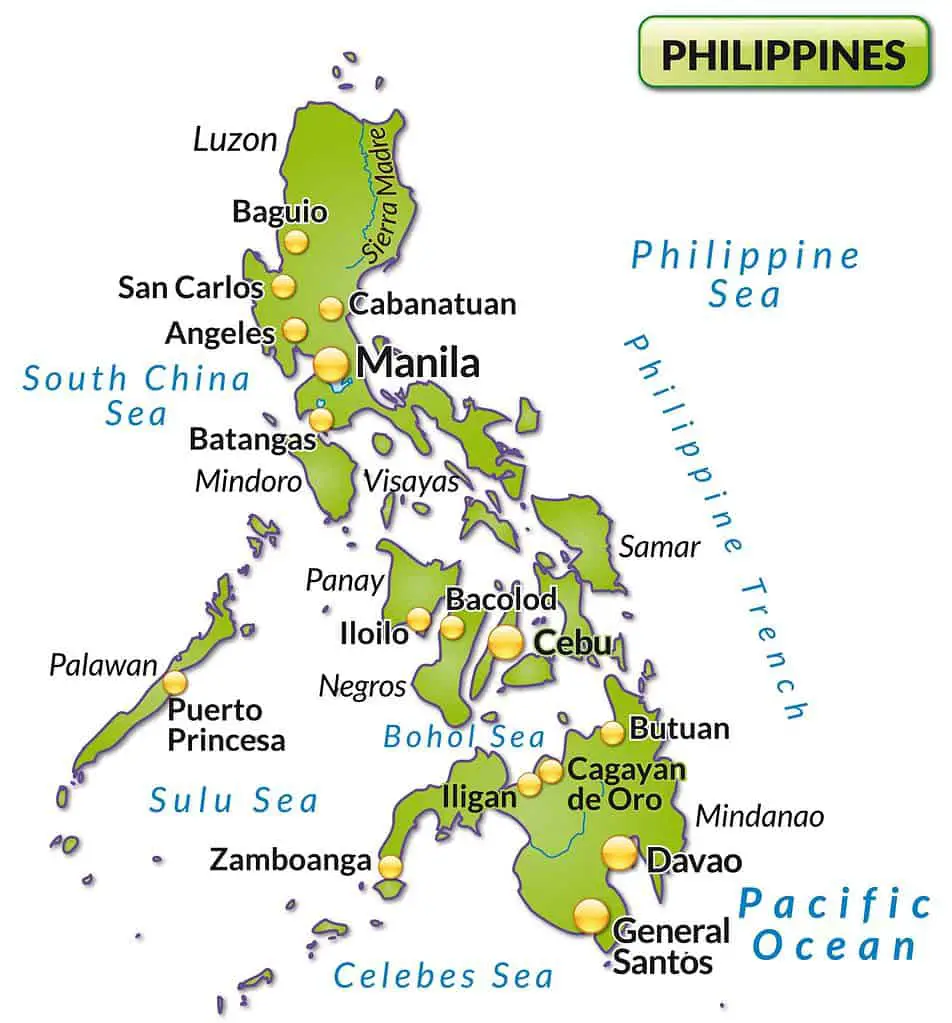 When traveling to the Philippines, you should always consider your arrival terminal as International airports are well distributed in the country's major islands: Luzon, Visayas, and Mindanao.
Note: You should make sure you book the correct flight destination. Some research is necessary to ensure you fly to the correct domestic airport once you arrive. The Philippines covers a wide area and is a large country with many islands.
Luzon
Ninoy Aquino International Airport is your gateway to the country's main island of Luzon. From there, you have two options.
First, you can travel north to Subic Zambales. While there are many fishing charters in Subic, we suggest you try going with local fishermen in their traditional fishing grounds and be ready for a tuna frenzy. If you're dying to catch dolphinfish, head to the northernmost part of Luzon on the island of Batanes.
Your second option is to go south to Batangas. Considered the epicenter of marine diversity, be ready to hook various fish, especially its signature catch – the Spanish mackerel.
Visayas
If you want to go fishing 10 minutes after landing at the airport, consider the Visayas islands through the Mactan-Cebu International Airport.
Fishing charters are just a short taxi ride away, and the Mactan channel will be your main fishing ground. Spanish mackerel and dogtooth tuna are the common species caught here.
Given that the Visayas island is a tourism highway try to explore other areas outside Cebu like Leyte, Bohol, Dumaguete, and Siquijor. All these destinations are just a 1-hour catamaran ride from Cebu harbor.
Mindanao
Mindanao is considered the country's fruit basket. But for us sport fishermen, Mindanao is synonymous with paradise, as its deep trenches are a part of the Pacific pelagic migration path.
Aside from being the hometown of our world boxing champion and Senator Manny Pacquiao, General Santos City is also the country's tuna capital. 
Just go to the fish port, and you will see tenders unloading gigantic yellowfin tunas. The single-day haul of over 25 metric tons of tuna displayed at the City's Tuna Festival in 2014 earned a place in the Guinness Book of Records as the world's largest fish display.
But here's the "catch" when you go fishing in General Santos City. While the quantity of fish you will catch is still excellent, unfortunately, the size of the fish is reducing every year. An indicator of the pressure of overfishing in the Philippines. 
Siargao Island, Surigao
Siargao Island is located east of the Philippines, just south of the central belt, with several category five hotel resorts.
Siargao Island is the Philippines' hot spot for surfing and big game fishing. In 2019, Siargao was voted the best island in the world by Conde Nast Traveler magazine readers! Game fishing competitions are also held every August along the city's coastal waters.
Siargao has great fishing for species of yellowfin tuna, skipjack tuna, jack, giant trevally, dorado, and marlin. The best time to fish is between March and May. Siargao is most famous for its sailfish! 
Dorado can also be caught from August to November using trolling methods.
You can hire a local guide on the island, and a large range of professional gear can be hired.
Other Philippine Game Fishing Locations 
As in most places around the world, the best places for offshore game fishing in the Philippines can be found in most of the least accessible places around the country. 
Some of the better recognized are San Vicente (Cagayan Valley), Calatagan & Ambil (Batangas), Laiya (Batangas), Port Pilar (Siargao), and Dingalan (Aurora). However, getting to these locations requires more research and some local knowledge.   
When To Go Fishing In The Philippines?
The Philippines is tropical, and fishing conditions are generally calm most of the year round. However, you must be aware of the monsoon seasons and try to avoid these times if possible.
Whilst you can still go fishing, many of the boat charters may not be running on certain days if the weather is extreme.
Running from June to September, the southwest monsoon affects the country's western coast (like Subic, Zambales, and Batangas). Usually, the northeast monsoon follows from October to January and affects the eastern part of the country (not to mention it is also the typhoon season).
Best Fishing Methods To Catch Fish In The Philippines?
There are many methods used in sport fishing in the Philippines, such as:
Trolling 
Jigging
Popping
Fly fishing
While you are in the Philippines, you can also try using more traditional local fishing tactics which are proven to be effective, such as:
Hook and line
Multiple hook and line
Jigger (very effective for squids)
Take note that most of these gears are baited, and you will be surprised what locals commonly use for bait (squid skin, hermit crab, or earthworm for reef fish, and small live fish for big pelagics).  
How To Book A Fishing Trip In The Philippines?
Booking nowadays is relatively easy as it can be done digitally in the comfort of your home. However, I must never make full payment before your fishing trip. The usual practice is a 10 to 20% down payment would suffice your reservation and pay the balance after the trip.
It would be best if you visited sailfish bay surf and fishing lodge for big game fishing in Siargao. This is one of the best in the Philippines!
I recommend the 25-footer powerboat of Dominique's Charters for fishing charters in Batangas. This boat is ideal for group fishing as it can accommodate up to 8 persons.
If you are in Cebu, you should try fishing in our traditional outrigger boat called "Banca" with Samsa Charters. You can go deep-sea fishing, trolling, or bottom fishing with them. And what's best, all you need to do is get on board, as the fishing equipment, bait, snacks, and drinks are already included in the package.
If you're not comfortable fishing on a small boat, you can opt to go with Samsa charters' power catamaran.
These boats have more modern onboard amenities (like a toilet, chart plotter, and digital instruments like a depth sounder and a fish finder). They will add more comfort to your fishing vacation, especially if you want to include your kids or spouse.
Finally, my personal choice where you can enjoy fishing and a family retreat is at Dipudo private Island. You can hire gear and a boat for short trips for around US$250, but this is more of a family resort holiday with fishing as an add-on extra. 
Philippine Fishing Regulations
There is no specific law that governs sport fishing in the Philippines. However, policies are being implemented to conserve the country's fishery.
Some of the policies include endangered species protection (all our list in the "top fish to catch section" is not yet classified as threatened or endangered) and the establishment of fish sanctuaries and marine reserves wherein sport fishing is strictly prohibited.
It's highly advisable talking with your local fishing guide about the do's and don'ts in fishing, as there may be a slight variation in policies between fishing areas.  
Your Key Takeaways On Why To Visit The Philippines
As I mentioned, Filipinos take pride in the locales as we always take care of all your needs, whether they be fishing-related or not. That's how hospitable Filipinos are! 
Your second takeaway is that you can do other things in the Philippines. Being a tourist country, there's a lot to see in this tropical nation, both on land and underwater.
And lastly, your final takeaway is the value for money. The purchasing power of foreign currencies in Philippine goods and services is far greater than in other countries.
I hope that this article on the Philippines was useful and informative. You can check out more articles on fishing in other countries around the world here!
Latest posts by Steve Fitzjohn
(see all)