Disclosure: Some posts contain affiliate links, which earn us a commission if you make a purchase through them. Positive Fishing © participates in various affiliate networks including the Amazon Services LLC Associates Program.


While many people throughout the United States and Canada begin their winter "hibernation" in November and December, the angling world comes alive. The switch from soft water baitcasters and crankbaits to jigs and ice fishing poles begins. 
It is during these times that anglers begin to plan for the ice fishing season ahead and plot out their most desirable locations to visit. With thousands of options to choose from, it can be difficult to plan the perfect trip.  However, in the article below, we will be looking at the 5 best ice fishing destinations in North America which will hopefully make that decision slightly easier.
The list below was made by taking into account a variety of factors including:
Space to fish 
The simplicity of travel 
Size/amount of fish 
Lodging availability in the areas surrounding the lakes
As a result, we've determined the below list to be the top 5 best areas to ice fish in North America.
5.  Lake Michigan, Michigan
4.  Red Lake, Minnesota
3.  Lake of the Woods (Minnesota, Ontario, and Manitoba)
2.  Devils Lake, North Dakota
1.  Brainerd, Minnesota
Number 5: Lake Michigan (Wisconsin and Michigan)
Starting off our list at number 5 is Lake Michigan.  Covering over 14 million acres, Lake Michigan is a fantastic choice when planning an ice fishing getaway.  While the entire lake does not freeze, there are multiple areas and bays on both the Michigan and Wisconsin side that offer anglers ample options for success.
One of the most common areas due to its accessibility for do-it-yourself anglers and its success rate is Green Bay.  In addition to multiple do-it-yourself areas around the lake, there are a variety of outfitters on both sides that offer guided trips and rental equipment, which make trip planning a breeze.
Besides the amount of fishable water, one of the main draws to Lake Michigan during the winter months is the variety of fish you can catch through the ice.  It is not uncommon to have a day where you catch walleye, giant perch, northern pike, and whitefish out of the same house.  Lake trout are also pulled through the ice with a frequency which is often can be the highlight of the trip.
Check out the Ice houses on Leech Lake with Trappers Landing lodge here for your ice fishing rentals.
With so many fishable acres, ease of access, and guides, along with the ability to catch such a large variety of fish, Lake Michigan should be on the shortlist for any ice angler.
If you love fishing at higher altitudes, check out my article on alpine trout fishing lakes here!
Number 4: Red Lake (Minnesota)
Coming in at number 4 on our list is Red Lake.  Red Lake is broken down into 2 lakes connected by a large channel.  Both Upper Red Lake and Lower Red Lake provide fantastic hard water opportunities for anglers. 
Located 40 minutes north of Bemidji, Minnesota, and covering almost 300,000 acres, Red Lake provides maybe the best Walleye fishing in North America.  In addition to walleye, giant perch, large crappies, and northern pike are extremely prevalent as well. The lake is broken down into multiple areas, via bottom terrain, which makes targeting your desired species easier here than in most places.
If you are after large crappies, spending time over the gravel runs is a great option that the local guides will direct you towards.   
The areas and towns surrounding Red Lake are also home to multiple outfitters and places of lodging.  This makes the travel logistics easy and pairing that with the incredible fishing Red Lake provides makes it completely worth the trip. 
If you are looking for a great place for ice fishing at Red Lake, checkout Red Lake Ice Fishing Rentals & Resort here!
Number 3: Lake of the Woods (Minnesota, Ontario, Manitoba)
Lake of the Woods comes in at number 3 on our list.  Not only is it one of the best ice fishing lakes in North America, but it is also one of the best fishing lakes period.
Spanning over 1 million acres, with lodges, guide services, and access points in Minnesota, Ontario, and Manitoba, Lake of the Woods is both accessible and full of fish. Walleyes are the main fish targeted, as 30-inch and larger ones are pulled through the ice consistently.  In addition to walleye, northern pike, perch and large panfish are extremely prevalent.
The only reason Lake of the Woods is not higher on the list is due to the distance required to travel to it.  Located in extreme northern Minnesota and extreme southern Canada makes the trip slightly more difficult.  However, the difficulty of getting there comes with two added benefits. One, it means fewer anglers to deal with and two, the lack of people means the fish are not seeing nearly as many lines and hooks which leads to less picky and more aggressive fish.
As if you needed any more reasons to plan an ice fishing trip to Lake of the Woods, it also happens to be one of the most picturesque lakes in North America. With rock formations surrounding almost all sides of the lake and over 14,500 islands throughout the lake, it is one of the most beautiful bodies of water you will see.
These islands and rock formations also provide incredible structure for fish to hide and in turn for anglers to fish the lake more effectively.  Any destination ice fishing list would be incomplete without Lake of the Woods on it.
Check out some great Ice fishing rentals at the lake of the woods at Border view Lodge here!
Number 2: Devil's Lake (North Dakota) 
Taking the number 2 spot on our list is Devil's Lake.  Unlike the other lakes on this list, Devil's Lake does not have a defined acreage.  The lake is continually expanding, which is actually how it received its name. 
With the incredibly flat terrain that surrounds the lake, when heavy rains come, the water has nowhere to drain and in turn just raises the level of the lake, flooding any low area around the lake.  The lake is now 6 times larger than it was 25 years ago and shows no signs of slowing down.
While sad for family farms, the ever-increasing size of the lake has been incredible for fishing.  The new habitat is continually added and with it many more pieces of structure for fish to hide amongst.  The growth not only applies to the size of the lake and the amount of water, but also to the fish that call it home. 
Known for its giant perch, ice anglers dream of having a picture holding one of the coolest fish on the planet.  In addition to giant perch, ice anglers will also find walleyes, sunfish, bluegills, and large crappies.
It is also one of the best lakes in the country for tip-up fishing.  Large northern pike patrol the weed lines and drop-offs and can put up some of the best fights you can have below the ice.  
Surrounded by guide services on all sides of the lake, renting necessary equipment is simple and easy if you prefer to not travel on your own.  This amazing body of water is one that should be at the very top of every ice fisherman's bucket list.
I recommend ice fishing package (including lodging) at the Woodland resort, check out their options here!
Number 1: Brainerd Lakes Area (Minnesota)   
Taking the number one and the overall top spot on the list of 5 best places to ice fish in North America is the Brainerd Lakes Area.  While the Brainerd Lakes Area may not be at the top of everyone's ice fishing destinations list, it should be.
Located just 2 hours north of Minneapolis, Minnesota, and surrounded by resorts, hotels, and guide services, planning an ice fishing trip to the Brainerd Lakes area is easy.  Besides the simplicity of the logistics side, there are over 450 lakes to choose from in the area making it the perfect location for an ice fishing adventure.
With so many lakes to fish, there is an option to chase whatever type of fish you prefer.  If you are after walleyes, look no further than Mille Lacs, Pelican, or Gull Lake.  If you are after large panfish and perch Lake Hubert is a perfect option.  If you want to try your luck at tip-ups chasing muskie and northern pike, Whitefish Lake is phenomenal. 
There are also multiple mine pit lakes in the surrounding areas if you'd like to try your hand at landing rainbow trout through the ice.  This area provides options for almost every fish an ice angler would want to pursue.
If your main quarry is trout, then please Check out my in-depth guide to winter trout fishing here! Where I go through all the tips, baits, and gear you will need.
Another added benefit to the number of lakes that make up the Brainerd Lakes Area is the ability to hop around from lake to lake.  If one lake is not producing, another fantastic option is just down the road.  This alleviates the pressure and reliance on one body of water to produce the intended results.  
These reasons, along with multiple accommodations and a simple trip up from the airport or surrounding states place the Brainerd Lakes area as my top choice for the best ice fishing destination in North America.
I love to go on vacation to Brainerd in the summer for bass fishing, but you can also get great ice fishing rentals through Minnesota Recreational Rentals on Gull lake here!
Honorable Mentions:
There were a few locations that came in just behind these 5 that are worth briefly mentioning.
The Pactola Reservoir, located in Deadwood, South Dakota is a small yet deep body of water that is home to large lake trout that are routinely pulled through the ice.
The Antero Reservoir, located just west of Colorado Springs, is home to a variety of different trout species, leading to some special memories. 
Lake Winnebago, located just outside of Oshkosh, Wisconsin is home to one of the most unique ice fishing prizes, the sturgeon.  There is even a spearing season specifically for them.
The Mississippi River section between Red Wing, Minnesota through the northern Iowa/Wisconsin border is home to frozen backwater which provides fantastic ice fishing opportunities for monster perch, bluegills, and crappies. 
Finally, Lake Champlain, Vermont.  Home to a variety of species, Lake Champlain is a large body of water, full of fish, surrounded by fantastic lodging and guide services making planning a successful ice fishing trip simple. 
There were multiple other destinations that barely missed a spot on the top 5 and honorable mentions list due to one or two factors though, that does not mean they are not worth the trip.
Montana, New York, and Maine are also home to fantastic ice fishing lakes and large fish inhabit these cold areas. Likewise, there are multiple spots (if not more) in Canada. 
Final Thoughts
As we've seen from the list above, North America is home to countless ice fishing opportunities. 
Almost every frozen lake provides a chance for a great time and to pull multiple fish through the ice.  However, for this list, we narrowed down some key factors in determining the top 5.
Ease of travel, the busyness of the lake, size/quantity of fish as well as the accommodations and guide/rental services surrounding the lake to us are the most important.
With these factors in mind, Lake Michigan, Red Lake, Lake of the Woods, Devil's Lake, and the Brainerd Lakes Area stood out above the rest as the best places to go Ice fishing.  
I hope our list was informative and makes life much easier on going ice fishing! Check out my article on cold weather fishing gear here, where I take a deep dive into all the winter fishing clothing that you need.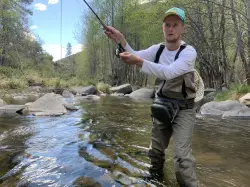 Latest posts by Daniel Mooers
(see all)