Disclosure: Some posts contain affiliate links, which earn us a commission if you make a purchase through them. Positive Fishing © participates in various affiliate networks including the Amazon Services LLC Associates Program.


Minnesota, "The Land of 10,000 Lakes", can keep an angler entertained for multiple lifetimes. The massive waters of Lake Superior, the headwaters of the Mississippi River, and many bodies of water in between are filled with fish waiting to be caught. 
The majority of freshwater fish species are able to be caught in Minnesota. Whether you're spin fishing or fly fishing, you'll have a shot at landing trophy fish all year round.
The friendly faces and plethora of access will make your trip to Minnesota one you'll remember forever. 
Top Fish to Catch in Minnesota
Many people think of Walleye when they think of fishing in Minnesota. While the Walleye population is healthy and maintained quite well, you have several other species you don't want to miss out on landing! 
These are the main fish species in the Minnesota rivers and lakes:
Walleye
Smallmouth Bass
Largemouth Bass
Muskie
Northern Pike
Pink Salmon 
Coho Salmon
Steelhead
Rainbow Trout 
Brown Trout 
Brook Trout 
Lake Trout 
Panfish (Sunfish, Crappie, Perch, etc)
Catfish 
Carp 
Sturgeon 
Where To Go Fishing in Minnesota 
Since you have thousands of lakes and thousands of miles of rivers to fish, it can be overwhelming to choose where to start. Thankfully, there are a few hotspots throughout the state that provide anglers with great access to land a certain type of fish. 
Your best bet is to choose the exact type of fish you're wanting to catch and land and then work from there! The waters of Minnesota are beautiful and you'll have a blast no matter where you choose to go. 
Duluth
Duluth is a wonderful spot to visit and fish in Minnesota! It's a perfect spot for families and the area provides a wonderfully diverse fishing experience! The main attraction of Duluth is Lake Superior. Lake Superior is the largest of the Great Lakes. It's home to a massive amount of fish including Lake Trout, Musky, Smallmouth Bass, Walleye, Brown Trout, Rainbow Trout, and a variety of other species. 
You can fish Lake Superior in a variety of ways. You can take it from shore and from a boat. Make sure the boat you choose is capable of handling large water. Storms can suddenly appear and the waves are surprisingly large! Again, start by deciding what type of fish you're wanting to land and you can move on from there. 
If you're not wanting a full lake experience, you can spend time fishing a variety of rivers that run in and out of Lake Superior. The Knife River, Temperance River, and the Brule River are all great options. You'll find the yearly runs of Steelhead and Salmon as well as a healthy population of Brown, Rainbow, and Brook Trout. Take your fly rod along and see what you find! These fish are a blast to catch and don't receive a ton of pressure. 
In the midst of fishing, make sure you enjoy Park Point and the variety of activities that Duluth and the surrounding areas have to offer. If you're into the outdoors, you won't run out of activities. The hiking, biking, and sightseeing are amazing. 
Brainerd 
Brainerd offers anglers a true Minnesota fishing experience. Rivers and lakes can be found any way you look. Whether you're looking for a large lake or a more secluded lake, you can find it. The lakes around Brainerd are home to healthy Walleye, Bass, and Muskie populations. 
Gull Lake, Pelican Lake and if you're willing to drive, Leech Lake is a wonderful option for anglers. You'll find massive Muskie in Leech Lake if you're willing to put in the effort and take the time to learn their tendencies. 
Brainerd is filled with resorts and lodges that have plenty of opportunities for the family and access to all of the local waters. Living is simple in these parts and most people's lives revolve around the outdoors. It's only a couple of hours north of Minneapolis and St. Paul so you won't have to go too far out of your way to make the visit.
One of the main attractors to the Brainerd area is the ice fishing opportunities! In Minnesota, ice fishing is almost as big of an industry as any sort of open water fishing. Get your ice gear ready and tackle some of the lakes! You have as good of a chance of landing a trophy fish in the winter as you do in the summer. 
Lake Mille Lacs
Yes, it's not always common to plan an entire fishing trip around one lake, but Lake Mille Lacs isn't just another Minnesota lake. It's one of the most productive Walleye lakes in the entire world. It's one of those lakes that gives you a bit of excitement every time you throw your bait into the water. You never know what size of fish you'll find. 
Even if you don't want to go after Walleye, you have a chance to land Pike, Bass, and Muskie. With some recent efforts by the Minnesota DNR, the population of Walleye has drastically improved. Anglers were only allowed to keep one fish for several years in hopes of strengthening the population. 
Another great aspect of Mille Lacs is that it can be a DIY lake. Whether you have a boat or are willing to rent one, you have a chance to land fish. Focus on cover and rock piles throughout the middle of the lake and see what you can find. 
Also, Mille Lacs is a great place to take a long ice fishing trip. You'll find entire communities ice fishing and hoping to land some quality Walleye. The area surrounding Mille Lacs doesn't offer many other types of activities, but you'll have no shortage of water to fish! 
Bluff Country 
In the southeast corner of Minnesota, you'll find what is affectionately known as Bluff Country. Towns like Houston, Winona, Fillmore, and Wabasha make up historic Bluff Country. This part of Minnesota is also known as the Driftless Region. During the final Ice Age, the glaciers never covered this portion of the midwest so it lacks all glacial deposits! 
This resulted in steep hills, dense forests, and miles of spring-fed streams! When you enter the Driftless Region, you'll feel as if you entered a different world. The vegetation and varying landscapes are a sight to behold. 
The spring-fed streams that flow throughout this portion of Minnesota are filled with extremely healthy populations of trout. Brown trout, Rainbow Trout, and Brook Trout all find homes in these waters. While there are stocking efforts, the majority of these populations thrive on their own and reproduce without any extra work from the Minnesota Department of Natural Resources. 
Take along your 3 or 4-weight fly rod and you'll have a blast targeting these fish. If you enjoy biking and hiking, you'll also find plenty to do in these areas. Enjoy the small town life while landing some spectacular fish. 
You can find out more information on trout-related baits and lures, trout fishing rods, and reels by following these links. 
When to Go Fishing in Minnesota
While Minnesota experiences all four seasons, that doesn't mean fishing ever has to stop. You can fish open water in the spring, summer, and fall and move to ice fishing in the winter! If you're willing and able, you won't ever have to put down your rod regardless of the time of year. 
If you're looking for prime times, the spring after the ice melts is always extremely productive! You'll experience the spawning of several species and be able to target fish that are hungry after a long winter. Walleye, Bass, and Pike are all spawning in the spring. If you want a chance to land a trophy, this is when you should be on the Minnesota fishing lakes. 
Also, the fall is going to be productive as well. Whether you're hunting salmon on the north shore or looking to land some Walleye that are looking to fatten up before winter, then hit the water before it freezes over in the fall. 
Ice fishing season is usually best around December and January. This is when the ice is the thickest and you have the opportunity to spend a massive amount of time on the water! This also happens to be some of the coldest weather of the year. Make sure you're well-equipped. 
Best Methods to Catch Fish in Minnesota
You can target fish in Minnesota with a traditional spin setup, a fly rod, and an ice fishing pole. Obviously, the most common method is going to be a spin fishing setup, but if you're willing to step out of your comfort zone, you'll be surprised at how fun fly fishing and ice fishing are. 
In lakes, a baitcaster or spin setup will land you the most fish! In any sort of moving water, take out the fly rod and see what happens. If you're targeting Lake Trout in Lake Superior, you may need to use a downrigger to get deep enough for these fish! However, they will also hit on the surface at the right time of the year. Check out all my other articles on trout fishing.
Minnesota Fishing Regulations 
If you're going after fish in Minnesota, the regulations are fairly straightforward. A non-resident one-day license is going to cost you $14. A non-resident 72-hour license is $36. A non-resident 7-day option will only cost you $43. Your final short-term non-resident license option is a 14-day license for $54. 
You can find out more about the cost and rules at this link Minnesota fishing license.
If you're targeting trout, you'll have to purchase a $10 trout stamp. Many states in the midwest require this trout stamp. 
Check out my article on How and Where to Get Your Fishing License in the USA, which covers all the necessary information.
Final Thoughts
Fishing in Minnesota will never be as popular as you would find on the West or East Coast. However, this allows you to find seclusion and fish in absolute peace. The amount of fish combined with the size of fish you can land should be enticing for anglers of all levels! 
Choose your favorite time of year and make a visit, you can be sure the Minnesota fishing lakes and rivers will not disappoint. 
If you liked reading this article, please check out my other Fishing Vacation Guides.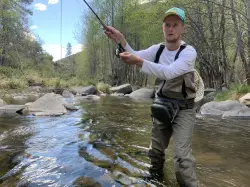 Latest posts by Daniel Mooers
(see all)