Disclosure: Some posts contain affiliate links, which earn us a commission if you make a purchase through them. Positive Fishing © participates in various affiliate networks including the Amazon Services LLC Associates Program.


Throwing a lure into the riffles and pulling it through a deep, clear pool in search of trout creates nervous energy in every angler. The anticipation of a trophy trout hitting your lure forms an addiction that people can't shake for the rest of their lives. 
Choosing the proper lure isn't always easy. Whether you're fishing entirely new water or targeting picky trout, lure choice can be frustrating. It takes many times of getting skunked to discover what trout need and how they want things presented. 
In this article I will cover: 
The Nine Best Trout Lures and How to Fish Them 

Mepps Aglia – (Our Best Overall Pick!)
Rapala Original Floater – (Our Best Floating Lure Pick!)
Mepps Comet Mino – (Our Best Baitfish/Spinner combo Pick!)
Panther Martin – (Our Most Versatile Pick!)
Yakima Rooster Tail 
Jointed Minnow 
Tasmanian Devil
Lindy Quiver Spoon
Acme Kastmaster
Mepps Aglia – Our Best Overall Pick!
The Mepps Aglia is also well-known as the Mepps Spinner or even just a Mepps. Trout are attracted to flashy lures and the Aglia is one of the best on the market. Their versatility is another attractive aspect of it. It has a spinner blade with a trailing treble hook. This provides all the flash you need and doesn't have any unnecessary materials that may lower productivity.
Some of the water angler's fish have special requirements for bait like no treble hooks or no barbs. It's not too difficult to modify this bait to meet the regulation. A great pair of quality pliers will easily snip the treble hook and crush the barbs. 
For those that are interested in predator fishing, the Mepps Aglia is also our top pick for pike and perch fishing. A truly all-around lure that should be in every angler's tackle box!
Rapala Original Floater – Our Best Floating Lure Pick!
The Rapala Original Floater is another versatile lure that trout absolutely love. Some anglers believe the Original Floater is too light, but throw it on an ultralight rod and it'll be exactly what you need.  An angry trout sitting under a river bank won't hesitate to strike on this! If you're in streams, then you need to have an Original Floater on hand. 
Don't only fish this one way. As you're reeling, give it a chance to fall and allow the current to create a natural drift. Big fish like to hit this lure so you're going to find that they're fairly picky. Pick out the pockets and seams in a river to let this lure sit and you'll be pleased with the results. 
Mepps Comet Mino – Our Best Baitfish/Spinner Combo Pick! 
The Mepps Comet-Minnow is one of those fun lures that trout anglers always have at the back of their mind. It's a combination of the traditional Mepps spinner and a small baitfish. The soft plastic minnow trails behind the spinner and the action of both entice the fish to your lure. Fish are curious about the flash and even more tempted by the realistic-looking minnow. 
Spend your time using this along banks and slower-moving water. The minnow looks more like an injured baitfish than a healthy one.
Throw this into the riffles and let it fall to the fish that are hiding deep in a pool. It's extremely tempting for fish. Plus, it has a decent amount of weight to it so it will be able to handle some of the faster-moving water that you'll find in the spring. The darker-looking minnow also helps in the darker water. 
Panther Martin – Our Most Versatile Pick!
The Panther Martin Spinner is a tried and true trout bait that will always work. If you're wondering what the trout want, immediately start with the Panther Martin.
Early in the year often comes with changes in water levels, water clarity, and water temperature. The fish can be temperamental and you'll need a bait that can adapt to the conditions. The Panther Martin Spinner will cut through the water and is versatile enough that you can cover all different types of water.
Panther Martin Spinners are relatively inexpensive and come in a wide variety of different colors. Make sure that you have at least half a dozen different colors of these spinner baits in your box at all times. Trout are picky enough that they make like the style of your bait, but are unwilling to strike because the color doesn't match the food that they're hunting.
Interesting Fact: Trout are predators and will eat almost anything that's available to them. This is why lures are very effective when fishing for trout.
Yakima Rooster Tail 
Another favorite of trout anglers is the Yakima Rooster Tail. This lure also ranks high in the versatility category due to its design. The traditional spinner is going to provide the flash that the trout wants, and the last half of the fly looks similar to a Woolly Bugger fly, which is our best streamer choice in the article on Best Trout Flies – A Buyers Guide. The hook is dressed with quite a bit of material and looks like a bait fish struggling to fight the current. 
Also, these lures are extremely easy to find. Any store that sells fishing supplies is going to have a selection of Rooster Tails.
When fishing this lure, don't make things too complicated. In order to do so, cast it up and across a stream and start reeling it back towards you. It'll give off the impression that it's fighting the current. Remember that the darker the water, the darker the lure and vice versa.
Jointed Minnow 
Jointed minnows are a simple lure and they always work. If you want, throw it in a fast-moving stream and fish back across towards you. It'll receive help from the moving water and perfectly imitate a bait fish. You can even fish these in deep lakes for some large trout. Let them float as far down as you'd like and use a slow retrieve. You want the trout to see these as wounded bait fish, but a quick retrieve will take away the opportunity in catching a trout. 
Several manufacturers sell jointed minnows, however if you are looking fr the best quality jointed minnow the check out the Rapala range, my personal favorite is the Rapala silver color due to its perfect matching combination to a real minnow. They are fished in three basic methods:
Slowly reeled in on top of the surface
Stop/start like a jerkbait
Retrieve them at a constant speed slightly below the surface.
You can read more information on my in-depth review of the best Rapala lures here!
Tasmanian Devil 
Not only does this lure have a great name, but it's ultra-productive. It is a tube lure (also known as a Gitzit) so it's a bit different to attach to your line, but it doesn't damage the productivity. You run your line through the tube, add a bead and then you tie your hook to the end of the line. 
If you're familiar with a Tasmanian Devil, you know how much they move. The lure is no different! There are few trout lures that move as much as the Tasmanian Devil so that's what makes it great for large water. If you're fishing lakes, big rivers with a heavy current, or dark water, then you're going to land fish with it. 
Lindy Quiver Spoon 
The Lindy Spoon is a fairly basic spoon pattern, but that doesn't take away from how well it works. It is a bit smaller lure so it can bounce around quite a bit in the midst of the current. If you cast upstream and let it fall downstream, you'll find that that achieves the most natural drifts. It tends to fall in a wild trembling motion that stands out in the fish's eyesight.
Lindy spoons can be tipped with larvae, plastics, or a minnow which gives it even better options and more realistic looks. They have another advantage in that you can use them for ice fishing and also catch several species of fish, making them a quite versatile option to have in your lure box!
Acme Kastmaster 
This is a fairly common saltwater lure! However, if you're fishing a deep trout lake, then you're in business. It sinks at an extremely fast rate so keep that in mind if you're going to try and fish it in streams and rivers. It's definitely more of a lake lure. 
You can even jig this lure off a boat if you'd like! The versatility of this lure in stillwater is great. Always have one of these in your box if you're going after trout in any form of slower-moving water. 
Many anglers will use this lure for salmon and steelhead, its a 1 oz heavy lure that can be used for spinning, baitcasting, trolling, in fresh or salt water
What Color Lures are the Best for Trout? 
Fishing conditions play a major role in what color lure is best to use for trout. When the water is colored the fish will more likely strike when there is a bright color in front of them. In clear water, a darker color will work well and when the sun is bright in the sky the reflection on a metallic lure can really pay dividends!
Always remember that what is hatching at the time will always have a bearing on the lure color and attraction, closely "match the hatch" wherever possible will always be sound advice wherever you are trout fishing!
Final Thoughts 
There are dozens of trout lures available on the market. It can be tricky and intimidating to choose what's going to work best. Many times in fishing, presentation matters more than just the lure choice! However, if you don't have a decent lure, you're going to struggle to land fish! 
Choose any of the above-mentioned lures but make sure you give the Mepps Aglia a try and the Panther Martin for the best chance of success. Changing lures and finding the right one for the conditions is a craft! 
If you liked this article, go and check out my article on Best Trout Flies – A Buyers Guide.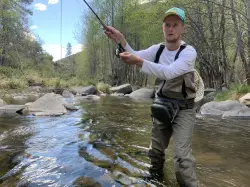 Latest posts by Daniel Mooers
(see all)