Disclosure: Some posts contain affiliate links, which earn us a commission if you make a purchase through them. Positive Fishing © participates in various affiliate networks including the Amazon Services LLC Associates Program.


When finding pliers online, you are going to be inundated with options, and in the past, I have fallen victim to buying fishing pliers that lasted only a few days; I am here to help you avoid that. 
Join me as I take you through my top picks in the world of fishing pliers for both saltwater and freshwater fishing so you can buy one pair of pliers and own them for the rest of your life. 
My 5 Best Fishing Pliers 
One of the most useful fishing tools on the planet that every angler needs to have with them is a good pair of fishing pliers. With the right fishing pliers, you can rig everything from wire to mono and braid, remove hooks from fish safely, take barbs off, fix engines, sort out boat batteries, and so much more. 
Bubba Blade Fishing Pliers – My Best Saltwater Pick!
Penn Saltwater Fishing Bull Nose Pliers – My Best Budget Pick!
Van Staal Titanium Fishing Pliers – My Best Overall Pick!
P-Line Adaro Fishing Pliers
Gerber Magniplier Fishing Pliers
Types Of Fishing Pliers
Needle nose pliers and Standard pliers are the two most common fishing pliers used by anglers.
Needle-nose pliers are narrower and have a longer length, which allows easier access to tight and restricted areas. Needle nose pliers are always thinner than standard pliers.
Standard pliers have a rounded or curved head that is better suited for cutting line and general activities.
Bubba Blade Fishing Pliers – My Best Saltwater Pick! 
The Bubba Blade Fishing Pliers are hard to beat and are some of the best fishing pliers out there, particularly for saltwater fishing, but they work just as well for freshwater too. 
Their slim design and long nose make them light and easy to wield. You can get them into a fish's mouth to remove a hook with ease, and their textured ends grip exceptionally well. Built with a comfortable, grippy handle, these won't slip when wet and are great to use. 
These fishing pliers also come with handy side cutters, which makes cutting anything a lot easier than when they are between the jaws. The side cutters are super sharp and will snip anything from heavy mono to wire and even braid, so you can rig anything, anywhere. 
The jaws also feature a crimping tool that you can use for three sizes of crimps which means you can rig big marlin lures on the fly without a crimping tool too. 
My favorite thing about these pliers is that you can replace both the jaws and the cutters, so when they have served their time, you can replace them instead of buying new pliers. Being built from titanium nitride & stainless steel, these are as durable as they come and won't corrode. 
You can buy these great Bubba pliers in 6.5″ or 8.5″ options.
Pros 
You can replace the jaws and cutters 
Includes a lanyard and nylon sheath 
Easy to use and comfy to squeeze 
The handle is grippy and lasts 
Excellent long-lasting durability 
Built from excellent materials 
Side cutters for quick snips 
Built-in crimping tool with three sizes 
Snips everything from braid to wire and mono
Will never corrode in saltwater 
Great value for money 
Cons 
The sheath isn't so durable 
They can bend under serious pressure 
Specs 
Type: Crimp & Cutters 
Material: Titanium nitride & stainless steel 
Length: 6.5 or 8.5 inches 
Side Cutter: Yes 
Sheath: Yes 
Penn Saltwater Fishing Bull Nose Pliers – My Best Budget Pick!
If you have been an angler for a while, there is no way you haven't heard of Penn as they make some of the best rods and reels on the market. In this case, they have made some top-of-the-line pliers that are about as affordable as they could be. 
These Penn 6.5″ or 8″ long saltwater pliers are made from excellent quality stainless steel that is coated with titanium. The titanium coating is awesome at preventing corrosion, and the stainless steel is incredibly strong, so strong that you can bend most things with these pliers. 
The pliers come with a textured grip for comfort that sticks to you even when wet and, combined with the textured nose, makes removing hooks easy. Although, the snub nose does not make it easy to remove small hooks out of small fish. 
On the side of the pliers, you will find some super sharp cutters that will snip everything, including braid, these are also replaceable, so you can grab some new ones when they are ready to be swapped out. 
You will also notice some holes on the pliers; they are for cinching knots, which is super handy. Overall, these are pretty hard to beat for the price as they will handle everything from saltwater and freshwater use. 
Pros 
Strong with a great bending power 
Great for salt and freshwater  
Notch for cinching knots with ease 
It makes for quick rigging on the fly 
Cuts anything from braid to wire 
You can replace the cutters 
Cust everything from mono to braid and wire 
The handle is comfy and grippy when wet 
Titanium coated to block corrosion 
Built from excellent materials  
Cons 
The nose is a little thick for hook removal 
Specs 
Type: Bull Nose 
Material: Stainless steel & titanium coating 
Length: 6.5 or 8 inch 
Side Cutters: Yes 
Sheath: Yes 
Van Staal Titanium Fishing Pliers – My Best Overall Pick!
If you want a pair of fishing pliers that you will have for the rest of your life and that you can also hand on to your grandkids, then the Van Staal Titanium Fishing Pliers are the ones for you. But, I must warn you, they come at a high price. 
These fishing pliers are made with 100% corrosion-proof 6AL-4V titanium, making them pretty much indestructible, lightweight, and powerful. The jaws on these things will grip anything, and their bending power is hard to beat. 
The pliers come in a stunning leather sheath that lasts and sits inside it spring-loaded, so they are ready to grip or snip as soon as you whip them out. The ergonomic handle is comfy to hold on to, the nose is textured to make hook removal easy, and they are quite small for getting into fish's mouths too. 
These fishing pliers also include side cutters with a line keeper. The line keeper keeps the line in the snip zone, and the cutters will snip everything from thin braid to wire. You can also replace the cutters as needed. 
There really are no cons to the Van Staal Titanium Fishing Pliers but they are incredibly expensive so you should think of them as a lifetime investment. 
Pros 
Lightweight and easy to carry around 
Spring loaded for immediate ease of use 
More durable than most pliers on the planet 
Jaws are super powerful at gripping 
Work well for all environments and species 
Comfy and easy to use 
Amazing power for bending 
Side cutters snip all line types cleanly 
The line keeper will keep the line perfectly in the cut zone 
Come with a stunning leather sheath 
Cons 
More expensive than other options
Specs 
Type: Shortnose 
Material: Titanium 
Length: 6 inches 
Side Cutters: Yes
Sheath: Yes
P-Line Adaro Fishing Pliers
Another solid pair of fishing pliers if you are shopping on a budget is the P-Line Adaro Fishing Pliers. 
While affordable, these are made from top quality 100% aluminum, making them both lightweight and 100% corrosion resistant too. You can dunk these in salt water; they will manage just fine. 
Aluminum is also a tough metal (but not as strong as steel) and will handle any usual bumps and scrapes that occur during general use. That being said, they can bend a little bit when under a lot of pressure. 
These pliers come with carbon-coated steel jaws that have great grip and handle corrosion. While the cutters are super sharp and snip all line types too. Both the cutters and jaws are replaceable, so you can replace new ones when you need to. 
Overall, for the money, these are excellent fishing pliers, but they are more suited to lighter work unless you are prepared to change the jaws and cutters often. 
Pros 
Jaws are durable coated carbon steel 
Jaws and cutters are replaceable 
Cutters are super sharp 
Snips mono, braid, and wire 
The nice Ergonomic handle is comfy to use 
Built with 100% aluminum for corrosion resistance 
Lightweight and easy to carry 
Very affordable for the quality 
Cons 
Can bend if put under lots of pressure 
Specs 
Type: Standard 
Material: Aircraft-grade Aluminum
Length: 7.5 inch 
Side Cutters: Yes
Sheath: Yes
Gerber Magniplier Needlenose Fishing Pliers
The Gerber Magniplier Fishing Pliers are of excellent quality and up to the quality that all Gerber products maintain. These are excellent fishing pliers for all environments and fish sizes, as the long nose means you can use them for smaller fish too. 
Built from Anodized aircraft-grade aluminum with a SALTRx coating, they are made to last forever, even when used daily in saltwater. This makes them super tough and will last forever if looked after properly. 
These pliers feature side cutters that snip all line types, long textured jaws which are grippy, and a comfy handle that is offset for more control. This makes them a delight to use as there is no faffing around or double cutting, as sometimes is the case with fishing scissors. You can also replace the jaws and cutters as needed too. 
These pliers also feature a locking mechanism, so they stay locked when stored, which no other pliers do. The main issue with these fishing pliers is the sheath. The sheath wears away quite quickly and holds water that soaks into the pliers. 
Pros 
Very Comfortable to use 
A handy locking mechanism keeps them closed 
Long thin nose for smaller fish 
Off-axis angler for more control 
Jaw and cutters are replaceable 
Super sharp side cutters, snip everything 
The sheath attaches to your belt with ease 
It comes with a SALTRx coating for great corrosion resistance 
Well-made, durable, and long-lasting 
Cons 
The sheath quality is average and holds water 
Specs 
Type: Needle Nose pliers
Material:  Anodized aircraft-grade aluminum & SALTRx coating 
Length: 7.5 inches 
Side Cutter: Yes 
Sheath: Yes & coiled lanyard
How To Choose The Right Fishing Pliers?
Best Fishing Plier Materials
Fishing pliers come in multiple materials. For saltwater use, they must be made from stainless steel, aluminum, or titanium. 
In my opinion, for any fishing pliers, those made from steel or titanium are the best. The concern with aluminum (or brass) is that these are relatively soft materials and do not have the tensile strength, such as steel and titanium, to withstand constant use and heavy work.
Length of Long Nose Pliers
Long nose pliers are useful, but I do not advocate using them for general fish hook removal from a fish. A disgorger or a great pair of quality forceps is a far better and safer option for the health of the fish. If you prefer to use pliers, especially on saltwater fish, then these are an option if you have no other choice. Obviously, the longer the length of the nose will enable you to remove hooks from more fish easier.
Grip Types
I always prefer a rubber grip on all my fishing tools, including pliers. I always struggle to keep my hands dry, so having a solid grip is key, and pliers with metal-based handles are not my personal choice. Molded grips tend to be the best to give me confidence when I apply more force to any task using pliers.
Cutters
Cutters are a key part of fishing pliers. Mono and fluoro are easy to cut with any pliers, but if you use a braided line, make sure you have super sharp and a good quality pair of pliers suited for braid or steel leaders.
Split Ring Tool
A split ring tool gives you the opportunity to split rings and open the rings of big hooks. I don't have significant use for this, but if you do, this can be important if you plan to fish for larger fish, as the ring of the hook is difficult to split without using pliers.
Sheath or Lanyard?
I do not like sheaths for fishing tools except for a knife. When using fishing pliers, using a lanyard is always far more efficient, or alternatively placing the pliers in my fishing vest or tackle box. Sheaths for me, tend to get in the way, and even if you are fly fishing, a lanyard option is far better than a sheath. 
Fishing Pliers FAQ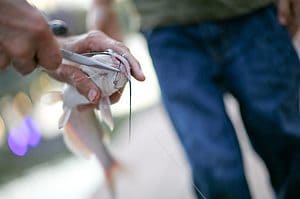 What Are Fishing Pliers Used For?
Fishing pliers are multifunctional hand tools that can be used for multiple fishing tasks. Anglers usually use them for the following when fishing:
Crimping: The handles' strength allows fishing pliers to do most crimping tasks, mainly for leaders and swivel attachments.
Opening/closing split rings: Opening and closing split rings are difficult with some fishing tools. Fishing pliers are great for any job with split rings.
Removing barbs from hooks: Crimping the barbed hook down to a flatter position.
Removing hooks: The most common use is to remove hooks from fish. They can also be used for attaching hooks to lures and fishing rigs.
Modifying terminal tackle: Gripping, cutting, opening, and closing multiple rigs such as hollow core lead weights, split shots, ballabeni, and Preston Stotz.
Cutting line: The best pliers can also cut all kinds of fishing lines, including braided line and steel leaders.
Tightening and loosening fixings: Any adjustments that you make on your fishing setups, such as screws, bolts, and clamps, are accessible with pliers. The dirt and grime often get in these fixings, making it difficult to remove them. 
What Fishing Tools Do I Need?
There are five basic fishing hand tools that are needed for fishing. These are:
Pliers
Scissors
Knife
Disgorger
Forceps
Each one has a specific use, but some anglers prefer to use a multi-tool that can do several tasks. Using a multi-tool has two major benefits:
Less fishing accessories to buy
Less to carry with you in your tackle box
However, if you do a lot of predator fishing or a specific type of fishing, such as carp fishing, then it's always best to buy specific tools. The benefits of specialist fishing tools are:
They are better designed for a task
Will last longer
Too large and heavy to carry
Where possible, buy the specific fishing tools that you use most regularly. 
Snipping Out
Thanks very much for reading my article. I hope you enjoyed it and have found the best fishing pliers for you. Remember, it is all about choosing fishing pliers that will last and are fit for purpose. 
Be sure to choose ones with side cutters, as these are super handy and with a nose that matches the size of the fish you catch most regularly. If you catch smaller fish, then buying some forceps and disgorgers is a great idea, too – especially if you practice catch and release! 
Please share the article with your fishing friends, and why not check out my in-depth review on the Best Fishing Knives. Whether it is fly fishing, coarse fishing, or traveling to awesome fishing locations that you love, we have you covered. 

Latest posts by Jamie Melvin
(see all)