Disclosure: Some posts contain affiliate links, which earn us a commission if you make a purchase through them. Positive Fishing © participates in various affiliate networks including the Amazon Services LLC Associates Program.


Every angler needs to have a pair of scissors in their tackle box.
Learn why you need scissors and how to use them correctly.
What are the best fishing scissors you can buy?
Scissors are such a simple tool. Fishing without them can be an extremely frustrating time and sometimes impossible.
When you are fishing, numerous tasks will require some sort of cutting. A fishing knife will help you, but scissors are your ultimate tool in your tackle box! 
In this article, I will cover all the important criteria regarding scissors as part of your fishing tackle.
My Best Two Fishing Scissors 
Rapala Super Line Scissors – My Best Overall Pick!
SAMSFX Heavy Duty Fishing Scissors – My Best Allround Pick!
What Are Fishing Scissors Used For?
There are a lot of tasks for which I use a pair of scissors during all my fishing trips. The obvious one is cutting your line! This can be due to having a tangle on your line, cutting tag ends, or simply cutting off a piece of fluorocarbon leader. They are also awesome for cutting various shrink tubing, foams, and rubbers used in carp fishing. They are handy for many other baiting tasks besides cutting the line.
Preparing live or dead bait for presentation on the hook can be frustrating without scissors. This especially goes for fishing with dead fish! Preparing dead bait fish with a good pair of scissors is simple, whether you need to make cut bait or just cut the fins from a fish. They are also quite good for gutting fish!
It is important to remember that scissors are usually made as a finesse tool. Do not try cutting a steel leader with them! If they are not specifically made for that, you will damage them! Also, ensure you are cutting the braid with a tool that is made for cutting the braid. Otherwise, you will have a very hard time finishing the task. 
What Fishing Scissors Are The Best To Buy?
I have misplaced several pairs a few times during my years of fishing. Eventually, the scissors need replacing, but I always return to the same two choices. Here are the two models of quality options I personally use and would recommend to every angler.
Rapala Super Line Scissors – My Best Overall Pick!
Features:
Material: Made of Stainless Steel
Length: 12 cm
Blade type: Serrated
Thumbholes: Oversized 
Handles: Molded plastic
Colors: Black/Silver
I love these Rapala Super line scissors! First, they are excellent value for money, and secondly, they cover all the basic needs I have explained earlier.
Make sure when cutting braid that the cutting surface is the serrated portion. Do Not use the tip end, as it will not cut braided line. Use the tip for snipping off monofilament or fluorocarbon lines.
I can easily fit them in my fishing vest pocket, and they cut braid like butter! Due to their oversized thumbholes, they are perfect when wearing gloves. This makes using them in the winter months very easy. They are the perfect tool for cutting braided fishing lines. I use them for everything, and they have never let me down!
SAMSFX Heavy Duty Fishing Scissors – My Best Allround Pick!
Features 
Material: Made of Stainless Steel
Length: 14 cm
Blade type: Serrated
Thumbholes: Normal size
Handles: Polypropylene
Colors: Green / Orange (Common OR Enlarged Finger Hole) OR Red (Common finger hole)  
These scissors are an all-around solution for any cutting task you encounter. Best suited for larger, heavier fishing situations. They are made from 420 stainless steel and can cut through braid, steel leader, or any kind of bait.
They come with a sheath, which can be attached to a wader belt, fishing vest, and backpack, making transporting much easier! 
SAMSFX Fishing Heavy Duty Scissors come in two different options. Ensure you buy the enlarged finger hole (orange or green) version. The thumb holes on the normal version are rather smaller than I would prefer.
Overall, they are more expensive than the Rapala but have great value due to their versatility, heavy-duty uses, and overall quality construction!
Why Use Fishing Scissors Instead Of Normal Scissors?
I am sure this question is often asked. But let's be honest: your normal kitchen scissors will do an awful job if used as dedicated fishing scissors!
For starters, they will often rust when exposed to outdoor conditions for a prolonged period. Second, they are not made to cut through the materials that we use for fishing. Sure, the ones in your kitchen drawer will do a good job cutting fabric. But have you tried cutting braided fishing line?
Feel free to try! It is incredibly frustrating and sometimes near impossible. Dyneema braid is tough and slippery and will bend under shears, showing only slight damage. 
Tip: Leaders made from steel should only be cut with sharp cutters/pliers.
How To Choose The Best Fishing Scissors?
Firstly, you need to know for what purpose you are buying fishing scissors. Are they for use in freshwater or saltwater? Will you cut mono or braid? Where will you carry them?
Material
If you are fishing in freshwater, it does not matter what material the scissors are made of. But if you are fishing in saltwater, you can only use ones made from stainless steel! Double-check when buying; otherwise, they will rust in a saltwater environment.
Also, be sure to buy scissors with rubberized thumbholes. Cheap plastic and metal holes are slippery, and you can lose your scissors while operating them with wet hands. An anti-slip surface is a must!
Blades
As I have already written, there are a lot of scissors that will have problems cutting through braid. If you are buying scissors and plan to cut braided line, always choose the ones with serrated blades; they have a better grip and will finish the task much cleaner, faster, and better!
Size
It is not the same if you plan to put scissors in your backpack, tackle box, or fishing vest. Ideally, they should be small enough to be carried in a pocket! But if you need scissors for cutting sardines on a boat, storage is unimportant, and you will need bigger scissors.
Final Thoughts
Both of these scissors will do a great job, but always be sure to wipe them clean after use, and they will last a long time. Quality scissors are invaluable for a fisherman every time we go out fishing. 
If you enjoyed reading this article, and you are an angler who goes predator fishing for pike and zander, check out my best picks for fishing forceps,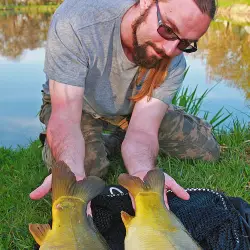 Latest posts by Denis Savretic
(see all)