Disclosure: Some posts contain affiliate links, which earn us a commission if you make a purchase through them. Positive Fishing © participates in various affiliate networks including the Amazon Services LLC Associates Program.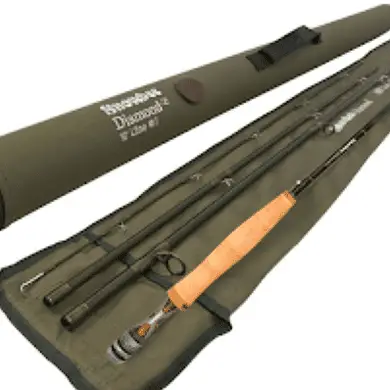 Snowbee Diamond 2 Fly Rod Review: Is It Worth It?
Our Verdict
The Snowbee Diamond fly rod is a great intermediate rod that is a top performer and has a great price. A performer that every angler can use easily and casts a dream.
Casting Ability and Accuracy
The Good
Casting accuracy and ability very strong especially at short range
Fantastic warranty offered
Very lightweight and capable mid performance rod
Fast learning curve, easy to cast and use from day one
Great looking color and handle
The Not So Good
None in my opinion
Once fly anglers find a reputable company that they enjoy, they're going to stick with them. Snowbee, a European fly-angling company, knew this in the midst of creating their company. As a result, Snowbee created three levels of fly rods for various levels of anglers. The basic option is the classic series, the intermediate is the diamond series and the advanced option is the prestige G-XS series. 
The Snowbee Diamond series rods are some of the best performing and looking intermediate rods you can find. The reasonable prices and high-quality materials make this an excellent purchase for any angler looking to move on from their more basic model to something that better fits their skill set. 
In this article, I will cover:
Who Are Snowbee?
Snowbee Diamond Series Features

Models
Build Quality 
Action
Presentation
Warranty
Snowbee Diamond – Is It Worth Buying?
Who Are Snowbee?
The Snowbee company is from the UK and started business in 1984. Their business covers a full range of fly fishing gear. Their headquarters is in Plymouth, Devon but most of their gear is manufactured in the far east.
All the product design and development work is undertaken in the UK. In 2018, Snowbee opened an office in Southern California to support business growth in the United States.
Snowbee Diamond Series Features 
The Diamond Series is a unique fly rod. They're able to showcase their vision throughout these rods thanks to the vision of their designers.
Yes, you're going to have to spend a bit more money than you would on beginner models such as the classic rod, but it's well worth it. 
Models 
Snowbee thought of many fishing scenarios with their Diamond Series rods. You have the following options to choose from:
8 Foot 4-weight,
9 Foot 4-weight, a 9' 5-weight, a 9' 6-weight, and a 9'6" 7-weight,
10 Foot 3-weight, a 10' 4-weight, and a 10' 7-weight. 
As you can see, you are a bit more limited with your short finesse rod options. However, you do have Euro Nymphing options in case you're looking to do some finesse fishing. 
Also, you have a heavier 10' 7-weight model that would work well for salmon or steelhead fishing. Also, you could target pike or musky with one of these rods. 
Snowbee also created a Denny Rickard's signature series rod that's under the Diamond series. It's a 9' 6-weight rod that's specific to fishing still water. Many companies aren't willing to create still water-specific fly rods, but Snowbee thought of it. 
Build Quality
The Diamond rods are all made of Tri-modulus carbon technology. All models are four pieces so they're ideal for travelling. The Diamond fly rods have a bit more of a backbone than the more affordable classic model, but it only weighs 3.9 ounces. It's amazing how light they made these rods. However, it's still able to get you the power you need! It's a great balance that you can tell has had some effort put into the design.
You have SIC-lined stipping guides, a high-quality cork, and an uplocking reel seat. The quality is no joke. 
Action
Similar to the classic series, the diamond rods are a moderate-fast action rod beside the Denny Rickards model which is a fast action. With a moderate-fast action rod, you're going to have power, but a bit more sensitivity. This allows you to test this rod in a variety of different spaces. 
Even if you consider yourself to be more than an intermediate angler, you can't go wrong fishing a moderate action. No, you won't have all the power you would find in a fast-action rod, but you will make up for that lack of power with sensitivity. You can take it to small streams and fish it in delicate scenarios without worrying about not being able to feel when a strike is happening. 
On windy and challenging conditioned days, you'll find that the moderate action isn't as powerful as you may want. This is the primary downside! It's not going to cut through the wind as you may need. 
Presentation 
Anglers are going to want a rod that's going to get their flies exactly where they need it. The Diamond range is one of those rods. Throw heavy streamers to opposite sides of the bank or drop in a size 22 dry fly into a small seam. Whatever you want to do, you can. That's rare for an intermediate-level fly rod. The main upgrade you usually get in medium-level rods is power. However, with this fly rod, it's the ability to present flies that's the main improvement! 
Warranty 
Like many of the other company's products, you're protected by their lifetime warranty. If there is any manufacturing error or the rod breaks, send it back to the company directly and they'll replace it for you or provide you with a new rod or another with the same value.
Feel free to fish this rod as hard as you would like knowing that you're going to be protected. 
Casting Accuracy
In terms of casting accuracy, you won't find many weaknesses with the Diamond fly rod Series. Within 30 feet, you can pick any spot you want. You start to feel the higher quality of this rod show up in those tight scenarios when you aren't quite sure how the rod will perform. 
You can cast within inches of where you would like with this rod at shorter distances. If you need to cast right along a downed tree or drift into a pocket behind a rock, you'll be good.
As with many rods, it takes time to learn them and the short casts don't come as easily as many anglers would like. With this rod, it feels as if you've been casting the rod your entire life. The learning curve is super fast, casting accurately and good distances can be done in just a few minutes and you'll have a great understanding. 
For longer-distance casting, you'll also be pleased. Again, this rod is good at everything, but not perfect. If you're casting the Denny Rickards rod, you'll have even better longer casts. It's a fast-action rod and meant for still water, so you can really let loose. 
With the regular version of the diamond, the long casts are still quite productive. You can be sitting on a drift boat needing to let a cast loose or along the shore of a large river pursuing some fair-sized fish.
You're easily able to make upwards of 70-foot casts with this rod. You likely don't have to make these casts too often, but you have it in your arsenal if you need it. 
Snowbee Diamond – Is It Worth Buying? 
This Diamond Fly rod is going to step up to all the challenges you put in its way. If you're fishing on a day when the conditions are tough, you don't have to worry about what this rod is going to do. It's going to allow you to brave the wind, rain, or heat. 
While this is technically considered a more mid-level rod, it performs like a higher-performance rig. Plus, it's priced in a friendly way. you'll receive this rod and a lifetime warranty. For only $350, you can have a rod that will last you your entire fishing life no matter how skilled you become. 
When you first try a rod, there are occasionally times when you just know it's good. That's what happens when you first start casting the diamond. It just feels familiar and high quality. Plus, it doesn't hurt that this rod looks great. A nice forest green colour with the awesome wood-patterned reel seat is special. It's not something you find very often in the world of fly fishing. 
Final Thoughts
Take this to whatever body of water you want, and it'll work. It's a trusty friend that is never going to let you down. As long as your skills are sharp, the Snowbee Diamond² series is capable of anything. 
You can find out more about the affordable Snowbee classic model, and its capability by checking out my in-depth review. Alternatively, for other manufacturers, take a look at my excellent choices of fly rods for catching trout.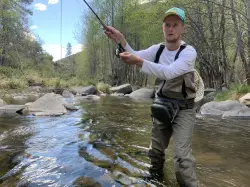 Latest posts by Daniel Mooers
(see all)