Disclosure: Some posts contain affiliate links, which earn us a commission if you make a purchase through them. Positive Fishing © participates in various affiliate networks including the Amazon Services LLC Associates Program.


Euro Nymphing is a term you have most likely heard of, especially if you are into fly fishing. It has become incredibly popular over the last few years as it is one of the most effective ways to catch both trout and grayling in rivers. 
In this article, we are going to run through everything you need to know about Euro Nymphing, how it works, why it works, setting up your own Euro Nymph rig, and how to fish it the most effectively. 
The History Of Euro Nymphing 
Euro Nymphing was, surprisingly enough, born out of competition fly fishing where the rules dictate that you cannot use an indicator or split shot during competition. 
This regular form of nymphing is what most fly anglers are accustomed to. The indicator floats on the surface so you can see when you get a bite, and the split shot ensures the nymph flies drift close to the bottom where the fish feed. 
Now, competition fly anglers had to come up with a way to fish nymphs as effectively as possible without an indicator or split shot. Trout and grayling do 80% of their feeding on nymphs close to the bottom therefore if you want to win a competition, you can not miss out on such an opportunity. 
This is how Euro Nymphing was born, and it is actually a much more effective way of catching fish than using a split shot and indicator. 
The pros created a leader with a colored piece of line in the leader to act as an indicator, began using much thinner tippets to remove drag, and started using much heavier flies with tungsten beads instead of brass, to make them sink quickly. 
Explaining Euro Nymphing In Simple Terms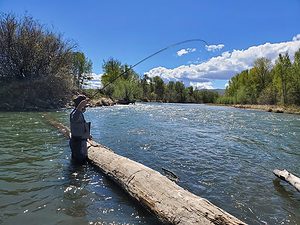 When you are Euro Nymphing you are using a long leader of around 14 feet long with an indicator line attached to it to which you add your fluorocarbon tippet and your heavy flies. 
The long leader means you never use the fly line while casting in the river, at most, there will be a 1 foot of it out the rod tip. This makes your fly fishing incredibly stealthy as nothing but clear mono and fluoro will be hitting the water as you fish. 
When fishing a euro nymph rig you will be casting your flies above the pocket water the fish are holding in and letting your flies drift down into the fish holding water. While you are doing this, you will be high sticking with your rod. 
High sticking is keeping your rod tip high while keeping your indicator line above the water's surface and gently bouncing your flies along the bottom. This keeps you in direct contact with the flies as they move through the water and as soon as you see the indicator line stop or straighten, you lift your rod into the bite. 
If you don't get a bite, you can simply repeat the drift or drift them through another fishy section. Since no fly line is hitting the water and you are fishing upstream, you can continue to fish the same section without spooking any fish and change flies until you get one. 
You are probably starting to see why this style of nymphing is so effective but it does have one limitation, you can't cast very far since you are only using your leader. This means you will have to wade in the river and get as close to the fishy spots as your leader length requires and in a stealthy fashion. 
What Is Needed For A Euro Nymphing Setup? 
Since euro nymphing is quite a specific and technical form of fishing, having the right gear does make it a lot easier and it will increase the number of fish you catch at the same time too. Let's dive into the rod, line, leader, tippet, and flies you will need for euro nymphing. 
What Is A Good Euro Nymphing Fly Rod? 
When it comes to euro nymphing you will want a long rod so you can high-stick with ease and throw longer casts with just leader material. 
You will also want a light rod too as this is going to add a load more feel to your drift so you can feel your flies bouncing along the bottom and feel any subtle bites from fish too.
The best go-to fly rod is a 10-foot long, 3-weight rod as this has the perfect combination of length and delicacy so you can control your drift well, feel all the bites, high stick with ease, cast further, and have longer drifts. 
You can find rods up to 11 feet long and some fly anglers prefer using a heavier 4-weight rod but I would stick with a 3-weight rod as it provides more feel. That being said, if you are going after 6 lb brown trout or larger, then a 4 weight might be a better choice. 
My personal pick choice of rod for Euro nymphing is the Sage Fly Fishing – ESN Fly Rod which comes in a 10ft version of 2wt, 3wt, and 4wt. My personal choice is the 10ft 6" 3wt option. But all ESN rods will work perfectly in most situations.
What Fly Reel Should I Use For Euro Nymphing? 
The choice of a fly reel is probably the least important consideration in every Euro nymphing setup since you won't even pull the fly line off it when casting. 
You should ensure that the reel balances your fly rod and since you will be using a longer 10ft rod, some anglers suggest that going up a weight with your reel balances it better – therefore using a 4-weight reel with a 3-weight rod is probably the best reel option. 
You should also ensure that the reel can handle the size of the fish you want to catch and for big trout, you might want a reel with some drag on it. My personal pick for a reel is the Sage ESN Euro Czech Nymph Fly Reel which has 3 interchangeable accessory weights (1/2oz, 1oz, and 1 1/2oz)
What Fly Line Should I Use For Euro Nymphing? 
Since your fly line will barely leave the reel, unless a fish pulls it out, you can actually euro nymph without a fly line if you want to by adding the leader to the backing. But, we all want a fly line on our reel in case we want to switch to dry flies and make a long cast. 
You can buy nymphing specific lines such as Rio's FIPS Euro Line or Airflo's ESN which will get the job done. An all-around trout line will also do the job such as Rio's Avid Trout line.
How To Build A Euro Nymphing Leader 
The next step is the most important as the leader is what you will be fishing with the entire time. It, therefore, needs to cast well, be well rigged, and deliver the goods in the water. 
The ideal euro nymphing leader will be tapered, be around 11-14 feet long, and include a visual indicator line at the end too. 
You can buy ready-made leaders such as Rio's Euro Nymph Leader and their Technical Euro Nymph Leader which come with the visual indicator line and a trout ring to add your tippet to but I would recommend building your own. 
When building your leader, start with 30 lb mono/fluoro, then 25lb, 20lb, 15lb, 10lb, 8lb, and then add your visual indicator line. This should be around 10-14 feet in length and have 2 feet of indicator line. Use a blood knot or a double uni knot to join the lines together. 
How To Add Your Euro Nymphing Tippet & Flies 
Now it is time to add your tippet, using the same knot, to the end of the leader. You want to use a 5-6 ft, 5lb, or 5x/6 fluorocarbon tippet and build a dropper rig with it using a surgeon's knot. 
You can incorporate up to 3 flies of different weights along the rig, using either the heaviest fly as the first one as this brings all the other lighter flies closer to the bottom. You can, however, fish the heaviest fly on the bottom depending on the situation. 
The best flies to use for euro nymphing are nymphs, and your heaviest fly should be a tungsten nymph, then a brass nymph, then a bead-less nymph, emerger, or wet fly. You can also effectively fish a small woolly bugger on the rig when the fish are feeding on small fry. 
My favorite nymph fly options include: 
Perdigon Nymph
Hare's Ear
Frenchie
Prince Nymph 
Caddis Nymph
Copper John 
Zebra Midge
Damsel Nymph 
San Juan Worm
CDC Mayfly Nymphs
You can then euro nymph these flies through fishy sections and start catching more trout than ever.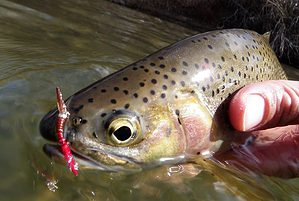 Nymphing Out 
Thanks very much for reading my article. I hope you enjoyed it and are now ready to start euro nymphing. It really is the most effective way of catching trout and grayling with a fly rod. So it is time you jumped on the bandwagon. 
Please share the article with your fishing buddies and why not take a look at some of our other articles for beginners such as our in-depth review on fly fishing basics.
We cover everything from where to go on a fly fishing vacation and informative articles such as how to read and understand hatch charts correctly.

Latest posts by Jamie Melvin
(see all)