Disclosure: Some posts contain affiliate links, which earn us a commission if you make a purchase through them. Positive Fishing © participates in various affiliate networks including the Amazon Services LLC Associates Program.


Every fly angler looks forward to the evenings and lunch breaks when they can plan their next fly fishing vacation.
Dreaming of where to go, checking out the best spots on Google Maps and texting fishing friends about dates creates anticipation for the most exciting few days of the year. 
No matter how far you travel or how elaborate you want to make your trip, vacation days set aside only for fishing make every angler's heart happy. 
In this article, I will cover: 
What to Look for When Planning a Fly Fishing Vacation
When to Go on a Fly Fishing Vacation
Ideal Fly Fishing Vacation Destinations in the United States of America 
What to Pack for a Fly Fishing Vacation
What to Look for When Planning a Fly Fishing Vacation 
When you begin the planning process for your fly fishing trip, you want to keep a couple of things in mind. There are always going to be things out of your control when you travel.
Planning the trip correctly before you set off, will prevent you from losing crucial fishing time once you arrive. 
Quality Lodging Conditions
Every person has their standard of living. Whatever that is, make sure you're able to accomplish it when you're travelling. Some anglers are content coming back to a campsite every single night and others need a hot meal and resort conditions. If the location you want to fish at does not have lodging, consider going somewhere else. 
Book the campsite ahead of time or make sure you at least have somewhere to lay your head at night. 
You want to be comfortable at the end of the day. A long day of fishing isn't always easy. You're tired, and hungry and want to relax before you do it all over again the next day.
Take care of all the aspects of your lodging arrangements and then you can start working through day-to-day travel and all of the other decisions you need to make. 
Glamping Fishing Locations
These days fishing has expanded into the glam fishing arena! There are a lot of great fly fishing glamping areas across the world, check out my article on the Best Clamping Fishing locations around the world here!
Guides and Fly Shops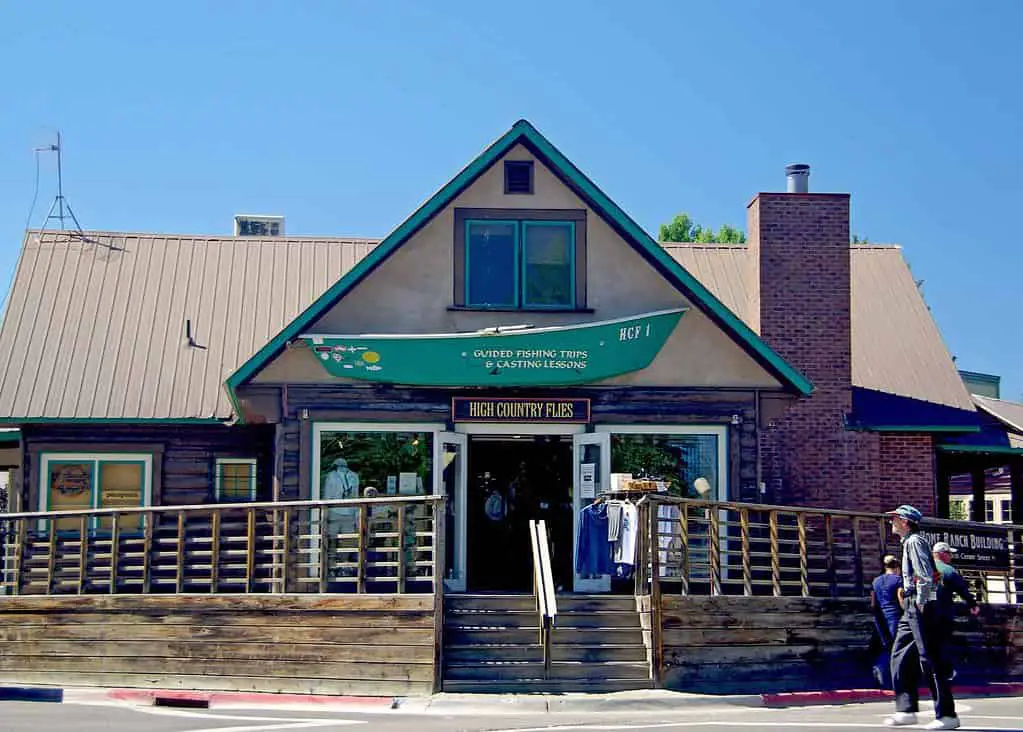 The next thing you're going to want access to is a fly shop or at least some local knowledge. You can go to all the work to plan and research, but there are times of the year when certain waters are extremely hard to fish.
You don't have to go out of your way to hire a guide, but it's not a bad idea to at least find a local shop or guide service to help you when you're feeling like you don't know what to do next. 
Make a stop at a shop at the beginning of your trip to pick up some locally tied patterns or even some gear. Fly shops are going to be far more willing to provide you with information if you choose to purchase something from them.
Local fly shops keep fly fishing relevant and enjoyable. Their experienced staff have hundreds of hours of time on the local water, so utilise that knowledge and know-how to your advantage.
The staff also spend a lot of time keeping the waters clean, allowing us to have a memorable fishing trip to the most desirable waters in the world. 
Variety of Water 
One of the final and most important things you want is a variety of water to explore. You don't want to live and die with one body of water.
Too many anglers make a long trip to fish in one river or lake and something goes wrong. Rain may muddy the water and make it challenging to fish or recent pressure has made it really tough to find fish. 
Either way, you want to make sure you have at least two bodies of water within driving distance. This allows you to move on to the other one if the first choice isn't a success.
Also, a variety of water keeps things interesting and provides some anticipation at the beginning of each day. Also, if you need to bail on a body of water if something isn't working. 
Access to a Vehicle
Finally, you're going to want access to a vehicle of some sort. Whether it's a shuttle or your own car, a fly fishing trip isn't as easy if you can't travel up and down the river or go somewhere completely new.
Also, if you need to restock on supplies or flies, you'll need some sort of mode of transportation. Get creative if you have to because a vehicle is absolutely worth it. 
When to Go on a Fly Fishing Vacation? 
Most water is fishable for about three-quarters of the year. There are going to be weeks when runoff is significant or the water temperature is too high.
But any fly fishing water is going to be able to be fished for the majority of the year. This doesn't mean it's going to be productive at all times, but you can land some fish. 
Another big factor to consider when planning your fly fishing vacation is the weather. Pick the best options on dates around the time of the year. Check out my in-depth review on How Barometric Pressure can affect your fishing here!
Post Runoff 
One of the most productive times of the year on the water is right after runoff season has concluded. Runoff usually happens from April to June. Snow melts and spring rains can massively raise the level of the water. This makes fishing very challenging and takes away from the true fly fishing experience. 
Runoff usually subsides at some point in June. Once it calms, do your best to get on the water as soon as possible. Fish are hungry and looking to eat. Food isn't moving as fast and they feel a need to fatten up after a long winter.
You can target these fish with whatever flies you like. Do your best to identify where they're feeding and then throw whatever flies are necessary. 
Summer Months 
The majority of July, August and September are going to be productive. These are the warmest months of the year, but they also have the longest days for fishing. The water stays clear and the fish are active in the mornings and evenings. The hatches are going to happen during these hours, so make sure you're fishing during these parts of the day. 
Cloudy days are likely going to make it easiest for you. You can hide easier and the fish won't be as spooky since shadows won't be cast out over the water.
Take advantage of the warm weather and join the rest of the anglers in pursuit of a trophy fish. The later you get in the summer, you'll find that terrestrials (beetles, grasshoppers, etc.) often start to make their way out to be eaten. 
Fall is Prime
Fall fly fishing is wonderful! Late September, October and November can be a challenge due to cold weather, but the fish are still feeding. If you want to fish for salmon, fall is going to be the best time of the year. Most salmon runs happen in the fall so keep that in mind! 
Fly fishing lodges often give good discounts in the fall season as long as they aren't located in a salmon hotspot! The water is going to be far less busy as well. 
Ideal Fly Fishing Locations In The United States of America
If you're fly fishing in North America, you have dozens of amazing fly fishing options. While there are thousands of miles of beautiful water, certain waters are going to be far busier than others. 
Montana and Wyoming 
If possible, you're going to want to make a trip to Montana and Wyoming. First of all, you're going to find ample lodging opportunities. Whether you want a lodge or a campsite, you will have access to it.
Rivers like the Gallatin, Bighorn, Yellowstone, Madison and Missouri are all worth your time. They have phenomenal trout populations and will help you create memories that are going to last you a lifetime. 
Make a city like Big Sky, Montana your home base and you won't be sorry. You're within driving distance of a variety of water and these states make for a lovely vacation. It's one of those trips that you dream of while you're spending time searching on the internet. 
Check out my recommendations of the best places to fish in Montana and Wyoming.
Colorado 
Colorado deserves its own description! There are dozens and dozens of rivers all throughout the Rocky Mountains that will put a smile on your face. A great place to make your home base is at Crested Butte, Colorado. Crested Butte is close to the Taylor and the Gunnison Rivers. Both of these rivers are filled with massive fish and have quite a bit of public access for you to spend multiple days fishing. 
Florida 
You can't ignore fly fishing on the East Coast in the United States. Saltwater fly fishing is an entirely new experience that people must experience! The fish are far more aggressive and you have dozens of species you're able to target.
If possible, visit the Florida Keys and all of the intercoastal waters that you can find. You'll learn quite a bit and likely land a trophy permit fish in the process.
Oregon and Washington 
If you want a shot at salmon in the United States, then Oregon and Washington are going to give you as good a shot as any!
The Columbia and Deschutes Rivers are big and challenging fisheries, but they happen to hold some massive fish. Target these rivers during the salmon runs and you'll find yourself with a great chance of some specimen salmon. 
You may want to book a guide if at all possible. The local knowledge is hard to beat. 
North Carolina
The Appalachian Mountains in North Carolina are home to some of the most healthy brook trout populations in the United States. Plus, North Carolina has the only designated fly fishing trail in the country! The state is making a massive effort to preserve fly fishing. 
You can check out more of the best places to fish in North Carolina here!
Michigan 
For some midwest flavor, you're going to want to visit Michigan. Michigan has some of the best water in all of the United States for you to fish.
The brown trout and rainbow trout populations are massive and a large amount of the water is public. This is great DIY water if you want to learn. The fish counts are high so you won't have to work overly hard to land fish. 
What to Pack for a Fly Fishing Vacation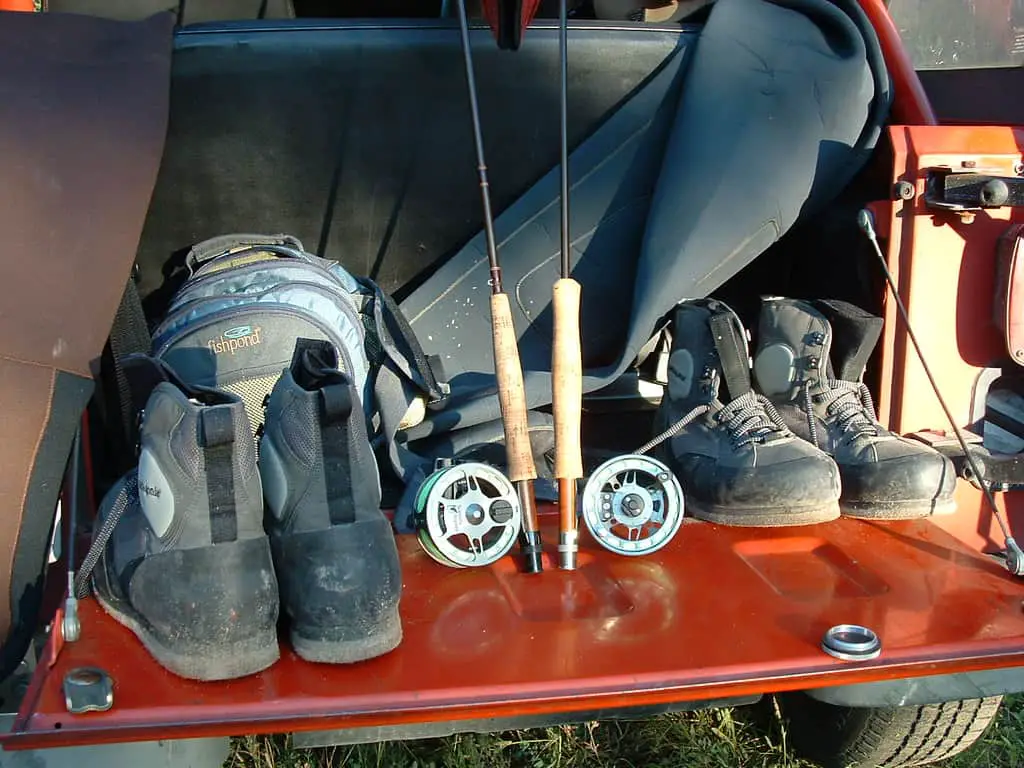 Packing for any vacation can get a little stressful. Packing for a fishing vacation can be even more of a challenge.
Having a simple checklist can be a godsend to feel that things are organised and nothing important gets forgotten. A simple item such as your fishing license can be easy to leave behind which can be a crucial mistake if you need to show a hard copy during the trip.
Where possible, plan ahead and get as much done a few days ahead of the trip. On the night before just run through everything one last time to avoid a lot of frustration.
Fishing Gear
When you're creating your packing list, you want to start with all of your necessary fly fishing gear. If you don't have what you need to fish, you'll feel unprepared from the beginning.
Rods, reels and fly lines should all be organized before you get the rest of your gear. Check your tackle box for all the accessories that you will need. Ensure that you target the right equipment for the location you are going to. 
Fishing Clothing
The next thing you need is your clothing! Make sure you have your waders, boots and all the necessary warm or cold-weather gear. It's best to be over-prepared if at all possible.
Knowing the location you are planning to fish at is key. Review the weather forecast before you go, and pack accordingly.
Wet weather can also impact the enjoyment of your vacation, proper clothing for all scenarios helps make the trip a much smoother experience. 
Food and Provisions 
In most cases taking food on should be less of a concern. Taking a few essentials with you can be a wise decision. If you are planning on cooking during the trip this involves even more planning.
Cookware, cutlery, gas stove, water, etc can end up being a long list of items. Plan things out beforehand and you will have a seamless and awesome vacation every time!  
Final Thoughts
Fly fishing vacations can be an absolute blast. With some simple planning ahead, a fly fishing vacation can be a really memorable trip for the angler and also the whole family.
Please check out my articles on fishing vacation guides and also my beginner's in-depth guide on fly fishing basics here!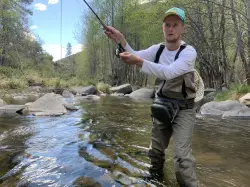 Latest posts by Daniel Mooers
(see all)