Disclosure: Some posts contain affiliate links, which earn us a commission if you make a purchase through them. Positive Fishing © participates in various affiliate networks including the Amazon Services LLC Associates Program.


Florida has some of the most diverse fishing on the planet as it's home to offshore species, inshore saltwater species, and freshwater species to boot! There aren't many places in the world that offer such a variety of trophy sport fish in such a small space, so making a trip to Florida is a must on anyone's fishing bucket list. 
The state of Florida covers 65,758 miles squared with 1,350 miles of fish-able coastline, and we haven't even counted the inland lakes teeming with various bass yet. That's a lot of fishing grounds, and finding that fishing of a lifetime without some prior knowledge is going to be like looking for a needle in a haystack. 
Luckily, that's what I am here to help with. I have fished with many of the best fishing guides in Florida, and I'll try my best to point you in the right direction to make all your fishing dreams come true. 
In this article, we'll cover the following:
What Are The Top species Florida has to offer
How to catch them
Where & when to catch them
Who to catch them with so you can go to Florida with more insight ahead of the trip 
Top Fish To Catch In Florida
Since there are so many incredible but different species of fish to catch in Florida, I will split them into categories to make things a little easier, including Freshwater species, Offshore species, and Inshore (flats) species. 
Top Freshwater Species To Catch In Florida 
There are a lot of freshwater species in Florida, but they aren't all worthy of a plane flight and a long fishing trip. There are a couple that are certainly worth it, and these include largemouth bass and peacock bass. 
Both these bass species are incredibly aggressive and amazing to fish for, as when they hit your lure, there is not much else like it. 
Top Offshore Species To Catch In Florida 
Between the east coast of the Atlantic and the west coast of the Gulf Of Mexico, there aren't many offshore species that you can't catch in Florida. You'll often find many of these species in the area at the same time, meaning you can catch several in one offshore trip. 
The top fish to catch offshore in Florida are: 
Broadbill Swordfish 
Blue Marlin
Sailfish
Yellowfin Tuna
Blackfin Tuna
Wahoo
Dorado
King Mackerel 
As you can see, the only prized offshore species missing from this list are black marlin, striped marlin, and bluefin tuna – so Florida almost has it all.
Top Inshore Flats To Catch In Florida
The inshore flats of the islands and lagoons around both sides of the Florida coastline are synonymous with saltwater fly fishing. 
It's pretty much the place where saltwater fly fishing was born, and since I grew up and moved to destinations worldwide, Florida is still one of the best. The most common flats species to catch around the Florida coast are: 
Tarpon 
Permit 
Bonefish
Snook
Redfish
Jack Crevalle 
Barracuda
Unlike other destinations where one species features more than another, Florida is home to almost equal numbers of all these species, so your chances of catching a few of them are quite high, depending on the time of year you visit.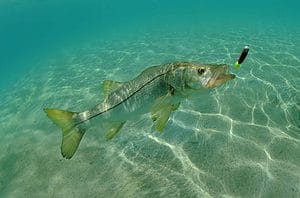 Where To Go Fishing In Florida 
With such a vast coastline and inland system of fishing waters, a big part of catching fish in Florida is knowing where to go. Some parts of Florida have both offshore and inshore species while others have just freshwater, inshore, or offshore species available, so be prepared to travel around a bit if you want to experience them all. 
The Florida Keys 
If you're serious about catching some fish of a lifetime in Florida, there isn't a better place to head to than the Florida Keys! 
The Keys are a long chain of islands that are connected to mainland Florida by multiple road and bridge networks. It's the home to inshore flats as far as the eye can see and being close to the deeper offshore waters, meaning it's a great place to fish for all the offshore and inshore species – a big range, as mentioned above. 
At the very end of the Florida Keys lies Key West, the final island and if you can base yourself anywhere to go saltwater fishing in Florida, Key West is the place. It sees an amazing run of tarpon, the permit fish have not seen too many baits yet, and you get direct access to the Gulf Stream for offshore fishing, too. 
But to be honest, anywhere along the Keys is great, and if you stay further east in places like Key Largo, you can fish both the Keys and the Everglades National Park for all the inshore species and go offshore into the Atlantic. 
Marco Island 
Marco Island is another fantastic place to go fishing in Florida if you want to target inshore species. You'll find it on the west coast of Florida, and it's right next to an area called Ten Thousand Islands. 
It's not called that as a riddle!; there are about 10,000 islands in the area where Marco Island is situated, which slowly lead down into the Everglades National Park, making it such an amazing place for inshore fishing. You'll find tarpon abundant in this area, and the snook fishing is particularly excellent. 
The Best Bass Lakes In Florida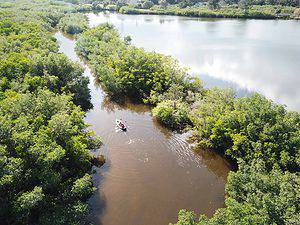 There are a lot of great bass lakes in Florida, and they run from the top of the state all the way down to the bottom. It would be impossible to write about them all, but here are the top two to visit. 
Miami Airport Lakes offers some of the best bass fishing in the state, home to many largemouth and peacock bass. Peacock bass are the most aggressive and hard-fighting bass in the state, and they really will pull your arm off! 
The other best bass water in the state is the Florida Everglades, home to huge numbers of largemouth and peacock bass but in a much wilder natural environment than the Miami Airport Lakes. At the right time of year, every cast can lead to an awesome-sized bass on the end of the line. 
When To Go Fishing In Florida 
Choosing the best time of year to go fishing in Florida is another important factor in a successful fishing trip. 
As with all fish species, they have their seasons when they are more abundant, and since Florida has so many different fish species worth catching, it depends on what fish you want to target as to when it is best to be there. Floridago fishing site has a seasonal fishing chart which shows in detail where are the best locations and what the fish are biting at that time of the year.  It is updated regularly and has nine areas in Florida that you can select, including Big Bend, Central Florida, and Southwest Florida.
If you look closely at the chart, you'll see that a great time to catch almost all the best inshore and offshore species in Florida is between March and July and September to November. 
The fishing window is quite narrow in Florida as before March, the waters can be cool and rough, and after July, and especially during August, they are so hot it's tough even to go fishing, let alone find fish!
That being said, you can fish all year round if you're not too fussy about which fish species you want to catch. 
When it comes to bass fishing in Florida, you don't want the water to be too hot or too cold as the bass will go deep to find their preferred water temperature. Therefore, March to June is your best bet. 
Best Methods To Catch Fish In Florida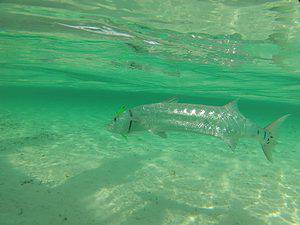 There are four main methods for catching the fish species I mentioned above: fly fishing, trolling, bottom fishing, and spinning. 
When you're being poled or punted around the flats of Florida or targeting tarpon along the coast, you will either have a fly rod or a spinning rod in your hands. This kind of fishing is all sight fishing, meaning you don't cast until you see the fish, which is about as exciting as it gets. 
The offshore fishing will be trolling most of the time and dropping baits deep for broadbill swordfish, while the bass fishing will all be spinning or baitcasting with lures or soft plastics. 
How To Book Your Fishing Trip To Florida
There are so many fishing operations in Florida that it's hard to know which ones are best to book. 
A great place to start is by booking through Key West Guides, as they have a directory of expert guides and offshore skippers for the area that will happily show you around and catch you some amazing fish. 
If you want to fish around Marco Island, Andrew Bostick is the man to speak to. He isn't easy to track down or book with, but if you book far enough in advance, he is one of the best guides in Florida. 
When it comes to bass, book with Everglades Fishing for some of the wildest bass fishing you might ever experience. 
Florida Fishing Regulations 
In order to cast a line into any water in Florida, you need a fishing license, which can be easily purchased from the Florida Fish and Wildlife Conservation Commission. Make sure you have one before you start fishing in Florida. It's an easy online process that takes just a few minutes. 
Over & Out 
Thanks very much for reading this article. I hope you enjoyed it and are ready for the fishing trip of a lifetime to Florida. The fishing is certainly incredible, and you have to try the flats fishing, as there is nothing else like sight casting to a 100lb tarpon in only 6 feet of water!
Check out some of my other articles on worldwide fishing vacations covering saltwater and freshwater fishing in both warm and cold climates.

Latest posts by Jamie Melvin
(see all)