Disclosure: Some posts contain affiliate links, which earn us a commission if you make a purchase through them. Positive Fishing © participates in various affiliate networks including the Amazon Services LLC Associates Program.


If you're in pursuit of a certain type of trout, you're going to have to do research prior to your trip. The states of Montana, Wyoming, North Carolina, and Wisconsin are the best places to find the best trout fishing. Trout are fairly accessible and most people don't have to travel too far to have a shot at landing one of these beautiful fish.
These fish live in beautiful locations and give anglers a challenge every single time they're targeted. Whether you're spin fishing or fly fishing, you'll have a great chance at landing a beautiful trout.
So where are the best places to find trout in the United States? Brook trout, cutthroat trout, and bull trout are more of a challenge to find. However, brown and rainbow trout are much more accessible all across the United States. In any place where trout live, you'll find browns or rainbows. 
In this article, I will cover the Best States for Trout Fishing: 
Best trout fishing in Montana
Best trout fishing in Wyoming 
Best trout fishing in North Carolina 
Best trout fishing in Wisconsin
Fishing for Trout in Montana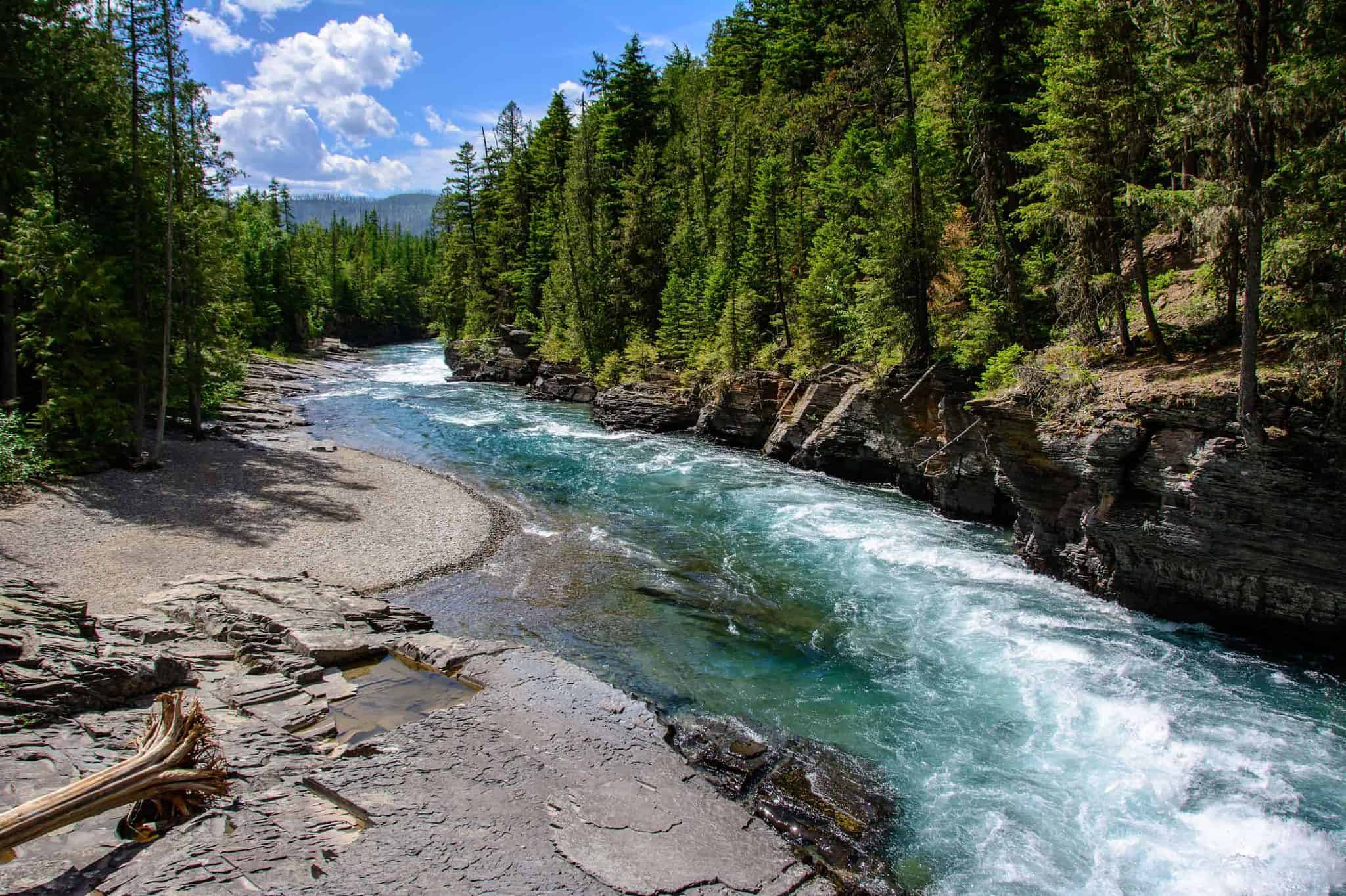 Many trout anglers in the United States have Montana at the top of their bucket list. The thousands of miles of water and massive fish make it an appealing place to spend a week on a fishing trip. Whether you want to fish for trout in lakes or rivers, Montana has water for you. Plus, it's a wonderful place for a family vacation! The hiking and sightseeing can provide hours of entertainment. 
Getting Your Fishing License In Montana
When visiting Montana, you have a couple of options for licenses. Your first choice is a 2-day license and that's going to cost you around $25. The license must be purchased for two consecutive days. 
Your second choice is purchasing a 10-day license. If you're on a bit longer trip, this is a great option. A 10-day license will cost you $56! Obviously, if you're fishing for longer than 4 days, then your best bet is the 10-day. 
If you plan on spending several weeks or an entire year in Montana as a non-resident, then a full-year license will cost you currently $86. 
Where to Fish In Montana 
Your best fishing is going to be in central and western Montana. This is where the elevation begins to increase and you'll run into some of those world-famous rivers. The crystal clear streams and lakes surrounded by mountains are a sight to be seen!
Fishing at Gallatin River
You'll struggle to find better trout fishing than the Gallatin River. This river is found running through Yellowstone as well as the Gallatin Canyon in Western Montana. If you do choose to fish in Yellowstone, you're going to need a special license. However, the water outside the Yellowstone that flows through Big Sky, Montana is spectacular. 
If you have any familiarity with the movie "A River Runs Through It", then some areas of the Gallatin are going to look extremely familiar. Take along your fly rod if you're fishing in Yellowstone National Park. It's a surreal feeling! If you're outside the park, you're good to use your spinning rod. 
I suggest trying the Gallatin River Lodge at Bozeman, take it from me it is a great place to fish, stay and relax.
Fishing at Canyon Ferry Lake 
Canyon Ferry Lake is another must-visit for anglers looking to land some monster trout. It's a reservoir within the Missouri River and it's actually Montana's third-largest body of water. It covers over 35,000 acres of land. As a result, you have a massive amount of water to cover and the chance to land a few trophy trout. 
In Canyon Ferry Lake, you can catch Brook Trout, Brown Trout, Yellowstone Cutthroat Trout, and Rainbow Trout. It's extremely deep so fish always have a place to hide regardless of the outside temperature. You can land fish from shore as well as from a boat when fishing Canyon Ferry. If possible, try and catch all four species! You'll have the Canyon Ferry Grand Slam. 
Focus on structure and areas with quite a bit of food. Trout will feed on the surface in the mornings and evenings in pursuit of insects. 
I personally recommend a great fun place for the family at Kims Marina, Canyon Ferry Lake. It has a full range of facilities for fishing and non-fishing activities.
Fishing for Trout in Wyoming
Wyoming is one of the more desolate states in the lower 48. There are areas of the state completely dedicated to tourism, but you will have ample opportunities to get out on your own and land your fair share of massive trout. 
Getting Your Fishing License In Wyoming
If you're looking to land trout in Wyoming, you're going to need a fishing license. A non-resident daily license is going to cost you $14. Wyoming's fishing licenses are fairly expensive, but the quality of fishing is hard to beat. 
Your next option is purchasing a five-day license for $56. Essentially this is a four-day license with an extra day added for free! 
Anything beyond five days will require you to purchase a non-resident annual license. A non-resident annual license is currently $102. 
Where to Fish In Wyoming 
Your best trout fishing choice is going to be in the trout streams of Carbon County in the South Central part of Wyoming. The pristine waters and awesome mountain views are full of natural beauty.
Fishing at North Platte River
The North Platte has some of the best fly fishing in the world. There is a section between the Pathfinder Reservoir and the Kortes Reservoir that's known as the Miracle Mile. This stretch of water is a tailwater so it's a natural place for massive trout to live. You'll find a nice population of large rainbow trout and brown Trout throughout this famous section of the river. 
If you're into fly fishing, then you must hit this portion of the North Platte. Streamers, nymphs, and dry flies are all going to work. Don't be afraid to throw a double nymph rig with RS2s, Disco Midges, and Zebra Midges. They're all like candy to trout! 
If you're planning on spending time on the North Platte River, then be sure to stay at the North Platte Fly Fishing lodge, right in the heart of Miracle Mile.
Tip: A tailwater is where the river or creek flows out of a lake/reservoir that has been created by a dam.
Fishing at Flaming Gorge Reservoir 
The Flaming Gorge Reservoir is located in Southwestern Wyoming. It's right in the midst of the Green River, a world-famous trout fishing river. In this reservoir, you'll find Rainbow Trout, Lake Trout, and Brown Trout. These fish are massive! 
Take your spin rod and get near the bottom of this water and see if you can pull out a massive lake trout. Dropper rigs and spinnerbaits will work great for the trout in this river! Don't forget your Mepps and Panther Martin. Sit along the shore of this reservoir, enjoy the view and catch a ton of fish. 
The Flaming Gorge Reservoir has quite a few places to stay, but I strongly urge you to check out the Flaming Gorge Resort for an awesome guided trout fishing experience.
Fishing for Trout in North Carolina
The Western United States isn't the only place in the country that are home to trout. The East Coast is home to dozens of world-class trout rivers. The Appalachian Mountains in North Carolina have one of the most productive Brook Trout populations in the country. 
Getting Your Fishing License In North Carolina
In North Carolina, you're not going to pay nearly as much as you would for a fishing license in the Western United States. A non-resident 10-day license is only going to cost you $23. A non-resident annual license will only cost you $45! Take advantage of these low prices and enjoy all the wonderful trout fishing. 
Where to Fish In North Carolina
North Carolina has every type of fishing – saltwater and freshwater fishing, rivers, streams, estuaries, and lakes. Since the state has mountains and a coastline, it has access to all types of fish. However, in my opinion, fishing for "wild" trout is the big draw in North Carolina.
Fishing at Watauga River 
The first thing you'll notice about the bodies of water in North Carolina is that the names have to do with a significant point in their history. The Watauga River offers a great balance for trout fishing. There are hatcheries throughout the river so the fish population is almost always high. Rainbow Trout can grow to be quite large in this river.
However, if you want more of a challenge, there are "wild" portions of the river that sustain fish populations without any help from the hatchery. This is a wonderful spot for fly anglers of all skill levels. It's a fairly wide river with a nice amount of cut banks and pools. You'll have your hands full for the majority of the day.
Access to the water is fairly straightforward on the Watauga! That's not always easy to say when it comes to rivers filled with trout. Most have quite a bit of private land, which can make access next to impossible. 
If you're spending time on the Watauga River, I recommend staying at the Blowing Rock Resort. If you are after a memorable fly fishing experience try the Chetola Fly Fishing Resort. which is an Orvis endorsed fly resort.
Fishing at Western North Carolina Fly Fishing Trail 
This is too unique of a trout fishing opportunity to not mention it. This trail is the first-ever fly fishing trail in the United States. All the waters near the trail are filled with Brown, Rainbow, and Brook Trout. 
You have 31 access points along the trail with around 4,500 miles of water to fish. It doesn't matter what your skill level is with fly fishing. You can be a beginner or an advanced angler and find a challenge. If you're ever in North Carolina, you must give this trail a try. You won't find anything like it in the rest of the United States. 
Stay at Bear Lake Reserve if you're planning on a great place to stay including hiking the trail.
Fishing for Trout in Wisconsin
Wisconsin isn't the first place anglers think about when it comes to fishing for trout. However, you'll struggle to find more productive water than what you'd find in the Cheesehead State. Due to the close proximity to Lake Superior and Lake Michigan, you get a chance to find some beautiful fish. 
Getting Your Fishing License In Wisconsin
A one-day license for non-residents is only going to cost you $10. You're going to need to add a $10 trout stamp to this. A 15-day non-resident license will cost you $28. A non-resident annual license will be $50. As long as you remember to add the trout stamp to your license, you'll be good to go! 
Where to Fish In Wisconsin
Wisconsin is obviously well known for the fishing in the "big lakes" and many inland lakes are well-known for their awesome family fishing charter expeditions. Wisconsin has a great philosophy for nature and improving angling for kids. Trout have flourished in the state and also has some great opportunities for beginners including kids to learn and enjoy trout fishing.
Go and check out this Orvis Wisconsin Fly fishing School, it's great for families and kids.
Fishing at Kinnickinnic River 
The Kinnickinnic River near River Falls is a Class I trout stream that's extremely healthy. Trout Unlimited and the Kinnickinnic River Land Trust have put thousands of dollars and hours into this body of water to make it accessible for anglers of all levels. 
There are between 6,000 and 8,000 fish per mile throughout the "Kinni". If you're a fly angler and looking to fish in Wisconsin, then you need to fish in this river! You can find riffles, pools, and everything in between when fishing this awesome river. The Brown and Rainbow Trout are in pristine condition and a very good size. 
When you plan to fish the "Kinni", I highly recommend staying at kinnicreek.
Fishing at Pike River 
The Pike River is one of Wisconsin's three designated Wild Rivers. There is little involvement by the Department of Natural Resources. It's healthy and the DNR expects all anglers and visitors to do their part in keeping this river healthy. 
You'll find a nice population of Brown, Rainbow, and Brook Trout throughout the Pike River. The rapids and pools offer a nice amount of diversity in your trout fishing experience. Give it a try! 
A great family vacation on the Pike River can be found at wilderness-getaway.
Final Thoughts
Trout fishing in the United States is growing fast in popularity. But there are still many places to find untapped sections of water that will forever be productive. Most states are putting in measures to continue to ensure the environment is kept natural and sustainable. 
Do your research, pack up your gear, head to the water, and of course, make sure you buy the correct fishing license. Stay patient and you'll be able to land some really nice fish. 
If this trout fishing vacation guide in the USA was an interesting read, then please check out my in-depth beginner's guide to trout fishing or some of my many other fishing vacation guides across the world!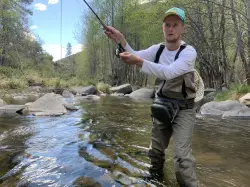 Latest posts by Daniel Mooers
(see all)