Disclosure: Some posts contain affiliate links, which earn us a commission if you make a purchase through them. Positive Fishing © participates in various affiliate networks including the Amazon Services LLC Associates Program.


Freshwater fishing is one of the most popular sports in England, and no matter where you are in England, you're never far from a lake or a river and have a chance of catching some great fish. 
Whilst some will say that it's not as exciting as being on the flats of Seychelles or in the mountains of Patagonia, it has a quaint charm that is incredibly relaxing. 
The amazing countryside and easy access to fish make it a fantastic experience. Whether you are strolling along the banks of a chalk stream or getting lost in your mind by casting into a beautiful lake makes, the stress of everyday life disappears!  
That being said, it does offer a diverse range of fish species, and you can do it in some spectacular landscapes too. 
Having grown up fishing in England and with around 30 years of it under my belt, I'm going to showcase the best freshwater fishing England offers. 
In this article, I will introduce you to the following:
What are the freshwater fish to catch in England? 
Where to catch them and how to catch them.
Who are the best companies to book your fishing trip with? 
Freshwater Fish To Catch In England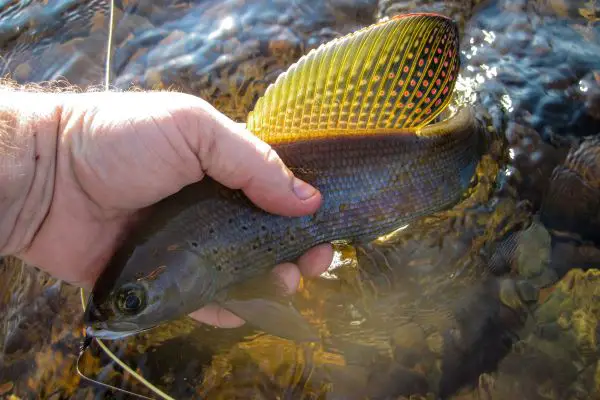 Between the freshwater lakes and rivers of England, you have a diverse list of fish species you can target depending on your mood and what you like to fish for.  
Many waters up and down the country have several prized freshwater fish in them that you can target. Whether you're a general coarse angler, a spin fisherman or a fly fisherman, you'll be spoilt for choice regarding which fish to target on any given day. 
Salmon
Sea Trout 
Brown Trout 
Rainbow Trout 
Grayling 
Pike 
Carp – Common, Mirror, Grass, Leather 
Barbel 
Zander 
Tench
I have left off quite a few course species from the list, such as chub and roach, but they don't really make the cut regarding the top fish to catch in England. 
Where To Go Fishing In England
Knowing where to go for freshwater fishing in England is easier than finding the sea fishing spots around the coasts. More information is widely available on all the key rivers and lakes through social media links and angling club websites.
I have fished all the places listed below, and they are excellent options for the particular species they hold. 
River Test, Hampshire 
If you're a fly fisherman, then chances are you would have heard of the River Test in Hampshire, as it's probably the most famous river in England and one of the most famous in the fly fishing world. 
The River Test is a chalk stream with a limestone bottom and is spring-fed, creating crystal-clear waters. Walking along the banks of the Test, you can see every single trout and grayling in the river sitting on the bottom picking off food as it flows past. 
The crystal clear waters allow you to sight fish for grayling and brown trout, meaning you don't cast until you see a fish. This level of intensity makes the fishing extremely exciting, especially when you see a fish inhale your fly.  
The River Test is a fly fishing only river, and it's pretty expensive, but it's such an iconic river that everyone should fish it once in their lives. 
River Itchen, Hampshire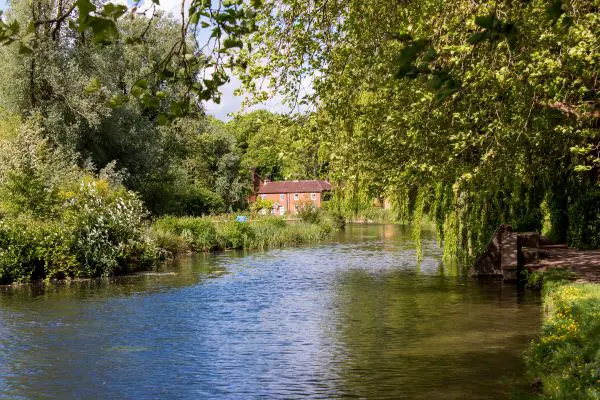 The River Itchen is another chalk stream in Hampshire and is probably England's second most famous river. Like the Test, the River Itchen also has crystal clear waters and is home to grayling and trout that you can sight fish for. 
You can only fish on the River Itchen with a fly rod, and the fishing is just as good as on the River Test, but it is a little more affordable. 
River Wye, Herefordshire 
The River Wye flows along the border between England and Wales in the county of Herefordfordshire and through the Wye Valley, an area of outstanding natural beauty. 
The Wye is quite a special place to go fishing in England as it is home to many of the top freshwater fish to catch that I mentioned in the list above. You can target salmon, sea trout, brown trout, barbel, and pike in the same river, which can lead to quite an amazing day of fishing! 
Another awesome thing about the River Wye is that the fishing isn't limited to fly rods only, meaning you can use spinning rods to cast lures and fish with natural baits. 
River Ure, Yorkshire 
The River Ure sits in Yorkshire in northern England and is a stunning river with waterfalls that runs through a beautiful forest. The river is probably one of the prettiest rivers in England, and you can find some big brown trout, salmon, and grayling swimming inside it. 
Most of the fishing along the Ure can only be done with a fly rod in hand, and it has some excellent dry fly hatches during the season, which shouldn't be missed. 
Rutland Water, Leicestershire 
Rutland Water is a huge reservoir in the East Midlands of central England. It is one of the best fishing lakes in England and is home to huge trout up to 15 lbs, pike up to 40 lbs, and big zander.
You can easily book guides for the day, too, which is highly recommended as finding a good fishing spot on such a huge lake with limited knowledge of fishing there before is a huge challenge. 
Lake Windermere, Cumbria
Lake Windermere is a huge body of water, at 14.8 sq km, 11 miles (18 km) long and 1 mile (1.5km) at its widest point. This is England's largest lake and the most visited for all types of sport. 
Not only is it the largest natural lake in England, but it is also an extremely beautiful part of the country.
The main species are large pike, perch, eels and trout. The rare Arctic charr is also found in Windermere. Salmon and sea trout also migrate through the lake.
The North basin is more popular than the South basin and, as a result, is generally more productive. Most bankside is private land, so boats tend to get used primarily for fishing. However, there is plenty of trees and features under the water to which fish are drawn to find food and cover.
Tip: Lake Windemere is 250ft deep (67 metres) and holds 300 billion litres of water!
River Dove, Derbyshire
The Dove is a limestone river which rises at Buxton and flows through the beautiful Peak District. The water cutting through the limestone has formed a fantastic meandering stream through the hills.
The River Dove is a famous fishing area due to the 350-year-old book "Izaak Walton's Compleat Angler" references. It is renowned for its general coarse fishing, grayling, and trout. 
Dry fly fishing is the best method in these gorgeous fast sections, long glides, tumbling weirs and deep pools.
Sywell Reservoir, Northamptonshire
For many years, Sywell has been known as one of England's renowned tench fishing locations. It is located within the 67 acres of Sywell Country Park.
Double figure tench are the target fish at Sywell Reservoir; the famed TV angler John Wilson filmed many Go Fishing TV shows at this venue in the 1990s.
Other than tench, this lake has plenty of pike over 30 lbs. The most popular area to fish is the dam wall.
When To Go Fishing In England 
A lot of the freshwater fishing in England is closed between the months of October and March as this is when species like trout tend to spawn and are therefore left alone to reproduce. 
Luckily, this also coincides with winter, which isn't particularly pleasant, especially in the country's Northern areas. Although you can still do general coarse fishing, you will need to ensure you wear a set of winter clothing to keep warm and dry. 
The best time to go fishing in England is between the months of April and October. The rivers and lakes are teeming with hungry trout, grayling, barbel, and pike trying to get fat after winter. It should be noted that rivers are closed for fishing between March 15th and June 15th; during this time, fish are spawning and allowed to breed peacefully.
If you're a fly fisherman, it pays to time your fishing with the mayfly hatch in May when trout and grayling go wild, sipping them off the surface. 
Between April and October, salmon and sea trout run into England's rivers, and the seas are much calmer to fish on. 
Best Ways Of Catching Fish In England 
If you're fishing in the rivers and lakes of England, you can fly fishing for trout, grayling and salmon. 
Spinning gear for pike and perch with lures is the preferred method, or fishing with live and dead baits for predator fish throughout the year. 
If you are more of a general angler, then either ledgering on the bottom or float fishing will always produce fish in the lakes and reservoirs. 
As I mentioned above, some of the waters are strictly fly fishing only, and this is usually the case when going after sea trout, salmon, trout, and grayling. 
How To Book Your Fishing Trip To England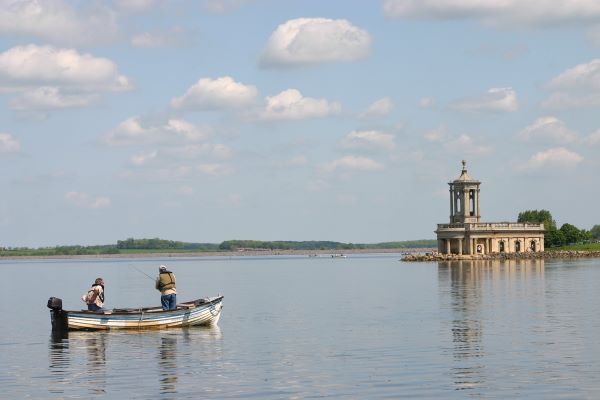 To book fly fishing on any of the rivers I mentioned above, your best bet is to contact Aardvark McLeod. They specialize in guided fly fishing over multiple locations in the country and the rest of the world and will organize everything for you. 
If you want to go and fish on Rutland Water, you should contact Discover Rutland, who will organize a boat, guide, and accommodation for you.  
If you are interested in trying out fly fishing in the English chalk stream rivers, I strongly suggest contacting fishing breaks. They organize great trips to many top streams in the country and can also organize tuition, family fishing, and fishing cottage vacations.
England's Fishing Regulations 
If you're planning on going freshwater fishing in England, you must have a fishing license. 
You can buy a day, week, or year-long license for either trout and course species, or trout, course, salmon, and sea trout. Check out my article on buying a fishing licence in the UK, which explains how and where to get your license.
Do I Need A Permit To Freshwater Fish?
In England, membership permits are required to fish in many spots, especially lakes and rivers. You should always check before you go what the rules and regulations of the specific water you would like to fish are.
Many private lakes require a small payment for a day ticket (typically costing around 10 pounds) which can be purchased at the venue before fishing.
Fishing on syndicate lakes requires a yearly membership and is more exclusive, usually with long waiting lists. Joining an angling club is a much easier and more affordable option.
Public access free to fish areas exists in most areas, but these are generally not the areas where large fish are found and are also not prolific. Finding free fishing can be challenging as the areas are not generally advertised. You can ask the local tackle shop for information if you are unsure.
Casting Out 
Thanks for reading my article; I hope you found it useful and are planning your fishing trip to England. 
England really does have a lot of fishing to offer, and there is nothing better than having a great pint of English Ale in a pub after a long day on the water. 
You can read more about fishing around the coasts of England if you prefer the saltwater beach and boat options.

Latest posts by Jamie Melvin
(see all)