Disclosure: Some posts contain affiliate links, which earn us a commission if you make a purchase through them. Positive Fishing © participates in various affiliate networks including the Amazon Services LLC Associates Program.


This is a guide to Fishing Rod Licences for all the United Kingdom countries, which will help beginners and returning anglers know how and where to purchase a licence.
What Is A Fishing License?
A fishing licence gives you the legal right to use a fishing rod or pole for catching fish. Each country around the world has different requirements and laws.
Some countries have an easy process and its a very straightforward to both understand the rules, and also how to purchase one. However, some countries have a pretty complicated process to know what licence is required and where to get it from. Lastly, in certain countries around the world, it is not necessary to own a fishing license.
England and Wales Fishing Licence
England and Wales fishing licences now run from the date you choose when buying it, replacing the previously closed season period from April 1st to March 31st each year.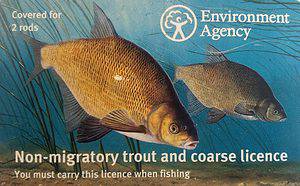 Do I Need A Fishing Rod Licence?
You need a rod fishing licence to fish for salmon, trout, freshwater fish, smelt or eel with rod and line in England, Wales, and the Border Esk region of Scotland.
You must always carry your rod fishing licence when you're fishing or you could get prosecuted!
Anglers caught fishing without a rod licence can be fined up to GBP 2,500
All the money made from rod licence sales goes back into angling, which we will cover in more detail later in this guide.
Fishing bailiffs often check on anglers' licenses, so always make sure that you purchase one before you go fishing. You do not need to show the physical license if asked, but you will need to show evidence via email that it in fact purchased, or you can show a photo of the license.
Check out my article on fishing bailiffs here to find out more!
What Types Of Fishing Rod Licence Are Available?
There are different options than purchasing an annual rod licence, for those that only like to fish for a few days per year, you can opt for either a 1-day or 8-day license.
There are two main types of rod licence available for use in England and Wales:
Trout, coarse fish and eel licence
Salmon and sea trout licence
Once you know the validity of the license you want to buy, then you will need to select how many rods you will use and whether the use is for coarse or salmon fishing.
For the majority of anglers, the 2-rod option is sufficient, but for carp and other specialist anglers, there is the option to buy a 3-rod licence.
With the Trout, Coarse, and Eel Licence you can choose to fish with:
1 rod for non-migratory trout in rivers, streams, drains and canals
Up to 2 rods for non-migratory trout in reservoirs, lakes and ponds
Up to 3 rods for freshwater fish
Children under 13, do not need to own a fishing licence. But for children aged between 13 and 16, you must register the child's name as a junior fishing license on the website but there is no fee required!
How Much Does A Fishing License Cost?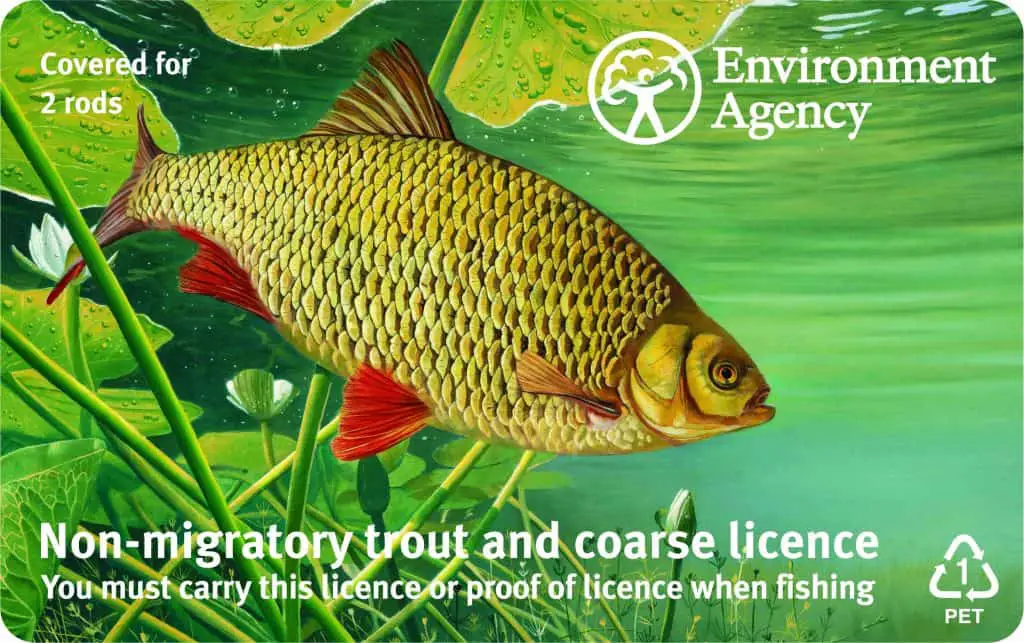 Fishing Rod licence prices do depend on the type of fish you are fishing for and also the number of rods you choose to use. 
For the Trout and general course fishing license, the current price for a Two (2) rod license is 30 pounds and for three (3) rods 45 pounds. A one-day license costs 6 pounds and an eight-day license is 12 pounds.
Fishing License Increase Proposal
The environmental agency has recently proposed an increase in the cost of the license effective 1st April 2023.
The fee increase for a 12-month two-rod coarse and non-migratory trout licence will increase by 10% from £30 to £33. In addition, the proposal is to increase to £35.80 from 2024, and a further increase to £36.60 from 1 April 2025. The reason for these increases is to set aside additional funds to support fisheries better by improving the environment and the sport of angling.
How To Buy A Fishing Licence?
You can purchase your fishing rod licence in 3 ways.
From most local post offices.
From the Environment Agency website at GOV.UK
Phone the Environment Agency fishing licence service on the number provided on their website.
Purchasing your rod licence online is very easy and done in a matter of minutes. You will need your national insurance number to complete the online form. Once you have paid for it using a debit or credit card the license can be mailed to any address in England or Wales.
You can fish immediately from the notification via email, the physical license (if elected) usually takes around 3 or 4 working days to receive.
You cannot purchase a junior licence at the Post Office. You must apply online or over the phone.
Who Is The Environmental Agency?
The Environmental Agency was created to improve places for people and wildlife and support sustainable development. Check out the link here to find out more about what the Environmental Agency do.

Fishing License For Northern Ireland
You must have a rod licence and angling permit from a Northern Irish agency to fish in Northern Ireland. There are several major differences, so please be sure to check out the website if you plan to fish in Northern Ireland.
The Department of Agriculture, Environment and Rural Affairs (DAERA) and the 'Loughs Agency' manage and protect fish stocks in Northern Ireland.
Fishing License For Scotland
You do not need a licence to fish with rod and line anywhere in Scotland apart from in the Border Esk region. However, you will need permission or a permit from the landowner or the specific angling club where applicable.
The rivers around the Border Esk flow into England, as such you need to buy a rod fishing licence for England and Wales to fish any part of it. This includes any part of the rivers or smaller tributaries that are physically in Scotland.
Final Thoughts
It's not difficult to get a license for all the UK countries. The best method is to go straight to the website and apply directly online.
If you want to find out more about fishing licenses for other European countries then please check out my article here. or if you plan to go and fish in the United States, check out my article here for more details.
Latest posts by Steve Fitzjohn
(see all)