Disclosure: Some posts contain affiliate links, which earn us a commission if you make a purchase through them. Positive Fishing © participates in various affiliate networks including the Amazon Services LLC Associates Program.


Many anglers are now venturing out to other countries for fishing, but it can be difficult to understand the rules and regulations and how to get a license for a specific country.
So let us go through some of the main countries in Europe and explain what is required for each of the following countries:
France
Germany
Finland
Spain
Croatia
Poland
Other European countries
France Fishing License
In France, the rules around fishing licenses are somewhat similar to those in the UK.
Types of Licenses For General Coarse Fishing In France
Licenses are available under two categories:
Category 1 (première catégorie) – rivers, stretches of water (plans d'eau), lakes.
Category 2 (seconde catégorie) – streams, canals and stretches of water with game fish.
Options are available depending on your age (adult/child) and your fishing practice (daily fishing, all year round, etc.) There are also options for women and children called a "discovery card" aimed at new anglers wanting to start fishing.
You can get the card online on the official site for the membership of approved fishing associations in France.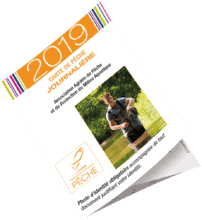 The license is also available in certain shops or at approved fishing tackle dealers displaying "Here, fishing cards".
Fishing throughout the year: € 10
Fishing for seven consecutive days: € 4
Fishing for one day: € 1
A supplement of € 20 must be added to the general license for fishing for eel fry, salmon and sea trout.
Full details in English are available at this link to the French government fishing site.
Note that night fishing in France is NOT allowed except for Carp fishing in certain designated sites.
Make sure you purchase a license; failure to have one may lead to a fine of up to € 450, and if you do not have it with you, the fine is up to € 38.
Shore And Coastal Fishing
Fishing from the beach or the rocks by the sea (pêche à pied) does not require a permit in France. It does, however, require the angler to respect the following:
Some fish are subject to fishing restrictions during certain periods or in certain regions
Rules regarding the minimum size of the fish
The quantity of fish allowed to be removed
A basic knowledge of fishing rules
Fish caught may be for personal consumption only – fish may not be sold.
Germany Fishing License
The fishing licence (Fischereischein) for German nationals can be obtained only after the Sportfisherprüfung (sport fishing exam) is completed. When the exam has been passed, the license can be purchased and has a validity of one/three/five/ten years.
Follow the steps below to get your Germany licence:
Apply to a fishing club (Angelverein) to determine when lessons and exams occur.
Around 30 hours of supervised fishing lessons must be taken before the exam. Dates and guidelines are available from most fishing clubs or shops)
The exam covers the knowledge of the following:
Different types of fish
Treatment of catch
Relevant legislation on fish, animal and nature protection
Different types of water (lakes, rivers, seas)
Fish biology and habitats
Fishing equipment and its uses
On completion of the fishing exam, the fishing club will issue a pass certificate, which is then exchanged at the local town hall (Bezirksamt) for an official fishing licence. The licence is renewable for a fee.
Tourist And Temporary Licenses
Tourists and visitors may also apply for a tourist fishing licence from a fishing club, which is usually valid for a limited period only. A 28 day license costs 24 €. It can be extended several times during the calendar year, each for 13 €.
Recently, due to the large number of tourists wanting to fish in Germany, several federal states have abolished the licence requirements altogether. In the German states of Brandenburg and Mecklenburg-Vorpommern, anglers do not need a license.
Note: When fishing, failure to produce a fishing license to the respective authorities may lead to huge fines of up to 25,000 €. This is because several laws are considered broken (nature protection, theft, animal cruelty).
Sometimes, more than one lake or river can be fished using the same permit, which is also indicated. A list of all regional waters can be found on the back of the permit. Fishing shop staff will then highlight the waters chosen. Prices vary depending on season and region.
Permits are not required for sea fishing, although fishing licenses are still necessary (apart from federal states with special tourist allowances).
In Germany, there are fewer free fishing opportunities than those in the UK, and at most locations, a permit is required at the specific lake/river that you want to fish.
Finland Fishing License
In a land of a thousand lakes (actually 188,000 lakes!), fishing is considered to be an everyman's right. For this reason, the people of Finland have a rare benefit of fishing without a permit!
This rule, of course, comes with limitations. It only applies to fishing with a hook and a line, ice fishing, and Baltic herring fishing with a herring rig. This rule also does not apply to rapids and lakes reserved for trout fishing or any other special fishing site.
Any other kind of fishing is subject to paying the state fisheries management fee. This will allow you to fish with one rod and one lure on all waters except for rapids and special fishing sites. Also, people younger than 18 and older than 64 do not have to pay this fee and can fish with one rod and one lure for free!
Fishing with more than one rod or fishing in special areas requires a fishing permit.
Tip: If you are unsure about the water status you want to fish on, it is clever to check it. Visit the website www.Kalastusrajoitus.fi and find a map containing all no-fishing zones, with restricted areas where you need a permit to start fishing.
Fee for all state fisheries can be paid on the Finland fisheries website. The annual fee is 45 Eur, the weekly fee is 15 Eur, and the daily fee is 6 Eur.
Considering permits for special fishing areas, there is no general lure, as each area can have a special set of rules and different prices. You can usually get the info from the local fishery association. Getting all the needed info if fishing on rapids or any other special area is important, as fishing without a permit can get you in serious trouble!
You can also get a combined permit for lure fishing on the lakes of the Tampere region. This will give you the right to fish with several rods simultaneously. You can get your combined license at www.Kalapassi.fi, which has a detailed version in English on how to obtain your permit.
Fishing In Helsinki
The largest city in Finland covers a lot of water and has a unique set of rules. Fishing with a rod and line or ice fishing requires no fishing permit. However, for the Vanhankaupunginkoski rapids area, lure fishing is only available on even-numbered days, and fly fishing is only allowed on odd-numbered days. There are many other rules to comply with, which can be confusing.
A yearly lure fishing permit for Helsinki residents will be 13 Eur or 17 Eur for the Helsinki-Espoo area.
Tourist fishing permit is 10 Eur a day, 15 Eur a week, or 40 Eur per year. Helsinki-Espoo's yearly permit is 60 Eur.
All the information and details on getting your license for the Vanhankaupunginkoski rapids area are available on the Helsinki fishing regulations site.
Spain Fishing License
Fishing in Spain requires a rod license, both for sea and freshwater fishing.
In order to acquire your rod license, you either need a foreign fishing license (for tourists) or a Spanish fishing license that requires passing a test. It is suggested to obtain a foreign fishing license if coming to Spain for a fishing trip, as test results may take months to arrive!
Spanish rod license can be valid for 1 to 5 years. They are available to anyone over 16 years (a child under 16 years old needs a guardian).
You will need a rod license for freshwater and saltwater fishing; these can be obtained in fishing shops or from the local Ministry Of Environment office (Ministerio de Medio Ambiente). For trout fishing, you will need an additional day permit!
There are private waters in Spain that will require an additional permit for fishing.
To get more details on how to get a Spanish sea fishing license or a boat fishing license, check out this very informative site in English, where you can buy a 5-year shore fishing license for 44.99 Eur!
Croatia Fishing License
To fish in Croatia, you must obtain a fishing license for the body of water you will fish in. For residents of Croatia, there is also a mandatory fishing license obtained by passing a fishing test!
Most of the fishing waters in Croatia are under regional sport fishing clubs that sell daily or yearly permits for fishing on their waters.
As there are a lot of sport fishing clubs in Croatia (132+ and growing), especially around the main city of Zagreb, it is possible that on a 5 km stretch of river, you will need to obtain four different permits! This can be confusing as most fishing clubs have very limited information on the web (if any), so it is recommended to contact local anglers to collect the latest information.
Buying a fishing license will usually give you the right to fish with 3 rods for 24 hours; however, some waters have different rules.
A daily rod license is around 8 Eur for most waters but can go as high as 50 Eur on special fishing waters (especially carp fishing lakes and salmonid rivers). There are also weekly and monthly licenses, varying greatly from club to club.
You also need a fishing license for sea fishing, but there is no requirement for a fishing test. The daily license is 8 Eur, the 3-day license is 20 Eur, the weekly license is 40 Eur, and the annual license is 66 Eur. You can purchase it at the Croatia Ministry of agriculture site ( which is also in English).
Fines for fishing without a license in Croatia go from 250-660 Eur!
Poland Fishing License
Like Croatia, Poland also requires a fishing test for Poland residents to pass. Tourists do not need to pass the test!
Most of the fishing waters in Poland are controlled by Polish Angling Association (PZW). They are responsible for selling fishing permits and have offices in every district capital. However, it might be complicated to get your license if you are not fluent in Polish!
In that case, visiting a local fishing shop should be the best decision. You will get all the needed info there and will most likely have an opportunity to buy a suitable PZW permit.
Fees for permits can vary a lot depending on their length (daily, weekly, yearly), type (coarse or game), or region (49 regions). The normal price is around 6.5 Eur for a daily permit and 33 Eur for a yearly permit. Buying online gives you immediate access to fishing as soon as your online payment is completed.
Most of the information is available on the official Poland Fishing Association; the site has some great information on the fees and rules that must be followed. There is also a database on waters that can be fished.
There are also private waters in Poland, where you must buy a special fishing license. These are usually available in local fishing shops or can be bought on the spot!
You can even get arrested if caught fishing without a fishing license in Poland!
Fishing License For Other European Countries
Some other European countries are listed below; please click on the link for the country you are interested in to get more information.
Fishing in Denmark
Fishing in Portugal
Fishing in Norway
Fishing in Ireland – No license is needed for Trout, Pike, and general coarse fishing in the Republic of Ireland.
I hope this information was helpful to anyone planning on a European fishing trip. For more information on the requirements for a United Kingdom license, check out the link on the cost, where to buy a license, and how to buy one.
Latest posts by Steve Fitzjohn
(see all)