Disclosure: Some posts contain affiliate links, which earn us a commission if you make a purchase through them. Positive Fishing © participates in various affiliate networks including the Amazon Services LLC Associates Program.


When you think of Spain chances are you imagine a quaint coastal village along the Mediterranean or a sleepy siesta town in Andalucia with all the tapas you could dare to eat. 
But, if you look at Spain with a fishing lens, you'll slowly start to gather a picture of the amazing angling this country has to offer. Between the Balearic Islands in the Mediterranean, the Canaries in the Atlantic, and the lakes and rivers of the mainland, the fishing opportunities are endless. 
To get the most out of a fishing trip to Spain, you'll need a bit of insider knowledge to guide you in the right direction, which is what I'm here for. I spent the better part of 3 months cruising around Spain with my fishing tackle in the boot of my car and what I found was quite incredible. 
Join me, as we look at the following:
Top Freshwater and Saltwater fish to catch in Spain
Where, how and when to catch them
Best methods to catch them
Fishing Regulations and License Required In Spain
The Best guides/operations to catch them with
Top Fish To Catch In Spain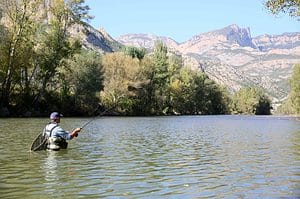 The list of amazing fish to catch in Spain is a long and surprising one. To make things a little simpler, I have split them up into two categories, freshwater and saltwater. 
Top Freshwater Species To Catch In Spain 
Catfish 
Zander
Carp
Bass
Pike
Brown Trout 
Rainbow Trout 
Salmon
Spain is world-renowned for the size of the catfish they have in their rivers and anglers travel from across the globe just for a chance of catching one. The catfish in Spain grow to over 200 lbs, and when you're hooked onto one of these in a fast-flowing river, you're in for the fight of your life. 
One species you might not have thought would be in Spain is the Atlantic salmon. I spent a month fishing for salmon in Spain, and while the numbers of fish aren't that high, you are casting a line in some of the most beautiful rivers in Europe. 
Top Saltwater Species To Catch In Spain 
Mahi-mahi
Bluefin Tuna
Wahoo 
White Marlin 
Blue Marlin 
Yellowfin Tuna 
Big Eye Tuna 
Broadbill Swordfish 
If you love offshore fishing for big game fish then the list above has probably got you very excited. Between the Balearic and Canary Islands of Spain, you can catch pretty much every prized big game species bar black marlin and sailfish. 
Where To Go Fishing In Spain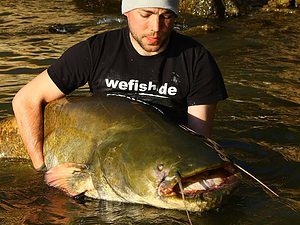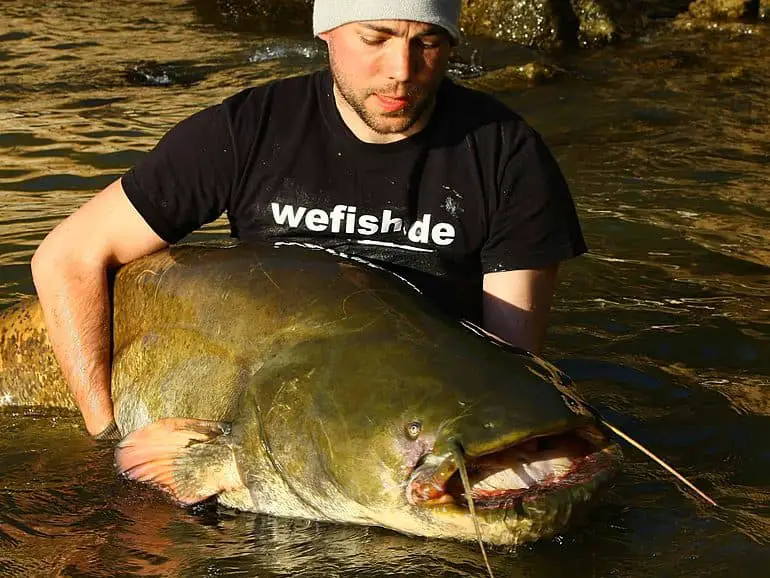 There are loads of excellent fishing spots in Spain but unfortunately, we can not cover them all as you'd need to write a book to do so. Instead, we are going to focus on the best places to go fishing in Spain 
Salmon & Trout In Northern Spain 
The north of Spain often referred to as Green Spain, is, without doubt, one of the most beautiful places in the world I have been to. 
The rugged coastline is covered in golden beaches that are washed with the clear waters of the Atlantic and just behind the coast sits the Cantabrian Mountains aka Pica De Europa. I can only describe it as the Tahiti of Europe, where the mountains plummet into the sea. 
This part of Spain, specifically the regions of Galicia and Asturias, is home to the best trout and salmon rivers you can find in the Iberian Peninsula. The rivers you should be focussing your fishing time on are the Narcea, Eo, Sella, Navia, Esva, Porcía, Nalón, Cares, and Deva. 
The Ebro River 
The Ebro River is one of the longest rivers in Spain. It starts in Asturias in Picos De Europa and runs for an incredible 580 miles through the wine regions of La Rioja and Zaragoza all the way to the Mediterranean just south of Barcelona. 
The Ebro river is stunningly beautiful and considering its size, it's probably no surprise that it's home to a lot of different species of fish and big ones too. The river Ebro is where you'll find the giant 200lb catfish of Spain and carp over 20 lbs, zander over 15 lbs, plus bass and pike too. 
If you're looking for a trophy catfish, you're best off fishing the upper reaches of the Ebro river or going near to the delta and staying in L'ampolla. 
Balearic Islands  
The Balearic Islands of Ibiza, Mallorca, and Menorca are known for their quaint fishing villages and amazing parties, but they are also great for fishing. 
If catching a bluefin tuna has been on your fishing bucket list for a while, then it'll be music to your ears to hear that the Balearic Islands are a hotspot for them. 
Every year thousands of bluefin tuna migrate from the Atlantic into the Mediterranean and their migration path runs right past the Balearics. You can find fish well over a thousand pounds but you have to be lucky to hook one and be ready for the fight of your life. 
Along with bluefin tuna, you can also find broadbill swordfish and mahi-mahi in the seas around the Balearics. 
Canary Islands 
While the Canary Islands are part of Spain, they are actually off the coast of West Africa, and their southerly position means a lot more big game species to target. 
The Canary Islands are volcanic and just a mile offshore will have you sitting in over 1000 meters of water, which is an offshore fisherman's dream. Record blue marlin over 1000 lbs swim in these waters and the white marlin, bluefin tuna, yellowfin tuna, bigeye tuna, wahoo, and mahi-mahi. 
If it's offshore fishing you're after, then you're best off heading to the Canary Islands over anywhere else in Spain. 
When To Go Fishing In Spain 
No matter where in the world you're planning on fishing, being there at the right time is the key to your fishing success, and it often depends on the species you're looking to catch. 
Trout & Salmon
The season for trout and salmon fishing in the northern Spanish regions of Galicia and Asturias runs from March to July for salmon and March to September for trout. 
Most salmon enter the rivers in April and May, which is the best time to be there. You should time your arrival with big spring tides on which the salmon will ride into the rivers. 
I fished for salmon in Spain in July, and it was tough going as the river levels were low and it was very hot too. 
The Ebro River 
You can fish the Ebro River all year round, but there are definitely some better times to be there than others. Spring and summer is the best time to fish the Ebro if you're on the hunt for giant catfish, and you'll have good carp and zander fishing at that time as well. 
Zander fishing is best in the months of September and October, while carp fishing is best in the winter. 
The Balearic & Canary Islands 
The Balearic Islands' fishing season runs all year round, with winter being an excellent time for catching broadbill swordfish. Mahi-mahis are available all year round too, but they are abundant between May and September. 
In the months of August and September, the seas around the Balearics are flooded with bluefin tuna, and this is by far the best time to be there to have the best chance of catching one. 
The offshore fishing in the Canary Islands runs hot from May to September, and during these months, every species is in town and feeding hard. If you're after white marlin, April through June is best, and for the big blues, June to August is the right time. 
Best Methods To Catch Fish In Spain 
Trout & Salmon 
Fly fishing is my favourite fishing method, and northern Spain's trout and salmon rivers are perfect for it. You should swing flies for the salmon and drift nymphs or dry flies for the trout. 
Unlike most trout and salmon rivers across the world, in Spain, you are allowed to use spinning gear on them. Casting and retrieving spinners across the river is effective, and the locals like to use a dead minnow on a weight and drop it in front of salmon sitting in a pool.
The Ebro River 
When fishing the Ebro River, heavy gear is a must due to the size of the fish. The most productive method is casting big lures or dead baits, but you can also fly fish. 
Offshore Fishing 
When offshore fishing from the Canaries or the Balearics, you will be trolling most of the time, as it's the best way to catch tuna, wahoo, mahi-mahi, and marlin. You can also bottom fish for swordfish and grouper. Follow the captain's advice as they always know best. 
How To Book Your Fishing Trip To Spain 
If you want to go fly fishing in Spain for trout and salmon, then you should contact Pesca Travel. This company works with guides on the ground and will create an excellent trip for you that includes everything from accommodation to transfers, food, and guiding.
For a fantastic trip on the River Ebro, speak to Ebro Sporting Adventures. They specialize in catching the huge catfish, zander, and carp of the Ebro, and you couldn't be in better hands. 
If you're heading to the Balearics, contact Fishing Mallorca, and for the Canary Islands, speak to Blue Marlin Gomera.
Fishing Regulations In Spain 
You need a license to fish in the rivers and lakes of Spain, and you can easily get one from fishing shops, some Caja Rural and Caja Mar Banks, and the Spanish ministry of the environment. 
Trout and salmon fishing often requires an extra permit that buys temporary membership to a local fishing club.
If you're going offshore fishing on a charter boat, they will already have a license for you. 
Please check out this site very informative site at spanishfishinglicence which will explain in detail what is required to get your fishing license in Spain.
You can also go to my article on getting your fishing license in European countries, which takes you through all the requirements for the major fishing destinations in the continent.
Winding Up 
Thanks very much for reading my article. I hope you enjoyed it and can now plan the fishing trip of a lifetime to Spain. It's a fantastic country to travel around as it's affordable, the wine and food are delicious, and the fishing is excellent.
Spain is an untapped fishing location, and I hope it persuades you to look closer into its awesome opportunities. If you liked this article, please check out more of my series of articles on fishing in various countries worldwide including Europe, the United States and Asia.  
Latest posts by Steve Fitzjohn
(see all)