Disclosure: Some posts contain affiliate links, which earn us a commission if you make a purchase through them. Positive Fishing © participates in various affiliate networks including the Amazon Services LLC Associates Program.


Fishing in Mexico is an angler's dream as it caters to everyone from fly fishermen to spin and offshore anglers, and it has some of those trophy species that we dream about. 
The reason why Mexico is so great is thanks to its dual coastlines. To the east, you have the Caribbean and the Gulf of Mexico, and to the west, the Pacific ocean. Between Mexico's two coastlines you can pretty much find every saltwater species you might want to catch. 
But, as with any fishing trip, you have got to know both, where to go, and when it is best to be there if you want to have the maximum chance of fishing success. A little research and insider knowledge can go a long way and this is what I'm going to share with you today. 
In this article, we'll cover everything from the top fish to catch in Mexico to where to catch them, plus how to catch them.
I will also give you the best times of the year to catch them, and finally who and where are the best places to book your fishing vacation with. 
You will have the confidence to be able to book a fishing trip of a lifetime with a guaranteed catch once you've finished reading to the bottom of this article. 
Top Fish To Catch In Mexico
The offshore and inshore saltwater fishing in Mexico is off the charts, to say the least. There are so many prized species between the Pacific and Caribbean coastlines that if you visited both, chances are you could tick them all off your list. 
For clarity's sake, I'm going to split the top fish to catch in Mexico between its two coastlines, the Pacific and the Caribbean, as the likelihood is that you'll only hit one on your next trip there. 
Best Fish To Catch On Mexico Caribbean Coastline 
The Mexican Caribbean side is home to some of the best saltwater flats fishing in the world and offshore fishing isn't too bad either. Here are the fish you can hope to catch there: 
Inshore Fish
Bonefish
Permit
Tarpon 
Triggerfish 
Snook
Offshore Fish
Blue marlin 
Sailfish 
Dorado
Yellowfin Tuna 
Wahoo 
While offshore fishing on the Caribbean side of Mexico is good, fishing on Mexico's Pacific side is actually better. The Caribbean side is all about the saltwater flats and is a spin or fly fisherman's paradise. 
Best Fish To Catch On Mexico's Pacific Coastline 
The Mexican Pacific coastline is one of the top fishing destinations on the planet and this is due to two things, the diversity of species and the number of fish that pass through certain areas. 
For example, during the sardine run, you'll find thousands of striped marlin off Baja plus Baja is one of the only places in the world you can sight fish for roosterfish from the beach. Similar to the Caribbean side, the species can also be split into inshore and offshore. 
Inshore Fish
Roosterfish 
Jack Crevalle 
Offshore Fish
Blue Marlin 
Black Marlin
Striped Marlin
Sailfish 
Yellowfin Tuna 
Dorado
Wahoo
As you can see, the range of fish species you can catch on Mexico's Pacific side is quite astounding, and a little mouthwatering. In a week of fishing, you're going to catch at least some of them. 
Where To Go Fishing In Mexico?
While there are so many great fish to catch in Mexico, you have got to know where to go to catch them. With two coastlines, the potential number of fishing spots in Mexico is enough to make your brain hurt, so let's focus on the best ones.
Where To Fish On The Mexico Caribbean Coastline? 
Fishing At Punta Allen 
Punta Allen is one of the top places in Mexico if you want to go both inshore fishing on the flats or offshore fishing in the deep. 
You'll find Punta Allen on Mexico's Yucatan Peninsula and it's around a 2-hour drive south of Tulum, the famous resort town, and a 4-hour drive south from Cancun where you'll find an international airport.
The reason the fishing in Punta Allen is so good is thanks to the Reserva de la Biósfera Sian Ka'an and the flats around it in Ascension Bay. If you look at Punta Allen on a map, you'll see that it's right on the edge of the entrance to a huge saltwater flats system that is full of bonefish, snook, permit, tarpon, and triggerfish. 
It's the perfect place to go saltwater fly fishing and one of the most affordable places to do it in the world. You'll also find offshore boats in the vicinity which will have you catching sailfish and other pelagics in no time. 
Fishing At Scorpion Atoll 
Scorpion Atoll or Scorpion Reef as it's often called sits close to 100 miles off the north coast of Mexico's Yucatan Peninsula. It's a protected marine park and about as remote as the fishing gets in Mexico, which equals great fishing. 
You can only get there by boat and there is no lodging available since it's a reef, so going on a professionally run live aboard is your only option. 
You'll find the same species as you'd find in Punta Allen's Ascension bay including tarpon, permit, and bonefish, except these fish, will be far less spooky and generally a lot bigger. This is due to the fact that commercial fishing is banned around Scorpion Atoll which gives the fish a chance to grow a lot bigger. 
Where To Fish On The Mexico Pacific Coastline?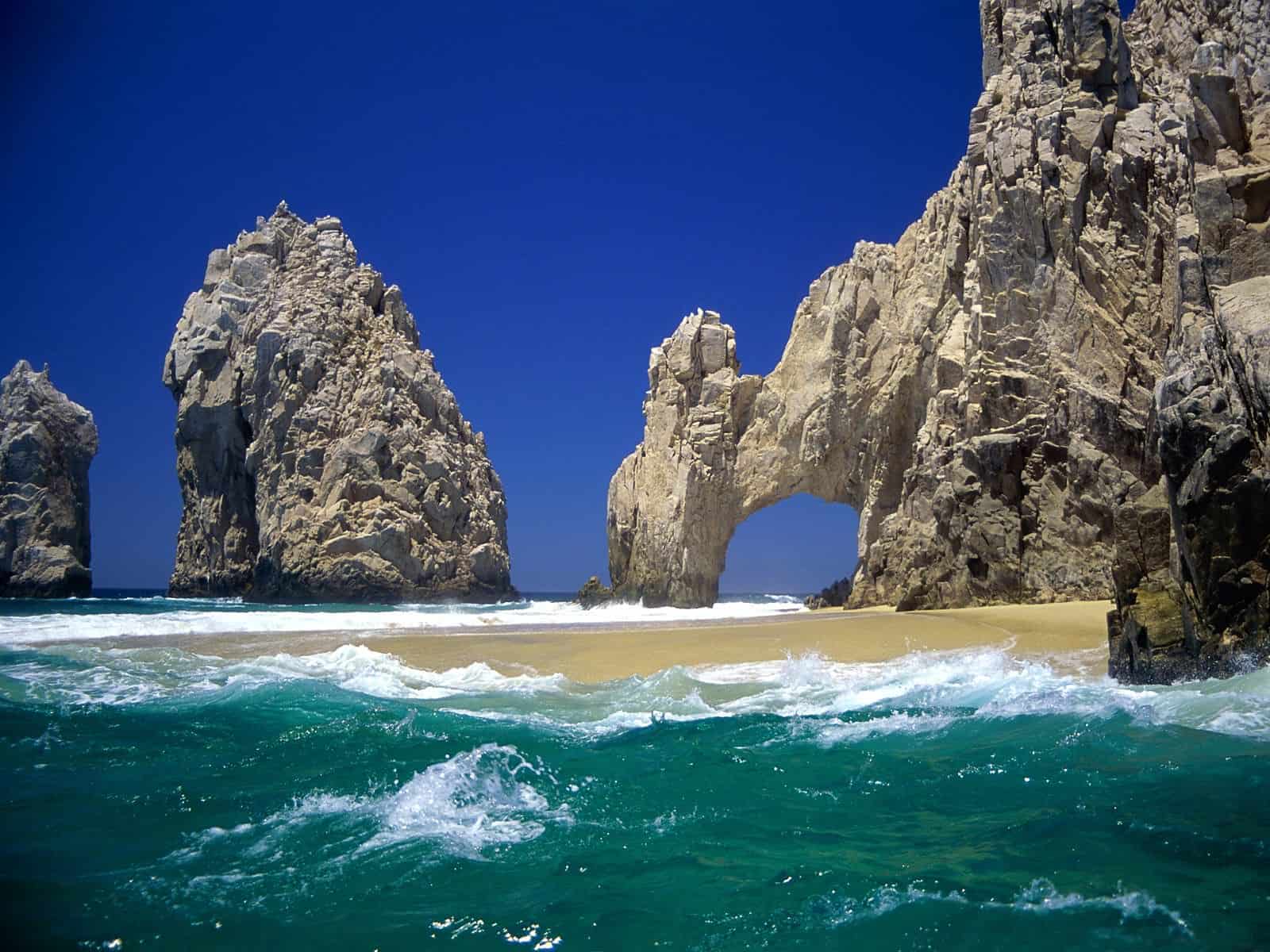 Fishing At Cabo San Lucas 
Cabo San Lucas sits on the southern tip of Mexico's Baja Peninsula and is a mecca for offshore fishing across the world. The waters off Cabo San Lucas are extremely rich and are home to everything from the species I listed above as well whales, seals, dolphins, manta rays, and lots more. 
If you're looking for an offshore fishing trip of a lifetime, then a trip to Cabo is something you should seriously consider. What Cabo is known for are the numbers of striped marlin, sailfish, and dorado that come into its waters when the sardines show up and it's not uncommon to catch more than 20 striped marlins in a day. Marlin fishing in Mexico is probably the most popular choice for visiting anglers.
You'll find hundreds of beautiful sport fishing boats in the marina at Cabo and they are crewed by some of the best offshore captains and mates in the world. 
Fishing At Magdalena Bay 
Just north of Cabo San Lucas is a place called Magdelena Bay and this also has similar fishing to that of Cabo, except it's a little closer to the action.
There aren't as many offshore boats in Mag Bay as there are in Cabo but there is an operation that specifically goes after striped marlin, sailfish, and dorado on the fly. 
This isn't teasing and switching though, you'll see these fish-eating sardines on the surface and cast a fly at them. It's some of the most exciting fly fishing on the planet. 
Fishing At La Ribera 
La Ribera is also quite close to Cabo except it sits on the eastern side of Baja on the Sea of Cortez. La Ribera is the perfect place to go after trophy roosterfish from the beach as it's well protected from any swell. 
You can see roosters cruising the shoreline on the hunt for baitfish, and when you spot them, you can run and throw a fly or spinning rod to catch them from the beach. It's not all beach fishing though as you can also target them from a boat.
When To Go On A Fishing Vacation In Mexico 
Between Mexico's two coastlines, there isn't a time of year that isn't good for fishing, so there is always a place to cast a line. But, the seasons do vary depending on which coastline and which species you're after. 
If you're heading to Punta Allen, then there isn't a closed season and you can fish for all the species all year round. When it comes to Scorpion Atoll, liveaboards only operate during calmer times of the year and this is during April, May, October, and November. 
For some offshore fishing in Cabo San Lucas, you can pick anytime between July and February but you'll want to pick a specific month based on your preferred species, here is some more info. 
If it's roosterfish from the beach you're after, then you'll want to be in La Ribera between the months of mid-March to mid-June and also September & October. This is when the winds are down and the fish tend to come in close. 
Best Methods To Catch Fish In Mexico 
Mexico is a dream destination for fly fishermen as you can catch striped marlin, sailfish, dorado, tarpon, roosterfish, permit, bonefish, and snook all by sight fishing with a fly rod.
If you're not a fly fisherman, don't worry, you can still catch all the same species while sight casting with a spinning rod. 
When it comes to offshore fishing in Mexico, you'll be trolling for pelagics using a mixture of lures and bait and tease and switch tactics, depending on what the skipper thinks is best. 
How To Book Your Vacation Fishing Trip To Mexico
Booking a fishing trip to Mexico couldn't be easier, all you need to do is get in contact with the lodges listed below and they will sort everything out for you. Mexican fishing charters are plentiful and very popular, make sure you choose one of the options below for a risk-free Mexico fishing trip.
These are my personal favorites and I highly recommend all of them!
Mexican Fishing Regulations 
Everyone needs a fishing license to go fishing in Mexico and they are very easily acquired. Just follow this link and you'll have your license in no time. 
Reeling Up 
Thanks very much for reading my article, I hope you enjoyed it and are frothing at the bit to book a fishing trip to Mexico.
It's some of the best fishing you're likely to experience in your life and the adventure that goes with it is awesome too. Between the marine life, the stunning surroundings, and the great people, you're sure to have an amazing time. 
You can read up more on my other fishing in other countries around the world here!

Latest posts by Jamie Melvin
(see all)