Disclosure: Some posts contain affiliate links, which earn us a commission if you make a purchase through them. Positive Fishing © participates in various affiliate networks including the Amazon Services LLC Associates Program.


I believe there isn't a more incredible place to go fishing than Cuba. 
Not only is the fishing in Cuba excellent, but you get the extra bonus of doing it surrounded by stunning natural environments and Cuban culture – we're talking about the old town of Havanna, etc. 
Sitting in slap bang in the middle of the Caribbean, the surrounding islands are a saltwater fisherman's paradise as it's home to almost every inshore and offshore fish species one could hope to catch. 
Ernest Hemingway spent a lot of his fishing time on these Islands chasing billfish and based his book "The Old Man & The Sea" on his experiences there – it's always nice to think that you're walking in his footsteps whilst you're there 
While the fishing here in the Caribbean Sea is fantastic, you can't just pitch up, hop in a rowboat and start catching the fish of your dreams – you'll need a little more preparedness than that. 
Join me as we run through everything you need to know about fishing in Cuba:
Learn what the key species to catch are
Learn where and how to catch them
Learn where are the best places to stay and the fishing regulations 
By the end of the article, you'll have all the info you need to book a fishing vacation trip to this beautiful fishing destination. 
Top Fish To Catch In Cuba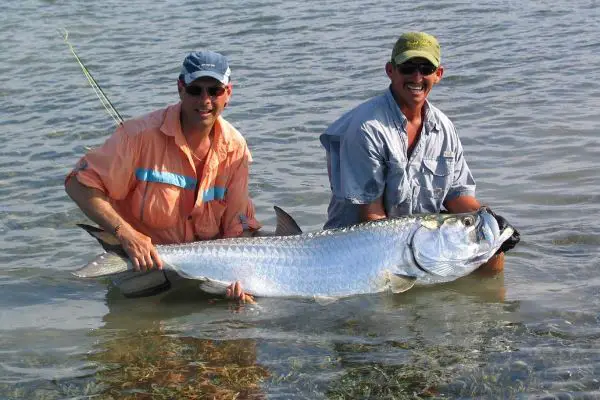 There isn't any freshwater fishing worth talking about on these islands so we will stick to the saltwater side. The list of the top fish to catch is very strong, a mixture of both inshore and offshore species. 
To simplify things, I'm going to split the top species into those two categories, inshore and offshore. 
Best Inshore Fish To Catch In Cuba 
Bonefish 
Permit 
Tarpon 
Snook 
Barracuda 
If you're into inshore fishing, you'll know that this list has almost every species you could ask for. Catching a "flats slam", which is a bonefish, permit, and tarpon in one day is very possible here and something anglers spend their lives chasing. 
Best Offshore Fish To Catch In Cuba 
Blue Marlin 
White Marlin 
Sailfish
Yellowfin Tuna
Wahoo 
Dorado
Broadbill Swordfish 
If you love offshore fishing, this list will get you very excited as it holds almost every species you could want to catch in the Atlantic.
Hemingway traveled to these islands in search of Blue Marlin due to the country's unique location as it's home to deep offshore waters with structure these fish love, and it's right along their migratory route too. If you're there at the right time, your chances of hooking a blue marlin are high. 
Where To Go Fishing In Cuba 
While Cuba is a great fishing destination, you'll still need to know where its best fishing spots are if you want a chance for maximum success. After all, it's no use flying around the world to fish on the wrong part of the island. 
The best fishing spots in Cuba differ considerably between the offshore and inshore species, so I have split them into those categories again. 
Where To Go Inshore Fishing In Cuba 

The best inshore fishing tends to be around islands and marine parks where local subsistence fishing is either banned or minimal, mainly on the south of the mainland. 
Jardines De La Reina 
One of the top inshore fishing spots and most famous is Jardines De La Reina. Jardines De La Reina is a marine park made up of a chain of small islands off Southcentral Cuba, and it's home to some incredible fishing. 
You'll find all the inshore species I listed earlier in Jardines De La Reina, and since they live in a protected marine park, they are far more willing to eat what you show them than others. As you cruise around the networks of mangroves, sand flats, and turtle grass flats, you're almost guaranteed to encounter tarpon, permit, bonefish, snook, and more. 
The only way you can fish at Jardines De La Reina is by staying on a liveaboard since there are no lodgings there – and this is the case for most of the inshore fishing throughout these islands. 
Isla de la Juventud 
​​Isla de la Juventud, or the island of youth, sits on the south side of northern Cuba and is known best for its excellent tarpon fishing. The tarpon around Isla de la Juventud remains in those waters all year round, and you can expect to encounter fish in the 30-80 lb range daily. You can also find giant tarpon in the 100 lb plus range if you're there during summer. 
Isla de la Juventud isn't just about tarpon, though, as it's home to stunning sand and turtle grass flats that are home to an abundance of large bonefish and a lot of permit fish. 
Again, the best way to fish around the flats and mangroves of this remote paradise is definitely on a liveaboard. 
Cayo Romano & Cayo Cruz 
Sitting on the northern side of Cuba, Cayo Romano and Cayo Cruz have some of the best bonefish and permit fishing on the island. 
The area is home to colossal sand flats and mottled bottoms that hold vast numbers of bonefish and permit, and the great thing about it is that you can also sleep on dry land instead of on a liveaboard. 
If you're worried you won't have any shots at tarpon or snook, don't be, as they roam the flats around Cayo Romano and Cayo Cruz. 
Where To Go Offshore Fishing In Cuba 
You can go offshore fishing from any part of the northwest coast, as the best fishing grounds are in the Cuba-Bahamas Channel.
The Cuba-Bahamas Channel is an area of deep water and currents that all the pelagic species use to migrate through, and it's very much alive with fish all year round. 
It's best to base yourself around Havana for offshore fishing, as this will significantly reduce how long it will take you to get to the fishing grounds offshore. 
When To Go Fishing In Cuba 
If it's inshore fishing for bonefish, tarpon, and permit that you're looking for, then the best time of year to be fishing here is between November and July. 
You'll want to avoid August – September simply because of the weather, as it's way too hot in August, and the fish tend to be much less active. The weather becomes very changeable in September and October, with significant storms and possible hurricanes. 
If you want to follow in Ernest Hemingway's footsteps and try out offshore fishing, the best time to be there is between October and November. This is when the seas off the coast will see good runs of blue marlin, white marlin, wahoo, and dorado all at once. 
There is also another blue marlin bite between March and May, plus plenty of tuna bite between July and September. 
Best Methods For Catching Fish In Cuba 
The inshore fishing is best done with a fly rod or a spinning rod. When you're inshore fishing here, you'll either be wading in 1-3ft of water on the sand or being poled around on flats skiffs by a local guide. 
It's all sight fishing, so you will not cast until you see a fish, making it about as exciting as fishing can get. A lot of pressure comes with sight fishing, but you see the most beautiful creatures, and the setting of the azure blue waters is hard to beat. 
When it comes to offshore fishing, you'll be trolling a mixture of lures and bait to raise and hook marlin and other pelagics. It's a lovely way to fish as you're exploring the ocean, and life is very relaxed until you get a bite when chaos and adrenaline ensue. 
How To Book Your Fishing Trip To Cuba 
Booking your fishing trip to Cuba couldn't be easier as there is just one company you need to talk to – Cuban Fishing Centers. 
Cuban Fishing Centers runs almost all the guides and liveaboards we discussed above, and they run a top-notch service with excellent accommodations, equipment, guides, food, and more. If there is anyone who will give you the fishing trip of a lifetime, it's them. 
While Cuban Fishing Centers also focuses mainly on the inshore side, I'd strongly recommend speaking to them about booking some offshore fishing around the seas of Cuba.
The internet and fishing here isn't quite a relationship that has blossomed yet, so you're best off talking to people on the ground to find the best offshore skippers to go with. 
Cuba's Fishing Regulations 
All foreigners (including tourists) residing temporarily or permanently in Cuba require a license to engage in sport fishing or recreational fishing on the island. It's easy to obtain by just presenting your passport. In addition, you will be supplied with all the "inside" information about the fishing regulations in Cuba.
You also will need to pay a conservation fee when "catch and release" fishing in marine parks such as Jardines De La Reina. Your operator will take care of everything for you; all they need is a copy of your passport to get you a license. 
Winding Out 
Thanks for reading my article; I hope you enjoyed it and are ready to book a fishing trip to this beautiful country.
Cuba has some of the world's best inshore fishing and some great offshore fishing; plus, you'll get to see a fantastic culture simultaneously! 
Cuba is just one of many worldwide fishing destinations you can learn about; why not check out all my articles covering salt and freshwater angling?

Latest posts by Jamie Melvin
(see all)