Disclosure: Some posts contain affiliate links, which earn us a commission if you make a purchase through them. Positive Fishing © participates in various affiliate networks including the Amazon Services LLC Associates Program.


Oman is, without a doubt, one of the most beautiful countries in the Middle East. Sitting between the azure turquoise waters of the Indian Ocean and the Al Qara Mountains on the tip of the Arabian Peninsula, a stroll down Oman's beaches is nothing short of unique and magical. 
Now, imagine that and add some Oman permit fly fishing –  casting crab flies to permit cruising the shallow surf next to the white sand is something a fly fisherman's dreams are made of. 
Oman fly fishing trips don't have to focus purely on permits either. Many other types of fish in Oman frequent the crystal clear shores – mainly Oman bream, giant queenfish, and emerald parrotfish. 
Are you ready to find out everything about fly fishing in Oman? Oman is open for fishing!
Having been on many fly fishing trips in Oman, I'll go through everything you need to know, from the types of fish in Oman that will eat a fly to great fishing spots in Oman, Oman fly fishing packages, and more. 
Oman Fly Fishing Species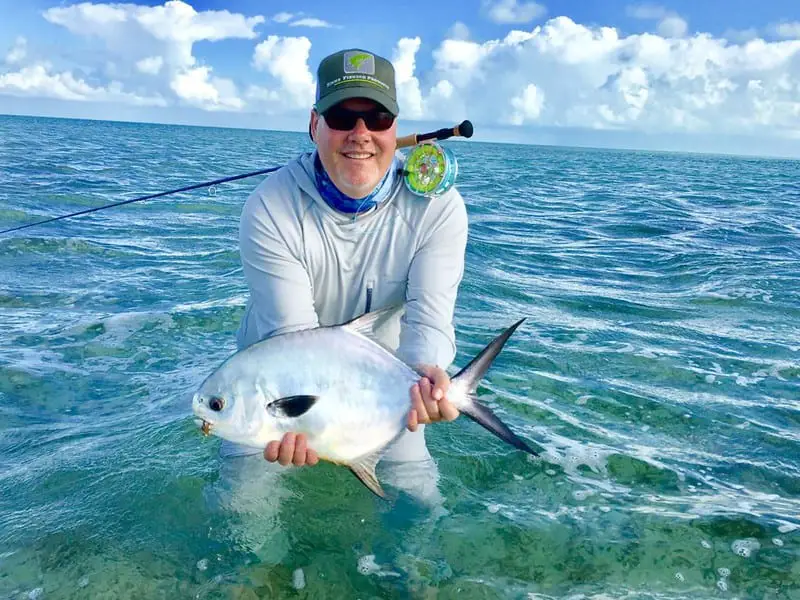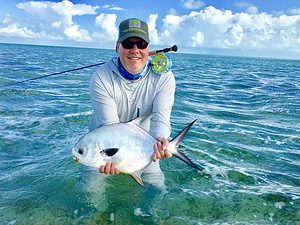 As I already mentioned above, a few types of fish in Oman will happily eat a fly cast from the shore, and a few more can be targeted from a boat. But, before we get into them, let's focus on the gold at the end of the rainbow in Oman fly fishing which is, without doubt, the Oman permit fly fishing.
Oman Permit Fishing 
There are two species of permit you can target while fly fishing in Oman – Trachinotus blochii, aka snub nose pompano or better known as the Indo-Pacific permit, and the Trachinotus Africanus. 
The Trachinotus blochii (Indo-Pacific permit) is the same permit that fly fishers travel across the globe to places like Australia and Seychelles to cast a fly. These are the Oman permit that you will find cruising along shallow water next to the beaches. 
Trachinotus Africanus is a permit with some jack-like tendencies, and they tend to spend most of the time near rocky shorelines with sharp bottoms plucking crabs off the rocks with the swells. 
Oman Bream 
The Oman bream looks a bit like a snapper crossed with a redfish, and they are aggressive feeders that will happily take a popper stripped on the surface or a baitfish/crab fly beneath the surface. 
You'll find them along the rocky parts of the beaches and also along the rocky shorelines where the Africanus Permit likes to hang out. 
Oman Emerald Parrot Fish 
It would be hard to find a prettier fish than the Emerald Parrot. Their scales are bright blue, and shades of salmon all blended together, and you'll find them feeding on rock areas close to the beach in gangs of up to 10 fish. 
These fish are willing to eat and have great eyes too. You'll see them come from meters away to inhale your crab fly but landing them is another story. Their mouths are more like beaks and will break your hook in half; they know how to use the rocks to break free. 
Oman Queenfish 
Dubai has been made a famous fly fishing destination thanks to its queenfish fishery, but you'll actually find the biggest queenfish in the world while fly fishing in Oman. 
A big queenfish will pull line, and you'll find them along the shores in Oman and also offshore when they shoal up to feed on bait balls.
Oman Milkfish 
The islands of Seychelles are the number one fishing destination when it comes to landing milkfish on the fly, but there are a ton of them in Oman too. 
Milkfish can grow up to 50-80 lbs and sometimes even larger, and they seem to produce a lot less lactic acid than others, meaning you'll be in for a fight. I have seen milkfish take 3 hours to land as they jump and cruise around trying to get rid of the fly. 
Milkfish are actually vegetarians, and they feed on algae and plankton – so how do you catch them on a fly? You'll need to find a shoal of "milks" daisy-chaining on the surface and inhale all the plankton they can get. 
In this scenario, you can see 100 mouths charging through the surface, and the idea is to throw algae fly called Arno's Milky Dream just ahead of the shoal with the hope that it is inhaled. 
Oman Fly Fishing
When fly fishing Oman, you will either be walking the shores of incredibly remote beaches Oman or cruising along them fishing from a boat/skiff. 
The Omani coastline is so stunning that you'll probably feel like you've left earth and gone somewhere better – and I'm not joking either. It blends itself between giant rock formations and pristine beaches with some of the clearest, bluest water you've ever seen or might see again. 
In all honesty, Oman fly fishing trips are worth doing just for the scenery, and like most places in the world that are untouched, fly fishing is truly spectacular. 
Fly Fishing Spots In Oman
There are thousands of fly fishing spots in Oman, but there are two areas of Oman where you'll find the best ones – Salalah in the south and Musandam in the north. 
Fly Fishing In Salalah 
Salalah and the Dhofar Region is the capital of Oman permit fly fishing as this is the part of Oman where you will find Indo-Pacific Permit cruising down the sandy beaches as well as the Africanus along the rocky shorelines. 
This permit paradise is also where you will find various trevally species, emerald parrots, Oman bream, and giant queenfish, all catchable from the beach. Plus, when you go offshore a little bit, you'll be in for a chance to catch some milkfish on the fly. 
When fly fishing in this Oman region, you'll either be driving from beach to beach and then stopping to walk along the beach while looking for anything to cast to, or you can alternatively move by boat along the rocky shorelines and stop at the chosen beaches as you go. 
Fly Fishing In Musandam 
Musandam is a peninsula in the north of Oman and is about as rugged as a fishing area can look, with spectacular rock formations that simply fall into the sea. 
All the fly fishing in Musandam will be done from a boat as there are pretty much no beaches to walk on. This is a great area to fish for the Africanus Permit and Oman bream and queenfish, but it doesn't quite have the lure of Salalah and the Dhofar Region of southern Oman.
How To Fly Fish In Oman?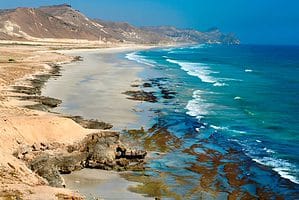 You have two choices when it comes to how to fly fish Oman, and you can either do a DIY fly fishing trip or book one of many Oman fly fishing packages available. 
DIY Fly Fishing Oman 
If you're a seasoned permit fly fishing guru, successful DIY fly fishing trips for Oman permit are very probable, and if you're not an expert permit fly fisher, the chances are that you will still have a successful day. 
The beaches of southern Oman are a remote wilderness, and you can drive for days without seeing a soul. This means you can hire a 4×4 and hit a different beach every day, camping or staying in local accommodations as you go. 
Doing a DIY Oman permit fly fishing trip will be an adventure you will never forget, but it will have its challenges, as all adventures do. 
To put it in perspective, a school teacher in Oman called Ray Montoya goes DIY permit fishing most weekends, and he has caught more than his fair share while living there for several years. But it's possible that permit will some days refuse a fly unless it is presented right in front of their face. 
Let's not forget, even if you don't fool a permit with your fly; you'll be in some of the most beautiful scenery on the planet and, of course, catch the other species too. 
Oman Fly Fishing Packages 
If the DIY adventure isn't quite up your street, then there are two companies that operate excellent fly fishing guide operations in Oman – No Boundaries Oman and Ocean Active Fly
No Boundaries Oman has been operating fly fishing trips out of Salalah and the Dhofar Region for years, and they will provide you with everything from food to accommodation and transfers. 
You'll fish by trailering boats to remote beaches and shorelines, walking the beaches, and using the boats to move between them. They are a world-class operation and one of the best in Oman. 
Ocean Active Fly started by taking clients on fly fishing trips in Dubai but has been fly fishing for fun in Oman for over ten years. Their Oman fly fishing packages are their newest addition, and they offer similar fishing excursions to No Boundaries Oman. 
Oman Fishing Season
The general Oman fishing season is from September to April, and this is the best time to be fly fishing in Oman is also those past three months of the year and the first 3 months of the new year. 
The reason for these months is that during the dry season of Southern Oman and also the calm season, when the winds drop, make casting a fly a lot easier. Also, fishing in Northern Oman over summer is nothing short of impossible, as it gets over 40 degrees celsius every day. 
Winding Up 
As you can see, fly fishing in Oman has tremendous potential, and it's slowly gathering momentum and may end up being one of the best or one of the most unique places to catch a permit on the fly in the world. 
Fly fishing in Oman is an experience like no other, and it's one that every fly fisherman should experience – from the culture to the landscapes and the fish you'll see, it's going to be hard to beat. 
I hope that this article was informative and interesting; for more general information on Fishing in Oman, please check out my article here!

Latest posts by Jamie Melvin
(see all)