Disclosure: Some posts contain affiliate links, which earn us a commission if you make a purchase through them. Positive Fishing © participates in various affiliate networks including the Amazon Services LLC Associates Program.


Oman sits on the southern tip of the middle east, and the waters off its coast are teaming with fish. There are more species to catch off the coast of Oman than you can shake a stick at. The fishing is WILD, to say the least. 
Fishing in Oman was left undiscovered for a while, but today it's known as the land of giants as it produces more big Giant Trevallys (GTs) in the 40-70kg range than anywhere else on the planet.
But we're only scratching the surface talking about GTs, as the diversity of saltwater fish you can catch there is simply mind-blowing! 
Now, you can't just turn up in Oman with your spinning rod and catch some fish. Well, you probably could, to be honest, but you're not going to get the most out of fishing there without some extra knowledge, which is where I come in. 
In this article, we'll discuss the following:
Learn everything about fishing in Oman
What species can you catch, and how to how to catch them? 
Who to book your fishing trip to Oman with, and the best time to be there 
Top Fish To Catch In Oman 
There are a lot of what one might call 'Trophy Species' swimming around off the coast of Oman. The list is long regarding the top fish to catch in this stunning country, and it has a mixture of inshore and offshore species. 
Here are the best fish to catch in Oman while you're there: 
Giant Trevally 
Yellowfin Tuna
Wahoo
Dorado
Permit
Amberjack 
Bluefish
Maori Sea Perch
Parrotfish
Milkfish
Queenfish 
BlackTip, Black Jack, Bluefin, Bludger, Club Nose, Diamond, Golden, and Yellow Spot Trevally 
As you can see, the list is long, especially when it comes to the trevally species available. When reading this list of fish you can catch in Oman, you should note that they are all plus size in Oman too. You won't be catching a 5kg yellowfin tuna, you'll be catching a 45kg yellowfin tuna, and the same goes for most of the others too. 
Where To Go Fishing In Oman 
Oman has a huge 3,165 km coastline, and thus finding the exact species you want to catch can be a little bit like finding a needle in a haystack.
You have four main options when it comes to where to go fishing in Oman, and these are covered below for you. 
DIY Fishing Omani Safari 
The Omani coastline is very much alive with fish, and as your drive down it with a 4×4, its seemingly endless blue waters, rugged cliffs, and white-sand beaches will nothing but amaze you. 
You can arrive with your fishing gear and do DIY fishing, even camping on the beaches as you go. Fishing off the beaches and rocks of Oman's southerly coastline will have you catching trevally, bream, permit, and lots more species. 
If you're concerned about safety, it might please you to hear that Oman has been voted one of the top 20 safest countries in the world for the past few decades, so spending some time camping on the beach is nothing to worry about. 
You can learn more specific information about fly fishing for permit and the best fly fishing locations in Oman, such as Salalah and Musandam.
Fishing in Shuwaymiah
That being said, there is one particular hotspot when it comes to fishing in Oman: the port and delightful traditional fishing village of Shuwaymiah. 
Shuwaymiah is home to all the species listed above, and around 50 km offshore are the islands of Jazirat As Sawdah and Jazirat Al Hallaniyyah. These islands offer non-stop fishing action, and the waters surrounding them are full of big yellowfin tuna, GTs, amberjack, and lots more. 
It would suffice to say that going to Shuwaymiah and the islands offshore from it is the best place to go fishing in Oman. 
Fishing In Muscat 
The seas off Muscat, the capital of Oman, are home to large pelagics as well as most of the species I mentioned at the beginning of the article. 
It's easy to book a charter boat in Muscat for a few days of fishing if you're only in the country for a few days on business or on either side of a longer fishing trip to Oman. 
Fishing The Musandam Peninsula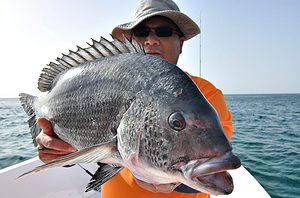 The Musandam Peninsula sits way up on the northerly tip of Oman, and when you look at a map, you'll notice it's split from the main part of Oman by the UAE, but it still belongs to Oman. 
The fishing around the Musandam Peninsula is nothing short of amazing as it's teaming with permits, Omani bream, queenfish, giant trevally, and other trevally species too. 
Fishing the Musandam Peninsula isn't that easy from Oman, and it's actually much easier to access from Dubai and the UAE. 
When To Go Fishing In Oman 
Oman has two monsoon seasons, one of which brings calm and lovely weather while the other arrives with strong winds that make the sea on the southern coastline too dangerous to be out in. 
The best time to go fishing in Oman is between the months of October and May, when the calm monsoon is in full swing. During this time, you'll be able to fish anywhere in Oman as the sea will be flat, the water warm, and the fish will be feeding hard. 
During the months of June to September, the southern coast of Oman is unfishable due to strong winds, but you can still fish in north Oman, including the Muscat and Musandam fisheries I mentioned above. 
But it is extremely hot during this time, and I mean close to 40 degrees Celsius every day! Some sunglasses and protection from the sun's rays are a must. 
Please check out the following links to learn more about the best sunglasses and the right sun cream to wear whilst fishing.
You should also note that the weather during this time of year can be quite changeable, and therefore you could lose a few fishing days due to poor conditions. 
Best Methods To Catch Fish In Oman 
You can catch fish here using any method you like; that's the joy of this fishery. You can target all the species with spinning gear, poppers, jigs, trolling, and even with a fly rod. But, some approaches are far better for some species than others. 
Popping 
If you're looking to catch some monster GTs and yellowfin tuna, then throwing big poppers on heavy spinning gear is the best way to catch them, and it's incredibly exciting too. 
When you see a huge yellowfin or GT inhale your popper, you'll be vibrating with adrenalin, and then the fish will proceed to kick your ass while your reel is set with a high drag, making for a fight of a lifetime. 
Popping also works for all the other trevally species and the highly sought-after Omani bream. 
Jigging 
Vertical jigging is another great way to target fish in Oman, and if you're after big amberjack, GTs, and other deep-dwelling species like blackjacks.
Jigging is hard work as you're constantly pumping and winding, but it's worth it when you feel a fish hit your jig like a freight train. 
Fly Fishing 
If you're a fly fisherman, Oman holds something special. As you walk the beaches and cast from a boat to the rocks, you'll have endless shots at permit, Omani bream, wrasse, queenfish, and lots more. 
Permit fishing in these seas is some of the best in the world, and these permit fish are more aggressive than the ones you'll find fishing on the flats of Seychelles or in the Caribbean. It's not uncommon for a good fly angler to leave Oman with more than 5 permits under their belt in a week. 
How To Book Your Fishing Trip To Oman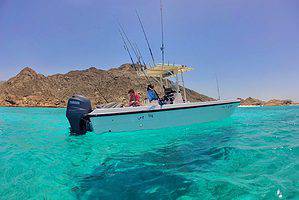 If you are doing a DIY fishing safari or a few days fishing in Muscat, booking your trip is easy. Either rent a 4×4 and start cruising or book one of the many fishing charters out of Muscat for a day or two. 
If you want to do some serious fishing in Oman, there are two operations you should talk to. The first is No Boundaries Oman, which has an excellent fishing lodge in Shuwaymiah, along with multiple vessels and a liveaboard that will have fishing in all the best parts of the southern Omani coastline. 
No Boundaries has been operating in the area for many years, and they run a world-class service with excellent guides and world-class fishing gear. 
If you want to fish the Musandam Peninsula, you should contact Ocean Active Fly, which operates out of Dubai. Ocean Active also runs a world-class operation and will take care of everything for you, from your accommodation to fishing gear and more. 
Oman Fishing Regulations
You need a fishing license to cast a line with hooks on it into Omani waters. Luckily, they are not hard to acquire, and you can find all the information on how to do it at the Omani Ministry of Agriculture and Fisheries site.  A one-day license can be purchased, or a one-year license for non-professionals.
You'll only need to get a license if you are DIY fishing, as when booking with any charter boats or the guiding operations, they will have organized your licenses for you. 
Popping Out 
Thanks for reading my article. I hope you found it useful and are already planning a fishing trip to Oman. It truly is one of the most amazing places in the world to go fishing, and there is also the added bonus that it's a stunning country.
Oman is a special place for fishing, and you can find more of my favorite fishing locations around the world, covering saltwater and freshwater angling.

Latest posts by Jamie Melvin
(see all)