Disclosure: Some posts contain affiliate links, which earn us a commission if you make a purchase through them. Positive Fishing © participates in various affiliate networks including the Amazon Services LLC Associates Program.


The fishing in Argentina is amazing, and if you have the chance to go there on a fishing trip, you should take it as it will most likely be a trip of a lifetime. 
The reason the fishing in this South American country is so spectacular is not just because of the incredible species on offer and the chance of a trophy specimen. But also thanks to the stunning landscapes you catch them in, which is about 75% of the joy of fishing in my eyes. 
Argentina is a vast country and home to a diverse range of landscapes, from the jungle of the north to the Andes mountains and the windswept plains to the south in Tierra Del Fuego. Each of these locations holds some amazing fish waiting to be caught. 
Join me as I guide you through the species you can catch in Argentina, where to find them, ways to catch them, who to catch them with, and the best time of year to catch them too. 
By the time you have finished reading this article, you'll know why it's considered one of the perfect fishing locations anywhere in the world and be ready to book a trip there. 
Top Fish To Catch In Argentina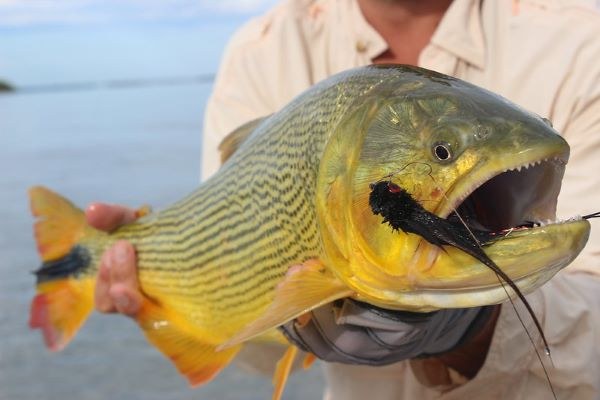 All the fishing in Argentina is done in freshwater, and each region of the country holds a different species of fish worth traveling around the world to target.
The top fish to catch in Argentina are: 
Sea-run Brown Trout 
Brown Trout 
Rainbow Trout 
Golden Dorado 
Pacu 
The sea-run brown trout in Argentina flood into the rivers when it's time to spawn, and there are tons of them. They are the biggest sea-run brown trout in the world, averaging around 16 lbs, and a lot of fish hit the 20-25lb mark. 
The brown and rainbow trout in the Patagonia region aren't the biggest specimens in the world, but they are in spectacular condition. What makes it special is that you're fishing for them in one of the most beautiful mountain ranges in the world, which is a huge part of the experience. Everyone should go to Patagonia once in their life, and why not fish while you're there? 
In the warmer jungle waters of northern areas, you find Golden Dorado and Pacu, two of the world's most exciting freshwater species to catch. Golden Dorado is incredibly aggressive, and when you hook them, they jump and go absolutely crazy. 
Pacu is a bit like a freshwater permit, and they tend to eat berries off the surface, so hooking them is one thing, and when you see how big they are, you are in for quite a serious fight. 
As you can see, the range of species on offer is quite amazing, and on a four-week trip, you can fish for them all while seeing all the amazing and different landscapes the country has to offer. 
Where To Go Fishing In Argentina 
Tierra Del Fuego 
You might have heard of Tierra Del Fuego, but chances are you haven't. Tierra Del Fuego is the southernmost region where the tip of Argentina meets cape horn, and the southern ocean and Atlantic collide. 
The landscape of Tierra Del Fuego is flat and covered in plains, and within the plains are some amazing rivers holding some of the biggest sea-run brown trout in the world.
The best sea-run brown trout river in Tierra Del Fuego is the Rio Grande, as the Río Grande boasts more giant sea-run brown trout per kilometer than any other river on the planet. 
You might think getting to Tierra Del Fuego is hard, but you can actually get a direct 3-hour flight from Buenos Aires to Río Grande airport, from which the river is just 30 minutes away. 
Patagonia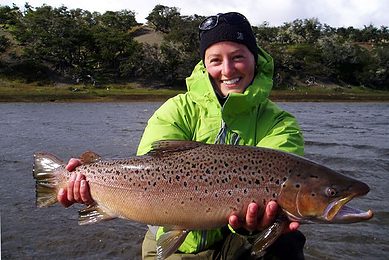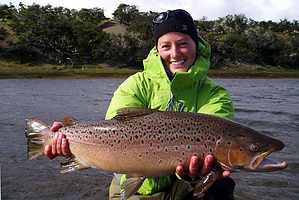 We have all heard of Patagonia, a stunning natural area that spans the Andes and stretches from Argentina over the Andes mountains and into Chile. It's in Patagonia, where you'll find stunning trout fishing for both rainbows and browns. 
Just imagine a small mountainside lodge, crystal blue rivers, and mountains for as far as the eye can see. Imagine you're drifting along the river in a boat casting a line, and you have what the Andes Mountains of Argentina offer. 
Paraná River, Corrientes
Way up north of the country, near the town of Corrientes, close to the border with Paraguay, you'll find the town of Corrientes and the Parana River. 
This northern end part differs from the other parts mentioned above. It's warm, alive with jungle and many amazing birds, mammals, and reptile species. Visiting this part of the country is similar to being in the Amazon, but it's not quite in the amazon rainforest. 
The Parana River and the surrounding marshlands are packed full of golden dorado, pacu, and pira-pita. When you're there, you'll be cruising around the river, surrounded by amazing wildlife throwing your line in the hope of catching some of the most aggressive and coolest freshwater fish on the planet. 
When To Go Fishing In Argentina 
Since fishing in Argentina is so diverse from a species perspective and in terms of locations, the seasons for fishing vary based on each province. But, there is one time of year when you can fish for all three species, during the Argentinian summer between December and April. 
In December, the sea-run brown trout start running into the Rio Grande in Tierra Del Fuego to spawn, and they continue to stay in the river until April when they return back to the sea in May. 
December is also when the rivers of Patagonia are at the perfect level after the snow has melted, and this is also when they have heated up enough for the trout to be active and for their food (insects) to start hatching. 
If you only want to go fishing for Golden Dorado and Pacu, you can go all year round. The northern part of Argentina around Corrientes sees warm weather all year, and the fish are always hungry, so you have your pick of when to go when it comes to these species. 
But, if you want to catch a huge golden dorado, you should be there on either side of the spawning season, which is October, March, and April. 
Best Methods To Catch Fish In Argentina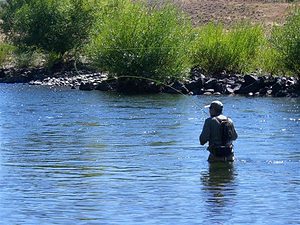 Argentina is known as a fly fishing destination the world over, and the preferred method of catching all the species on offer at the fishing lodges is with a fly rod. That being said, for some species, mainly trout and golden dorado, you can also use spinning rods, but it might be frowned upon by some! 
When it comes to fly fishing for the sea-run brown trout in Tierra Del Fuego, you'll be using a long spey rod and swinging flies through the deeper pools of the river. 
The trout in Patagonia will require a smaller 3-5 wt fly rod and delicately dropping dry flies, drifting nymphs, or stripping streamers through the crystal clear water. 
When it comes to the golden dorado, you'll be stripping large baitfish flies across the river with an 8wt fly rod or winding in crankbaits with a spinning rod.
Fishing for Pacu is a little different and done by 'plopping' a dry fly that looks like a berry on the surface and waiting for them to sip it off the top of the water. 
How To Book Your Fishing Trip To Argentina 
There is one amazing fishing company that has the best lodges in every part of Argentina, and their name is Nervous Waters. 
They have two lodges in Tierra Del Fuego for the sea-run brown trout, two in Patagonia, and four near Corrientes, from which you can go after golden dorado and pacu. 
Nervous waters are the original fishing lodge company in Argentina, and they provide 5-star service with awesome guides, amazing accommodations, great boats, and incredible food. 
I used to manage one of their lodges; they know how to do fishing hospitality and are one of the best in the world. Their prices are high, but you'll get the most out of your trip. 
Fishing Regulations In Argentina 
The fishing regulations in Argentina require every angler to hold a license to go fishing. The licenses are issued by region; therefore, you, unfortunately, will need to hold a license for every region you intend to fish in. 
You can buy a license online, so it's quite simple, and you'll find all the information on the main individual province requirements at angloinfo.com. Most province licenses cost around $60 a week or $80 a year, and you can buy a license from municipal information centers or the local take shop.
If you are booking with a fishing operator like Nervous Waters, they will have sorted out all the licensing for you as part of the booking, so you won't need to worry about it. 
Casting Out 
Thanks so much for reading my article. I hope you found it helpful and now know everything you need to know about the fishing opportunities in Argentina, when to go there, and who to fish with while you're there. 
It's an amazing country to visit (even without the fishing). Still, if you manage to hit all the species and environments in one trip or a during a lifetime, you'll create some magical moments you will never forget. 
You can read more about my selection of must-visit fishing vacations worldwide which cover fly, coarse, and saltwater fishing destinations.

Latest posts by Jamie Melvin
(see all)