Disclosure: Some posts contain affiliate links, which earn us a commission if you make a purchase through them. Positive Fishing © participates in various affiliate networks including the Amazon Services LLC Associates Program.


If you have ever been fishing without the proper fishing license, you will have had "the fear" of an angling bailiff finding you on the water, asking to see your license, and catching you out. 
But what are angling bailiffs really? Are they just there to check a license or two? Or is there more to their role? That is what we are here to find out. 
In this article, we will look at angling bailiffs, the types of angling bailiffs, and their roles in fisheries management. 
Types Of Angling Bailiffs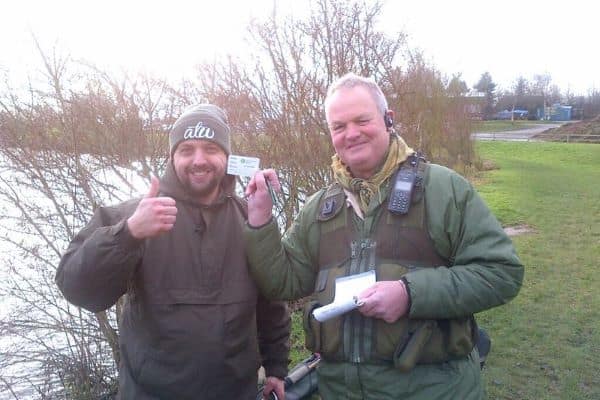 Did you know that there are two types of angling bailiffs that one might encounter while fishing in the UK?
These are water bailiffs and angling club bailiffs. 
What Are Water Bailiffs & What Do They Do?
Water bailiffs are employed by the Environment Agency (EA) or Natural Resources Wales (NRW). Their job as environment officers is to enforce the legislation put in place by the government to protect the freshwater systems around the UK. 
The main policies the water bailiffs enforce include the Salmon & Freshwater Fisheries Act 1975 as amended (SAFFA), Keeping and Introduction of Fish regulations 2015, the Eel regulations 2009, and several other regulations. 
Generally, they are there to ensure no one is fishing illegally, polluting freshwater systems, killing fish illegally, or introducing fish to systems they shouldn't. It's a very important job for the health of the UK's freshwater rivers and lakes, which are slowly becoming more and more polluted. 
Bailiffs have more power than you think and carry the same powers of arrest and warrants as the police. They are legally allowed to enter a property, ask for rod licenses, issue fines, and even arrest people.
If you are fishing without a UK rod license, these guys you should worry about, and they can fine you up to the region of £10,000 for fishing without a license.  
Currently, only around 70 full-time environment agency bailiffs are employed, so the chances of your running into one are minimal. In fact, if you want to become an EA water bailiff, chances are you can get a job as they are in demand. You can find more details on being a full-time paid bailiff here on the UK environmental recruitment page.
But you should have a rod license and never fish without one, as it's important to follow the rules and support the EA in protecting the freshwater fish of the UK. The money collected each year from anglers' license fees is used to put back into the sport of fishing and the waters around the UK. 
Applying to be a volunteer EA bailiff is easy, and the roles and responsibilities are straightforward.
What Are Angling Club Bailiffs & What Do They Do?
Angling club bailiffs are very different from water bailiffs and are usually called fishery bailiffs or water keepers. In most cases, they are volunteers from members of the fishing club.
They don't have any legal powers like water bailiffs apart from being able to carry out the authority of the fishery they work for.
Essentially, club bailiffs are the guys who check if you have your permits and enforce the rules of the fishery, such as only using certain baits, correct fishing lines, or barbless hooks. They are legally allowed to ask to see your permit, tackle, and bait boxes to ensure you're following the rules. 
It should be remembered that every fishery has a different set of rules; whilst many fishing clubs have a general set of regulations, they also have additional rules for each lake or stretch of river they rent or manage.
The law falls under "preventing the civil wrong of trespass", and basically, if you break the rules of the fishery, you become a trespasser in law instead of a paying guest. This is why most private angling waters have signs saying, "trespassers will be prosecuted" 
Bailiffs from angling clubs are extremely important as they are the eyes and ears of the fishery and will also be on the lookout for the following types of incidences: 
Any pollution on the water 
Large fish kills 
Fish in distress 
Illegal fishing methods 
The stealing of fish 
Ensuring non-native fish are removed 
Collection payments to ensure the fisheries continue 
Without angling bailiffs, the rivers and lakes you fish on would be a fraction of how good they are today. They are vital to the survival of the ecosystems and the fish that we love to spend so much of our time with. 
It should be noted that these amazing bailiffs are people who volunteer their time to ensure anglers are following the rules.,
Beware Of Impersonators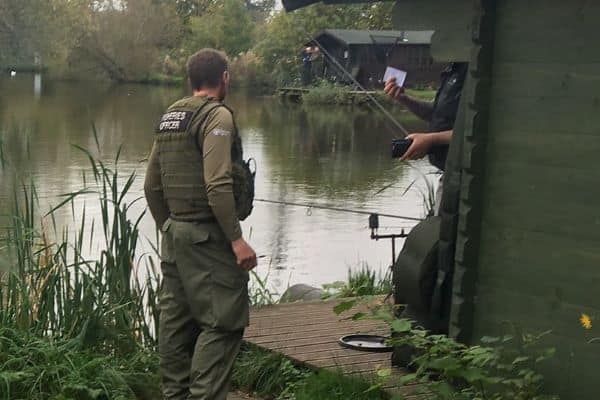 Sadly, people try to impersonate both EA water bailiffs and angling club bailiffs, so it's important to know where you stand with each so you can spot them. 
Environment Agency Water Bailiffs
An Environment Agency water bailiff does have the right to ask to see certain things, but they will always issue a valid warrant since they are legally classified as constables. If an EA water bailiff ever approaches you, you have the right to inspect their warrant and ID and ask them what powers they are working under. 
EA water bailiffs will never ask you for money on the bank as their fines are not issued in cash, and they cannot sell you a rod license on the bank. 
By going through all these questions, you should be able to determine whether they are an impersonator. It is a crime to impersonate a water bailiff, and you should report anyone you encounter doing so. 
Angling Club Bailiffs
It is harder to flush out an angling club bailiff impersonator since they aren't required to carry ID or to enforce any warrants you can quiz them on. These bailiffs should only ask you to pay for a day ticket or your membership ID and confirm that you are following the fishery rules. 
If you think you are talking to an impersonator, ask them to give you the phone number of the club officials so you can verify. A genuine bailiff will be more than happy to do so. 
Impersonators of bailiffs are committing fraud intending to take money or even your fishing tackle under the false representation section of the Fraud Act 2006. You have every right to call the police, report them, and prosecute them. 
The chances of you running into a fake angling club or water bailiff are very slim, but it's still worth knowing your rights and their existence. 
You can find more information on the best practices for fishing and water bailiffs, which is an in-depth guide from the angling trust on how bailiffs should operate.
Summing Up 
Water and angling bailiffs are very important in protecting the waters we love to spend time on and fish, so we must give them our utmost support by being on their side and always buying a rod license. 
Thanks for reading my article; I hope you enjoyed it and found it informative. You can read more relevant topics in the following articles: angling clubs and how to be a member and carp fishing syndicates and how to join one.

Latest posts by Jamie Melvin
(see all)