Disclosure: Some posts contain affiliate links, which earn us a commission if you make a purchase through them. Positive Fishing © participates in various affiliate networks including the Amazon Services LLC Associates Program.


In the United States, anglers have numerous rules and regulations to follow before they can get on the water. At the very least, anglers must purchase a multi-day or annual fishing license to fish legally. However, depending on the fish you're targeting, there are other more stamps or licenses you'll need to purchase.
In this article, I will go into detail about the following topics:
The types of fishing licenses available in the USA
What documents you'll need to apply
Requirements necessary to qualify
Where to purchase licenses
What Types Of USA Fishing Licenses Are Available?
Depending on the state you plan to fish in, you'll have different license options. Some states make it easier and more convenient than others to get the exact length of license you need. Thankfully, the most productive states for fishing have some of the most reasonable options.
Daily License
Every state has the option to purchase a daily option. You can select the exact day you would like and be able to fish from sunup to sundown on your specified day. These daily licenses are often the most affordable and popular choice for tourists.
Suppose you're on vacation and have a couple of free days to go fishing; it's best to plan and purchase the necessary licenses before leaving. The rates will change depending on whether you're a state resident.
Annual License
The most common option for residents of certain states is the annual license. Depending on your state, these will start and finish on specific dates. For example, an annual version could last from September 1st, 2022, to August 31st, 2023, regardless of when you buy it.
In other states, an annual license will last a year from the day you buy it. Again, be sure to check the state regulations before purchasing! It could save you a nice amount of money.
Multi-Day License
More and more states are offering anglers multi-day licenses; two to five-day are pretty popular to buy if you plan to fish for a few days. If you're visiting a state on a fishing vacation, purchasing five or six daily licenses will cost quite a bit.
A multi-day option is cheaper than purchasing continual daily ones. States like Montana offer two, and ten-day licenses. Depending on the length of your stay, this saves you time from having to go back and purchase daily over and over.
Lifetime License
Some states, like Minnesota, where fishing is a way of life, offer lifetime licenses. These can cost a couple of hundred dollars, but instead of paying $50 yearly, you can pay a larger one-time fee and have lifetime access to Minnesota waters.
Other states offer this deal as well! It's a standard option for anglers near retirement age or people who know they aren't leaving the state.
Where To Buy A US Fishing License?
One of the easiest and quickest options to buy a license is to go and purchase one at Walmart.
You can also purchase for most states using an online website for the state you will be fishing, by phone, or at many retail establishments. Every good fishing tackle shop will be able to sell you one.
To purchase online, go to fws.com, and using the map interface click on your state; this will then link to the specific state page to buy.
What Is Needed To Purchase A Fishing License In The USA?
When purchasing a fishing license, you'll need a valid government I.D. and access to your Social Security number. This information allows you to cross-check in government databases to ensure you can purchase that particular option.
Resident vs. Non-Resident License?
One of the essential details in purchasing fishing licenses is the resident vs. non-resident option. When you purchase one from a state for the first time, you must provide your driver's license or government I.D. that proves your address.
This will allow the US Fish and Wildlife Service or Department of Natural Resources (Michigan for this link) to prove your area of residence and price the licenses accordingly. You'll pay less if you're a state resident.
If you're a non-resident, you'll likely have to pay a lot to fish in a different state. You'll pay a significant amount if you're a non-resident and fishing in states like Colorado, Montana, Wyoming, Alaska, and California. These non-resident versions are significant state money-makers, and tourists must pay. Hopefully, you're rewarded for the cost!
Trout Stamps And Other Special Regulations
The most confusing aspect of purchasing fishing licenses is determining what other stamps you'll need. Each state is a little different in what they require. These special rules and regulations result from heavy pressure or poor fisheries management. As anglers, we pay the price for these new rules!
Buying Trout Stamps
Most states will require a trout stamp if you want to pursue trout. This one-time fee of $10 goes to protect these fish. It's a worthy investment but an added expense that can catch most anglers off guard.
Buying Stamps For Steelhead And Salmon Fishing
There are also stamps required for steelhead and salmon fishing. Again, pay close attention to the local rules and regulations! You don't want to get hit with a hefty fine or lose your equipment due to a lack of understanding of the rules.
Buying Saltwater Stamp/License
If you're spending time on the coast, many states will require that you purchase their state license and buy an additional saltwater option. These can be anywhere from $25 to $50. Consult the US Fish and Wildlife Department website for further information on the exact requirements of the state you're fishing.
What Age Do I Need A Fishing License?
Most states allow children who are under the age of 16 to fish without a license. Some states require a licensed angler or adult to always be with them, but that depends entirely on the state.
However, some states have set the age of 12 as the final year children can fish without a license! Again, check the local rules and regulations for your state and determine what your requirements will be. Introducing kids to fishing at a young age is a great way to teach them the importance of caring for fish and the environment.
How Much Does A US Fishing License Cost?
Like most things today, prices continue to increase. Plus, states are adding on extra agent fees, increasing the prices of things like trout stamps, and adding more regulations to make anglers think a bit more before they cause damage to the waters.
The other major factor in the prices is whether or not you're a resident!
Non-Resident Prices
Non-resident anglers will pay anywhere from $30 to $100 for an annual license! The more popular the state, the higher the price is going to be. Keep this in mind when creating a fishing budget. Plus, anticipate that these prices are only going to increase!
Where non-residents pay the most is in the daily or multi-day option. For example, a 10-day non-resident one is about $60. An annual non-resident one is $86.
Resident Prices
Resident anglers will pay between $20 and $70 for an annual license. They're affordable and almost always the wisest option, even if you don't fish often.
For example, an annual resident fishing license in Montana is only $21. A 2-day license is only $5, but if you know you'll be fishing for more than eight days, you'll want to purchase the annual license.
Virtual or Hard Copy
In this day in age, there seems to be a virtual option for everything. Some government programs aren't always with the times and require a paper copy proof. This is an important thing to be aware of when making your purchase!
You may have to find a printer and print your license, so keep that in mind when purchasing! It may be better to go to a license retailer and get it from there! They'll even print it off for you.
Thankfully, most state governments allow anglers to show a digital copy. You'll be good to go if you screenshot it and show it to the Department of Natural Resources officer. They can search for you in their system and double-check that you're legally fishing!
Fishing License Retailers
In the United States, many companies will sell licenses from their stores. Walmart, Ace Hardware, Visitor Centers in National Parks, bait shops, and several gas station companies offer anglers the opportunity to purchase.
If you're not too tech-savvy or need to print off your license, visit one of these companies, and you can purchase one from them. You'll need to be able to provide an I.D. as well as your social security number to be able to purchase it.
Where To Find Fishing License Rules and Regulations?
Thankfully, each state has a Department of Natural Resources that will provide you with every piece of information for all the necessary license options and stamps.
Summary
Knowing where and how to purchase a license requires research. It's one of those things that's best to do several days before your time on the water if possible. Being proactive gives you a chance to fix any potential mishaps or errors.
Remember, the state's Department of Natural Resources (Indiana for this link) or the US Fish and Wildlife Service website will be your best friend in figuring out specific details. They'll walk you through the necessary steps!
If you don't want to go through the hassle of the internet, visit a local business, and they'll be sure to take care of you. It's always better to be safe than sorry! The punishments for not having the correct license are becoming fairly severe.
If you're planning a fishing vacation in Europe and need a license or need to understand the license regulations in the United Kingdom, there are different rules and regulations.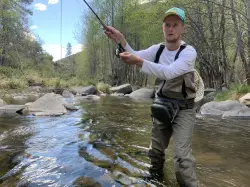 Latest posts by Daniel Mooers
(see all)