Disclosure: Some posts contain affiliate links, which earn us a commission if you make a purchase through them. Positive Fishing © participates in various affiliate networks including the Amazon Services LLC Associates Program.


Grayling are known as the "ladies of the stream" with their slim and elegant appearance. These fish can be caught through the summer and winter but are located in only a few locations around the world in some amazingly beautiful landscapes. 
You can target them with a fly rod and regular spinning rods or float fishing, depending on your preference. 
The beauty of these fish is they aren't as picky as trout but are equally as aggressive and can grow to a decent size.
If you haven't tried to target them yet, go and make an effort. In this article, I will go through the best techniques, baits, and tips for catching grayling in the United States and the UK. 
What Are Grayling?
Fly Fishing for Grayling 

Equipment 
Best Flies For Grayling
Tips on How to Catch Grayling On The Fly

Spin Fishing for Grayling

Equipment
Best Baits For Grayling
Tips on How to Catch Grayling Whilst Spin Fishing 

Fishing for Grayling in the United States
Fishing for Grayling in the UK
Final Thoughts
What Are Grayling?
The grayling (Thymallus) is a fish from the Northern hemisphere, of which there are 6 species. The Arctic grayling (Thymallus arcticus) resides in North America and the arctic regions, including Russia, while the other five live in European waters.
This stunning-looking fish has a large fin on its back (dorsal fin) which resembles a sail-like feature. The dorsal fin is often red-spotted, with purple or aqua-colored markings along its sides.
Fly Fishing for Grayling 
I may be slightly biased, but I believe grayling should be targeted on the fly rod. Their similarities to trout make them true fly-fishing fish. You're in for a treat whenever you can target them with a fly. 
Equipment
The equipment you need for grayling fishing isn't overly complex. The majority of standard trout gear you have will easily handle the fish. Ideally, you have a more finesse setup, but whatever you have should work. 
Rod 
Your fly rod should be either a 4 or 5-weight rod. It's a good finesse rig, but it's not going to be overpowered if you pursue these in a lake or a bigger body of water. A moderate action of about 8'6" or 9' is a good rod length for grayling fishing. These rods can throw dry flies and are still plenty sensitive for those smaller strikes you get when you're targeting these fish. 
Since these fish can grow upwards of 4 lbs, you'll find that they're strong and aggressive, so you don't want to be outmatched if you can help it. 
Reel
No special reel is required for grayling fishing; whatever weight you choose for your rod, you want your reel to match. For example, if you purchase a 4-weight rod, make sure you have a 4-weight reel.
A properly balanced rod is important for casting! Also, a fully sealed drag aluminum system and a large arbor are other features that can make your experience better. No matter the strength of the grayling, a sealed drag system, and a large arbor will be able to contain them. 
Line 
Graylings are willing to feed in all levels of the water column. They will eat streamers, nymphs, and dry flies. As a result, the line you choose for your setup should mainly depend on the depth of water that you're fishing. A floating line is perfect for fishing a small or medium river. Your leader will get your fly to the necessary depth. Anything 15 feet or shallower is good for a floating line.
If you're fishing for them in a lake or large river, a sink-tip line might be your best decision. If you're fishing deeper than 15 feet, you'll want a sink-tip line. This will get you closer to the bottom when the fish are feeding there. 
Leader 
Since grayling fish are in the salmon family, you must be careful not to be overly intrusive in their space. A 3x or 4x leader is perfect. You can do a straight or tapered leader, depending on your preference. 
Tippet 
Using a tippet is a smart option when fishing dry flies and nymphs. You won't be overly intrusive, and they aren't going to sense something is wrong if you're using a light enough tippet. For grayling, it is best to use somewhere between a 3x and 5x tippet! 
Best Flies For Grayling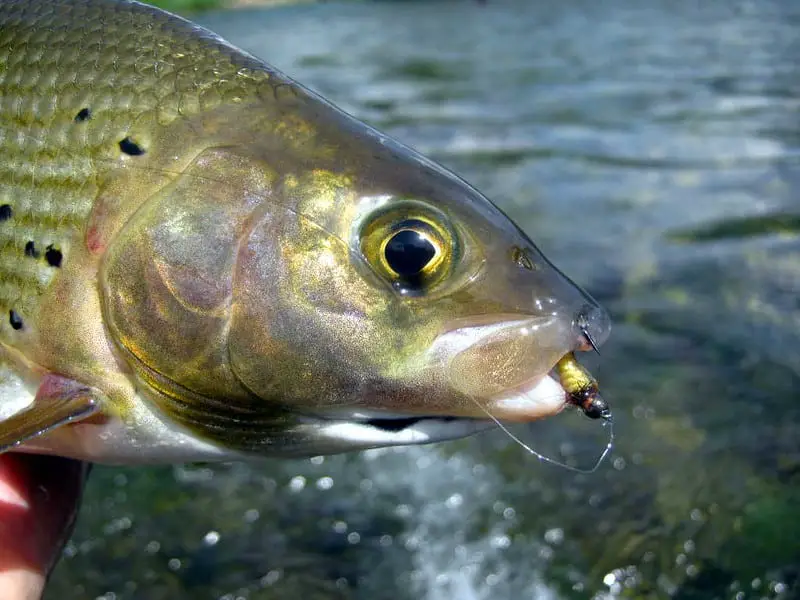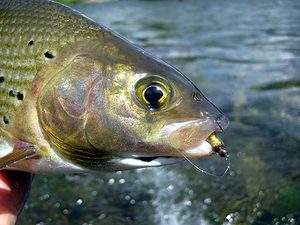 The flies you choose for grayling are vital. These fish are very region-specific, so if they see something they're not used to eating, it'll be a long day for you. They spawn in the spring, so summertime flies are your best options. 
Attractor Flies Work
Not all fish are drawn to attractor flies. Thankfully, grayling love attractor flies. Flies like Royal Wulff's and Stimulators will work wonders when you aren't sure what they want to eat. Please don't use flies that are too large; sizes 10 to 16 are ideal. 
Small Streamers
Fishing with Woolly Buggers and small minnow patterns are great options when targeting grayling. 
Make sure you always match the color of the pattern to the color of the water. Remember, darker flies for darker water and more flash in clearer water! Grayling loves streamers, and sizes 6 to 8 should be plenty! 
Dry Flies
Grayling are partial to dry flies; natural things like ants and caddis patterns are great options. Most northern streams where these fish live have caddis hatches each summer. You can even use terrestrial flies if you need them!
Stick with smaller patterns for them and cast near to where they rise. 
Nymph Flies
Grayling is actually a natural bottom feeder. Therefore, fishing with nymphs may be your most productive pattern. Caddis, freshwater shrimp and even pheasant tail nymphs are also productive.
Please ensure they're bead-head nymphs, so they can get to the bottom and bounce along the gravel where the grayling likes to feed. 
Tips on How to Catch Grayling On The Fly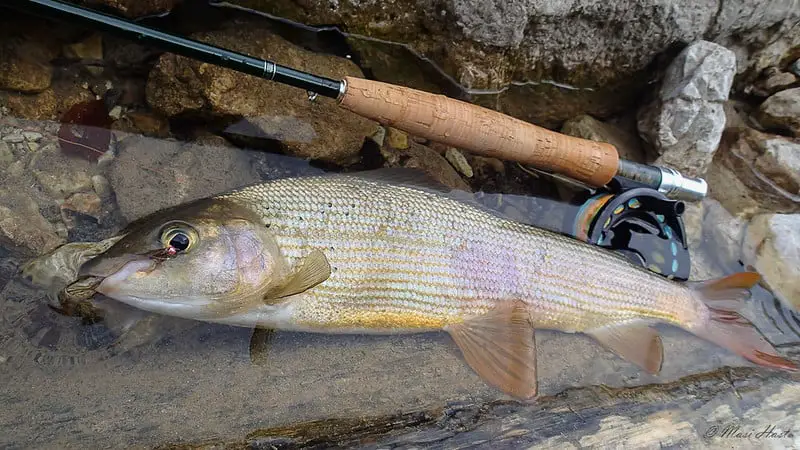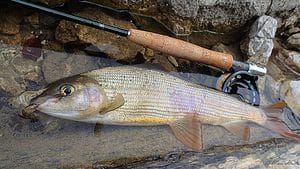 Don't be married to one technique when you're fly fishing for grayling. They're fish that can change their feeding patterns on a dime, so be prepared to do that. If you don't see rises, start fishing below the surface. 
These fish can be found and sit in seams, pools, and pockets. Anywhere you imagine a trout to feed, these will do so too! They're just not as finicky or picky. In still water, you can fish drop-offs and structures. 
Nymph Fishing
Most likely, nymphs are going to be the most effective flies for graylings. While it's not always the most fun type of fishing, it's extremely productive. Find a seam or a shallow pool and high-stick your way through it. Make sure you cast several feet above the seam or pool and let your fly drop in the water column, so it can get low enough to meet the fish. 
If you're able, use the Czech Nymph for these fish. Czech flies are a bit heavier, and you'll need a longer rod, but you can make do with a 9' foot rod and some heavy nymphs! 
Streamer Fishing
If you don't see grayling rises, cast small streamers into the deeper pools you find. Streamers also work great in still water. They also prefer to stay near structures or on drop-offs, so casting in these areas increases your chances of catching more. 
Dry Fly Fishing 
If you're fishing dries, do so when you see the rises. Smaller patterns during the warmer parts of the day are great. Once you see a hatch forming, work up the water column until the flies start swarming. 
Spin Fishing For Grayling
If you aren't inclined to fly fish for grayling, you can be equally, if not more, successful when you decide to spin fish for them. 
You may frustrate some of the die-hard anglers, but that's okay. You're landing fish and doing it in a perfectly legal way! 
Rod 
You can use an ultralight spinning rod if you're targeting grayling. Choose a rod that's somewhere between 5 and 7 feet long. It'll give you enough length to make a longer cast but be sensitive enough to detect when you have a light bite. 
However, if you want to float fish for grayling, you can purchase a relatively long float rod. These are generally around 10 to 13 feet long. Choose what you would like to do, and you can put together the rest of your gear based on this decision. 
Trotting using float fishing tactics can be an extremely enjoyable experience. Coarse anglers are often very successful when grayling float fishing, especially during autumn and winter.
Reel
Whether fishing with an ultralight setup or with a float fishing rod, you can use a fixed spool reel. You don't necessarily have to purchase a center pin reel. Basically, any reel that you use for trout can be used for grayling.
Make sure the reel you choose fits with whatever rig you're purchasing. A fixed spool reel with the bail arm open allows you to control the speed at which the reel is spooling off your line. 
A reel between 1000 and 2500 is good for attaching to an ultralight rod. There is no need to go to a heavy set-up for these fish. 
Line
You don't need anything other than a 4 to the 6-pound test when you fish for grayling. They're not massive fish, and you don't want your line to stand out, so they eventually get spooked. 
Split Shot
You'll want a decent amount of split shots if you're float fishing. Typically, when fishing on the trot for grayling, bulk shotting will get the bait down to the graying faster, but the shirt button style will allow a much more natural presentation for them to take your bait.
Floats
Make sure you don't forget your floats and bobbers! I can confidently say I've left for a day of float fishing without the most important part of the rig. Using stick floats always works best with the shirt button trotting style.
Best Baits For Grayling
The bait you're using for grayling should depend on where you target these fish. These fish eat things like shrimp, insects, snails, and even small baitfish.
If you're using artificial bait or lures for grayling, Mepps Spinners, Goldfish Spoons, and Rooster Tails can all work well. 
Natural baits that are the most effective for grayling are grubs and worms! These will work wonderfully on the end of your float. Fishing with maggots for grayling will always get some success all year round.
Tips On How To Catch Grayling When Spin Fishing
When spin fishing for grayling, always cast your bait or float above a seam or riffle. You can reel or let your bait dead drift through these portions of the water. 
You'll have success either way, but it's going to take some trial and error on your part to know what to do. As with float fishing, repeated casts would be needed; make sure you cast well upstream away from their preferred spots to wait for food, such as overhanging trees.
Start Deep
When in doubt, start by fishing for these fish in deep water. They primarily feed on the bottom, and if they start looking up, they'll ambush their prey from the bottom. Shoals are also areas where graylings like to feed. 
Float Fishing
If you've never tried float fishing for grayling, it's certainly worth your time. The most common method for float fishing is putting about 80 percent of the split shot right below the float, and the rest is two-thirds down the line closer to the hook. 
This will create the most balanced setup for most fishing – it also means fewer shots are placed near the hook, preventing fewer concerns about spooking the grayling. This method does not allow the bait to drift to the bottom as naturally as the shirt button-style setup mentioned earlier. 
You want your bait just off the bottom when you're float fishing. Give the float a few pulls as it drifts; it will bounce the bait up and down. 
Grayling Fishing In The United States And Canada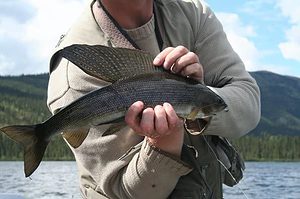 If you're targeting grayling in the United States, do yourself a favor and head as far north as possible. If you can't head north, then head high into the mountains. These fish need extremely clear and cool water! 
You can find these fish in almost every fishery in Alaska. The water is almost always healthy and cold enough. If Alaska isn't an option for you, the Upper Missouri River in Montana and the White Mountain Lakes in Arizona have healthy populations of arctic grayling fish. 
You can find grayling in the Grand Tetons in Wyoming, Utah, and Idaho. For the most healthy populations, Alaska is your best bet for catching arctic graying! 
If you want to take a guided grayling fishing excursion, check out Denali fly fishing guides, which specializes in arctic grayling.
Grayling Fishing In The United Kingdom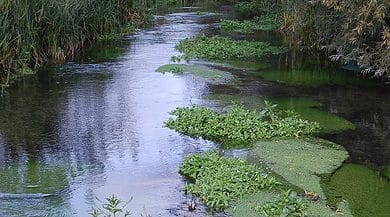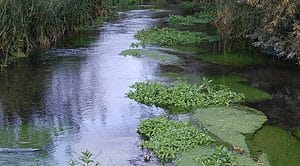 The United Kingdom also has a good population of Grayling. Fish the Yorkshire Dales. The River Nidd, River Ribble, River Swale, River Wharfe, and River Ure all have decent populations. 
Graylings prefer chalk streams where the water is fast-moving and clear. Wiltshire, Hampshire, Dorset, and Berkshire counties are well known for their numbers of fish, and these areas are also located within beautiful natural surroundings.
The best grayling fishing in Scotland is on the River Tweed; the tributaries, such as the River Teviot and the River Leader, also hold excellent grayling stocks.
If you are unsure where to catch graying in the UK, check out this guided grayling fly fishing tour by Aardvark McLeod. which focuses on the chalkstreams of southern England.
Make sure you check the local rules and regulations when targeting these fish. In England and Wales, a maximum of two fish may be taken per day and must only measure between 30 and 38 cm.
If you know you're fishing a salmon or trout river, you can assume that graylings will also mix into the population! Grayling only migrate in freshwater!
You can learn more about graylings by joining the Graying society, which focuses on conserving and angling for this beautiful wild game fish.
Final Thoughts
Grayling are a unique species to fish for; catching one is an experience every angler should try. Every angler remembers where they were when they caught their first grayling!
I hope you enjoyed reading this article; for more beginner guides, check out my detailed trout fishing article, which explains how and where to catch more trout in rivers and still waters.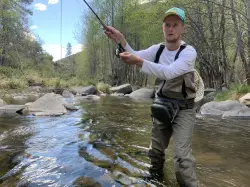 Latest posts by Daniel Mooers
(see all)