Disclosure: Some posts contain affiliate links, which earn us a commission if you make a purchase through them. Positive Fishing © participates in various affiliate networks including the Amazon Services LLC Associates Program.


Fishing is one of the most popular sports in England, and no matter where you are in this country, you're never far from the sea and have a chance of catching some great fish. 
The saltwater fishing isn't as exciting as being in the Bolivian amazon rain forest or the Arabian sea off Oman. Still, its historic nature has a great vibe, even if the weather can sometimes be somewhat wet!
Sea fishing offers a diverse range of fish species, and you can do it on truly spectacular coastlines. 
Having been born in England and with over 50 years of experience under my belt, I'm going to go through the details on the best saltwater fishing locations in England, the fish species, how to catch them, and who to catch them with. 
Top Saltwater Fish To Catch In England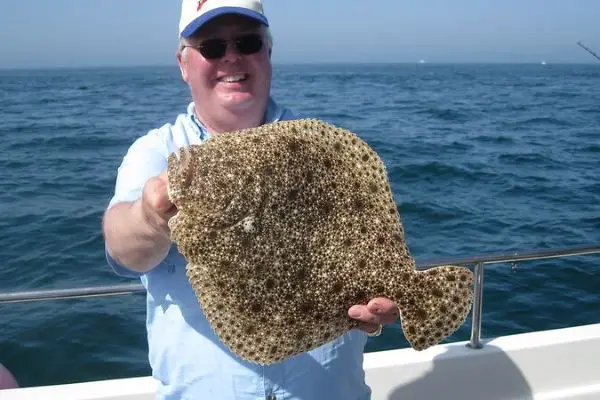 Being part of an island, England has a long (4,422 km) and varied coastline. There are four seas to choose to fish in; The English Channel in the south, The North Sea to the East, and the Irish and Celtic Seas to the West. In these seas of England, you have a diverse list of fish species you can target depending on your mood and what you like to fish for. 
The seas are rich with fish, and while most locals will have lovely memories of a simple mackerel fishing trip from their youth, there is much more to offer. 
Here are the top saltwater species to target in England: 
Sea Bass 
Pollock 
Tope 
Blue shark
Plaice 
Cod 
Turbot 
Rays
Where To Go Saltwater Fishing In England
Knowing where to go fishing in England is 90% of the battle when trying to find good fishing in this country. If you do a quick online search, you'll be bewildered by the multiple options, and it's extremely hard to know if the area is good. 
That's where I come in. All the places listed below are spots I have fished regularly, which are excellent for the particular species they hold. 
Southwest Coast 
The southwest coast of England stretches from Dorset to Devon and down to Cornwall, and it holds some of the best sea fishing you're likely to find in England. Almost every town along the coast has a harbour full of boats waiting to take you to wrecks and ledges full of pollock, bass, plaice, and rays. 
You can also fish directly off the sandy beach or from the rocks by casting out a bottom bait or two and waiting for a bite. 
Newquay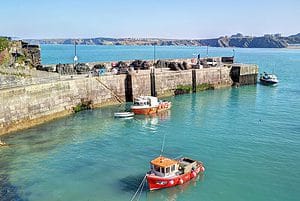 The location, called the Fly Cellars, is a platform that provides good summer fishing for mackerel caught using spinners, feathers, and daylights.  Various other species, such as pouting, Dover sole, and gurnards, are also caught during summer. Codling (juvenile cod), whiting, and various flatfish are often caught during the early winter months, and dogfish are always present. 
The area around Watergate Bay always finds sea anglers fishing for a reasonable size bass, especially when the tides are strong. As well as various ray species to long casts
Salt cove is the key area for a chance of catching bass. Near the end of Pentire headland, it has some of the best bass fishing in the area. For the best area, head for the north end of Crantock on the headland. 
Padstow Harbour, Cornwall
Padstow, in the most southerly part of England, is a well-known fishing area for sea anglers. This stunning fishing port on the Cornish coast offers angling from the shore, offshore from boats, or even in the River Camel estuary.
Most fish in this area are whitefish, including cod, pouting, and whiting. Also in abundance are flatfish (such as dabs, plaice, and sole), which can be found regularly fishing from the beaches. Many gurnards, mackerel and bass can be found in the harbour and rocky areas. 
The best areas to target are on the harbour's west side, around St. Saviour's Point, the rocks by St. George's Cove, and near the cliffs around the coastguard houses at Stepper Point.
Dungeness Beach, Kent
When I first fished at Dungeness more than 40 years ago, it was the place to go for cod – there was nowhere better in England! One of its dominant features is the nuclear power station, warmer water coming from the station is a magnet for fish, and this area called the "patch" or "boil" is a well-known hotspot. Over the years, Dungeness has remained one of the most popular beach winter fishing spots.
The beach is located at Romney Marsh near Lydd, Kent. Dungeness is a sloping stony beach located on the point of land in the southeast of England. Fishing from the beach is relatively easy as there are very few snags to catch your gear; however, you will need to use a sturdy tripod to support your rods.
The deepwater holds silver eels, lesser-spotted dogfish, sole, and bass in the summer months. In the winter is when the cod arrive in numbers. The best baits to use have always been freshly dug black lugworms as top hook bait, or squid in strip form or whole will entice the cod to bite.
The whole length of the coastline of Dungeness produces great fish for sea angling. Many anglers will head for the area near the lighthouses, where cod always seem to show up in better numbers.
You can also charter a boat out of the Dungeness area. To learn more about this and book your trip, check out Dungeness charter fishing; they welcome beginners and seasoned anglers and have a choice of three charter boats for fishing throughout the year.
When To Go Fishing In England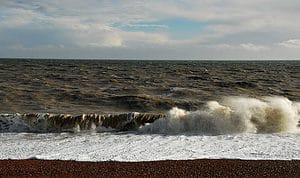 Summertime is always the prime time for the whitefish, bass, rays, flounders, or mackerel.
Wintertime will always be the most productive time if you're after big cod. Unfortunately, this also can be a dreary, wet, and cold time in England, and unless you're a die-hard cod angler, it's not for everyone!
The best time to go fishing in England is between the months of April and October, and the seas are a lot calmer to fish on too. But this restricts the opportunity of catching a decent-sized cod.
In summary, the following general guidelines will help you identify the best season to catch what specific fish.  
Spring
Certain species will return to the UK waters after the winter months. Plaice, mackerel, sprats, sand eels, and garfish are the common returnees. On the other hand, cod start to move away and head for the colder Scandinavian waters.
Summer
With the seawater becoming warmer, species such as the sprat, mackerel, pollock, turbot, plaice, and garfish will be in the shallow waters. Sharks, tope, conger eels, and other rarer fish, such as sea bream, turbot, and triggerfish, can be caught in warmer southwestern England. Bass are the main summer fish and will be the target fish for many sea anglers.
Autumn
Autumn is the most common time for sea anglers, a wide range of fish species are in almost all waters around England.
Fish that prefer the warmer water, such as bass, rays, pollock, mackerel, conger eels, and wrasse, start to move away from England to warmer waters. However, the winter species move in, such as cod, pollack (particularly on the northern coasts of England), whiting, dab, and flounder.
Winter
Winter is the best time for cod fishing. The last bass may still be around, but other species, such as whiting, flatfish, flounder, and dabs, can also be caught. The months of January and February are the slow season; only in April onwards, as the water warms slightly, will the fish return in better numbers.
Tip: Whilst plaice are flatfish, they will leave the UK waters before the winter months arrive in September/October. 
Best Ways Of Catching Fish In England 
When it comes to sea fishing in England, you can be trolling, jigging on wrecks, casting lures, or using live bait or dead bait. 
Saltwater Fishing From The Shore 
The most prominent fishing times are from mid-tide up to high and then a few hours back down again. Tides play a critical part in shore fishing; as an angler, to have the best chances of catching sea fish, you must know in detail what time of the day, the type of tide, and how high the tides are.
Whilst not always true, longer casts typically find the larger fish, especially bass and rays.
Fishing from the rocks can catch various fish such as wrasse, bass, and pollock. Spinning is the best tactic for all the pools and rocky areas.
The harbour fishing varies from each location. Generally, good size mullet can be caught using float fishing tactics along with flounders when fishing on the bottom of more sandy areas. Piers can also be a great place to fish from, and these breakwaters can produce mackerel, garfish, and pollock using float-fished baits in the summer; lures are also very effective.
Worm baits are the most likely to catch most species from the shore. Ragworm and lugworm are naturally available on beaches, or you can buy them from the local tackle shop in the seaside towns.
Secondly, fish baits, such as herring, sprats, and mackerel, can be used whole, in chunks, or cut into slivers. When using fish, try to match the bait size to the fish you expect to catch for the best success. Fresh fish as bait bought from the supermarket is usually cheaper than the tackle shop and in plentiful supply.
Other baits, such as squid and crabs, are great alternatives for most fishing. 
Saltwater Fishing From A Boat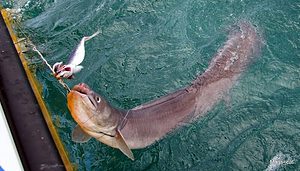 Fishing from boats can be a little more difficult to assess. I strongly recommend asking the charter skipper about the best methods and baits for the area. The boat skipper's vast knowledge of the sea where he fishes every day is invaluable. This information will save time and be more rewarding.
Multiple variables can impact catches from boats – time of the year, species, methods, baits, and the sea bottom (over sand, rocks, or wrecks) can determine the best methods.   
Where To Book Your Sea Fishing Charter Trip In England 
For an adventure on the sea in Southwest England, book a fishing trip with Our Joe-L, one of the best charter boats on the coast. 
If you are unsure where you would like to go charter fishing around the English coasts, you can check out this extremely valuable site at charter boats UK. They are a well-renowned resource for the best charter boat options around the united kingdom, including the locations I have recommended above in this article.
England's Fishing Regulations 
You don't need a license to fish in the sea in England; this includes harbours and piers.
However, fishing estuaries and out-of-tidal waters can sometimes require a fishing licence. If you are unsure, ask at the local tackle shop in the area where you plan to fish. Even if you are using sea fishing gear for saltwater species, it can be illegal.
Beached Out 
I hope you found this article useful and gave a little more insight on how to plan your saltwater fishing trips to England. 
With so much coastline, England has a lot of fishing to offer everyone all year round.
If you are a coarse angler, check out my freshwater fishing guide to England, which outlines the best rivers and lakes for catching trout, carp, and many more species.
Latest posts by Steve Fitzjohn
(see all)