Disclosure: Some posts contain affiliate links, which earn us a commission if you make a purchase through them. Positive Fishing © participates in various affiliate networks including the Amazon Services LLC Associates Program.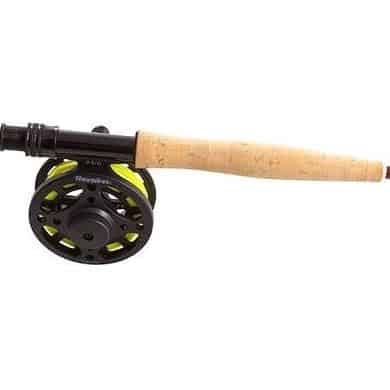 Snowbee Classic Fly Rod Review: Best Ever For Beginners?
Our Verdict
One of the best beginner fly rods on the market today. Snowbee classic meets all the requirements and performance at an affordable price for the new fly fisherman or as a backup rod.
The Good
Casting ability is good at most lengths
Absolute great pricing point for new fly anglers
Good warranty coverage
Lightweight and nice handling
The Not So Good
Design is not perfect but for the price its expected
Being able to find an affordable fly rod that has decent quality can be a challenge. Fly fishing companies focus much of their attention and efforts on their high-quality equipment and not as much on level rods.
However, a quality entry-level rod is likely going to lead to more people being willing to purchase higher-level equipment. Snowbee, a European fly fishing company, has taken this approach. The Classic Series is not only extremely affordable but also very high quality. 
In this article, I will cover: 
Snowbee Classic Features

Size Options
Build Quality
Action
Presentation
Warranty
Snowbee Classic Casting Accuracy

Short Distance Casting Accuracy
Long Distance Casting Accuracy
Snowbee Classic – Is It Worth Buying?
Snowbee Classic Features
For a company that's more well-known for its wader range, Snowbee is starting to make some noise with its rods, reels, and even its fly line. 
They've taken a unique approach with their design and fully considered the opinions of anglers who spend many hours on the water. Getting feedback from anglers as part of the design phase has been a critical factor in the success of these rods. 
Size Options
When you're purchasing the Snowbee classic, you have a few different size options. You have options from a 6ft 2/3 weight to a 10ft 7/8 weight. If you need a more unique length or weight, you'll have it. For example, the Classic even has a 10' 4/5 weight rod for those looking to nymph in larger water.
Snowbee combines the rods into two separate weights to make your line choice easier. It's something that more companies should strive to do. For a more budget option, the more versatility you have, the better.
Build Quality 

The rod is made of high-modulus, lightweight graphite. The cork handle combined with the aluminum reel fitting makes the lower portion of the rod feel comfortable. You'll feel like you're fully in control, but still certain that you'll have more than enough power. 
The lined stripping rings and oversized tip rings create a smooth experience. You'll find that nothing gets hung up in your guides. It doesn't matter what size of rod you choose, you'll be confident in the rod's ability. 
The color of the rod is a deep hazel brown! You won't find this color on many rods on the market these days. Black, grey, and green are the primary colors, so a deep maroon is a breath of fresh air in an otherwise dull aesthetic. With the light cork, and deep red and gold accents, you'll turn heads when you're using the Classic. 
Action 
The classic is a mid-fast action rod. These are the ideal action for beginner anglers. The classic rod is sensitive but has plenty of power for you to make casts and land powerful fish. 
These rods are a bit more flexible than fast-action rods. You'll find that they have some more bend and don't feel nearly as stiff. The more bend there is, the more forgiveness you'll find. Feel free to cast dries, nymphs, and streamers with a mid-action rod. 
It's not going to be perfect at any type of fly fishing, but it's competitive in all of them. If this is your only rod, it's a great option.
Presentation
The presentation ability of a fly rod is often left up to the angler. Even a great angler can make a poor fly rod perform well. However, a poor fly angler can't make a great rod perform well. With the Classic fly rod, you would assume that it's not able to present flies very well due to the low price. This isn't the case! 
While the rod is a bit lighter (as most entry-level rods are) than many other high-end rods, it can still give a soft presentation for your flies. It's not extremely delicate, but you can work your way around a tight mountain stream without any worry. It'll take some time to get the feel of things, but you'll be pleasantly surprised overall with how it performs. 
Warranty
The complete range of Snowbee rods is protected by their lifetime warranty. If the rod ever fails due to manufacturing errors, you'll be required to provide a $40 handling and postage fee with the rod and they'll replace the rod. It'll either be the same rod or one of equal value when you purchased it. 
Snowbee Classic Casting Accuracy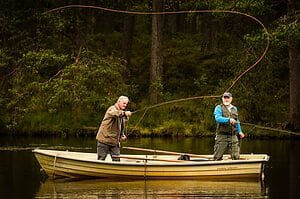 The Classic can perform quite well in casting short distances below 40ft, given that it is an entry-level fly rod its all-around casting accuracy and distance are very commendable.
Short Distance Casting Accuracy 
In many entry-level fly rods, you'll find that the finesse casts aren't easy. The casts can be somewhat clunky, and that is the truth with the Classic. You'll have to take time to learn this rod before the short casts feel smooth. You'll eventually find that balance, but give it some time. 
Casts between 15-35 feet feel great with this rod! It's smooth, easy to do and that's right in the rod's sweet spot. If you need the shorter casts, take time to practice on land or in a local pond where the stakes aren't too high. You want to be able to hit your spots on those days when the fish are active and opportunities are plenty. 
Long Distance Casting Accuracy 
While it is only a moderate-action rod, you'll be surprised at the power you can generate with the Snowbee Classic. With the right line, you can make 50 or 60-foot casts with the 5/6-weight option. It'll require more work than the Snowbee Diamond series would, but it's still absolutely possible. 
If you know you're going to fish primarily in small to medium water, then this rod will be right at home. While the 7/8 weight is beefy, you won't be able to fish in large open water and be okay. A larger river targeting Steelhead or Salmon is about the max this rod can go! 
Overall, however, you can do just about anything you would want to do with this rod. It's great for a backup rod or as the first rod for a beginner. 
Snowbee Classic – Is It Worth Buying?
If you're needing a rod that can hold its own in almost all situations, then go for the Classic. It truly is the ideal option for someone new to the sport or looking for a more affordable backup rod. It's only going to cost you around $160 for the rod and rod tube. Yes, other companies are selling entire rod and reel packages for $160, but the rods aren't as high quality as the Classic. 
Snowbee is a smaller fly fishing company, so they understand the importance of creating quality products. They don't have the luxury of getting away with mass-producing rods that aren't going to work. You can tell that they've taken their time with this rod even though it's affordable. 
You're in good hands if you put your faith in Snowbee. To prove this, Snowbee backs the Classic series with its lifetime warranty! It's not easy to find a company that's willing to back their entry-level rods with this long of a warranty! 
Confidence in a fly rod isn't always easy to find. We live in a world of mass-produced materials so it can cause worry if you aren't paying hundreds or thousands of dollars for a company's top product. Again, Snowbee backs its products, which is reassuring. 
Final Thoughts
Take this rod to your local pond, lake, or river and see what it can do. You'll be able to fight those large fish and cast your way around small streams.
The Classic Series will be your good friend after a while. Its reliability provides you with a sense of comfort. This is an affordable, good-performing fly rod for any new fly fisherman – a great first rod!
If you can afford to spend a little more on a fly rod, check out my review on the Snowbee Diamond rod series here!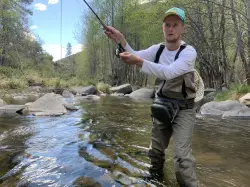 Latest posts by Daniel Mooers
(see all)