Disclosure: Some posts contain affiliate links, which earn us a commission if you make a purchase through them. Positive Fishing © participates in various affiliate networks including the Amazon Services LLC Associates Program.


Saltwater fly fishing is very different from freshwater fly fishing. The species you're going after are bigger and faster, the rods are heavier, and the casting distances required are longer and in tougher conditions. 
One of the most important parts of your saltwater fly fishing gear is a good saltwater fly line. 
When you fish with the best saltwater fly line around, your casting distance and accuracy go up, punching into the wind is easier, and your chances of catching that dream fish increase. 
Here are My Best Picks For Saltwater Fly Lines 
Scientific Anglers Grand Slam Amplitude Saltwater Fly Line – My Most Versatile Pick!
Rio Elite Flats Pro Saltwater Fly Line – My Best Overall Pick!
Rio Elite Tarpon Saltwater Fly Line – My Best Big Fish Pick!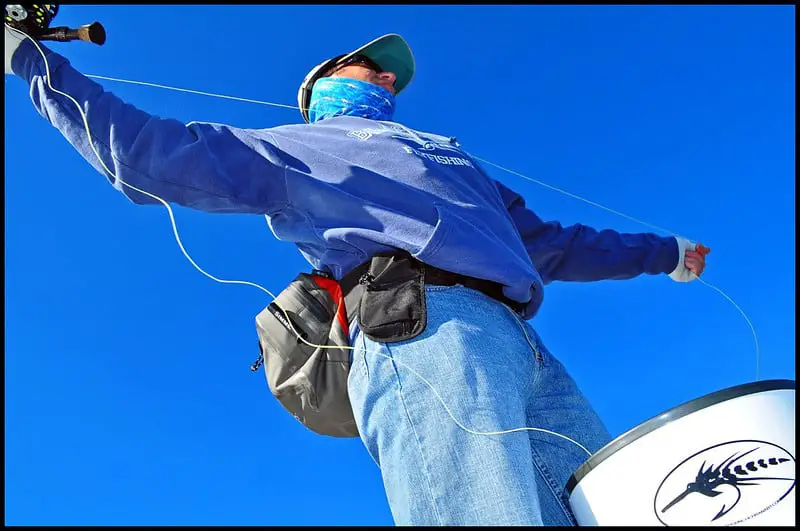 Being a professional flats guide for many years, I can vouch personally for all these inshore saltwater fly line choices. So, join me as we run through the best saltwater fly lines on the market so you can make sure you're using the right one for the job. 
Scientific Anglers Grand Slam Amplitude Saltwater Fly Line – My Most Versatile Pick!
The Scientific Anglers Grand Slam Amplitude Saltwater Fly Line is one of the best saltwater fly lines on the market today. It features all the design elements and durability to help anglers cast in tricky conditions, hook spooky fish, and land the big ones. 
This saltwater fly line features two special textured coatings. The tip is made with a floating texture that provides maximum floatation which is very helpful when presenting flies on shallow water flats when bones or permits are tailing. 
The running line and shooting head are coated with a shooting texture and AST slickness which delivers almost zero friction as the line runs through your rod's guides. This translates to extra casting distances and quick shooting. 
This saltwater fly line is also made a little heavier than others which allows you to load your rod with minimal backcasts. This means you can make long shots quickly and pick up and deliver flies to those fish that appeared out of nowhere. 
The Scientific Anglers Grand Slam Amplitude Saltwater Fly Line is tri-colored which shows you the tip, shooting head, and the running line. This allows you to know exactly where to start your cast. 
There is only one flaw to this fly line – it's a little noisy as it runs through the guides, which is not something anyone needs to worry about. Not only is it my most versatile pick, but it's also the best fly line for casting as well! 
Specs
Type: Floating 
Taper: 6-12wt 
Weight: Weight Forward 
Length:  90 feet 
Color: Pale Yellow/Sand/Horizon
Pros
Features a special maximum floatation textured tip 
Includes a low friction shooting texture for longer casts 
Comes with a high pound test core for bigger species like GTs
Provides excellent control for presenting flies to spooky fish 
Over weighted to load rods quickly for quick shots 
Turns over big flies easily and punches into the wind 
Designed to survive warm water & tropical conditions 
Doesn't have much memory 
Cons
It's a little noisy to cast with 
The fly line is pretty expensive 
Rio Elite Flats Pro Saltwater Fly Line – My Best Overall Pick!
The ​​Rio Elite Flats Pro Saltwater Fly Line is my favorite saltwater fly line to fish with and the best saltwater fly line on the market in my opinion. I have fished with Rio's saltwater lines for the last ten years and this one is as good as it gets, so far. 

The first thing I love about this fly line is the tri-color system as it makes starting your cast easier as you know exactly where the front taper begins. It also helps you understand your casting distance, so when your guide says permit at 50 feet, the line shows you the distance too. 
The Rio Elite Flats Pro Saltwater Fly Line features Rio's low-stretch direct core and is 30% less stretchy than other lines on the market. This comes in very handy when strip-setting saltwater fish with hard mouths as you can really drive the hook in there. You can also put a lot of pressure on a fish with this core too. 
This Rio fly line is coated with Rio's SlickCast coating which is designed to do two things – provide incredible durability and zero friction when the line slides through your rod's guides. This combined with the line's taper allows you to fire 90-foot casts into the wind, make short casts accurately to a permit that reappears, and everything else you need on the flats. 
This line also comes with low memory, and it is available with a clear stealth tip for delivering flies to the spookiest flats critters. 
Specs
Type: Floating 
Taper: Weight Forward 
Weight: 6-12 wt 
Length:  90ft 
Color: Aqua/Orange/Sand
Pros 
Tri-color system shows you each line section 
Designed for all saltwater species and comes in every weight needed 
Comes with a low-stretch core for better hook sets 
Low stretch also provides excellent lifting power 
SlickCast coating provides zero friction and adds durability 
Made with an ideal front taper for flats casing 
Long, short, quick, accurate casts are easy 
Handles tropical conditions very well 
Low memory reduces tangles  
Also available with a clear stealth tip 
Cons
Rio Elite Tarpon Saltwater Fly Line – My Best Big Fish Pick!
The Rio Elite Tarpon Saltwater Fly Fishing Line is specifically designed for going after the bigger species that you might run into on the flats, such as tarpon and GTs. It's not just for tarpon, it is great for permit, bonefish, and all fish in the larger sizes.
When you're on the hunt for these kinds of species, you don't get many shots at them, sometimes just one in a day and you need to make them count. 
This saltwater fly line is made with a powerful front taper and a long back taper which come together to make it a very versatile casting line. The powerful front taper lets you turn over large flies into the wind while the long back taper makes picking up your first cast and recasting it to a moving fish at distance about as easy as it can be. 
This kind of casting performance means that you can get every opportunity to catch one of these species, even at very long distances. 
Like other Rio Elite Saltwater Fly Lines, this tarpon line comes with Rio's low stretch core which makes driving hooks into hard fish mouths as easy as possible. It also means you can apply as much pressure as possible when trying to lift and get a 100lb+ tarpon to hand. 
This saltwater fly line also comes with Rio's SlickCast coating meaning it has almost no friction for better casting distances and it's super durable in warm water and salty tropical environments. 
These Rio saltwater fly lines come in weights of 9wt to 12wt which means you can use them for all saltwater species from bonefish to stripers, reds, Giant Trevally, tarpon, and even sailfish.
Specs
Type: Floating 
Taper: Weight forward
Weight: 9-12wt
Length: 100 ft
Color: Tricolor 
Pros
Low stretch core for driving hooks into hard mouths of tarpon 
The lower stretch also helps you lift large fish
Includes Rio's SlickCast coating for low friction and high durability 
Triple colored assists with getting your loading and casting distance right 
The core is a heavy pound test for fighting big tarpon 
Built with the perfect taper to turn over big flies 
Punches into the wind with ease 
Comes with a long back taper for quick 2nd shot casts 
Made for quick, accurate, long, and short casts 
Cons
A little expensive 
Quite a heavy front taper for smaller flies 
What type of fly lines are best for saltwater fishing?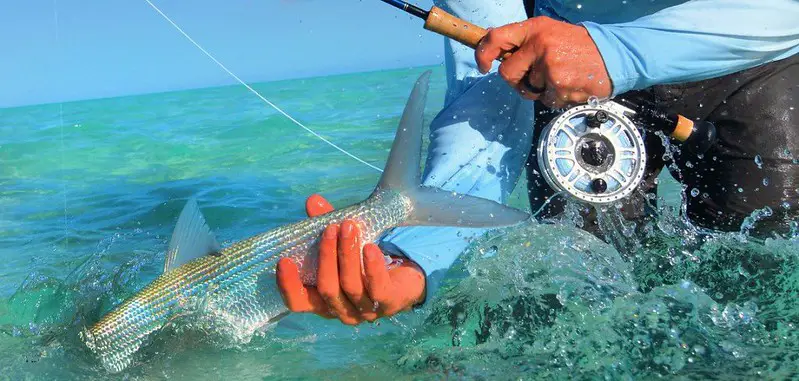 Saltwater Floating Line
When you're saltwater fly fishing on the flats, 90% of the time you'll be in the water from 1 to 4 feet which means the line you'll use most is a floating line. Having a good floating line that stays high on the water is key to delivering flies on the bottom for permit, bones, and reds to pick up. 
It's also the perfect line to deliver big flies on the surface for tarpon, GTs, and sailfish when you're in deeper water. 
Saltwater Sinking Line
Sinking lines are very useful in particular situations such as trying to get your flies deep when going after schooling stripers.
Saltwater Intermediate Line
Intermediate fly lines are also useful in saltwater especially when targeting stripers, permit, tarpon, and snook in deeper water. 
They will help your fly sit deeper during the retrieve which allows it to swim naturally. It's also a good idea to have an intermediate with a clear tip for a more stealthy presentation. 
Which lines should you own? 
Being ready for anything is the best way to be prepared for what the saltwater world might throw at you. I would recommend having a floating line for every saltwater fly rod you have along with at least one intermediate, one sink tip, and one sinking line for your 10 weight and/or your 12 weight. 
By having this range of fly lines with you, no matter how the fish are behaving, you'll be able to deliver your flies where they need to be. 
What Is The Best Saltwater Reel For Saltwater fly lines?
Without a doubt, the best reel to use with these lines is the Abel SDS Ported Saltwater fly reel. You can read my full review on this awesome reel here!
Lining Out 
If you're in doubt about which saltwater fly line to go for then the Rio Elite Flats Pro Saltwater Fly Line is my recommendation. It has every feature you need on the flats including a powerful front taper, excellent floatation, low stretch core, and awesome casting performance for all situations. 
Thanks very much for reading my article, I hope you found it useful and have found the right saltwater fly line for you. Remember that your saltwater fly line is there to help you and make things easier, be sure to pick one that does precisely that. 
You can read more articles on all types of fishing lines and braid here! Including my best choices for saltwater leader and tippets here!

Latest posts by Jamie Melvin
(see all)