Disclosure: Some posts contain affiliate links, which earn us a commission if you make a purchase through them. Positive Fishing © participates in various affiliate networks including the Amazon Services LLC Associates Program.


When anglers are looking to stock up on fishing accessories, a wading staff is one that sometimes gets forgotten about, but it is a critical part of every fly angler's fishing gear and should always be considered an important safety accessory.
 If you spend time fishing moving water, wading safety is a priority. Wading staffs are a simple purchase that can make maneuvering rivers and streams far easier. 
Yes, they can feel a bit clunky to use at first, but a few trips to the river are going to prove their worth, and prevent serious accidents.
In this article, I will cover: 
Different Types of Wading Staff
How to Use a Staff when Casting and Catching
5 Best Wading Staff 

Best Overall: Orvis Sure Step 
Best Budget: Aventik Foldable Wading Staff 
Most Versatile: Simms Wading Staff
Folstaf Wading Staff
Hammers Collapsible Wading Staff

Wading Staff FAQ
Different Types of Wading Staff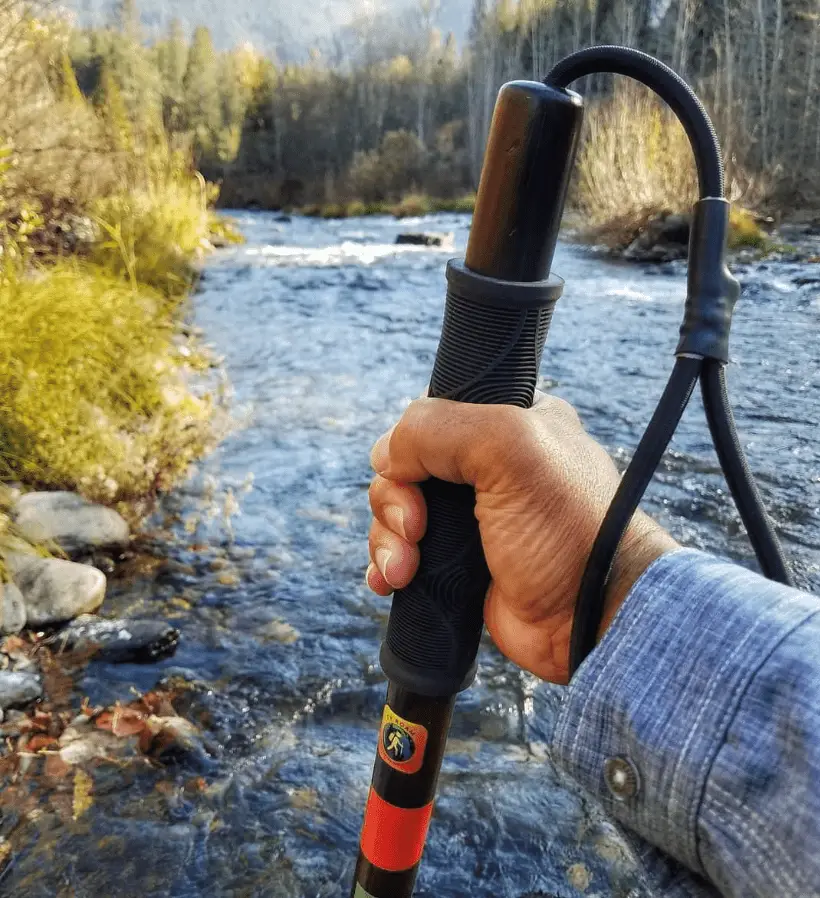 We have several options as fly anglers when it comes to choosing a wading staff that fits our needs and style.
Most people want a staff that's going to be portable enough to fit in the car and in a backpack on our way to the water. We already carry enough gear as fly anglers, but there are some things we can't sacrifice on the water! 
Let's go through the three main types of wading staff in detail.
Folding Staff
A foldable fishing staff can be collapsed to around 15 inches long. The beauty of these staffs is that they don't shrink or lose any strength because it has to collapse into themselves. Yes, they're a bit wider, but they won't feel much wider than a rod tube. Slide it into the back of your vest or backpack and you'll easily be able to transport it. 
Collapsing Staff
A fully collapsible wading staff can get quite small and that's ideal for those needing to fit it into a small space. They're durable, but since they do have to collapse onto themselves, some of the strength of the staff can get lost! 
If you aren't going to be wading through any extremely powerful water, then you'll find that a collapsible staff will be your best option. 
Fixed Length Staff
A fixed-length staff is going to be the most durable! There are no moving parts that could fail or weaken over time. If you're a close distance to the water and know you're going to be moving in and out of bodies of water with fast currents and slippery bottoms, then a fixed-length staff is ideal. 
These days, the fixed-length staffs are quite light and you won't feel as if you're lugging around anything too heavy! As long as you don't mind the lack of portability, you'll make up for it with the extra strength it provides. 
How To Use A Staff When Casting And Catching 
When you're fishing, you obviously don't have any free hands to carry a wading staff. As a result, you should be sure to attach it to your waist to make sure it doesn't float away when you drop it. 
When it comes time to cast or fight a fish, toss your staff downstream so it doesn't get in your way as you're maneuvering in the water trying to land a fish. By putting it upstream, it could get tangled in your line or trip you up as you're walking. Drop it downstream and worry about landing the fish or making a perfect cast. 
Check out my in-depth article on How to Fly Fish Fast Moving Rivers Here! It's full of tips and know-how on using the right gear, casting, and flies to use.
My Best Wading Staff Selection And Recommendations 
There are dozens of wading staff on the market for anglers. Choosing the best option for you isn't easy, but my following personal recommendations should give you a great idea of what would work great for you. 
Orvis Sure Step – My Best Overall Pick!
Orvis has more than earned a positive reputation in the world of fly fishing. It turns out that their accessories are as quality as their rods! The Sure Step is a well-thought-out design and that's important for an accessory as vital as this. Orvis made sure the aluminum was lightweight and easy to assemble. Can't go wrong with this option! 
This staff has many good positives including the excellent high-quality grip and it doesn't feel as if it will slip, it can be assembled with one hand and it has two length options: 51 inches and 59 inches. The Sure Step from Orvis also comes with a sheath and elastic belt to attach to your belt loop. 
The staff is in the mid-range pricing bracket, but with a great design with built-in quality, it's an excellent choice and my overall wading staff pick! 
Simms Wading Staff – My Most Versatile Pick!
The Simms Wading staff is made of aluminum and can fold into four pieces. It only weighs 14 ounces and has a TPR contoured handle that makes it easy to grip as you're moving throughout the water. 
Some of the plus sides of this staff include a locking detent button, the length can be customized between 51 and 56 inches and it stays together when stuck in the mud or between rocks. Many anglers complain that collapsible wading staffs can come apart when stuck in rocks or mud, this feature eliminates this potential. 
There are some features that anglers aren't overly fond of, as it does not come with an elastic band to attach to your waist It also does not come with a rubber tip for better grip on the bottom of the water. 
Aventik Foldable Wading Staff – My Best Value For Money Pick!
The Aventik Foldable Wading Staff is a great multipurpose staff for an affordable price. This aluminum staff breaks down into four sections and has a place to mount a GoPro camera! It can even double as a hiking pole once you leave the water. This pole is 55 inches when fully extended! 
Some of the best aspects of this staff are that it's a really affordable option, it folds down to around 12 inches, and comes with a pouch and elastic strap for your waist. An added safety feature is that it has a four-foot marker to show you may be getting a bit deep.
One of the only downsides of the staff is that it doesn't have an adjustable height! 
Folstaf – Classic F34 (Made In USA) 
If American-made is your priority, then Folstaf is the company to choose. Folstaf has been hand-making wading staffs in New York for more than 50 years!
They make an extremely high-quality wading staff and have a variety of different options of lengths and styles. It's not easy to find a company specifically dedicated to wading staffs, but Folstaf has committed to its vision and continues to produce superior high-quality products. 
You can choose three different lengths with this staff. The lengths range from 41 inches to 59 inches. The staff can fold up and unfold with one hand in an extremely efficient way! One of the best features of this staff is that it has a cork handle so if it does come unattached from its strap, you won't lose it! When folded, it'll fold down to around 10 inches.
The F34A is the 41″ length option, F34B is the 50″ length, and the F34C is the longest at 59″. All three lengths are available also with a camera mount grip option at the end of the cork handle.
Yes, this staff is at the high-end range but is a superb quality staff with a great warranty and a very reliable product. 
Hammers Collapsible Wading Staff
Hammers Collapsible Wading Staff is another affordable option. It's made of aluminum and is only 3/4 inch wide. It's not overly thick, so you're not going to feel as if you're lugging around a massive staff and you have no place to put it! Plus, it folds down to 12 inches long and has a nylon case that you can easily attach to your pack or your waders. 
When you're fishing and not using the staff, there's a carabineer with a nylon rope that you can hook onto your wading belt, so it doesn't float downriver. When you're ready to use it again, grab the rope and bring the staff back to you! Keep in mind, the leash attached to this wading staff is fairly long! Some anglers prefer to cut the line and retie it, so it doesn't float completely downstream and get tangled. 
When it's fully extended, the staff is just over 52 inches long! For less than half the price of the Orvis Sure Step staff, you're getting a wonderful product that's going to last you a long time. 
Wading Staff – Frequently Asked Questions 
Why Does Fast Current Require A Wading Staff?
If you're fishing fast or in stained water, you will need a staff. You never know what's under the surface and gaining an idea of what's ahead of you when you step has the potential to save your life. 
It's challenging to turn around in a current and a wading staff will help you keep your balance. 
It can detect laydowns, slick rocks, or drop-offs in the water. Some anglers may see it as unnecessary or even tacky, but it's more than worth it! Safety in the water cannot be emphasized enough when you're fishing. 
Make your casts, take your two steps downstream using the wading staff and then reset yourself as your fly gets into position. After a while, you won't even notice that you're using a wading staff. It will become second nature very quickly. 
Why Do I Need A Wading Staff?
A wading staff is an essential accessory when you are moving across rocky streams and rivers. These slippery boulders and uneven rocks can sometimes take us by surprise and the wading staff will not only indicate the river bottom terrain but also give additional support if you get caught unaware.
How Do I Carry My Wading Staff?
Folding wading staffs are best kept in a holster. You can attach the holster to your wading belt and when you require it, the spring-loaded action opens without any manual intervention.
How Do I Store My Wading Staff?
Most wading staffs have a wrist strap that can be attached to your wading belt. This ensures that it's always by your side and will not get lost. It's in an easy-to-retrieve position when you need to use it. 
What Is A Wading Stick?
A Wading stick is the same as a wading staff. By feeling your way over rocks and drop-offs in fast-moving shallow rivers the stick can prevent any trips or falls whilst fishing your favorite fishing spots.
Do I Need A Wading Staff Retractor?
Staff retractors are important and if the wading staff that you have does not include one then you will need to purchase a separate retractor. Make sure that you select a universal retractor as some staff are not always compatible.
Staffing Out
Safety in the water should be a top priority for anglers. Too many stories come out each year of anglers slipping, falling, and injuring themselves in the water. Don't ever feel as if you're above a wading staff! 
Research, test some out, and pick up a fly fishing wading staff for your next trip. You'll never be sorry! 
Check out my in-depth article on Wade fishing for beginners, which explains all the gear, tips, and safety when entering those fast river currents.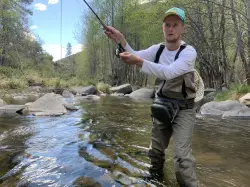 Latest posts by Daniel Mooers
(see all)