Disclosure: Some posts contain affiliate links, which earn us a commission if you make a purchase through them. Positive Fishing © participates in various affiliate networks including the Amazon Services LLC Associates Program.


When it comes to saltwater fishing, one of the most important parts of your rig is your leader and tippet, particularly if you're fly fishing on the flats.
Saltwater flats species are a tad smarter than their freshwater counterparts and have better eyesight, therefore need fooling. 
Having the best saltwater leaders and tippets with you can maximize your chances of catching some of the coolest fish in the world – like Permit, GTs, and Tarpon.
But what makes a good saltwater leader and tippet? And which ones are good for what purpose? 
My 5 Best Saltwater Leaders And Tippets
TroutHunter Big Game Fluorocarbon Leader & Tippet – My Best Permit Saltwater Leader and Tippet Pick!
RIO Tapered Tarpon Fc Shock Leader – My Best Tarpon Saltwater Leader And Tippet Pick!
Rio Fluoroflex Saltwater Tippet – My Best All-round Saltwater Tippet Pick!
Rio Fly Powerflex Wire Bite Tippet – My Best Tippet For Sharp Tooth Critters!
Maxima Fluorocarbon Leader – My Best For GTs & Offshore Pick!
Join me as we dive deep into all the top saltwater leaders and tippets I've used in the Bahamas, Seychelles, and all the best flats fishing locations worldwide. 
TroutHunter Big Game Fluorocarbon Leader & Tippet – My Best Permit Saltwater Leader & Tippet Pick!
TroutHunter Big Game Fluorocarbon Leader & Tippet is a favorite for all the guides in Seychelles, and since you can't get it there, it's rationed and only used for catching permits. That says something big; if it weren't for an Irishman, it would never have arrived on the island. 
TroutHunter has an incredible strength-to-diameter ratio compared to other saltwater leaders and tippets. Thus it's much thinner while retaining the same strength with a series of advantages. 
By being thinner, TroutHunter sinks quickly as it has less air drag, and it's much harder for fish to see. Now, fluorocarbon is meant to be invisible to fish as it has the same refractive index as water, but cast at a permit and then tell me that – the thinner, the better is what we say. 
Not only is this line about as invisible as a line can be, but it's also durable and tough. It has amazing tensile strength, often tests higher than its actual breaking strain, and handles abrasion very well. 
You can buy TroutHunter in a range of pound tests from 12.8lb to 45.2lb – an ideal range for saltwater. The spools come with 50 meters of leader & tippet on them, and they're affordable too, so this line is excellent value. 
Pros
Almost invisible, so spooking critters don't see it 
A tiny diameter reduces visibility even further 
Quick sink rate gets your fly down faster 
Good range of strengths for saltwater species 
Incredibly strong for its diameter 
Great abrasion resistance and knot strength 
Very affordable for the quality 
Cons
Specs 
Pound Test (s): 12.8 lbs
Colors: Clear 
Diameter: 0.01 inches 
Length On Spool: 50 meters 
RIO Tapered Tarpon Fc Shock Leader – My Best Tarpon Saltwater Leader & Tippet Pick!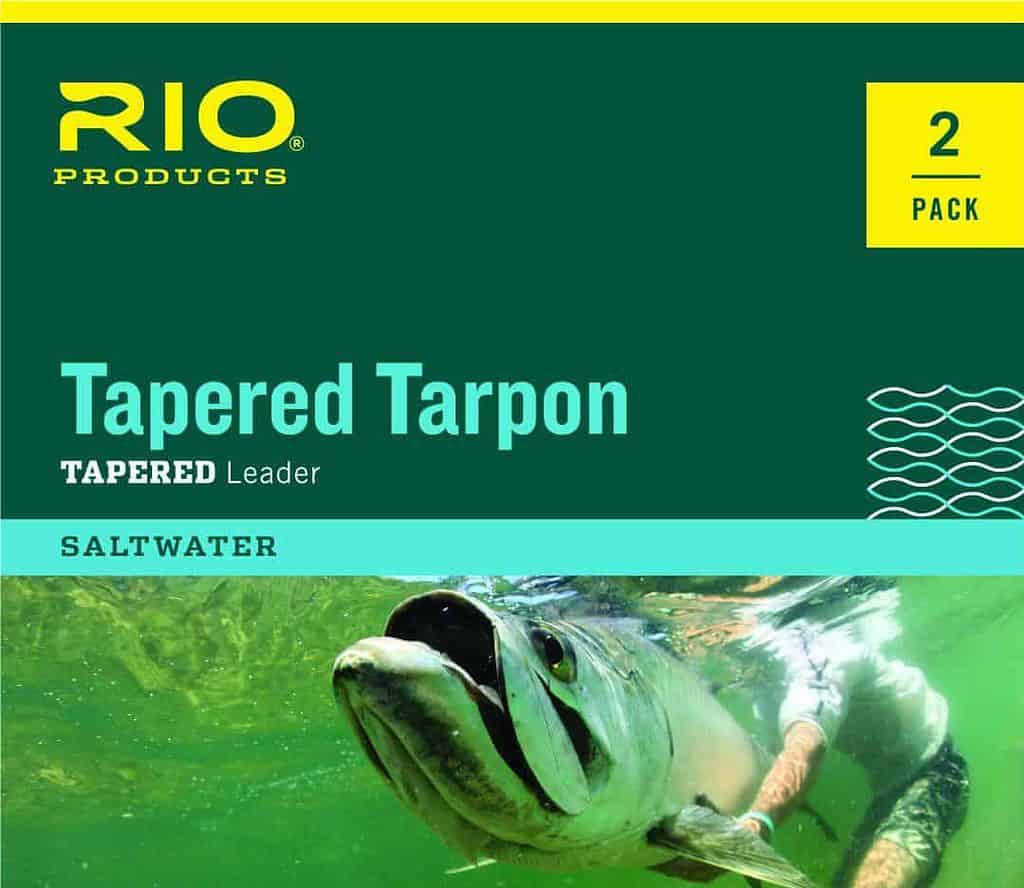 Rio Lines make some of the best fly lines and leaders on the planet, and I'm not just saying that because I'm on their guide program. Their output of products is consistently excellent, and their RIO Tapered Tarpon Fc Shock Leader is perfectly built for its purpose. 
The RIO Tapered Tarpon Fc Shock Leader is a ready-made leader and tippet, so anglers can quickly add it to their fly lines without making them yourself. They are also particularly useful because building a tarpon shock leader is a painful process! 
The pack has two 12-foot fluorocarbon leaders, the perfect length to present a fly to a spooky fish. The leaders are tapered to ensure they turn over big flies and feature a 10 ft of taper, and the final 2 ft is a shock tippet. 
The shock tippet ensures the leader can handle the big head shakes of tarpon and their jumps. I don't know if you have ever held onto a big tarpon, but it isn't easy, believe me!
Built from fluorocarbon, the leaders are almost invisible to tarpon, maximizing your chances of catching them. They also come with hand-tied reliable perfection loops at one end that make it easy to quickly add to your fly line. 
These leaders are designed to be exceptionally strong and abrasion resistant, and there isn't any other leader or tippet I'd use when going after big tarpon. 
Pros
Invisible in the water to fool spooky tarpon
Tapered to ensure your fly turns over nicely 
Built to handle the shock of jumping tarpon and their head shakes 
Hand-tied and super reliable 
It comes in a perfect length of 12 feet 
Offered in a range of breaking strains 
Reliable and pre-tied for easy changes 
Cons
More expensive than building your own leaders 
Specs 
Pound Test(s): 20/40 20/60 30/60 30/80 lb
Colors: Clear 
Diameter: NA
Length On Spool: 12 feet 
Rio Fluoroflex Saltwater Tippet – My Best All-Round Saltwater Tippet Pick! 
The Rio Fluoroflex Saltwater Tippet is my all-around favorite saltwater leader and tippet material to the point that you should buy every pound test you need and have it ready and waiting. 
This fluorocarbon is top quality and has incredibly low visibility in the water. I have seen it fool everything from bonefish to permit, GTs and sailfish. It's built to be strong and, when tested, breaks just above its pound test rating despite having a super thin diameter. 
The smaller diameter has less drag in the air and in the water allowing your fly or lure to sink quickly and for you to fish it with a better action. It's built tough, too, with great abrasion resistance, meaning you can fish it in areas with sharp rocks and coral without any worries. 
This line is quite stiff and not as flexible as others which directly translates to less stretch and being able to drive a hook into a hard mouth on a strip set a lot easier. The stiffer feel to the line doesn't make it hard to tie a knot, and it seats well and stays strong with this line. 
While the Rio fluoroflex is affordable, the 30-yard spools don't hold very much line, which means you run out frequently. 
Pros
It comes in a huge range of sizes 
Affordably priced for the quality 
Pretty much invisible in the water 
Works for all saltwater species without sharp teeth 
High abrasion resistance for rocky areas 
Excellent tensile strength 
Good knot strength 
Thin diameter 
Cons
Small spool size, more yards would be better 
Specs 
Pound Test(s): 8 – 100 lbs 
Colors: Clear 
Diameter: 0.229 mm (8 lb)
Length On Spool: 30 Yards 
Rio Fly Powerflex Wire Bite Tippet – My Best Tippet For Sharp Tooth Critters!
Rio Fly Powerflex Wire Bite Tippet is specifically made for catching toothy fish such as pike, barracuda, tigerfish, and wahoo. Now, you might be thinking – how do you add wire to a fluoro leader without a swivel?
The Rio Fly Powerflex is actually "knottable" wire meaning you can tie any knot you can tie with fluoro and mono with this wire bite tippet, and without it, you'll never land those big barracuda on the flats. 
Once you have tied the knot with this Powerflex wire tippet, it seats very nicely and holds well. The wire is coated in mono, which gives the tippet an excellent sink rate, as the mono's buoyancy balances out the wire's weight. 
You can buy this Wire Bite Tippet in 20, 30, and 40 lb tests, and it comes with just 15 feet on each spool, which you might think is small. But you only need 0.5 to 1 foot of it between your leader and the fly, so it'll work for at least 15 to 30 leaders. 
The Powerflex tippet is strong, can handle abrasion extremely well, and is, therefore, the best one to go with if you're looking to catch toothy fish.  
Pros
Knottable wire for adding to your leader 
Ideal for targeting toothy fish like barracuda 
Highly flexible despite being wire 
Mono-coated for better buoyancy 
Excellent strength and abrasion resistance 
Easy to tie knots with 
Good knot strength 
Cons
Specs 
Pound Test(s): 20, 30, 40  lbs 
Colors: Wire  
Diameter: 0.016 inches 
Length On Spool: 30 yards 
Maxima Fluorocarbon Leader – My Best For GTs & Offshore Pick!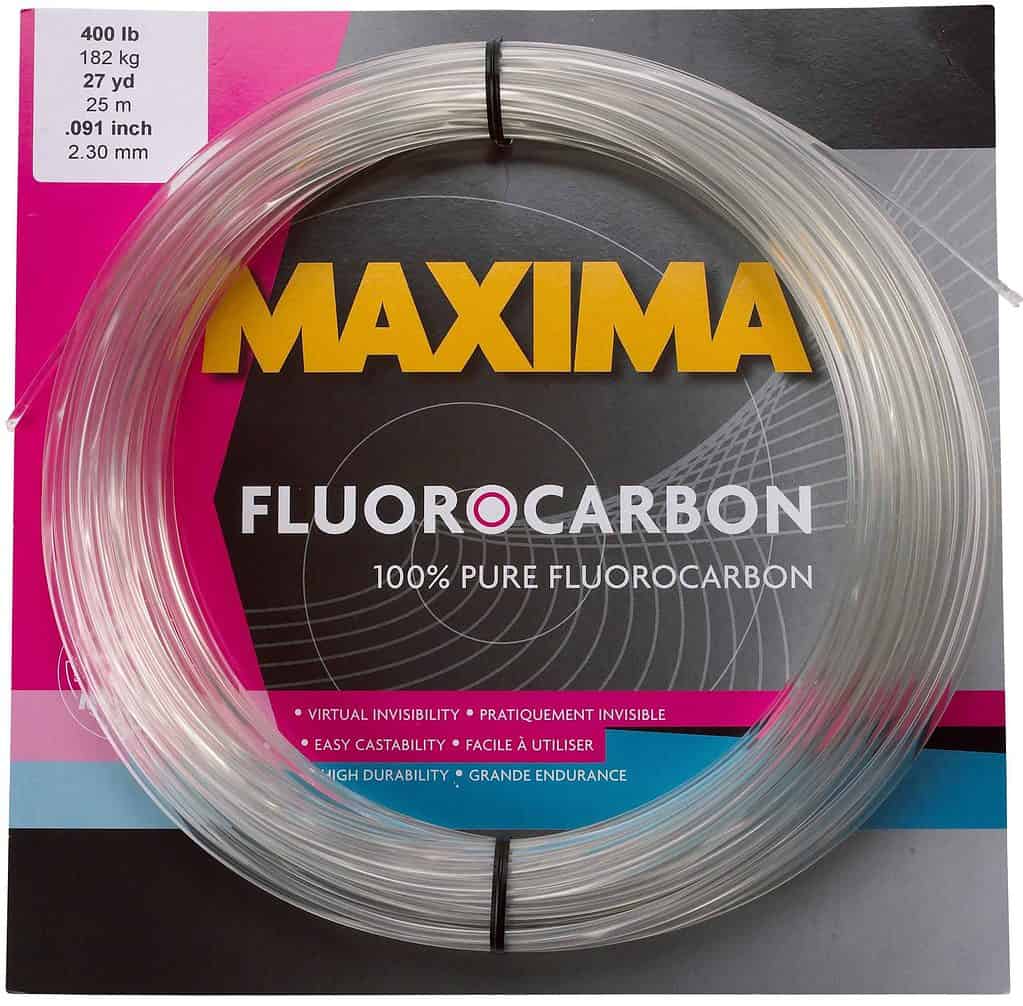 Maxima, oh Maxima, some of the strongest leaders and tippet for fresh and saltwater fishing. The Maxima fluorocarbon leader we will look at now is exclusively for the saltwater giants of the flats and offshore, like GTs and Marlin. 
This leader and tippet come in weights from 50 lbs to 400 lbs making it the ideal leader for big fish. The 100 lb leader is ideal for GTs and big tarpon, while the line class above this (260 lbs) is great for making leaders for conventional lures that catch big tuna and marlin. 
Maxima fluorocarbon leader is almost 100% invisible to fish in the water, and trust me; it does fool fish all the time. It is also incredibly strong with low stretch meaning you can punch hooks into the hard mouths of fish and really put a lot of pressure on giants in the fight. 
This line is no slouch, either, when it comes to both excellent knot strength and abrasion resistance. Knot's seat really well with excellent strength, and the line is thick enough to handle a nick or two. It also comes with a special coating that protects it from UV damage, meaning it lasts much longer. 
The one downside to this leader and tippet is that it comes in coils and not on a spool which makes it a bit of a pain to deal with, and it can tangle up quite easily. 
Pros
Incredibly strong for saltwater giants 
Great for everything from GTs on the fly to marlin on conventional 
Clear and invisible to fish 
Coated for UV protection 
Low stretch for better, stronger hook sets 
Affordable for the quality 
Excellent abrasion resistance and knot strength 
Cons
It comes in coils, not on a spool 
Specs 
Pound Test(s): 100 to 400 lbs 
Colors: Clear 
Diameter: NA
Length On Spool: 27 yards 
Key Factors When Buying Saltwater Leader & Tippet 
Mono vs. Fluoro
The first question you'll need to answer before shopping for saltwater leader & tippet is whether you want it to be mono or fluoro, so what are the differences? Well, there are three main important facts to remember:
Mono floats and fluoro sinks
Mono is more visible to fish than fluoro
Mono is stretchier than fluoro 
Do you want a line that floats, stretches, and fish can see, or a line that is stiff, invisible to fish, and sinks? I thought you'd go for the second one, fluorocarbon. 
But, you can build leaders using a mixture of mono and fluoro as this reduces their costs; since fluoro is more expensive than mono, ensure the fluoro is at the end. This is called building a tapered leader, and you should start with a larger, thicker mono at one end and slowly taper down to the fluorocarbon tippet. 
Visibility & Diameter 
The last thing anyone wants is for a fish to spook because it saw your leader, so using fluorocarbon and a small diameter is the best way to get around it. Picking a fluorocarbon line with a tiny diameter is the key to catching smart, spooky fish like a permit. 
But, it would be best if you were sure that the smaller diameter doesn't affect the strength of the line overall, so be sure to test them. 
Stretch 
Low stretch is a great attribute in saltwater as saltwater fish have hard mouths, and having a low stretch leader can drive that hook in with a strip set. Lower stretch also increases bite sensitivity, so you'll pick up on a lot more during your retrieve. 
Lining Out  
Leaders and tippets are a key part of your arsenal, and all the ones featured above are perfect for their intended purpose. 
Thanks very much for reading my article; I hope you enjoyed it and now know everything you need to know about saltwater leaders & tippets to go out and buy the best-performing options.

Latest posts by Jamie Melvin
(see all)