Disclosure: Some posts contain affiliate links, which earn us a commission if you make a purchase through them. Positive Fishing © participates in various affiliate networks including the Amazon Services LLC Associates Program.


Using forceps when fishing is an absolute must, especially when fishing for predators
Learn why you need forceps and how to use them correctly
Check out my best two choices on the market 
When I go out fishing, there is a mental checklist I always go through. It is easy to forget something that could be important, and nothing beats the frustration of not having something you know you need to use every time you go fishing. One of the easiest forgettable fishing accessories, forceps are certainly one of the most important for anglers to use for multiple tasks on the bank.
Forceps are available in several styles. In this article, I will explain how to use them and my two personal forceps recommendations.
My Top Two Fishing Forceps Choices 
Rapala Fishing Forceps – My Best Overall Pick!
Orvis Quickdraw Forceps – My Most Versatile Pick!
Which Fishing Forceps Are The Best To Buy?
I have changed a considerable amount of fishing forceps during my years of fishing. Some of them because they were not good, and some of them simply because I had lost them. If I had to pick the top-quality choices and use them every day, then Rapala and Orvis are, without a doubt, my choices.
Rapala Fishing Forceps – My Best Overall Pick!
Features:
Material: Stainless Steel
Length: 14 or 19 cm options
Grip: Firm grip
Handles: Soft-Grip locking handles
Thumbholes: Oversized
Additions: Built-In scissors
My all-time favourite forceps – are the Rapala stainless steel fishing forceps. They have an acceptable (although not cheap) price tag and are made by fishermen for fishermen. This means they are designed just right, and I always carry them on my fishing vest!
Oversized thumb holes make them easy to use even when wearing gloves, and soft-grip handles will prevent them from slipping away when hands are wet. Handles are easily locked to ensure a good grip on the hook, and there is also an adjustable lanyard you can use to secure the tool while you're unhooking fish.
There is a choice of 5.5″ or 7.5″ long; personally, I prefer the longer 7.5″(19cm) version, as it is easier to remove lures from toothy predators such as pike due to the extra reach without damaging the fish.
Rapala also has integrated handy scissors as part of the forceps. I find these an excellent addition for various small tasks without having additional fishing scissors in my tackle box. If you prefer to use separate scissors, check out my in-depth article on the best fishing scissors here!
Lastly, they also include a lanyard to keep them from getting lost. A perfect tool for any avid angler!
Orvis Quickdraw Forceps – My Most Versatile Pick!
Features:
Material: Stainless Steel
Length: 11 cm
Grip: Extra firm grip
Handles: Comfy grip locking handles
Thumbholes: Oversized thumb holes with carabiner
Additions: Built-In scissors and eye-clearing needle
Orvis has done a great job designing these forceps. From the first look, you can see there is a carabiner integrated into the thumb hole, a perfect carrying solution! Being a guy who tends to lose a lot of stuff not firmly attached to something, these forceps are probably one of the long-lasting fishing accessories I own!
The Orvis quickdraw forceps are incredibly tight and robust, enabling the angler to do a lot of different tasks other than unhooking a fish. Fly fishermen, for example, use them for crimping barbs on hooks! They also have neatly designed jaws that are great for removing small hooks, I love using them in ultra-light fishing scenarios. The cutting edge at the jaws is stronger than it looks and can cut fairly thick leaders without any problems.
The handles are comfy and slip-resistant, with the thumb holes more than big enough for gloves, and their small size makes them great for attaching to your fishing vest. There is also a handy eye-clearing needle, great for using when cleaning holes when fishing with ultra-light jig heads!
How To Remove A Hook From A Fishes Mouth
Forceps are an essential piece of fishing equipment for hook removal. This is especially important when you go lure fishing! It is impossible to predict how fish will attack your lure, and sometimes it will end up all the way inside the jaws of a fish, where it is impossible to do anything with your hand.
Hook removal can be a big problem if you are fishing with treble hook lures, as the hooks will end up deep and very close to sensitive gills. Trying to pull the lure out using force is the worst thing you can do – you will most definitely kill the fish! And putting your hand in is also a very bad decision; you can end up seriously injured if the fish (such as a pike) starts thrashing about.
The only way to safely remove your lure (or any hook) from a fish is by using forceps. And more importantly, you also need to know how to use them correctly!
How To Use Forceps Correctly?
Never try pulling the hook out by force! Forceps of sufficient length will allow you to remove the hook using an angle that will not damage the fish.
First, take a good look and understand where the hooks or lures are located and if they have penetrated any soft tissues around the mouth of the fish. Pay special attention when removing treble hooks and lures, as these are more difficult to remove safely; always avoid getting your hand too close to the hooks. Once you understand the hook positioning well, clamp it with forceps using the forceps locking feature. You need to push the hook in the opposite direction in which it had penetrated the fish! Do it carefully and do not rush; always remove one hook at a time.
If you are careful and have suitable forceps, any hook removal should be fast and easy!
Apart from removing all types and styles of fishing hooks, I also use forceps for various other tasks – squeezing a split shot on a leader, tightening knots, crimping barbs, or anything else that comes across my mind!
What Fish Can I Use Forceps On? 
All fish can be unhooked with Forceps. However, using forceps on very small fish is not practical. For small fish, a disgorger should be used. Quality forceps are invaluable when fishing for bass, carp, trout, pike, and all predator fish. My recommended two choices are perfect for all types of fish due to their versatility and reasonable price.
Final Thoughts
Forceps should be in every angler's tackle box. They are essential tools to have with you at all times and have multiple uses. 
The Rapala and Orvis quickdraw forceps are undoubtedly the best-quality picks available. My fishing experience using these over many years has been easier, more convenient, and far safer.
Make sure you check out my other articles on Predator Fishing and Essential Fishing Equipment For Pike Fishing: A Beginners Guide.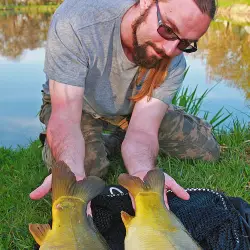 Latest posts by Denis Savretic
(see all)