Disclosure: Some posts contain affiliate links, which earn us a commission if you make a purchase through them. Positive Fishing © participates in various affiliate networks including the Amazon Services LLC Associates Program.


For fly anglers, maximizing time on the water is an absolute must. The weather and the water conditions are not always perfect, so fishermen need to ensure they are comfortable and able to fish in all scenarios. 
One of the main accessories a fly fisherman needs that are going to help you stay comfortable on even the worst days is your waders. Regardless of whether the water is freezing or the rain is pouring, waders are going to keep you comfortable and give you a chance to land a trophy fish. 
If you are not familiar with waders and need some help deciding the type you need. Please check out my article on Fly Fishing Waders: How To Choose The Best Type For You. This will give you a much better idea of understanding the right type of waders before you buy.
In this article, I will cover:
The Five Best Fly Fishing Waders

Orvis Men's Pro Wader (My Best Overall Pick!)
Redington Escape Zip Waders (My Most Versatile Pick!) 
Redington Crosswater Waders (My Best Value Pick!)
Orvis Clearwater Waders
Simms Flyweight Waders
Five Best Fly Fishing Waders
There are dozens of companies that make fly fishing waders, but depending on your budget, you'll find plenty of options that fit your needs. 
When you're purchasing your waders, however, it's smart to stick with reputable brands. Too many companies are making poor waders that don't fill all your needs. 
Orvis Pro Waders – My Best Overall Pick!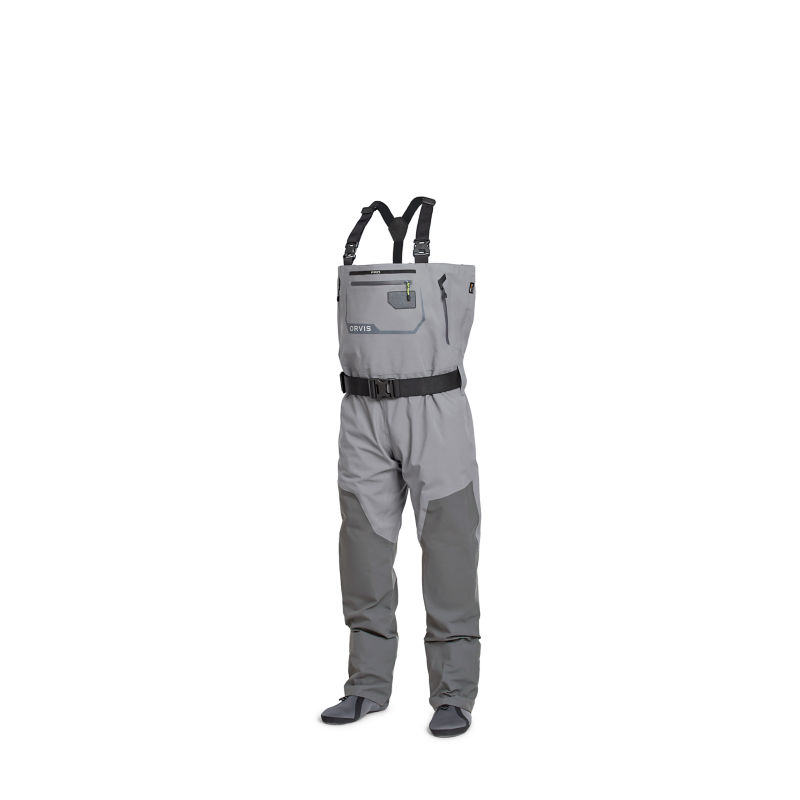 While Orvis is more well-known for its high-quality rods, their Pro Waders are phenomenal. These are stockingfoot waders so you will have to purchase your own set of wading boots.
These waders are made of a 4-layer Cordura in the upper area and a 5-layer Cordura fabric shell in the lower legs. Most companies make their waders with two or three layers. This is a major choice factor in my decision on choosing these Orvis Pro Waders as my top pick. 
These waders are extremely durable and you don't have to deal with any excessive seams that have the potential of ripping. You'll also have Kangaroo-style fleece handwarmer pockets and adjustable elastic suspenders to make your life much more comfortable. 
The accessories you have on these waders are also quite nice. The fly patches, knee guards, and gravel guards give you a more comfortable experience! You can even roll them down and still access all of your pockets on those really warm days. 
The Orvis Pro Waders come in 14 sizes for men and 14 different sizes for women also. The options for short and long lengths mean a great fit for the individual whatever the body size. 
Tip: If you're the fly fisherman that likes a zipper option you can also purchase the Orvis PRO Zipper Waders.
The biggest downside to these waders is that they're going to cost you quite a bit of money! These are in the top pricing range. However, with this investment, you'll also get a lifetime warranty. If your waders do ever fail, Orvis promises to replace them as long as it wasn't a mistake made by you. 
Purchasing wading boots that fit your individual shape is a major plus and you'll be ready to hit the water! You don't have to worry about your feet getting cold, either. The neoprene booties will keep you comfortable.
If you are out on the water every week it pays to invest in these Orvis Pro waders, I have owned and recommended these waders to everyone that I know in fly fishing circles for many years and they have never let me down!  
Redington Escape Zip Waders – My Most Versatile Pick!
The Escape Zip Waders from Redington are a great investment. Redington is well-known for the quality of its waders! Plus, their options are a bit more affordable than others you would find on the market. 
The Escape Zip waders have a 3-layer upper material and a 4-layer lower material that is both waterproof and breathable. You can take these out on a warm day and still find yourself feeling comfortable while hiking around.
You'll also receive the micro-fleece lined pockets and two exterior pockets that will store a fly box, snacks, and any other necessary goods you find yourself needing as you spend time on the water. 
The best feature of these waders is that the entire front chest has a large zipper on it. This large zipper is fully waterproof so you can get as deep as you would like! When you unzip these waders, you can easily roll them down on those really warm days.
Comfort is what's going to keep you on the water longer and Redington makes sure you are able to do that. 
You'll have all the necessary features of really high-quality waders and the extra features of the zipper make them even better. 
These waders are more in the mid-price range bracket, buying these you will be sure to have an effective and practical set of waders that are going to keep you more than happy on the water. 
For more detailed insights, Please check out my in-depth article on the Redington Escape Zip Waders here!
Redington Crosswater Waders – My Best Value Pick!
The Redington Crosswater is a fairly bare-bones set of waders. You don't have all the fancy features that you would get on a few hundred dollars set of waders, but you do have everything that you might need. A small interior pocket is going to keep your necessities in place, but other than that, you won't have any other storage areas. 
Redington also provides you with a wading belt to make sure you don't fill your waders or get yourself in trouble. They are stockingfoot waders so make sure you have a set of wading boots to go along with them.
If you're the minimalist type that doesn't need all the bells and whistles but still needs something that's going to last as long as possible, then check out the Crosswater Waders. They're high quality, breathable, and extremely functional. 
The best thing is that these waders are going to cost you much less than the Orvis Pro and the Redington Escape! If you only use waders once a month then I highly recommend these as a great choice. Again, stick with a reputable brand and you won't be sorry. 
Tip: If you are buying waders for your kids, I would strongly recommend one of the less expensive options. As they grow out of them they will still be in good condition – It can be a big expense unless they can be passed down to a younger child. 
Orvis Clearwater Waders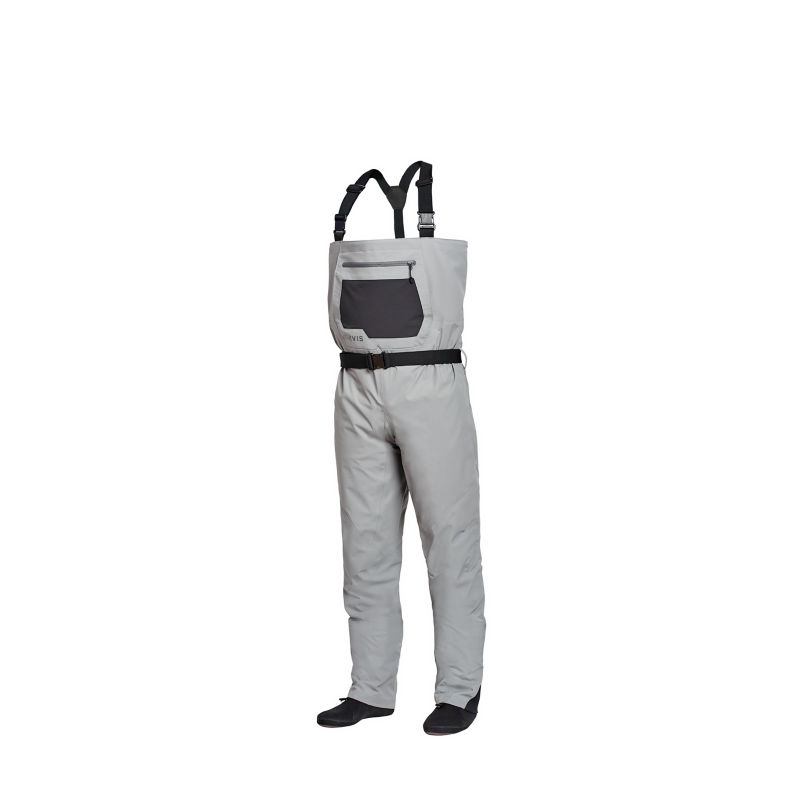 The Orvis Clearwater is more well-known as a rod than a set of waders. The Clearwater waders are Orvis' more affordable option! If your budget is a little more restrictive, you'll get a very high-quality set of waders that should last you years and includes also the same Orvis warranty!
You have a four-layer waterproof nylon fabric with a nice amount of breathability. There are side buckles that allow you to roll these waders down on warm days. 
Also, you have fleece-lined pockets to keep your hands warm on cold days and one large external storage pocket to keep a fly box and any other things you need. Also, there are several D-rings that give you a chance to attach forceps, all the other necessary tools, and even a telescopic landing net!
If you're a fly fisherman who needs pockets in their waders, at a reasonable price then these really meet the criteria.
Simms Flyweight Waders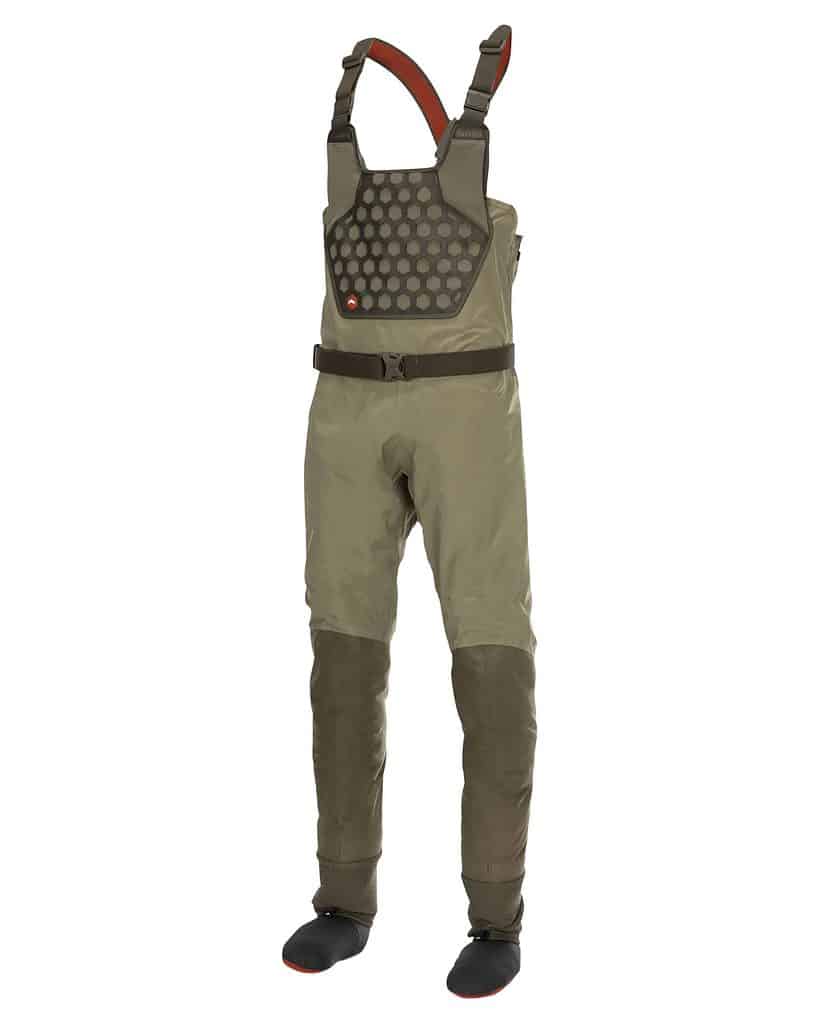 No list of the best waders is complete without a pair of Simms waders. The Flyweight Waders from Simms isn't quite their top-of-the-line model, but they're close. 
Simms has a good selection of different styles but my choice is the Flyweight Waders – Stockingfoot. They have a great feel about them and stretch really nicely when bending down and walking about. 
They also come with a nice quality zip, which can be tightened at the waist if that is your preferred style of fly fishing.
You can spot someone with the Simms flyweight waders on from the unique Hex grid pattern on the chest portion. They come in sharp green color and have stocking feet. 
They are available in 8 chest sizes with an option for long or regular length.
You also get the Gore-Tex stretch technology that allows the wader to flex as you move. These waders are some of the most comfortable waders on the market. You'll forget you're wearing them after a while.
The amount of storage you have with these waders is also great. You won't lack for much with the Flyweight Waders from Simms. Fish in the winter or summer with these waders and you'll be in for a treat. 
The price ranges vary on which option you prefer. Typically, most are in the more expensive bracket and compete directly with Orvis. If you are looking for a reliable and more affordably priced set of waders then check out my review on the Snowbee Wadermaster 201D Nylon Waders here!
Final Thoughts
Choosing the right waders for your style of fishing is key. Selecting the right quality ones means you can use them for years, make sure you match your needs with the right choice.
To summarise, pick the lightest, most breathable wader you can find that is made by a reputable manufacturer. The best quality waders that will last are made by Orvis, Simms, and Redington's.
Do you want to learn more about Wade Fishing? Then check out my in-depth article with detailed information on Wading Tips, Gear, and safety here!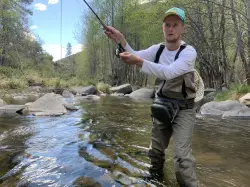 Latest posts by Daniel Mooers
(see all)