Disclosure: Some posts contain affiliate links, which earn us a commission if you make a purchase through them. Positive Fishing © participates in various affiliate networks including the Amazon Services LLC Associates Program.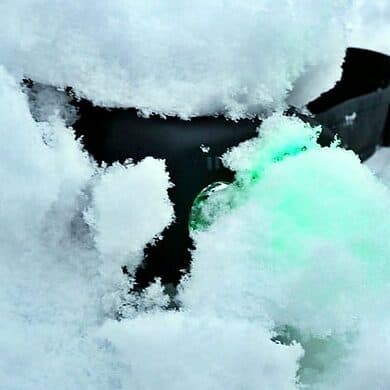 Ridgemonkey VRH300 Fishing Headlamp: Best Carp Headtorch Ever?
Our Verdict
I love this head torch! It's a great quality and fully functional headlamp for dedicated and serious carp and other specialist night fishermen. It's not the best headtorch ever made but in my opinion, it's definitely the best night fishing headtorch on the market.
The Good
Great quality and well manufactured
Awesome specific features for fishing
Very easy to use, ideal for night anglers
Value for money
Fantastic battery life and charge times
Perfect beam options - low white/green, medium white/green, high white
The Not So Good
On/Off butons can get turned on by mistake, draining the battery
Not waterproof, its only water resistant
Whether you're a carp angler, or you target any other fish during the night you will need a good quality and long-lasting headlamp. A dedicated fishing headtorch made for anglers is hard to come by but the Ridgemonkey VRH300 was designed with anglers in mind by anglers.
Let's review this head torch in detail, how it stacks up, review all the features, and see if it's the best fishing headtorch ever.
Ridgemonkey VRH300 Rechargeable Headtorch
There are four main criteria that I look for in a headtorch when it comes to night fishing. Each is as important as the other, the combination of the aspects makes it great or average. The Ridgemonkey head torch is a fully EUIPO registered design.
Illumination:
The green LED light beam on the VRH300 is certainly one of the big selling points of this head torch. Green light gives a far superior brighter and stronger beam than a red light beam. When it's really dark, such as fishing in the winter months you will definitely be able to see the improvements. This green light can even penetrate through the mist or fog if necessary.
The green light acts for night vision capability, just as military googles etc. The human eyes are more receptive to green light which is why when it's turned on you can see your target much clearer and improve your night visibility.
The unit has five beam options which can be varied in brightness, two of the beam options are the green light.
Battery Life:
One big issue I have when night fishing is having to take a ton of chargers and batteries with me for a long session. With the VRH300 long battery life and its USB rechargeable function are one of the huge benefits of owning this headtorch. The internal lithium polymer cell is a quality battery, and by looking at the four blue LED built-in display at the front, it's easy to see what juice you have left.
A full charge of 4 to 5 hours will give you a maximum of 90 hours of battery life. You can hook up the headtorch via a short USB cable (provided with the headtorch) 
Waterproof/Water Resistant:  
Ridgemonkey designed the range to be IP64 water resistant, and the sealed shell ensures your torch will work even after getting wet from the rain. However, IP64 (the 4 is the water protection) is not as high as some other headlamps. Water splashing against the outside cover from any direction will not have any effect, but I don't recommend that you immerse the headtorch in water, if you do you should dry it out as fast as possible. 
I have watched videos of anglers claiming dunking it in water has no impact! But if you did drop it into the lake and retrieved it quickly it should hold up and remain working.
Comfort:
The elasticated strap will easily fit on any angler's head and is fast to adjust. I find it quite comfortable once I have preset the length. Once you have it in place the torch can be turned on from one of two buttons which are at the top and bottom. It's a nice feature which fits the needs of an angler in mind who doesn't always have the time to fiddle with finding buttons.
All the Ridgemonkey VRH range of headlamps can be used either way up. Many times we are in a hurry when we get a take, this feature allows just grabbing the torch and placing it on top of your head without worrying if it's the right way up. Once it is positioned on your head you can angle the torch easily using its 18-position, 90-degree fully tilt adjustment.
Lastly, the outer shell is made from hard-wearing rubberized plastic, which makes it easy to grab even if you have wet or slippery hands. If you did drop it, it will absorb any knocks without any concerns. 
Pros
Twin colour, variable brightness: 50-200 lumens
Has a fully adjustable white and green light beam for night vision
Dual orientation
The IP rating of 6 for dust is excellent
Five beam options to suit all situations: low white/green, medium white/green, high white
No batteries required
Charge time: 4-5 hours
Battery life @ 15C: up to 360 hours (on night location mode) / up to 90 hours (dependent on mode)
Micro USB charging to any 5v adaptor
Night location allows you to find your headtorch in the dark (For X version only)
Cons
IP rating for waterproofing is only at 4
Buttons can be turned on by mistake, draining the battery
Features
With twin colour output and variable brightness control levels
Really simple to use
The outer shell is a hard-wearing rubberised material
IP64 water-resistant inner shell 
Has a four-way power display on the front face 
Green light output: Triple high-powered LED output
Night location feature (For the X version only)
Unit Dimensions: H44mm x W65mm x D52mm 
Head Strap Size: Length: 55cm to 65cm (fully elasticated)
Weight: 135g
Ridgemonkey VRH300 Accessories
RidgeMonkey VRH300 Headtorch Hardcase
This hard "gorilla" type case has a polycarbonate outer shell, with a soft inner lining. The case can double up as a small pouch for storing valuables and some small terminal tackle that you want to have quick access to easily change, anytime throughout the night.
Once you have finished your session, you can place the VRH300 headtorch back into it for total protection till your next fishing session. The hard case will also prevent any accidental button pushes during storage and transportation, ensuring it is not going to discharge.
RidgeMonkey VRH150 Headtorch Hardcase
This VRH150 hard case has the same specifications as the gorilla VRH300 hard case, the only difference is due to the smaller dimensions of the VRH150 head torch.
Ridgemonkey USB-A to Multi Out Cable
This 1 Meter USB cable can be attached to any headtorch with a USB function.
Ridgemonkey VRH150 Rechargeable Headtorch
Ridgemonkey has an alternative model to the VRH300 called the VRH150. The 150 is a slightly stripped-down version with a few key differences listed below.
‍Product Features:
Dual colour, variable brightness: 30-160 lumens
High-capacity 1400mAh lithium-ion battery
Compatible with all common 5v USB charge adaptors
Charge time: 3-3.5 hours
Battery life @ 15C: up to 80 hours (dependent on setting)
Unit Dimensions: H40mm x W60mm x D50mm
Head Strap Size: Length: 50cm to 65cm (fully elasticated)
Weight: 105g
The reduced functionality will suit those anglers who are looking for a slightly smaller and lighter headtorch at a lower budget. The VRH150 is around 30% cheaper than the larger VRH300. Take note that the battery life (80 vs 90) and lumens (30-160 vs 50-200) are not as good as the VRH300. Rest assured the other features are the same, as is the overall quality. There is also the VRH150X version, again with the night location feature.
Frequently Asked Questions
Does the Ridgemonkey VRH300 Include A Case?
A hard shell case is not supplied with any of the Ridgemonkey headtorch range, if you need a storage case you will need to purchase it separately. 
What Is The Difference Between VRH300 And VRHX300 Headtorch?
Early in 2022 Ridgemonkey revamped the VRH300 version and launched the VRH X version which added the Night Location function. The night light emits a dim low light green allowing anglers to see the headtorch location in the dark. Its light emission is dim enough so it allows you to still sleep and uses only 1% power.
This is a great additional feature which is going to allow you to find your headtorch quickly whether you are in your carp bivvy, a boat or hidden in your tackle bag. 
How Many Lumens Is The Ridgemonkey VRH300 Headtorch?
The Ridgemonkey VRH300 head torch's lumens are adjustable between 50 to 200, it's smaller brother the VRH150 head torch has a range between 30 to 160 lumens.
What Is The Warranty Period For Ridgemonkey Products?
The warranty for Ridgemonkey products is currently 2 years, except for clothing and footwear which carries a 6-month warranty. You must provide original proof of purchase for warranty claims.
Final Thoughts
There is no doubt that the Ridgemonkey VRH300 Rechargeable Headtorch is for dedicated and serious carp anglers. It's not the best headtorch ever made but in my opinion, it's definitely the best carp fishing headtorch on the market.
Thanks for reading my article, I hope that it gave you all the information you need to go out and buy one.
You can read lots more carp fishing-related articles such as my pick for the Best carp bivvies and also other accessories including my picks for the best carp fishing scales.
Latest posts by Steve Fitzjohn
(see all)