Disclosure: Some posts contain affiliate links, which earn us a commission if you make a purchase through them. Positive Fishing © participates in various affiliate networks including the Amazon Services LLC Associates Program.


Sitting and preparing gear for a fishing adventure is a therapeutic task for many anglers. Organizing tackle and planning locations is an absolute blast. Spooling a new line on a reel, however, is one of those things that causes far too many headaches!
Fishing line spoolers are one of the best inventions for anglers for spooling a new line while avoiding tangles and an uneven spooled line. One initial investment into one of these is going to lead to a lifetime of less frustration and lost line. 
In this article, I will cover: 
What is a Line Spooler?
6 Best Line Spoolers

Piscifun Fishing Line Winder – My Best Overall Pick!
KastKing Radius Line Spooler – My Best Value For Money Pick!
Penn Fishing HD Line Winder – My Best Quality Pick!
Berkley Portable Fishing Line Spooler – My Best Portable Pick!
Plusinno Fishing Line Spooler
Gonex Fishing Line Spooler
Frequently Asked Questions
What is a Line Spooler?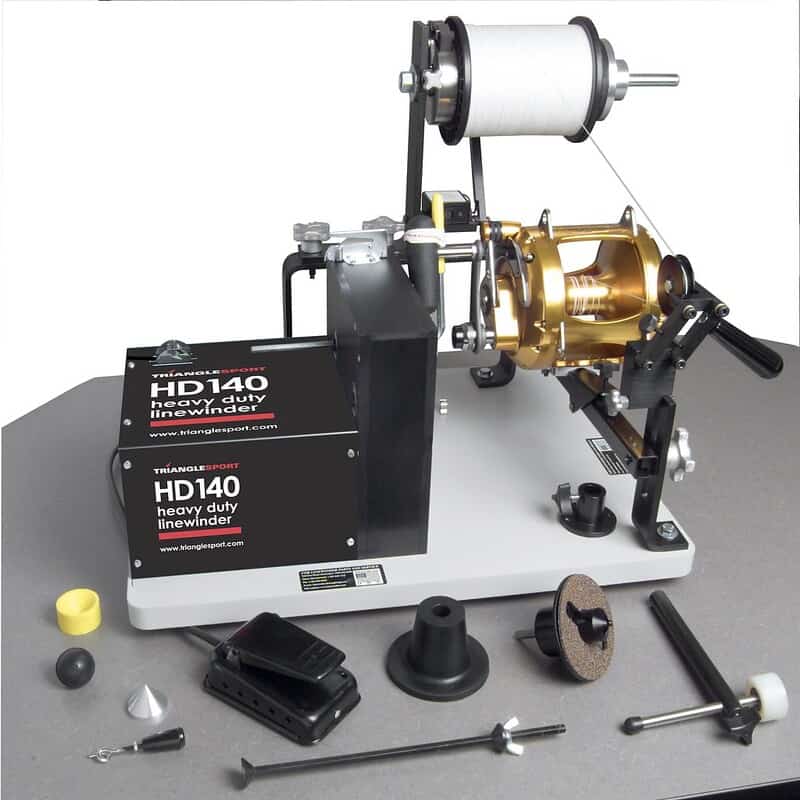 Line spoolers look different depending on which company you purchase one from. There's a handle and place to attach your reel, and a plastic arm to attach the line spool. From here, you tie the line onto your reel and begin to transfer the line from the spool to your reel spool.  Many companies design their spoolers like a mini fishing pole.
There's tension applied on the line spool to ensure your line lays tightly and doesn't easily unspool after you take some out. If done properly, you can easily cut the time it takes to usually spool your line in half. 
My 6 Best Line Spoolers
There are dozens of line spoolers available for anglers to purchase, but the following six (including one portable option) are some of the best quality and most affordable options on the market! 
Piscifun Fishing Line Winder – Best Overall Spooler Pick!
The Piscifun Fishing Line Winder is one of the more efficiently designed line spoolers on the market. There is a place to attach almost any type of reel you're hoping to use. Saltwater spinning reels, bait casters, and anything else you need are going to fit on this line spooler. The 3/8 bushing can fit through almost any type of line that you're going to use.
This is designed like a miniature fishing pole. The reel slots are where they normally are, and the pole extends out a few inches and curves under itself like a large hook. On the hook, you can place your line. 
This spooler is able to break down to fit into a large backpack that you may be taking on a fishing trip. When it's fully set up, it's only 10 inches long. The setup on it is high quality. The graphite material is similar to what you would feel on many fishing poles. 
It takes a bit of trial and error to figure out exactly how and where you need to position the reels before you use them, so start out by using a cheaper line to determine the exact positioning that you're going to need. You'll find that line twist isn't even a factor once you determine the proper use! 
The Piscifun Fishing Line Winder is attractively priced for its quality and functionality. You're going to receive a great piece of equipment that's going to last you as long as you're willing to properly care for it. 
KastKing Radius Line Spooler – My Best Value For Money Spooler Pick!
The KastKing Radius Line spooler has a little different design than the Piscifun version. The best part of this spooler is that you don't have to even take your reel off of your rod to use it. There is a place for you to attach the spooler to your rod. There are four different-sized holes that are going to fit most rods! 
From there, you'll place your spool of the line (up to 1/4 pound) on the "T" handle. Run the line up through the opening on the spooler. Once the line is tied to your reel, you can begin reeling and the line will perfectly spool. You'll find that you don't get any line twist with this model. It's going to work on spinning, centrepin, baitcasting, and baitrunner reels. 
It is likely going to be a bit confusing to use at first, but closely following the directions will show you how easy it is! Most anglers (including myself) find that this is one of the best and most affordable options you can find.
Penn Fishing HD Line Winder – My Best Quality Spooler Pick!
The Penn Fishing HD Line Winder is perfect for the angler looking for a heavy-duty tool that's going to last multiple generations. It doesn't have any of the fancy features like any of the models listed above, but it's high quality. The steel is meant to last. You're also able to adjust the tension that it puts on the spool to make sure you're keeping the line tight on your reel. 
Penn is a well-renowned quality fishing company, you can be sure this will never let you down and will last a lifetime even with heavy use!
It's going to hold any size of line spool that you buy and can be used on all types of reels including centrepin reels! For $70, you're getting a great product! 
Berkley Portable Fishing Line Spooler – My Best Portable Line Spooler Pick!
If you are looking for a more portable line spooler then the Berkley Portable Fishing Line Spooling Station is highly recommended. This black plastic compact unit will spool casting and spinning reels.
It's very lightweight and easier to carry around than the normal spoolers and can be easily adjusted for any spool size.
The price range is very comparable to the other spoolers but due to its size and construction, it is not as robust. Some more careful handling is required to ensure that it will continue to function for years to come.
Plusinno Fishing Line Spooler
The Plusinno Fishing Line Spooler is one of the more versatile options for line spoolers. You have options to attach it to both your rod as well as a desk! The desk attachment looks similar to a fly-tying vice. It has a c-clamp with a 100mm screw for you to attach your spool of line. 
The attachment to your rod is similar to the KastKing Radius Line Spooler. That same c-clamp is able to attach to your rod and invert itself to allow for the spool of line to attach. 
This spooler also has an unwinding option. If you need to fully replace your line, trying to cut the line off of your reel isn't always easy. As long as you have an empty spool, you can attach the separate reel handle that's included in the purchase and completely unwind your reel. This is a great design and feature that can also save some of your headaches! 
Again, like many other spoolers on this list, it takes some trial and error to figure out what is best for your setup, but once you do, you'll be pleasantly surprised. It's in the average spooler price range. 
Gonex Fishing Line Spooler
In terms of ease of use, the Gonex Fishing Line spooler is near the top of the list. Instead of trying to perfect clamps, this has a simple snap function that allows you to attach your line and get going. It's a very similar design to the Piscifun Fishing Line winder. It's around 10 inches long with a place to attach your reels as well as your line. 
Also, you'll find that this model also has an unwinder tool. This unwinder tool is great for stripping all the line from your reel! This is heavy-duty and really quite easy to use. You're going to pay a little more for it, as it's placed in the higher range bracket, but it's worth it. 
Are you unsure of which fishing line to purchase? Check out my articles here on the Best Fishing Line And Braid for freshwater and saltwater fishing.
Frequently Asked Questions
Is a Fishing Line Spooler Worth it? 
Yes, the fishing line spoolers are worth it! The one-time investment is well worth it. Some anglers have created their own basic line spoolers, but if you're in the market for one that is reliable and consistent, don't be afraid to pull the trigger. You'll be thankful. 
Are Fishing Line Spoolers Expensive?
No, fishing line spoolers are generally not expensive. The average price is in the $20 to $30 range. As long as you take good care of it, you'll never have to replace it! 
Do Fishing Line Spoolers Have A Cutter?
Basic spoolers do not have a line cutter, if you need a line cutter you will need to buy a specific option at extra cost. My advice is that don't go for this extra expense and just use a pair of good fishing scissors instead.
Do Fishing Line Spoolers Have A Stripping Tool?
Most spoolers do not have a line stripper as part of the standard options. If you need to use a line stripper often, then I strongly suggest buying the Gonex Fishing Line Spooler or the Plussino spooler, as these come with unwinding as a standard feature.
Which Knot Should I Use To Spool A Reel?
The best knot for attaching your new line to the spool of any reel is the Arbor knot.
Pass the new line around the arbor of the spool.
Tie a basic overhand knot around the standing part with the tag end.
Tie a second overhand knot on the tag end, one inch from the first overhand knot.
Wet your knot with water.
Pull the line which will slide the loop tight against the spool.
Cut off any tag excess line to a minimum length.
Do I Need To Soak My Fishing Line First Before Spooling
This depends on what type of fishing line you are spooling. Braided line does not need soaking as the braid has no memory. Monofilament line is springy and is not limp like a braided line. 
Therefore, before spooling a new monofilament fishing line to your reel, you should allow it to soak in water before spooling. 
Without soaking, you will notice the line will not sit correctly on your fishing reel spool, which can result in tangles, and also a reduction in how far you can cast.
How Long Do I Soak The Fishing Line Before Spooling?
Fishing line will absorb a little water when left in a container of water overnight. If you are in a hurry you can use warm water which will allow you to spool correctly within an hour or two.
How Can I Spool Line Faster?
The fastest way to spool line is using a reel with a high gear ratio reel. The higher the ratio means one turn of your handle will retrieve more line.
Spooling Out
Buying the right spooler is an important decision, chances are you will only need one in your lifetime.
If you use spoolers on a regular basis I would recommend the PENN Fishing HD Line Winder Fishing Line Spooler, if you only use a winder every now and then the portable Berkley spooler is a more affordable option. 
I hope this article helped to pick the right spooler for you. Please check out my in-depth articles on other fishing accessories here!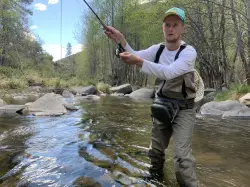 Latest posts by Daniel Mooers
(see all)