Disclosure: Some posts contain affiliate links, which earn us a commission if you make a purchase through them. Positive Fishing © participates in various affiliate networks including the Amazon Services LLC Associates Program.


Anglers should see their fishing reels as prized possessions. Even if you aren't catching fish, your reels will receive continual use. These should be the most trusted part of your fishing arsenal. Make sure you've chosen reels that best fit your fishing style. A quality reel is going to last years and lead to hours of fun on the water. 
These days, anglers have dozens of options for reels. Yes, reputable brands create quality reels, but it doesn't always mean they are your best option. 
If you're a traditional-style angler, spinning reels are a large part of your arsenal. Your two main options are freshwater and saltwater reels! The difference is in the reels' ability to handle saltwater as well as their size. Freshwater fish are going to be smaller and not fight nearly as hard as saltwater fish.   
In this article, I will be reviewing:
The important main factors in choosing a fishing reel
The 5 best saltwater reels 

Shimano Spheros Saltwater Spinning Reel (My Best Overall Pick!)
Penn SpinFisher VI LongCast & Regular Model (My Most Versatile Pick!)
KastKing Kodiak Saltwater Spinning Reel (My Best Budget Pick!)
Penn Battle III 
Piscifun Flame Spinning Reels 
The 5 best freshwater reels 

Pflueger President XT Spinning Reel (My Best Overall Pick!)
Shimano Exsence Spinning Reel (My Most Versatile Pick!))
KastKing Megatron Aluminum Fishing Reel (My Best Budget Pick!)
Shimano Sedona FI Freshwater Fishing Reel 
Abu Garcia Revo X Spinning Reel 
What Spinning Reel Is Best For You? 
When making your decision there are a few things to take into consideration before you make your decision. Making the improper decision can be costly and leave you fishing in an inefficient way! 
Know the Species You're Targeting 
First and foremost, know where you're fishing and what species you're targeting. These are the two largest factors in making your decision. Just like there are different-sized rods and lines, there are also different-sized reels that perform well in different situations. 
Freshwater vs. Saltwater Reel 
If you're going to target saltwater fish, be sure your spinning reel is rated for saltwater. Saltwater can cause serious corrosion on a reel that's not prepared to handle the rough water. Also, saltwater reels are going to be able to handle far more line capacity than freshwater reels. Spooling a saltwater reel takes longer due to the larger spool size; check out my article on fishing line spoolers to help make this far easier.
Reel Gear Ratio 
Your reel-to-gear ratio is the speed at which the line is reeled. Some of the more common options you'll find are 5:4:1, 6:4:1, and 7:1:1. The higher the ratio, the faster the reel will turn! When you need to bring in line at a fast pace, then be sure you choose a higher ratio. 
You can read more about understanding reel gear ratios, including how they impact your fishing.
Price
As anglers know, fishing can be an extremely expensive hobby. Also, you're likely going to get what you pay for, so keep that in mind. Have a budget and a price you're willing to spend, and see what you can find! It's important to get as high-quality a reel as you can!  
Best Spinning Reel Options
Now that you know where you're fishing, what species you're targeting, and the price you're willing to spend, you should be able to choose from my best picks and get a wonderful option! 
My 5 Best Saltwater Spinning Reels
There are a few reputable brands, such as Shimano, and reels that you shouldn't pass on when purchasing a saltwater reel! A few of these companies have been in the business for years, and their reputation is well worth the investment! 
Sadly, when it comes to saltwater reels, unfortunately, there aren't many "budget" options. The components required to make a quality reel are expensive, and you're going to have to pay a fairly significant amount to get one that lasts a long while. If you fish often, it's well worth the investment! 
Shimano Spheros Saltwater Spinning Reel – My Best Overall Pick!
It's hard to write the best reel list without listing Shimano. The Shimano Spheros model 6000 is a personal favorite because of its versatility. In many saltwater fishing scenarios, anglers are forced to specialize and are limited in the places they can use their gear. 
This reel contains the majority of features of a high-end Shimano but is in the higher-priced range of saltwater reels. You can use this reel when spinning onshore, on the flats, and even on the reef. If you purchase some of the large 10000 or 20000 size models, you can use them offshore fishing! 
This reel has a Hagane body and gear, 4+1 shielded A-RB ball bearings, and a cross-carbon waterproof drag. The submersible waterproof rating is IPX8. Overall, for the price, you're going to struggle to find a better saltwater reel than the Shimano Spheros. I will always be a fan of versatility! 
Penn SpinFisher VI LongCast & Regular Model – My Most Versatile Pick!
The Penn SpinFisher VI LongCast is one of the more unique designs on the market. Where many companies strive to put more and more line on their reel, Penn worked to allow anglers to make longer casts. The SpinFisher VI gives anglers a chance to make longer casts and still carry quite a bit of line. It's a great choice for surf fishing. 
The traditional SpinFisher VI model is great if you're not surf fishing. It carries all of the same features of the anodized aluminum, fully sealed drag system, and the 5 plus 1 sealed stainless steel ball-bearing system. Also, both models allow anglers to switch the reel handle to either side, depending on your preference. 
You can find this model anywhere from 2500 to 10500. It's light, and the drag has a nice amount of resistance! The 5500 to 7500 models have between 20 to 25 pounds of drag! This reel is in the mid-range price bracket. 
KastKing Kodiak Saltwater Spinning Reel – My Best Budget Pick!
The KastKing Kodiak has an extremely strong drag and a 10+1 ball-bearing system. The anodized aluminum spool and rotors give you the power to land those large fish. It's fully sealed, so you don't have to worry about the corrosion saltwater provides. 
The body of this reel is larger than most of the other saltwater reels on the market. This makes it a bit heavier, but you gain back in durability when you compromise in the weight. It's not going to fail in the fights with tarpon or other large saltwater species. 
The knob on this reel is what may fully set itself apart from the rest. It's an EVA knob, and it fits the hand well. This handle is strong and gives you peace of mind that you can put in as much torque as you need when fighting a fish. 
The KastKing Kodiak is in the under $100 range, a great performance budget reel for saltwater fishing! It's well worth the money. 
Penn Battle III
Any reel you purchase from Penn is going to be high quality. They're long-lasting and well-known for their phenomenal performance! This reel has a full metal body. The side plate, rotor, and bail wire are all created to work in saltwater. It's essentially corrosion-proof. As long as you're willing to clean it with fresh water, you'll keep it in your arsenal for years. 
The drag is an HT 100 carbon fiber system. The carbon fiber makes it a smooth fight, and has five sealed stainless steel ball bearings. Also, it has an anti-reverse bearing. 
You can find this Penn Battle reel anywhere from 1000 to 10000 – a huge range for any type of fishing. Also, the gear ratio ranges from 4:2:1 to 7:0:1. This reel has a large price range depending on the model; the starting price is in the mid-price range. 
Piscifun Flame Spinning Reels 
The Piscifun flame is a sharp-looking reel. The red and black combination looks great and feels even better. It has nine ball bearings and one roller bearing! The sizes 2000 and 3000 are great for freshwater. 
The 4000 to 5000 reels are good options for your saltwater adventures. The drag system is fully sealed so that corrosion won't be a worry for you! The Piscifun Flame won't be too expensive. It's a super reel for beginners or those who only fish every now and then. This reel has solid reviews, I own this reel as a backup to my Shimano, and it performs quite well for an entry-level saltwater spinning reel. 
My 5 Best Freshwater Spinning Reels 
Freshwater reels are more budget-friendly than saltwater reels. Since you don't have to worry about corrosion, the drags on these reels are rarely fully sealed. Again, your reel is an important part of your fishing gear, don't be afraid to stick with the well-known brands. 
Pflueger President XT Spinning Reel- My Best Overall Pick!
For another great freshwater reel under $100, the Pflueger President XT is one you should choose. Choose any size from 2000 to 4000! Most of the sizes have 10 ball bearings except for the size 20! 
The President has a fully sealed drag system, and the spool is equipped to handle all different types of line. The carbon fiber handle is extremely light, but it's durable. Also, it has a larger ratio than most other reels of this size. It feels good, looks good, and performs even better. 
You can also buy the slightly lower-grade regular President  Pflueger reel here, which has most of the features of the XT but is made from graphite material rather than the aluminum of the XT.
Shimano Exsence Spinning Reel – My Most Versatile Pick!
Again, a Shimano graces the list of best reels! This time, it should receive no arguments. The Shimano Exsence is high quality and contains the Aero Wrap two-speed oscillation system. You're perfectly okay to handle largemouth bass with this reel! 
If you want, you can also do some inshore and reef fishing with this reel. It has a fully sealed drag system, 11+1 shielded ball bearings, and contains an X-protect waterproof coating. Yes, this reel is going to be at the mid to high-range cost, but you can't go wrong with it. If you're at a place in life where you're able to make an investment in a freshwater reel, the Exsence won't let you down. 
This is a seriously good reel that has a place in my fishing tackle box every time I go out for any type of freshwater fishing.
KastKing Megatron Aluminum Fishing Reel – My Best Budget Pick!
If you're in the business of versatility, the KastKing Megatron is a smart option. It can actually be used in both saltwater and freshwater presentations! The aluminum spool, brass pinion gear, and three-disk carbon fiber drag system all work in your favor. You can accomplish a drag of over 30 pounds with this reel. Plus, the 7+1 bearing system is hard to beat for the price. 
The 2000-3000 size reel is plenty big for largemouth bass and other predator fish you'll find in freshwater. Depending on your dominant hand, you can also switch the reel handle for ease of use! For a mid-range price, this reel is another great option for beginners, and you cannot go wrong with the KastKing Megatron. 
Shimano Sedona FI Freshwater Fishing Reel 
Shimano makes far more expensive reels than the Sedona, but this Shimano offering is in the mid-price range bracket. You'll struggle to find a better option. It has an anodized machine-cut spool, cross-carbon drag, and a larger spool lip design. The larger design gives you the ability to make longer casts. 
There are three bearings in this reel and one anti-reverse bearing! You can purchase the Shimano Sedona Fi in a variety of different sizes. There are sizes ranging from 500 to 8000! If you're looking to target trout or even Muskie, there's an option for you. Understand what size is best for you, and you'll be pleasantly surprised with how this Shimano performs. 
Abu Garcia Revo X Spinning Reel 
The Abu Garcia Revo X is one of the best-looking reels on this list. The entirely black reel looks wonderful on your rod. It does have fewer bearings than the Pflueger President XT, but it still has 6 HPCR bearings and 1 roller bearing. 
You'll receive a carbon fiber drag system, a machined aluminum braid-ready spool, and a stainless steel main shaft. Choose any option between sizes 1000 and 4000 for your freshwater adventures. 
Tie on braid, monofilament or fluorocarbon! It's willing and able to handle it all. Your best bet for panfish would be the size 1000 to 2000 reels. The 4000 reel would handle bass and pike just fine! If you're going to target anything more than this, you might find yourself outmatched. 
The Abu Garcia Revo X Spinning Reel is priced in the mid to high range! 
FAQ
What Are Anti-Reverse Handles On A Spinning Reel?
Anti-reverse handles prevent the reel from turning in the opposite direction when reeling in a spinning reel. They can prevent tangles and also have a big influence when you strike into a fish.
How Many Spare Spools Should I Buy?
A minimum of one spare spool is needed when buying a spinning reel. This allows you the flexibility to change your line on your reel to a stronger or weaker option when your target fish are larger or smaller than expected.
What Size Spinning Reel Is Good For Bass?
The best spinning reel to catch bass is between 2500 and 3000. These spinning reel sizes are a good starting point for most anglers as they are extremely versatile and can be used for a wide range of fish species. If you target big bass, then you can move up to the 4000 size.
How Many Ball Bearings On A Spinning Reel?
All reels have a different amount of ball bearings. The more ball bearings stated on the reel specification means it is a better quality reel and will perform better than those with fewer bearings.
Spinning Out 
The Shimano Spheros takes the vote for my top saltwater reel. It's smooth, versatile, and powerful. There are days when anglers hit different types of water, and it's a reassuring feeling that the reel you own is up to all the challenges you throw its way. 
The Pflueger President XT is my top freshwater reel because of the quality you receive for the price. It's under $100 but performs like a several hundred-dollar reel. You have 10-ball bearings, a fully sealed drag system, and a carbon fiber handle. The use of aluminum in the main shaft and pinion makes it lighter and performs that much better. 
Consider these reels strongly when you're looking for a great spinning reel for saltwater or freshwater fishing. If you plan to go only for trout, check out my in-depth article on the best spinning reels for trout fishing!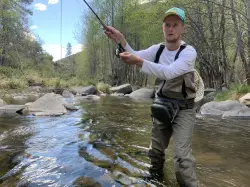 Latest posts by Daniel Mooers
(see all)