Disclosure: Some posts contain affiliate links, which earn us a commission if you make a purchase through them. Positive Fishing © participates in various affiliate networks including the Amazon Services LLC Associates Program.


Once an angler finds themselves fascinated with the world of fly fishing, the natural progression is to learn how to tie flies by themselves. 
After enough trips to fly shops to buy flies, the expenses can add up and the amount of non-generic flies you have in your box is a bit overwhelming. If you start tying your own flies you can save money, and you can also learn to tie more specific flies you'll need for your fly fishing trip. 
The fly-tying process isn't easy, but it's the ideal pastime for long winter months or days when you can't get on the water. The more time you spend practicing, the better you'll become. 
To begin, you're going to need a quality fly-tying vise to help you along in the process. 
In this article, I will cover: 
What is a Fly Tying Vise? 
Top 5 Fly Tying Vises 

Orvis Renzetti Traveler 2000 – Best Overall Pick!
Griffin Odyssey Spider Vise – Best Value Pick!
Wolff Industries Atlas Rotary – Most Versatile Pick! 
Dyna-King Ultimate Indexer – The Ultimate Pick!
Regal Medallion Fly Tying Vise 
What Is A Fly Tying Vise?
When you begin the fly-tying experience, you'll notice that the vise is one of the first pieces of equipment you're going to need. The vise holds your hook in place as you're working on attaching all of the material to it.
Vises have locking clamp systems on them that allow you to attach them to tables, workbenches, or any other sturdy surface that allows you some room to work. 
When purchasing a vise, the first consideration should be buying one that is of high quality. It's the bones of your operation, so you don't want anything that's going to be wobbly or fail as you're completing an extremely delicate task.
Fly tying is art! You want to be able to fully concentrate on the process of tying, any substandard tools that you use will affect the appearance of the flies that you construct. Once you have chosen your vise of choice, check out my article for the fly-tying kits and supplies that you will need to make up your own flies.
Best 5 Fly Tying Vises
You're going to have dozens of options when you're looking to purchase your fly fishing vise. Certain reputable companies are more well-known than others when it comes to quality options, and this is where I will focus my review. Vises are not cheap, so always go with trusted manufacturers when it comes to making your purchase! 
Orvis Renzetti Traveler 2000 – My Best Overall Pick!
Orvis is always a reputable company when it comes to fly fishing equipment. They've been a leader in the industry for decades. You don't have to do much to be convinced to buy this great option. 
The Renzetti Traveler 2000 (link is the left version) is going to cost you around $200, but it can easily last you an entire lifetime. The first version of this unit was developed in 1988, and it's been improved continuously ever since. 
You're able to use a wide range of hooks from sizes 28 to 4/0. No matter how small or large of a fly you need, you can tie it! Truly a vast range of sizes for every type of fisherman.
The Traveller has rotary action, and easy-to-use screw adjustments and it's available in a right or left-hand action. The nice thing about this vise is that you don't require to attach it to a table. This model is considered to be a pedestal base. As long as you have a flat surface, you're able to use this vice. The heavy base ensures the vise doesn't move around while you are using it. 
Another nice aspect of this Orvis vise option (the Link is the right-hand version) is that it isn't overly large. If you're the type that likes to bring your vise along with you on your expeditions, you can easily pack it away in a bag and it won't take up much room at all. 
Griffin Odyssey Spider Vise – My Best Value Pick!
The Griffin Odyssey Spider Vise is a 360-degree rotating vise. It comes with a bobbin cradle and a c-clamp. Unlike the Orvis model, you'll need a table to attach this unit to when you're ready to tie your flies. A simple screw at the bottom of the frame will help you easily attach it to a table or workbench. 
The Griffin is an entry-level option, but it can easily allow you to tie whatever fly you're going to need. You're able to tie size 28 flies to size 4/0 saltwater hooks. This makes it a very versatile option for the casual angler.
There is no left-hand or right-hand option, the unit can be positioned on your table wherever you feel comfortable whilst tying flies. 
For less than $100, it's my best value pick and is a great pick for beginning to learn how to tie flies, and also for the expert fly tyers. If you're only a casual tier, this is a good choice given its affordability. 
Wolff Industries Atlas Rotary – My Most Versatile Pick!
The Atlas Rotary is a phenomenal vise. It's a full rotary that comes with replaceable jaws depending on the fly-tying you're trying to do. You'll get a c-clamp and a pedestal base, which gives you options on how you're planning on tying your flies. Plus, the holding jaws can handle hook sizes anywhere from 7/0 to 32.
It's by far one of the most versatile options you'll ever find. 
Its stainless steel knurled friction knob and cam action lock are of great quality. You'll be hard-pressed to find a more smooth and solid feeling vice. Yes, it's going to cost you around $200, but it's one of those pieces of equipment that is built to last. With some general running maintenance, it's going to last a lifetime of fly tying. 
Pack it up, take it along with you on your trips and you'll never have to worry about it failing you. It's a beautiful vise. 
Dyna-King Ultimate Indexer Fly Tying Vise – The Ultimate Pick!
The Dyna-King Ultimate Indexer tying vise almost looks like a medical machine. You have an adjustable bobbin hanger, an 8-indexing position nob, a 90-degree handle, and just about any other thing you might need.
When you're looking to purchase this vise, you have the choice between a pedestal or a c-clamp base. You're better off knowing what you prefer before you purchase this vise due to the price! 
A key part of the Indexer machine is that it allows eight-position rotation. This ensures that at each stage of the fly making gives time for the epoxy body to partially cure during each step. Applying epoxy at each stage is critical in producing a quality-looking fly, the rotation step in conjunction with pausing at each position ensures the setting of the epoxy.
This vise will cost you somewhere in the neighborhood of $600 and is the most expensive pick of my picks on the list. But it's an amazing option and it will last a lifetime. However, this vise option is targeted towards the diehard angler or a commercial fly tyer. If you plan to tie a lot of flies, the Dyna-King Ultimate is a superb choice.
Dyna-King is a family-owned company based in California and has over 40 years of experience with handcrafted fly-tying vises.
Regal Medallion Fly Tying Vise
The Regal Medallion Fly Tying Vise has a spring clamp that holds the hook down as you're tying your flies! It's a different concept compared to many other options on the market given that it's more customized for a specific fly that you want to tie. Before you scoff at it, this means that you don't need to keep adjusting the settings on any little knobs or levers as you do on many other vises. 
Regal gives you three options for this Medallion vise, a c-clamp, a pocket pedestal, or a traditional pedestal. The pocket pedestal has areas to keep your tying materials neat and tidy, rather than having them scattered over your desk.
Regal also provides a variety of head options to fit whatever flies you primarily tie. If you only tie big game flies, you have an option for that. If you only tie midges, you have an option for that. It's hard to find a truly customizable option, but Regal has managed to find a way. 
Final Thoughts
Buying a quality vise such as the ones I have recommended in this article will last you forever. The art of fly tying can be extremely rewarding when you start catching trout and other fish on flies that you have tied yourself.
I hope this article gave you all the help you require to go out and purchase one. My best overall choice is the Orvis Renzetti Traveler 2000 which is a standout quality product that will not let you down.
If you are looking for more articles on fishing with flies, take a look at my choices for the top flies for catching trout here!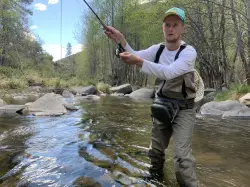 Latest posts by Daniel Mooers
(see all)