Disclosure: Some posts contain affiliate links, which earn us a commission if you make a purchase through them. Positive Fishing © participates in various affiliate networks including the Amazon Services LLC Associates Program.


Similar to purchasing your first fly rod, purchasing your first set of fly tying materials can be extremely overwhelming. The tools, material, and fly tying techniques can all be challenging to a new angler.
Thankfully, companies started putting together complete fly-tying kits to make your life much easier. One purchase will provide you with all the materials you need to get going in your tying. 
As you gain experience, it's far easier to replace certain aspects of your kits if you feel as if you outgrow them. Until then, all of the tools within the kits you purchase will be more than enough for your needs.
In this article, I will cover: 
What Should I Look for in a Fly Tying Kit?
5 Best Fly Tying Kits

Orvis Premium Fly Tying Kit – My Best Overall pick!
Orvis Encounter Fly Tying Kit – My Most Versatile Pick!
Wetfly Deluxe Fly Tying Kit – My Best Value Option!
Colorado Anglers Wooden Fly Tying Station
Scientific Anglers Deluxe Fly-Tying Kit 
What Should I Look For In A Fly Tying Kit? 
Before you purchase your first fly tying kit, you'll have to make sure it comes with a few necessary tools and supplies. You want to begin tying as soon as you receive your kit. 
Make sure that the basic tools are part of the fly kit that you select. All the good-quality fly-making kits that I am recommending in this article have the following tools, supplies, and materials.
Fly Tying Vice
The vice is the backbone of your fly-tying projects. It's what you'll place your hook in as you're attaching the material. The vice can attach to a table or sit alone on a pedestal stand depending on which style you're choosing. Make sure the vice is high quality! It shouldn't wobble or be easily moved! You want it to rotate and be able to work with size 28 to 4/0 hooks. 
Bobbin 
The bobbin is another vital part of your set. The bobbin is what holds your tying thread. On almost every fly pattern you tie, you're going to be using quite a bit of thread. You'll be able to string the thread through the bobbin and it allows you to apply it far easier than you could by only using your hands. 
Scissors
Like any art project, you're going to need a solid set of super-sharp scissors to keep things tidy. Take a look at the reviews of the scissors in the kit you're buying. Poor reviews on scissors should be telling that you're not purchasing the greatest kit. If possible, you may have to purchase a separate set of scissors.  Check out my article on what are the best scissors to choose for more information and tips.
Whip Finisher Tool
The whip finisher is the tool that you're going to use to apply the final knots to your project. The whip finisher knot is challenging to do with only your hands. This simple tool makes your life far easier! It's hard to make a poor whip-finishing tool.
As all anglers know well, it is your knots that are the weakest part of your rig, so this finishing tool is crucial for good-quality flies.
Bodkin Tool
Finally, the bodkin is the last tool you should make sure you have in your box. It looks like a long needle. This is used to apply the finishing glue on your fly project. It's much less cumbersome than your finger or even a glue brush. 
5 Best Fly Tying Kits 
There are dozens of kits you can purchase, but a few stand out far above the rest. Most companies that are well-known in fly fishing make their own complete kits. They're usually worth the money. 
Orvis Premium Fly Tying Kit – My Best Overall Pick!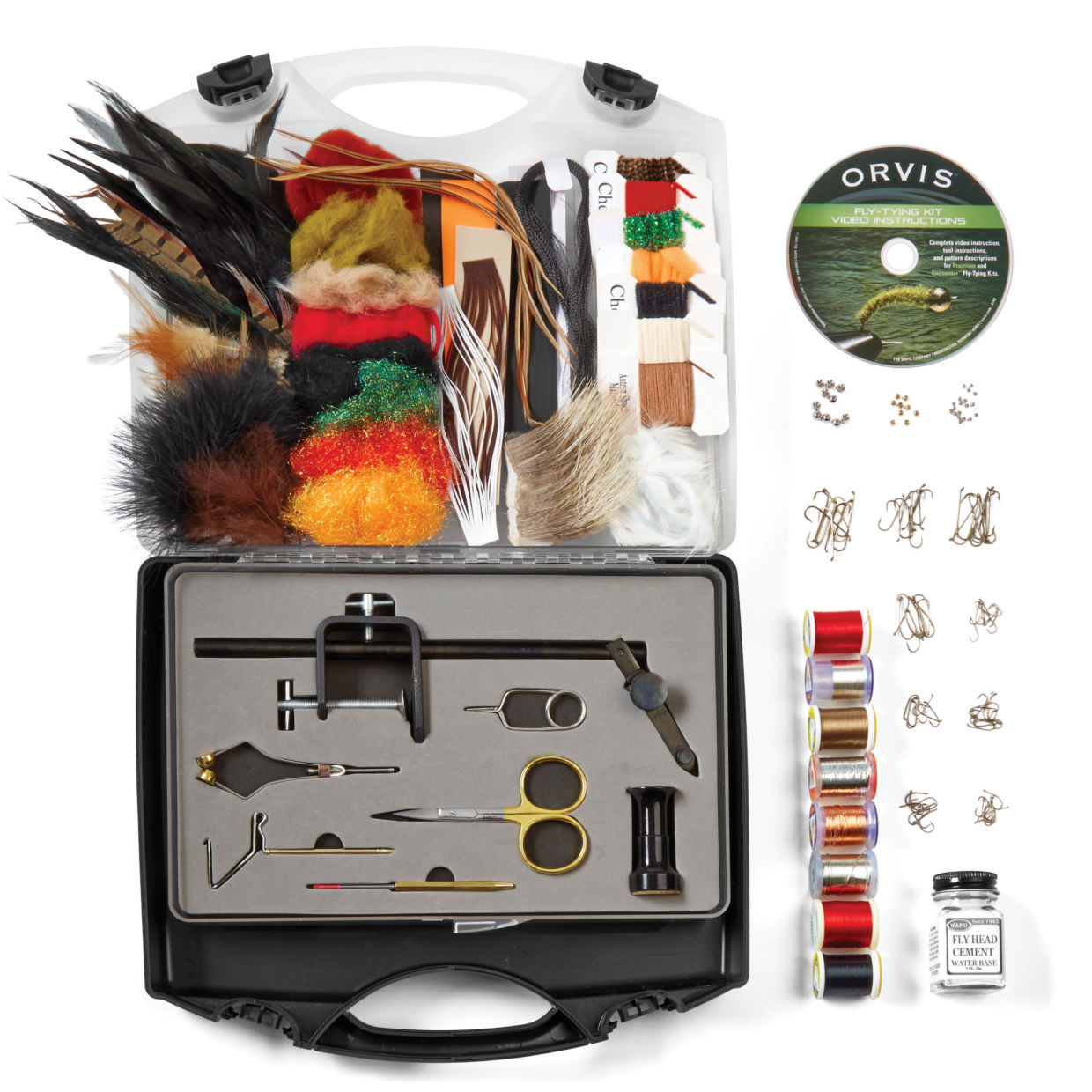 Orvis pulls no punches with their premium fly tying kit. In this kit, they provide all the necessary tools and a carrying case. These alone are worth the price! 
However, also inside the kit they also include enough materials to tie 16 different patterns 10 times each. Essentially, they send enough to tie 160 flies. Eight of the patterns are classics and the other eight are Orvis patterns that are proven to work. 
On top of it all, you also receive an instructional DVD that will walk you through the basics of fly tying and give you step-by-step instructions on how to tie the 16 flies provided. Hooks, hackles, thread, glue, and beads are all available to you. The bobbin, vise, bodkin, whip finisher, hackle pliers, and scissors are all made to a high standard! 
For $200, you'll be more than pleased with your purchase. 
Orvis Encounter Fly Tying Kit – My Most Versatile Pick!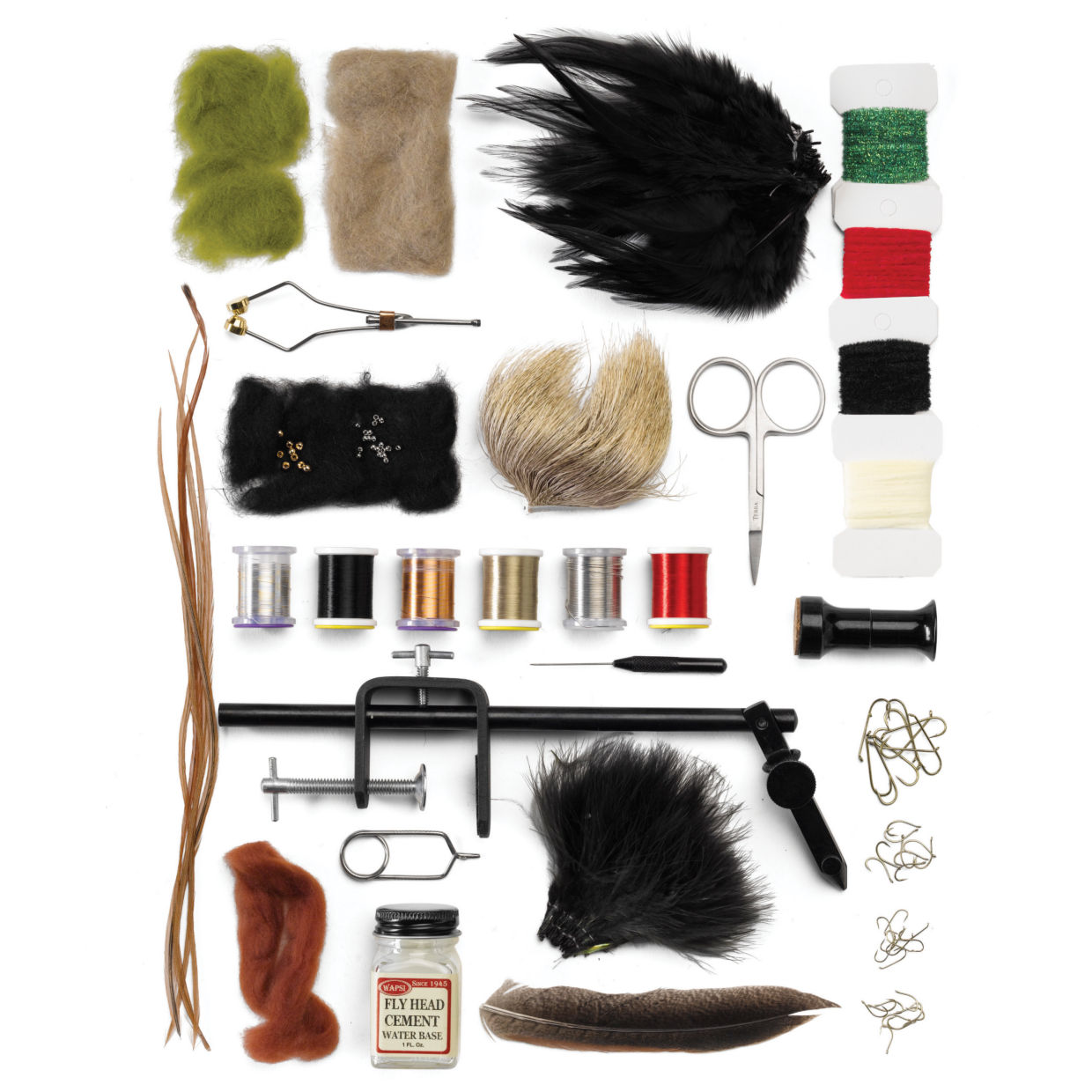 The Orvis Encounter Fly Tying Kit is great for beginners, but it's also perfect for those looking to travel with a full set of supplies.
The kit is named after their entry-level fly fishing combination. Similar to the Encounter Combo, the Encounter Fly Tying Kit is the ideal backup or travel kit. In this set, you're going to receive enough material to tie eight classic fly patterns (Woolly Bugger, Pheasant Tail Nymph, BH Caddis Larva, Elk Hair Caddis, Fur Ant, San Juan Worm, Zebra Midge, and Rusty Parachute). 
You'll get enough material to tie 10 of each of these flies. Included with the materials is a starter vise with C Clamps, scissors, a bobbin, hackle pliers, glue, and a bodkin. 
The only thing you're missing in the kit is the whip finisher tool. Without this, you still get a great deal, and buying your separate whip finisher is not a major additional investment. 
Seriously, For under $100, you're receiving a wonderful deal from a trusted name in the fly fishing industry.
Wetfly Deluxe Fly Tying Kit – My Best Value Option!
The Wetfly Deluxe Fly Tying Kit is great for beginners and intermediate fly tiers. As a starter kit, you'll receive the vise with a c-clamp, hackle pliers, scissors, bodkin, bobbin, and a hair stacker. With these, you'll also receive some materials to help you begin the fly tying process. 
Rabbit Dubbing (Olive and Gray), Chenille, Marabou, Elk Hair, and a couple of other materials are great for tying nymphs, wets, and even dry flies. You'll also get a couple of spools of thread to get you started. 
On top of the materials and tools, Wetfly will send you an instruction book and DVD. These are great for beginners looking to learn the process. You'll learn how to tie buggers, pheasant tails, caddis patterns, Adams, and Parachute Adams flies. It's a great step-by-step instruction that's going to get you easily started in the fly tying process. 
For around $60, you'll struggle to find a better deal. Wetfly even includes a carrying case that allows you to keep all the materials together. Don't skip out on this option! 
Colorado Anglers Wooden Fly Tying Tool Kit 
If you're only looking for the tools, then the Colorado Anglers Z797 Wooden Fly Tying Tool Kit is a nice option. 
You won't receive any of the fly supplies or fly materials to tie flies with, but you'll receive all the necessary tools to begin tying. These tools are more reputable than many other options. The vice is a pedestal stand, so you don't have to find a place to keep your vice as you are tying your flies. This is the set that I frequently use and highly recommend. 
All the other tools: bodkins, hackle pliers, bobbin, scissors, and whip finisher are all high quality and easily able to last you an entire lifetime. These tools will only cost you around $50, and with some general care, you won't have to buy any replacement tools. 
The Colorado fly kit also has a deluxe option available here! which comes with additional books, a DVD, and fly materials.
Scientific Angler Deluxe Fly Tying Kit 
If you know fly fishing, you're well aware of Scientific Angler. They're more well-known for their fly line, but their tying kit is not too shabby. 
It's a great portable fly tying kit to bring along with you as you're traveling on the road. The portable case is heavy-duty and can easily fit in the back of a vehicle or a suitcase. 
You'll get a c-clamp vise, scissors, bobbin, whip finisher, bodkin, hair stacker, and hackle pliers. On top of these, you'll receive enough material to tie quite a few traditional fly patterns. Hooks, beads, thread, hackle, feathers, and everything else you need will be at your disposal.
Included with the package is a DVD to get you started on learning how to tie your own flies. 
For only $60, you won't be sorry! 
Final Thoughts
Fly tying kits are a great way to experiment and introduce your own personal touch to catching fish with flies.
The Orvis premium fly tying kit is my top pick, a quality product with everything you need to build great-looking flies.
There is so much satisfaction when being able to catch a fish by using your own equipment and tying skills.
If you are looking at buying just a fly-making vice, please check out my article on the Best Fly Tying Vices here!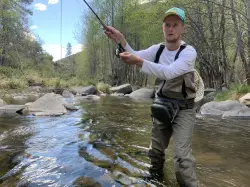 Latest posts by Daniel Mooers
(see all)