Disclosure: Some posts contain affiliate links, which earn us a commission if you make a purchase through them. Positive Fishing © participates in various affiliate networks including the Amazon Services LLC Associates Program.


If you're anything like me and probably most anglers, you are a bit OCD with your gear. You want everything to be in peak condition so it doesn't fail you on the water and you know exactly where to find it when it's time for your fishing trip.
One of the hardest things to keep organized is always going to be your flies. Whether it's keeping them in your box or organizing them by fly types, you'll find that it's going to take quality boxes and some extra time organizing. 
In this article, I will cover: 
Magreel Fly Fishing Box (My Best Overall Pick!)
Orvis Super Slim Vest Pocket Box (My Best Value Pick!)
Fishpond Tacky Double Haul Fly Box (My Most Versatile Pick!)
Orvis M2 Load-and-Lock Fly Box
Cliff Outdoors Bugger Beast
Best Fly Fishing Boxes
Most fly fishing companies create their own fly boxes as a way to make some extra money. Anglers are always looking to add accessories from their favorite brands, but this doesn't mean they're always going to be quality! 
Take a look at the following my personal favorite fly storage boxes when you're considering purchasing a new one. 
If you are looking for what flies you should buy for catching trout then check out my article on the Best trout flies to catch you more fish and even bigger fish here!
Magreel Fly Fishing Box – My Best Overall Pick!
If you're looking for a fly box that is going to do its job and doesn't have anything excessive, then choose the Magreel Fly Fishing box.
It is a traditional slit-style foam box that's double-sided. You have three options when you purchase this fly box depending on what size you're able to carry and the size of flies you're looking to store. 
You can purchase an extremely small box that's 4 inches tall, three inches wide, and one inch thick. If you need something larger, you can do six inches tall, four inches wide and two inches thick. The largest option is seven inches tall, four inches wide, and two inches thick. 
You'll want to be sure the box is going to fit in your waist pack. If you're fishing with dries, nymphs, and smaller streamers, then go ahead and purchase one of these boxes. The foam slits have plenty of room for your flies, but since larger streamers often have big tails, they might cover up your flies and make it more challenging to see. Size 6 or 8 Wooly Buggers would fit fine. 
Another nice feature of this box is that it is waterproof. If you're fishing in the rain or happen to drop your box in the water, it's going to float and no water is going to seep into your box and rust out your flies. Combine this with the clear lid to make everything easy to see and you have a great fly box. 
Orvis Super Slim Vest Pocket Box – My Best Value Pick!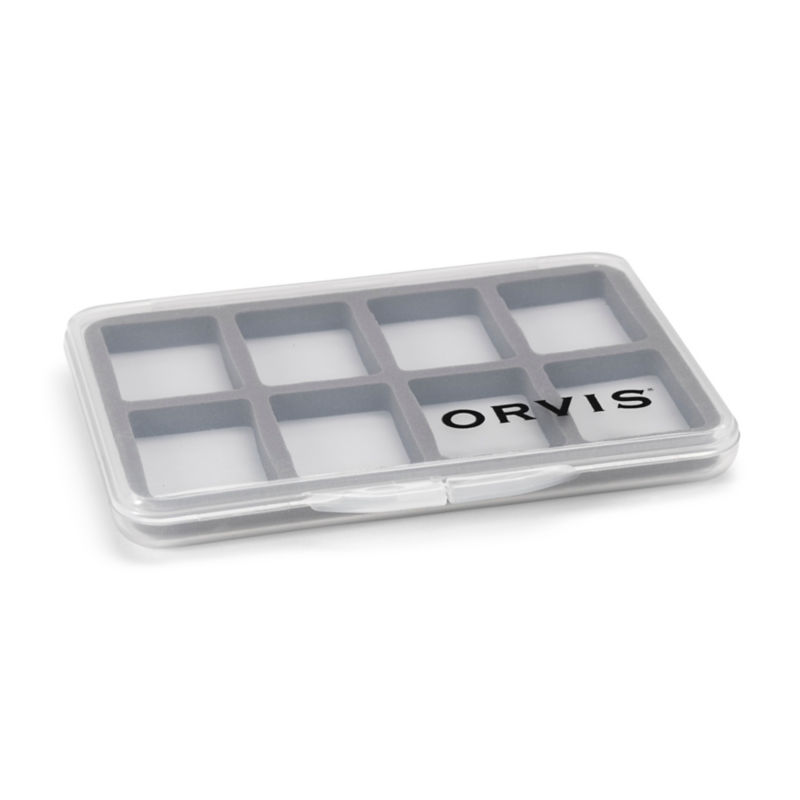 If you're an angler who enjoys fishing with only a vest and no waist pack, then the Orvis Super Slim Pocket box is a good choice for you. 
This box is designed to hold 120 flies and it takes up very little room. You can either choose from eight rows of slit foam or 8 compartments that are going to hold all of your flies. This box is only five inches long, four inches wide, and a half-inch tall. 
These are ideal boxes for the fly fishing minimalist. You're not going to be able to carry massive streamers and smaller flies, but if you're fishing nymphs and dries, you'll have plenty of room. 
Take this box along on your stream or small river fishing adventures. It's also a great option for any alpine lakes that you find yourself fishing. Those small natural patterns fit exactly right in these boxes. 
Orvis was able to make this small and compact, but still high enough quality that you never have to worry about it falling apart. 
Fishpond Tacky Double Haul Fly Box – My Most Versatile Pick!
If you know anything about the band "Fishpond" you know you're going to be in good hands with their gear. Their fly fishing accessories are some of the highest quality accessories on the market. You will not be sorry about any purchase you make from Fishpond. 
The Fishpond Double Haul Fly Box is a great design. When you open the box, one side is for your small dry flies and nymph patterns. There are 12 rows for you to place those smaller patterns on one side of the box. This is plenty of room for any sort of fly-fishing trip you find yourself making.
On the other side of the box are fewer rows with more space in between. This side is meant to hold small streamers, larger nymphs, and large dry flies. It's only seven inches long and four inches wide, but Fishpond really maximizes the space. 
It can hold up to 287 flies depending on what you need! It's waterproof and will last you for years. Many people purchase one fishpond fly box and that'll last them their entire fishing career. 
Orvis M2 Lock-and-Load Fly Box 
If you're needing more of a compartment fly box for your smaller dry flies, then purchase the Lock-and-Load fly box from Orvis. 
This is Orvis' most rugged fly box and it's also waterproof. The lock is strong and each compartment has a cover over it as well. The M2 has 10 compartments for you to store your flies. 
There are a few different size compartments depending on what flies you're hoping to store! You can fit a few smaller streamers, but it's mainly going to hold dry flies and nymphs. If you're fishing your local trout stream, then it's a great box to bring along. It's not too big so you can keep it on your lanyard! 
Cliff Outdoors Bugger Beast 
There are those of us in the world of fly fishing who need a lot of space. Whether you're casting streamers for salmon or saltwater fish, you need quite a bit of room.
It can be frustrating to store streamers in several boxes, but the Cliff Outdoors Bugger Beast allows you to keep all your streamers in one place and then separate them into smaller boxes if necessary. 
On top of the streamers, you can also store nymphs and dries on the opposite side. You won't have individual slits as you would in other boxes, but that allows you to space your flies out according to what you need. 
Final Thoughts
I hope my personal reviews on the best fly boxes were informative and have helped you narrow down and select the best fly boxes on the market.
You can read more detailed information on fly boxes in my article Fly Fishing Boxes: How To Choose The Best Type For You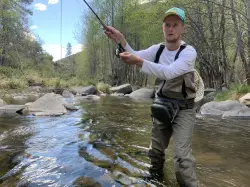 Latest posts by Daniel Mooers
(see all)