Disclosure: Some posts contain affiliate links, which earn us a commission if you make a purchase through them. Positive Fishing © participates in various affiliate networks including the Amazon Services LLC Associates Program.


Fly boxes or fly wallets are a basic necessity for all fly fishermen. Flies are expensive and must be kept organized and in the right box. But with so many fly boxes on the market, which ones do you buy? One box is not enough! 
Over the past few years, many fly boxes have become more advanced with various features and improvements.
In this article, I will go through all the types of fly boxes and help you understand better which ones you need for your type of fly fishing style.
So, let us understand more about fly boxes: 
What are Fly Boxes?
What Are Fly Boxes Made From?
Fly Box Sizes
What Are The Different Types of Fly Boxes?
Recommendations For Each Fly Box Type
How To Organize Your Flies In Your Boxes 
What Are Fly Boxes?
Fly boxes or fly cases provide the perfect storage and protection for any angler who uses fishing flies. 
Fly fishing flies are fishing hooks to which artificial materials such as feathers, fur, and hairs are attached. These flies are, therefore, somewhat fragile, and since they can cost quite a lot of money, they need to be stored inside a fly box.
What Are Fly Boxes Made From?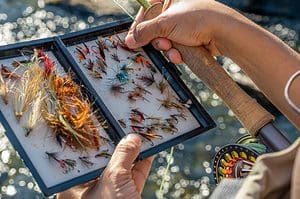 Fly boxes are made from wood, plastic, or aluminum. They are available in multiple different shapes and sizes. Certain boxes are designed for specific flies, but some are more universal.
Traditional fly "roll types" or fly wallets are made from cloth or sometimes sheepskin and are generally used for holding streamers.
They hold all types of dry flies, wet flies, nymphs, streamers, and artificial bugs such as ants, crickets, beetles, and grasshoppers.
Tip: If choosing a "sushi roll fly holder," try not to roll it too tightly to prevent stress on the flies. This will allow the flies to dry faster when rolled up.
Fly Box Sizes
Boxes come in various sizes, and most manufacturers will have three different size boxes in their range. Choose your box size based on the size of the flies you use. Wider boxes work well for the dries so the fly wings do not get trapped and damaged in the box.
When choosing a fly box for nymphs, try to use a slimmer version. 
Most boxes will come in the following sizes:
Smallest: four inches long, three inches wide, and one inch thick.
Medium: six inches long, four inches wide, and two inches thick.
Largest: seven inches long, four inches wide, and two inches thick.
If you choose a wooden box from a wood craftsman, then you can have it made to whatever size you wish. A customized and personalized wooden box is a stylish way to keep your flies!
What Are The Different Types Of Fly Boxes?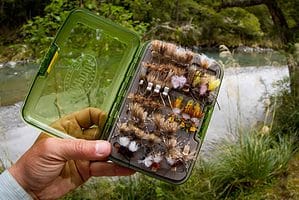 Believe it or not, the type of fly box that you choose is going to play a significant role in how organized you are while fly fishing. 
Most fly fishermen own way too many flies! I find it tough to manage them, and without a transparent lid to view what's inside, it will be a struggle. Therefore, always try to choose clear lids to see easily what's inside each box. 
There are several types of boxes, and it can come down to personal preference, but there are a few that you should consider purchasing. 
Slit Foam Boxes 
Slit foam fly boxes are the most common types of boxes you're going to find. These boxes are either single or double-sided and have a piece of foam with small slits in them. Depending on the size of your box, you'll have two to ten rows filled with slits that allow you to hold your flies. 
These boxes are ideal for your nymphs and streamers. The slits allow you to place your hook into them, and they'll stay stable and protected. If you don't put them in properly, you'll find that your flies will all fall out and land at the bottom of your box. Once this happens, they'll get tangled amongst themselves, and you'll find yourself with a painful 20-minute reorganization process. 
If you're the type who often uses dry flies, it may be smart to use a different type of box. Small dry fly hooks don't always fit into these slits, and they can cause unnecessary headaches while you're trying to get fishing quickly. 
Tip: When choosing a fly box, always carefully check the lid or cover closes securely with quality snaps or magnets.
Streamer Boxes
If you're the type to heavily fish streamers, then it's smart to invest in a streamer box. These boxes allow you to lay out the flies to see all parts of them. Some streamers have long tails with quite a bit of material that can take up a lot of room.
One of these boxes will allow you to keep a dozen or so streamers in full view. 
Magnetic Boxes 
If you're fishing extremely small flies, you'll want to use a magnetic box. You can separate your flies exactly how you need and not have to worry about them overlapping or falling to the bottom of your box.
Any large fly can take up too much room, so stick with your small midges and dries. Magnetic boxes are a newer style choice fly box, but they are well worth it for smaller streamer flies. 
Compartment Fly Boxes 
Some anglers prefer compartment fly boxes because your flies stay in the same place at all times. A compartment fly box often has ten compartments that have small covers over them so your flies don't fall out when you open it fully.
If you plan to use one of these boxes, I recommend keeping your dry flies in it. Dry flies aren't going to crush one another since they're so light. 
Any other type of fly will be too heavy and have the opportunity to crush the hackles on dry flies. 
Tip: Magnetic boxes are more suited for holding smaller-sized flies.
Recommendations For Each Fly Box Type
Dry Fly Boxes
Dries are light and tend to blow away in the wind if you are not careful. Therefore, I always choose a tightly closed lid type that is transparent. 
Foam-type inserts keep the flies neatly arranged and prevent them from falling everywhere. 
Nymph boxes with the foam work well for dries also. The insert foam helps prevent damage to the hackles (the feathers), keeping them flat and better protected.
Nymph Fly Boxes
Nymphs are easier to manage compared to streamers or dries. Generally speaking, any box is fine for nymphs, and keeping them in the same design box as dries would be my choice.
Make sure the box you choose has a good magnetic clip or latch. 
Streamer Fly Boxes And Wallets
There are two main streamer fly box styles. Most fly fishermen choose between soft-sided fly wallets and "sushi roll" mats or the more standard hard plastic boxes.
Streamers are larger than the other fly types; therefore, storage boxes are bigger and will hold only 10 to 20 in each box.
My personal choice has always been to use the wallet or roll type. Providing you are careful when opening the wallet; they are easier to see and keep organized than using a large storage box. Also, the larger style boxes restrict the space in my vest and my ability to feel comfortable and cast easily.
How To Organize Your Flies In Your Boxes?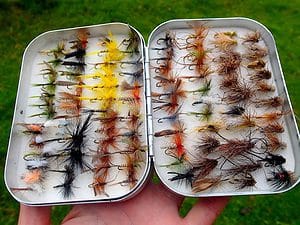 Sorting and organizing your flies into different boxes is a personal choice. My advice is always to pick your most-used flies and place them into two boxes. 
Your fishing vest will only hold four boxes, so separate your favorites into two boxes. The other two boxes are seasonal, hatch, and by style choice.
Once you have your two boxes of most commonly used, then separate the rest based on a few criteria:
Always segregate by season – There is no point carrying flies that you don't use at that particular time of the year
Again, segregate by insect hatches – keep your flies by the time of the year.
Lastly, by style – dry, wet, nymph, streamers,
There is NO NEED to separate by the following criteria; it just makes the process way too complicated:
River or lake – this is a small differentiator. 
Fly type – Green Drakes, pale morning dun, caddis. terrestrials 
Target Fish – Trout, salmon, etc
Pattern type – imitative, impression, attracting 
Size, color, and pattern – your favorites should be part of your choices in the two most used fly boxes.
Tip: Color code your boxes. Have a system to identify each box. If you don't want to choose to color-code each box, then at least properly label each box so you know what the theme is.
Final Thoughts
Storing flies is a personal choice, but hopefully, this article has given some insights into what is available on the market. Restrict your fly boxes to no more than four in your vest, and keep the rest in your car or at home when not needed.
To know which ones to buy, check out my review of fly fishing boxes, which cover nymphs, dries, and streamer options.
Latest posts by Steve Fitzjohn
(see all)